#TechTuesday highlights the best and brightest ideas in the tech world. Today's #TechTuesday features high tech event activities!
Projection mapping is displaying a video over an object to create an amazing experience for your guests. The video projection brings to life any performance and activity that your audience engages in. It also adds another aspect to any event that will capture your entire audience's attention. We also used projection in one of our previous events, and it was a huge hit!
This amazing Bose Soundbooth presented by Spotify was from SXSW! Guests  completely immersed themselves in music as the booth was covered in mirrors and disco balls. Attendees were also more than happy to add their favorite songs to the official Spotify SXSW playlist. What song would you add?
Let your guests leave their mark at your event! Also, if you add an overhead question, your guests will be excited to head over to the wall to contribute. If you're looking for a more kid-friendly activity, project a coloring book. Adults will love the activity, too!
In just a few minutes, you can be 3D scanned and recreated! If you have ever wanted a small model of your photo, your wish has come true! With this booth at your event, your guests are able to walk away with a "mini me" and a lasting memory of your event! If you're not a huge fan of having a model of yourself, you have the option to have your mini me sent to yourself and you can share it to your social media, too! Now everyone can see exactly what you wore and all the fun you had at every angle!
These unforgettable brain scans were from the CW's premiere of iZombie hosted by Buzzfeed! Attendees lined up to get a scan and observe their brain activity as they ate 3D-printed candy made onsite! Also, they kept the scans afterward! How could you adapt to use these brain scans at your event?
A social media wall is an amazing way to have your guests engage with your event and with each other! Not only will it spark conversation, it will create an online presence for your event! It will be an amazing way to break the ice and have your guests networking instead of making awkward small talk.
Give your attendees a grand entrance! Or maybe it could an enchanting and thrilling! It's all in your hands. You decide what to project whether it be starry, checkered, or swirly! It will give off a great first impression of your event before they even enter! They'll find themselves wanting to make another entrance.
Whether you're competitive or nonchalant, take your games to another level with an augmented reality gaming wall! Kids and adults alike will love seeing their movements interact with the virtual world of the game. Who can resist?
Pictures and food. Sure, they're amazing apart, but it's even better combined! This printer will take your selfie or any picture and print it onto your food for you! It's the perfect Instagram moment and will help increase your social media presence along with engagement. The only problem? It'll look too good to eat.
Have you ever been to a mall and seen those walls that interact with your body movements? It's almost as if you are the wave and the colors that splash and swish around on the screen. Let your guests be mesmerized with the effects as they catch themselves walking back and forth in front of the wall!
How do you like our high tech event activities?
Have you seen any of these high tech event activities lately? Which one is your favorite? Which ones did we miss? We'd love to hear from you! Let us know in the comments below or on Facebook and Twitter!
---
#TechTuesday highlights the best and brightest ideas in the tech world. Today's #TechTuesday features the 10 tech tools to make event planning easier!
Loopd is a system that uses Bluetooth beacons placed around an event venue and chips guests wear around their neck to enable location-tracking for planners and guests. It keeps track of which exhibit booths and sessions attendees visit and also helps with networking! With one tap, guests are able to share contact information, so forget about shuffling around to pull out your phone! Additionally, guests can receive marketing materials and fliers from all the booths they visited via the Loopd app!
Nowadays, every event planner turns to social media to promote their event, and we don't blame them! It reaches large audiences and is extremely easy to use! The only downside is how many social media platforms are out there. With Hootsuite, you can manage all your social media platforms in one space, so you can close all your tabs!
Ever wish the TV in front of you showed you exactly what you wanted to see? Estimote, with the help of Bluetooth beacons, can personalize content displayed on digital screens for guests! These beacons communicate with the smartphone in your pocket to show information based on your interests and buying habits. Now all your guests will have a custom experience and event planners won't need to be concerned with irrelevant content!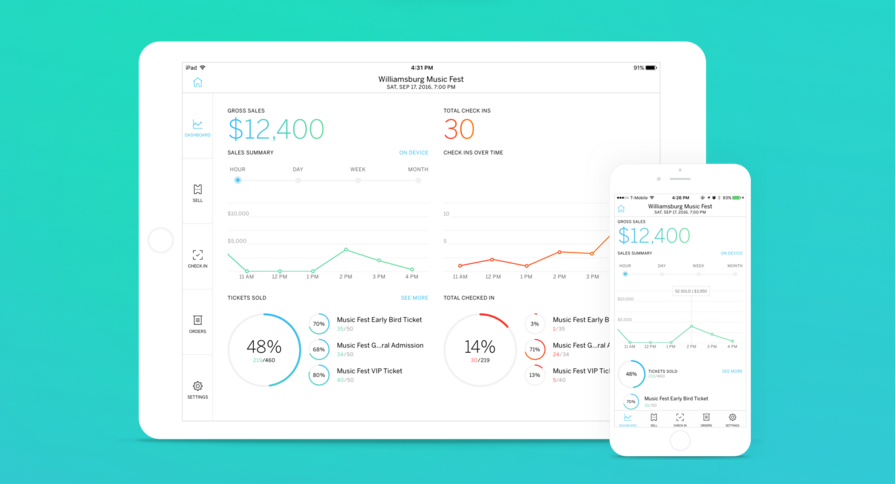 Lines are a huge deterrent, especially check-in lines! Eventbrite Organizer helps cut the lines by allowing the user to scan tickets directly from their phone! Also, you are able to check real-time ticket sales and can even become a mobile box office!
Instead of creating elaborate backdrops with only a small space for your event logo, event planners can design a graphic overlay with their event logo and some information on the back, if desired. SelfieSpott allows guests to receive their photos instantly and ready for social media by simply texting a number! Also, with their permission, planners can have access to the numbers for a follow-up!
Creating to-scale diagrams has never been easier, so put down those toothpicks and cut-out tables and pull out your computer! With the Social Tables software, you can adjust the placement of tables and also create a seating chart for your guests. You are able to customize every aspect of it to your liking, whether it be color, size, or label! It'll make event planning easier by far!
7. Facial Recognition
https://www.youtube.com/watch?v=V3A9_XDirW4
Looking to amaze your guests and reduce check-in lines? Zenus has constructed a kiosk that will scan and display a guest's badge upon their approach. If you prefer a less bulky option, their facial recognition software pairs with any device that possesses a camera, like an iPad! Check-in will be quick and your guests no longer have to waste precious time waiting to be checked in!
If you find yourself switching between iMessage, Facebook Messenger, and other channels just to reach all your event staff, we recommend you try Slack! It's a workplace messaging system that can help you keep all your communications in one channel. Also, you can create groups within the chat to help you keep organized!
Ditch the pen and paper! Speecheo allows all your guests to take notes while simultaneously providing feedback to the speaker! Planners and speakers can see the most popular part of the presentation, and the audience can create bookmarks and record audio to later share on social media.
Forget lugging around huge binders full of documents! Dropbox keeps all your necessary documents in one secure place. Access can also be shared among all your event staff to avoid losing printed copies and to be a little eco-friendly!
How will you make event planning easier?
We know that event planning can be extremely difficult and demanding. These tech tools are meant to help every planner be a little more organized and to make event planning easier! Are there any tech tools you use? Which ones did we miss? Let us know in the comments below or on Facebook and Twitter!
---
Besides your swag bags, photos taken at your event are the best memorabilia any guest could have. Photobooths are a great way to get your attendees involved and can be the perfect social media marketing strategy too! From artful product design to social enablement, these photobooth experiences are designed to seamlessly complement your brand and maximize visibility and engagement. ABCey has compiled a list of 10 high tech photobooth trends of 2018 that you can try at your next event!
1. 360 Degree Photobooth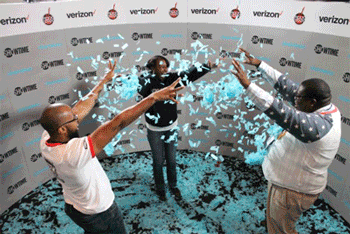 With a rig set up around, your guests can take a picture where you can view it from all angles! This creates an amazing photo-op for groups or singles, and creates an interactive component with the photo. Pixperience has some great 360 photobooths for your events!
Instead of having to single still backdrops, spruce it up a little with a projector booth! You can switch up the backdrops for every photo and can also personalize it for every person! Ask if your guests want to upload one of their videos for a background or if they want to choose one from the set! Either way, guests are able to interact with whatever background they choose to create the perfect photo!
3. GIF Booths
Animated GIFs (pronounced "JIF," like the peanut butter brand) have completely permeated, and in some cases, taken over social media! Let your guests create record a short and fun, animated photo to let them remember what a great time they had at your event. We even had our very own from Bosco at the Sephora VIB Rouge SF Flagship Launch, and our guests had a blast using it!
Painting with lights. It's an unforgettable photo op! You can use these lasers to write words or draw shapes in midair and the photo captures it all! It creates an amazing effect and allows you to get a little creative too! What will your light say?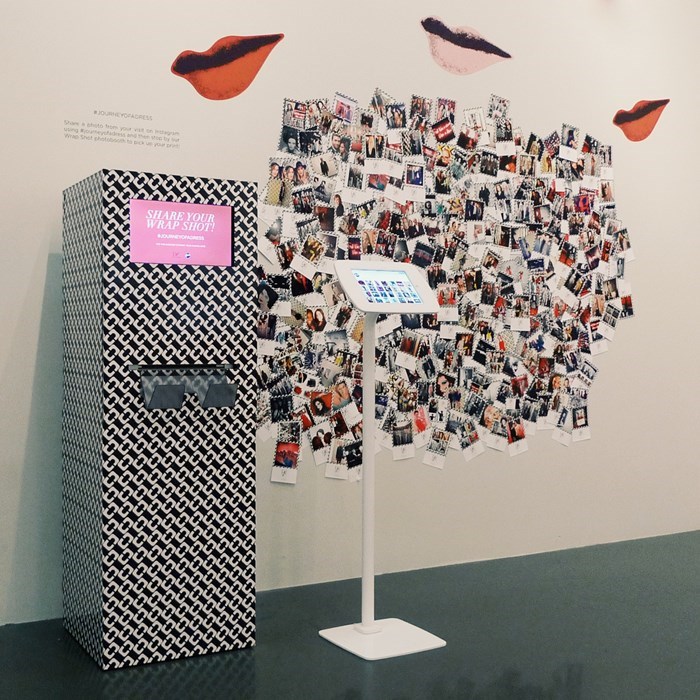 #Hashtags #Are #Everywhere! Who can resist them too? They are a fun way to help others find pictures similar to the one you posted. With this booth, you take a photo with the event hashtag and the hashtag printer will print a copy of the photo with the hashtag to put up on the mosaic wall! It's a great way to personalize every photo with unique hashtags from your attendees!
A picture is worth a thousand words. This flipbook is a way to tell a whole story through a stack of photos. By printing frame by frame, these photos look as if the guests are moving, allowing you tell a story or show some dance moves, too! Giggle and Riot have super cool flipbook photobooths for your stop motion stories!
7. iPad Booths
These little iPad booths are nothing new, but have really started to gain popularity lately! People are realizing how fun and convenient these photobooths are! You are able to take the photo and send it to yourself, without any hassle or wait. It also doesn't need to be manned all night long, so you can focus on the other aspects of your event!
8. Mirror Booth
Don't you wish that you can see yourself while you take your photos so you know you look good? Here's the answer to all your prayers, the mirror photobooth! With this, you can see your own poses in the mirror while it takes your photo! Say goodbye to awkward poses and stray hairs you missed when you checked yourself out!
Video from Bosco
These photobooths are amazing because you can make a short little clip, featuring you! It's the perfect way to show off some of your dance moves or let a little of your silly side out. And, you can send them directly to yourself!
Who doesn't love a good ball pit? Let your guests relive their childhood memories by diving into a pit of balls to take the perfect photo! It's the optimal time to let your inner child out and capture these moments of joy!
What's your favorite high tech photobooth? Are there any we missed? We'd love to hear from you! Let us know in the comments below or on Facebook and Twitter!
---
#TechTuesday highlights the best and brightest ideas in the tech world. Today's #TechTuesday features the top 5 apps to engage your attendees.
1. Attendify
Attendify is an event management app that includes great features, such as creating a private social network for your event. In the network, you are able to share photos, messages, and quick polls on the event timeline. Also, with this, introductions are easy! People are notified once you join the network, so everyone will know you made it.
2. CrowdCompass
CrowdCompass enables you to create an app for your event with cool features that prompt your attendees to engage with each other and your event! For example, guests can message each other one-on-one, participate in live Q&As, and take notes all in one app! Furthermore, attendees are able to create personalized schedules with an option to push notifications for reminders. Also, the event planners are able to track guest engagement and the event's impact in easy-to-read charts and graphs.
3. Grupio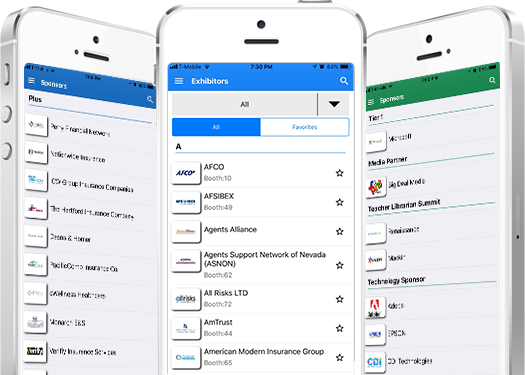 Grupio is an event app that allows you to link your social media channels, like Facebook or Twitter, to your customized app! With this feature, you and your guests are able to share their experiences through your favorite social media platform! Other features include being able to create advertisements for your sponsors to feature on the app and gamification to encourage attendee engagement.
4. Whova
Whova is an event app that gives event planners the ability to customize their own app with their brand. Some of their features include document sharing among attendees to limit paper handouts and interactive maps. Also, Whova pushes the guests to create more buzz and excitement with a convenient Twitter outlet built into the app!
5. Eventbase
Eventbase is a mobile event technology platform that allows its users to create an app for their event. Depending on the type of event, the company has a specially curated app for your event app needs! This app has a large variety of fonts and themes to cater to your preferences. Eventbase also has features such as "Around Me" that suggests people nearby and small descriptors to allow for better connections.
Which of these apps are your favorite? We'd love to hear from you! Let us know in the comments below or on Facebook and Twitter!
---
ABCey's  top photo editing apps are a must at your next event. It's always important to create images that communicate the best event experience to your viewers. Read on to see which photo editing apps we use to bring our event photos to life!
---
1. VSCO CAM
VSCO CAM (free with in-app purchase) is an all in one editing app that allows users to take, edit, and share photos to other social media sites. The app is equip with editing tools and various filters that will bring pizazz to your next event!
2. Snapseed
Snapseed (free) was created by Google and it is accessible for android and IOS. This app allows users to optimize photos with just a single touch. Users can also apply filters and overlays that will look amazing on all social media sites!
3. Afterlight
Afterlight ($0.99) offers numerous types of filters and frames that users can choose from to add some color to their next event! This app is also available for IOS and android.
4. Hyperlapse
Hyperlapse (free) was created by Instagram and it allows users to condense a series of photos at hyper speed! You can choose between a few different speeds. For example, you can condense a 30 second video into just 5 seconds making it a great way to capture more at your event!
5. Befunky

Befunky (free with in-app purchase) is compatible with Google Drive Photos, making it easy for users to transform their photos into something more! This app allows you to insert custom overlays like filters or text to add essence to your photos.
We are loving these photo editing apps as they make all of our event pics pop! Add some liveliness to your next event through these apps and showcase the best event experience!
---
Do you use any of these photo editing apps? Let us know your fave on Facebook or Twitter!
---
Here at ABCey Events, we like to stay up to date on all the latest event and social media trends! Last week Snapchat launched their newest feature Snap Map, and continues to lead the way as the one of the most innovative social media platforms. Snap Map allows anyone to connect with nearby users and trending events. Read on for tips on how to use Snap Map to find the hottest trending events!
---
How Snap Map works:
https://www.youtube.com/watch?v=bvl82FfnUvw
Its easy to get started! Open the app, simply pinch to zoom out, and view the map. Once you are on the map, you will notice "Actionmojis"  which are friends choosing to share their location with you.
Beyond friends, Snap Map highlights trending events happening nearby.  You will also notice "heat" colors on the map which indicate the amount of snaps being uploaded at an event. The more snap stories uploaded through the our story feature the "hotter" the event!
Snap Map is an entirely new way to browse content and discover the most popular events. It connects you with friends and nearby users seeking adventure! We love the Snap Map feature because it helps us stay in touch with friends and broadcast our most popular events! What will Snapchat come up with next?
---
Have you tried Snap Map? Let us know in the comments below and on Facebook or Twitter!
---
Here at ABCey, we are constantly using Pinterest as a tool for inspiration! As social media has become key for promoting events online, Pinterest is an effective tool in brainstorming and behind-the-scenes planning for events. Being able to make multiple boards and research through relevant content inspires creativity and organization when planning any kind of event!  
Find "Pinspiration" 
Decorating for events can be the most fun, but challenging part of your event. Decorations and little details tie the event together from start to finish. Whether you're looking for table setting ideas or invitation inspiration, Pinterest is the perfect tool to start gathering pins.  Start pinning! 
Organize Your Boards in Categories For Your Event
It's time to start pulling together every new idea you find in the Pinterest universe onto your own board. This can be done on your own personal page or on the official board for your organization, corporation, nonprofit, etc. Additionally, your boards can be organized by food, decorations, invitations, themes, florals etc.
Interaction with Vendors & Clients
First, as boards are created, the link can be shared with others, whether or not they have an account.We often create event decor boards for our clients, and then share them directly for feedback to make sure we are on the right track. Pinterest also makes it possible to identify other Pinners with similar needs and tastes. Therefore, by liking, pinning and commenting on other posts, you can connect to Pinners with similar interests and build ideas. In addition, if you both follow each other, you can use the private messaging feature to start a more in-depth collaboration.
Read the Crafting/DIY/How-To Articles
Ultimately, Pinterest is known for having some of the best creative content out there. Clicked on pins reconnect you to an article or webpage to show you where the Pin came from. Take advantage of these articles as they provide some great insight on how to make your own projects or decor!
Promote Your Event on Pinterest
Pinterest gears towards connecting everyone to content and ideas that align with their interests and passions. You can even use your own board to actually promote your event which also gives you a chance to start marketing your original content, creating brand awareness and media attention. It is a very visual platform, so choosing compelling photographs & visuals with bright colors will bring your event board more success!
_________________________________________________________________________
Love Pinterest and want some event inspiration? Check our Pinterest page for creative event ideas! Let us know how you use Pinterest in the comments below or on Facebook and  Twitter! 
Sources: EventFarm, Capterra, Hello Endless
---
How your attendees enter your event can instantly create the "wow" factor before the event event starts!  ABCey Events provides insight on ways truly make an entrance.
---
1.Use Projection Mapping
Tunnels are a great way to create a transition from the outside world to your event. Utilizing projection mapping and audio in a tunnel can really get people in the mindset to focus on whats coming up!
2.Create an Archway
Archways offer a huge branding opportunity to kick off your event! The sheer size will grab your attendees attention!
3.Get Interactive
Use the entrance as a chance to have guests immediately get interactive! Create a quick and fun activity to get people having fun ASAP!
4.Have a Photo Op
Create a photo opportunity guests can't miss! This will also help your event have a social media presence as guests can post their pictures to all their social media accounts!
5.Have Greeters
Instantly pump people up by having greeters at the entrance either offering them a cocktail or party gift!
Making a statement from the beginning to end of an event is always one of our goals! Having a stellar entrance definitely a must!
---
What are your favorite entrance ideas? Let us know in the comments below or on Facebook and  Twitter!
---
#TechTuesday highlights the best and brightest ideas in the tech world. ABCey would like to recognize these up and coming technologies for their innovative ideas and impact on the event world! In today's #TechTuesday, we present to you The Bosco!
---
Looking to upgrade from a classic photobooth? The Bosco will help you do just that! Their five products create extra branding opportunities as well as opportunities to bring photos to life in GIF form. All of their products are sure ways to get people raving about your next event!
GIF Booth
The Bosco was the creator of the OG GIF Booth! GIF booths combine multiple images into an animated picture for guests to send themselves, use for social media, and as branded print outs of the photos! ABCey most recently used one of their amazing  GIF Booth's at the  Sephora VIB Rouge SF Flagship Launch Party!
The Multicam
The newest product to the Bosco lineup is the Multicam. Eight cameras all capture one moment creating a really cool 3D effect. Once users take their photos, the images are then branded and uploaded to the interest so users can share them across their social media accounts!
The Bosco Lite
The Bosco Lite is the non-printing version of the GIF Booth. Using an iPad, users make their GIF and then the GIF is branded and shared on the internet! This extremely portable machine is a great addition to any event!
Video Booth
The Video Booth is based off of the video confessional booths you have seen in a lot of reality TV shows, (The Bachelor, any MTV show). Using an iPad, the user records their video. The booth has the capability to brand the video and upload to the internet where users have the opportunity to share the video to their social media pages. Finally, the booth also prints out a branded print as well! The Video Booth combines, video, social media sharing and printing to make an awesome experience for any partygoer!
#Print
#Print uses social media hashtags to print out user photos! Partygoers take photos on their phone and use the designated party hashtag and upload the photo to their social media accounts. #Print will find the photo using the hashtag and print a branded version of the photo!
We love The Bosco and have used products at various events! It is a great way to add branding to an event while also giving attendees a fun activity and something to remember!
---
Will you be using a photobooth for your next event? Want to try something new and exciting like The  Bosco? Let us know in the comments below or on Facebook and Twitter!
---
As Snapchat continues to be a dominant avenue for social media, it is a great tool to use for event promotion. As you may know, Snapchat has an awesome feature that allows you to create your own snapchat filter for an event, On-Demand Geofilter. This allows anyone at the location of your event to use the filter during a designated time frame. At ABCey, we like to keep you up to date on all the latest social marketing tactics. So, here is a simple step by step on how to create your own filter!
** Note: to create an On-Demand Geofilter you must have a Snapchat account.
---
Create a Customized Snapchat Filter for Your Event
Once at the website, create a design using custom dimensions 1080px x 1920px.
After setting the dimensions, start designing! Keep in mind you want to leave room for people's faces – so try to stick to customizing the top, bottom, and frame of the space.
Step 2: Download Your Finished Product
After you finish designing your cool new filter, click the download button and download the file as a PNG.
Step 3: Download GIMP
Download the computer application GIMP.
Step 4: Open Your Filter in GIMP
First, open your new filter by going to File → Open → Select Filter PNG. After, go to Select → By Color and click the white portion of your filter. Proceed by going to Colors → Color to Alpha. Finally, go to File → Overwrite nameofyourfilter.png.
Step 5: Go to Snapchat
Login to Snapchat.com and follow the steps on their website to upload your filter, select the location and time you want your filter to be active.
Happy Snapping!
---
Do you plan on using a custom Snapchat filter for your events? Let us know in the comments below and on Facebook or Twitter!
---