#TechTuesday highlights the best and brightest ideas in the tech world. Today's #TechTuesday features the 10 tech tools to make event planning easier!
Loopd is a system that uses Bluetooth beacons placed around an event venue and chips guests wear around their neck to enable location-tracking for planners and guests. It keeps track of which exhibit booths and sessions attendees visit and also helps with networking! With one tap, guests are able to share contact information, so forget about shuffling around to pull out your phone! Additionally, guests can receive marketing materials and fliers from all the booths they visited via the Loopd app!
Nowadays, every event planner turns to social media to promote their event, and we don't blame them! It reaches large audiences and is extremely easy to use! The only downside is how many social media platforms are out there. With Hootsuite, you can manage all your social media platforms in one space, so you can close all your tabs!
Ever wish the TV in front of you showed you exactly what you wanted to see? Estimote, with the help of Bluetooth beacons, can personalize content displayed on digital screens for guests! These beacons communicate with the smartphone in your pocket to show information based on your interests and buying habits. Now all your guests will have a custom experience and event planners won't need to be concerned with irrelevant content!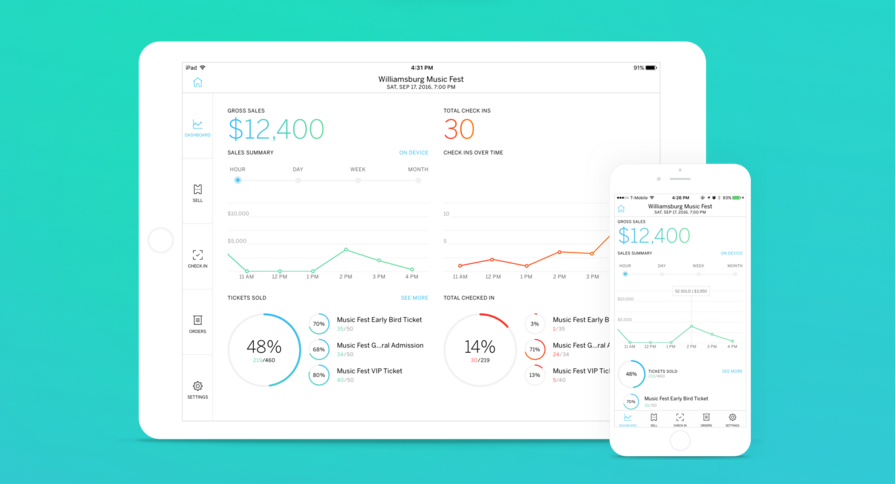 Lines are a huge deterrent, especially check-in lines! Eventbrite Organizer helps cut the lines by allowing the user to scan tickets directly from their phone! Also, you are able to check real-time ticket sales and can even become a mobile box office!
Instead of creating elaborate backdrops with only a small space for your event logo, event planners can design a graphic overlay with their event logo and some information on the back, if desired. SelfieSpott allows guests to receive their photos instantly and ready for social media by simply texting a number! Also, with their permission, planners can have access to the numbers for a follow-up!
Creating to-scale diagrams has never been easier, so put down those toothpicks and cut-out tables and pull out your computer! With the Social Tables software, you can adjust the placement of tables and also create a seating chart for your guests. You are able to customize every aspect of it to your liking, whether it be color, size, or label! It'll make event planning easier by far!
7. Facial Recognition
https://www.youtube.com/watch?v=V3A9_XDirW4
Looking to amaze your guests and reduce check-in lines? Zenus has constructed a kiosk that will scan and display a guest's badge upon their approach. If you prefer a less bulky option, their facial recognition software pairs with any device that possesses a camera, like an iPad! Check-in will be quick and your guests no longer have to waste precious time waiting to be checked in!
If you find yourself switching between iMessage, Facebook Messenger, and other channels just to reach all your event staff, we recommend you try Slack! It's a workplace messaging system that can help you keep all your communications in one channel. Also, you can create groups within the chat to help you keep organized!
Ditch the pen and paper! Speecheo allows all your guests to take notes while simultaneously providing feedback to the speaker! Planners and speakers can see the most popular part of the presentation, and the audience can create bookmarks and record audio to later share on social media.
Forget lugging around huge binders full of documents! Dropbox keeps all your necessary documents in one secure place. Access can also be shared among all your event staff to avoid losing printed copies and to be a little eco-friendly!
How will you make event planning easier?
We know that event planning can be extremely difficult and demanding. These tech tools are meant to help every planner be a little more organized and to make event planning easier! Are there any tech tools you use? Which ones did we miss? Let us know in the comments below or on Facebook and Twitter!