This Thanksgiving weekend has much more to offer than just turkey and gravy! Get into Christmas mood, explore the night sky, or learn about culture! ABCey's weekend line-up shows you the best events to round up your holiday weekend!
2014 Thanksgiving Sunrise Celebration
Thursday, November 27 | 4:15-6PM | Alcatraz | Cost $14
Join the presenters of current and past indigenous people for a unique celebration on Thanksgiving. Enjoy an evening of music, dance, and culture. You can learn about Indigenous people's history and struggles, while watching the sunset. The event is free but the boat ticket has to be purchased. Children under 5 years are free.
Ghirardelli Square 50th Annual Tree Lighting Ceremony & Santa Visit
Friday, November 28 | 4PM – 9PM | Ghirardelli Square, 900 North Point Street | FREE
Welcome the Christmas season this Friday at the Ghirardelli Square! Calm down from the Black Friday rush and enjoy a hot beverage while walking over the holiday market. Live music, snow, and vendors that offer gift ideas or delicious treats, will create the perfect spot to get into Christmas mood.
City Star Party & Telescope Night
Saturday, November 29 | 6PM – 9PM | Main Post (Presidio), Park Blvd. and Lincoln Blvd. | FREE
If you're into stars, here is your chance to enjoy a fun event revolving all around the night sky. Meet like-minded hobby astronomers, learn more about astronomy, or simply enjoy the great view! The San Francisco Amateur Astronomers provide the equipment for a perfect view.
Etsy Holiday Emporium
Saturday and Sunday, November 29 – 30 | 11AM – 5PM | Pier 35 | FREE
DIY fans can't miss this local shopping event! More than 200 vendors and DIY stations will be offering their products and foods. Click here to see the vendor list. Shop from local artists or get inspired for your own DIY projects! The event is free, but it is encouraged to bring your own bag. The first 50 visitors on Saturday will receive a free goodie bag!
What will you do this weekend? Let us know in the comments below or on Facebook or Twitter!
---
Are you ready for Thanksgiving tomorrow? If you're running a little late getting everything together, don't stress out because ABCey has put together 5 last-minute (and easy) Thanksgiving dishes for you, friends, and family to enjoy!
Bake Brie with Cranberry Sauce and Walnuts
Warn your guests: this Baked Brie with Cranberry Sauce and Walnuts is so good, they might fill up on it before the turkey is even out of the oven!
Perfect Glazed Carrots
While calling these Glazed Carrots "perfect" might seem a bit presumptuous, your friends and family won't be thinking so when they try them. This delicious side dish not only tastes delicious but adds a pop of color to your table as well!
Roasted Brussel Sprouts, Bacon, & Apples
Nothing screams Fall as much as this Roasted Brussel Sprouts, Bacon and Apples to accompany your main event. Plus you've got your veggies, fruit, and protein all in one dish!
Savory Cornbread
What's a Thanksgiving without Savory Cornbread? Luckily, this simple and straightforward recipe creates a deliciously comforting side dish.
Oreo Ice Cream Pie
While Oreos might not be a traditional Thanksgiving dessert, we are so thankful for them anyways! Nothing round out the meal better than this Oreo Ice Cream Pie which takes so little time to prep and cook.
Which dishes will you be making this Thanksgiving? Let us know in the comments below or on Facebook and Twitter!
---
Tech Tuesday highlights the best and brightest ideas in the tech world. ABCey would like to recognize these up and coming technologies for their innovative ideas and impact on the event world!
getplanning is a comprehensive digital planning and collaboration tool! It stores all of your event planning documents, such as schedules, contracts, and menus, for easy access so everyone involved with the event can be up-to-speed on what is going on from beginning (contracts) to end (billing).
getplanning allows for unlimited users and events so you can seamlessly plan for a variety of events. It also provides realtime communication and action so no one will be unreachable ever again! The best part: You can customize getplanning to match your company's colors and branding requirements!
Why We Love getplanning: Not only is getplanning super easy to use, but it's all stored in the Cloud, so it can be accessed anywhere, anytime, and by anyone! Furthermore, all documents uploaded to getplanning are encrypted for maximum security. We're not the only ones who love using getplanning as Hilton Worldwide just announced in January that it would be incorporating the event management software into its system.
Would you use getplanning to help organize your next event? Let us know in the comments below on Facebook and Twitter!
---
With our growing love of affordability and convenience, as well as sharing, using apps like Lyft and Airbnb, it's no surprise this concept of sharing has come to our work spaces as well! ABCey Events, is proud to introduce the VAULT, not only being a startup in itself but fostering and supporting a startup ecosystem!
What is is? The VAULT is a coworking collective space, or "startup ecosystem" providing early stage startups the tools to thrive. What the VAULT offers isn't just an amazing work space but a community of theses businesses' peers offering great connections as well as support!
How it works: Early stage startups apply for membership into this community. Once you are a member you are provided with work tools like desks and an office space. From there. the VAULT offers it's members a myriad of different amenities from phone rooms and conferences, to snacks, a kitchen, and events opportunities to grow and network.
Why we love it: Of course, since we are an event planning company, our favorite part of the Vault is their events! The Vault provides their members the opportunity for several events, whether they are educational like workshops and panels, or fun like pitch off's and happy hours!
Would you check out the VAULT? Share with us your thoughts on Facebook and Twitter!
---
From Justin Timberlake to Charles Dickens, there are plenty of events to surely entertain you! For a fun and delicious weekend, ABCey Events has got you covered! It's everybody's favorite topic of the week: ABCey's Weekend LineUp!
The Great Dickens Fair Christmas
Saturday, November 22nd | 10am-7pm | Cow Palace  | $22
Take a time machine, this holiday season, to the bustling streets of Victorian London. Dance a jig or spend some quality time with pip at the Dickens Fair!
Cheese & Chocolate Pairing Event
Thursday, November 20th | 7pm-8:45pm | Dandelion Chocolate  | $45
Stop by the Dandelion Chocolate for an exploration of the unlikely pairing of cheese and chocolate! Alex Ourieff, founder of Vagabond Cheese Company, shares with us his handpicked selection of cheeses paired with cacao at different stages.
Pop-Up Dinner by Alexander Ong
Friday, November 21st| 7pm-10pm | Naked Kitchen | $70
Get a fresh taste of  Chef Alexander Ong's unique take on french dining as it's infused with this Malaysian tastes from his South East Asian background!  Ong's menu highlights Asian flavors and ingredients.
Justin Timberlake: The 20/20 Experience World Tour
Saturday, November 22nd| 8pm | Oracle Arena, Oakland | $112
Spend the evening with Justin Timberlake as he sings hits from his latest album 20/20!
All-You-Can-Eat Crab Feed
Saturday, November 22nd| 8pm | Oracle Arena, Oakland | $112
End your long weekend right! Stuff your face at
the Hall'
s old school style crab feed. Did we mention it is all you can eat?
---
With Thanksgiving just around the corner, ABCey cannot wait to celebrate with family and friends! We've gathered these 5 DIY Thanksgiving Decor Ideas so you can focus on cooking the turkey without breaking the bank.
Thankful Placemats
These personalized Thankful Placemats will spice up your table with just two materials: construction paper (or scrapbook paper) and a pen! Let your guests help you with decorating by letting them write what they're thankful for before dinner begins. It's a great conversation piece!
Turkey Legs
These Turkey Legs are great for the kids who will be so thankful when they rip open these crafty "turkey legs" to find the hidden candy! All you really need is a brown paper bag, printer paper and some sweets!
Leaf Garland
Send the kids out to gather some Fall leaves and write whatever word sums up Thanksgiving for you (ex. "grateful," "thankful," "family")! Then use twine to make a Leaf Garland and hang it up for all to see!
Rosemary Sprig Place Cards
Incorporate natural elements onto your dinner table with these Rosemary Sprig Place Cards! Your family will be reminded to appreciate everything around them. Plus, the sweet Rosemary smell will complement your cooking!
Thankful Tree
While your kids are gathering leaves for the Leaf Garland, have them pick up a fistful of twigs as well! Even though the Thankful Tree requires a couple more materials than our other DIY projects, it'll be well worth the effort when your family remembers all that they are thankful for with this beautiful tree.
Which of these crafty DIY Thanksgiving Decor Ideas will you be doing for Thanksgiving next week? Let us know in the comments below or on Facebook and Twitter!
---
Tech Tuesday highlights the best and brightest ideas in the tech world. ABCey would like to recognize these up and coming technologies for their innovative ideas and impact on the event world!
With hundreds of events out there each week, it's not always easy to keep track. Other times, you miss an awesome event, because you simply didn't know about it. ABCey has the perfect event finder apps for you, which help you to pick out the best events for you!
Gravy
Gravy is the perfect app for you if you belong to the indecisive crowd of people that like to make decisions according to their mood. Whether you like it "classy," "brainy," "lively," or "whatever," Gravy helps you to find the best events depending on your mood. You can also decide the distance you're willing to travel to the event. If you don't feel like a long car drive, why don't you just chose something in walkable distance?
Like A Local
Do you travel a lot and want to see more than the typical tourist attractions? Like A Local is a real-time stream app, which is curated by locals and designed for you to discover the hidden gems of the city. Learn about the best spots to eat, party, shop, or relax. The app tells you why locals love the spot and why it's worth a visit. With Like A Local, you can literally explore cities like a local!
SongKick
Are you crazy about music and love going to concerts? Don't miss any concerts of your favorite bands and artists anymore with SongKick. The app connects with your music library and alerts you of upcoming concerts and shows in your area! It also marks the event down on your calendar and shows you where to buy tickets.
Spotsetter
If you have a lot of traveling friends, this app will be perfect for you! Spotsetter is a travel app that connects with your social media accounts and notices what your friends have said about particular spots on their trips. If you happen to travel to the same place, you can check out what your friends have said and either follow their recommendation or avoid a certain spot right away.
Time To Enjoy
This smart app connects to your smartphone calendar and looks for nearby events in your scheduled free time! For instance, if you have a busy day but a three hour break in between, Time to Enjoy offers you the right event for your off-time window! Use your free time to actually do something you enjoy and make the best of your day!
Which of these apps would you use and why? Tell us about it in the comments below or on Facebook and Twitter!
---
Startup Monday is ABCey's weekly post that features some of the best and brightest companies in the Bay Area. They are often companies that we have our eye on or have worked with in the past & would like to share with friends and followers of ABCey Events!
IFTTT (pronounced like "gift" without the "g") is a San Francisco-based startup offering a service that lets you create connections with the simple phrase of: 
How IFTTT works: "Triggers" (the "this" part of the recipe) are the starting blocks for your connection. For example, a trigger could be: "I"m tagged in a photo on Facebook." The "Action" (the "that" part of the recipe) completes the connection and produces a result. A potential action to the Facebook photo trigger could be: "send me a text message." So the recipe would be, "If I'm tagged in a photo on Facebook, then send me a text message."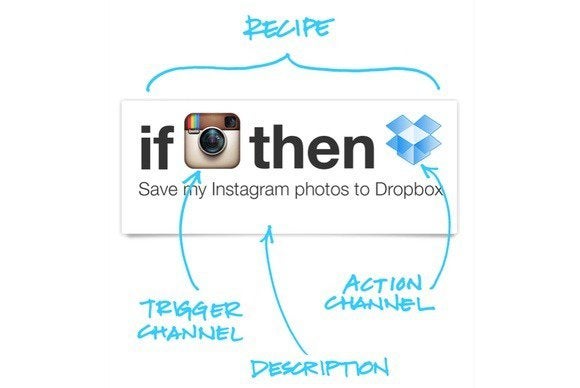 Why we love IFTTT: IFTTT makes our lives as event planners so much easier with the simple statement of "if this then that." Not only is the service so easy to use, but it allows us to make personal recipes regarding whichever channels we want! Whenever we receive a new email from a client, we can put it in the corresponding file or be notified via text message immediately. If we post a new blog, it can also be automatically posted on to our LinkedIn, Facebook, and Twitter accounts!
Would you IFTTT to help you plan your next event? Let us know in the comments below or on Facebook and Twitter.
---
Looking to plan the perfect in-office holiday party for you and your co-workers? ABCey Events is here to help with 5 easy decor ideas to make this holiday season extra festive, without breaking the bank!
1. Christmas Garland
Nothing says "Merry Christmas" like reading it out in bold letters, and Paper Source does it in style with this fun and festive piece priced at $15.95.
2. Holiday Photo Booth
Want to add a bit more fun to your in-office party this Christmas? Why not use a photo booth? with a backdrop made by Minted (230.00)and props courtesy of Paper Source (14.95), this year you can have a bit more fun and create memories that will last forever!
 3
. Push-Pop Confetti
Add a little sparkle to the office this Holiday. What better way to welcome your co-workers into the office with Thimble Press's All That Glitters Push-Pop Confetti (8.50).
 4. 3D Advent Calendar
Throw out your boring old advent calendar and opt for this eye catching countdown, courtesy of Paper Source (18.95), to your holiday festivities.
5. Reindeer Stickers
What's a party without some refreshments? Decorate your holiday drinkware with these waterproof reindeer decals by Oh Goodie Design & Events.
What will you be doing for your in-office holiday party? Share with us in the comments below or on Facebook and Twitter!
---
The weather forecast got some rain for us this weekend, but luckily, ABCey Events picked out some great indoors events, which are mostly FREE! Check out these awesome events that will keep your feet dry and your mind entertained!
7D Experience
Thursday, November 13 | All Day | Pier 39, San Francisco | Cost $2
Have you ever had a 7D experience? If not, it's time to visit Pier 39's 7D Experience! On Thursday, November 13, the business offers its rides for only $2. Shoot zombies, robots, or aliens, and experience a laser-blasting thrill ride you will never forget!
Green Festival 2014
Friday to Sunday, November 14-16 | 12 PM – 6 PM | Fort Mason Center | Marina Bld. And Buckanan St., San Francisco | FREE if you ride your bike to the event, otherwise $15 at the door
The 2014 Green Festival San Francisco revolves around living in a sustainable and healthy lifestyle. Learn about living green by joining vegan and vegetarian cooking demos, listening to educational speeches, or participate in fun activities. More than 250 green vendors will offer their green products – from food, body care products and health, to fashion, technology, and design.
Black Market SF "Harvest"
Saturday, November 15 | 6 PM – 11 PM | Folsom Street Foundry | 1425 Folsom St, San Francisco | Cost $8, or FREE tickets available here
Black Market SF "Harvest" is a seasonal food lounge and craft market held in the late evening hours. The Bay Area's most popular food vendors will offer their local and seasonal products. Try new foods or discover local fashion fall trends. Enjoy live music in the main and front room or just relax in the upstairs lounge. The market is also a great family experience and offers plenty of activities for kids, such as pumpkin carvings, a candy apple station, or other DIY activities.
Third Annual International Tea Festival
Sunday, November 16 | 10 AM – 5 PM | 1 Ferry Building, San Francisco | Cost $25
Tea fans shouldn't miss this annual tea event! The International Tea Festival offers a day full of tea with more than 100 teas to sample from all over the world. Presentations and exhibitions will delight any tea fan – not to mention are all the goodies and festival gift bags. Meet other tea fans and enjoy music and activities. Get your tickets here.
Will you shoot zombies at 7D Experience or rather enjoy a cup of tea at the Third Annual International Tea Festival this weekend? Let us know in the comments below or on Facebook and Twitter!
---