The Fourth of July is less than a week away, and that means major party planning! ABCey has made a list of the perfect patriotic DIYs for your party. Get ready to party all day long!
1. Popsicle Cocktails
Keep your guests cool all day long with these delicious and refreshing popsicle cocktails! For the kids, substitute the bubbly for Sprite to make a cute little mocktail.
2. Manicure
Don't forget to treat yourself a little! Replicate this fun little confetti nail art or make your own design!
3. Red, White, and Blue Cheesecake Bars
Add a little color to your desserts! These red, white, and blue cheesecake bars are a sweet treat that everyone would enjoy!
4. Bandana Picnic Quilt
Whether you're throwing a picnic party or planning to gaze at the fireworks, this DIY picnic quilt is perfect. You can use old bandanas or any other cloth you may have laying around.
5. Patriotic Suncatcher
These little DIY suncatchers are a cute addition to any decor you may have! You can make it into an activity for kids or use them to catch your guests' attention as well!
6. Firework Sunglasses
Add a spark to your outfit. Wow everyone with these DIY firework sunglasses! Spend the Fourth of July watching the fireworks through your own!
7. Confetti Party Poppers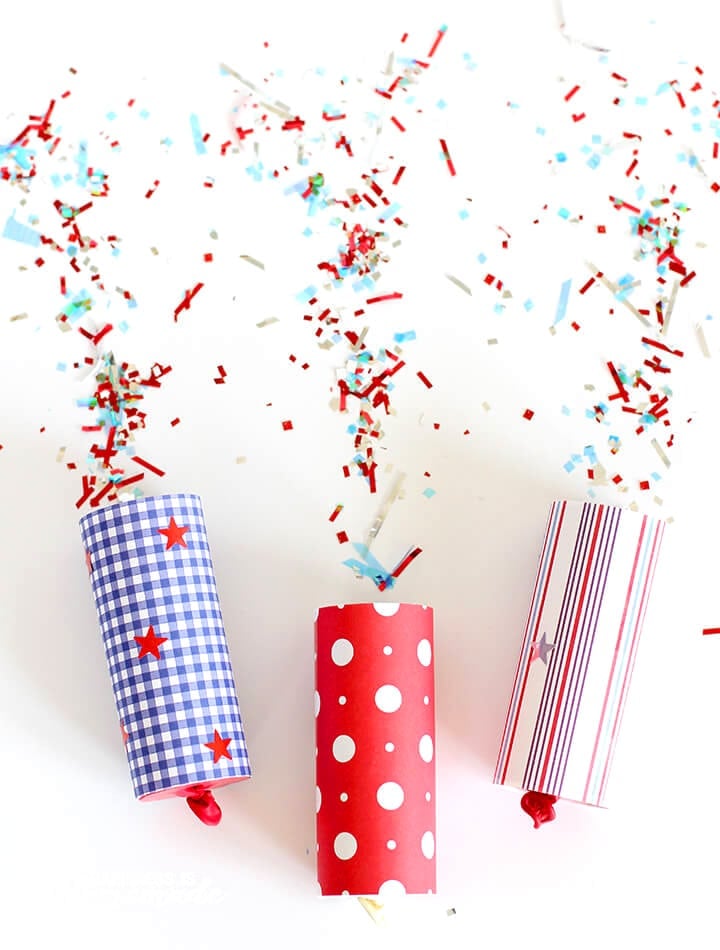 You can't celebrate the Fourth of July without some confetti! Make these easy DIY confetti party poppers to celebrate this patriotic holiday!
8. Star Spangled Shorts
This Fourth of July, you'll find the flag everywhere… even on yourself! Decorate your own shorts to sport our star-spangled banner!
9. DIY Chandelier
You definitely shouldn't be swinging from this chandelier, but it is something that your guests will absolutely adore!
10. Star Garland Backdrop
This star garland is multi-functional! If you're looking to create an amazing photo-op for your guests, hang a bunch side by side to make a starry background. There's also a traditional route you can opt for: hanging them for wall decor! Either way, it'll add a little twinkle to your party!
Will you use any of these simple and fun DIY decorations? Are there any that you made for the holidays? We'd love to hear from you! Let us know in the comments below or on Facebook and Twitter!
---
As we approach 2017's Fourth of July weekend, ABCey has made the ultimate check-list for your perfect patriotic party! Here are 10 of our favorite recipes, decorations, and party must-haves for your greatest Fourth of July yet! 
1. USA Rice Crispy Treats
Everyone loves a tasty treat at a party! These colorful rice crispy treats are perfect for your Fourth of July gathering! Plus they are great for all ages & the straws add a perfect touch! 
2. Festive Donuts
These patriotic donuts look too good to eat! The festive frosting is an easy add-on for the perfect dessert! 
3. Confetti Balloons
Next, instead of ordinary balloons, try these confetti filled balloons for a unique and sparkling touch to your event!
4. Star Spangled Sangria
Sangria is the perfect summer drink, so why not customize it for the Fourth of July! Add some colorful fruit to make your cocktail look & taste delicious!
5. LED Star Sunglasses
Light up the party with these great LED star sunglasses! They glow in red, white and blue colors and are perfect for night time when the fireworks are displayed! 
6. Perfect Utensil Holder
Here's a great way to display your table wear for this American holiday! Grab some patriotic-colored plastic forks and spoons to pair with these festive mason jars! 
7. Trendy Garland
Garland can be used for any holiday or event! Add some color around the house or outside with this red, white and blue tissue garland by Etsy. 
8. Fourth of July Fantastic Photo Booth
Grab some confetti & sparklers to set up an unforgettable photo booth for you & your guests! These DIY firework poppers are the perfect accessory for your event photos!  Find how to make them here. 
9. DIY Ring Toss
If you're having a backyard BBQ or party, this easy-to-make game is perfect! It's great for guests of all ages and super decorative for any backyard gathering! Here is how to make & create this festive game. 
10. Summer Smoothies
Cool down with some refreshing & heathy smoothies for this hot holiday! A great alternative for sangria for the youngsters under 21! Here is the link to some delicious smoothie recipes that are sure to get you in the Fourth of July spirit! 
__________________________________________________________________
How are you celebrating the Fourth of July? What did we miss? Let us know in the comments below or on our Facebook or Twitter! 
Sources: CoolGlow, Etsy, Brit + Co, Guest of a Guest, Country Living, Etsy, Tell Love and Party, Everyday Dishes, Brit + Co
---
July 4th is here and it's time to celebrate!  There is lot's going on today, and we want to make sure you're in the know of the best Bay Area Events.  Look no further, ABCey has 5 exciting 4th of July events you definitely don't want to miss!
---
Mayor's Parade: 10am | Free | Starts at Lincoln & Park St. (route map and directions here) | *No Fireworks
South Shore Center's Festival: 3pm-5pm | Free | Alameda South Shore Center | *No Fireworks
Here are two events in one with a huge parade and a somewhat "official" after-party at the South Shore Center. With about 140 floats, 2,500 participants, horses, and dancers, Alameda Mayor's Forth Parade is one of the largest and longest Independence Day parades in the entire United States!  After this spectacle, keep the party going at the South Shore Center. There will be live music, pet animals, get henna tattoos, face paint, play games, participate in raffles and jump in the bouncy house!  There are also plenty of stores to shop at and places to eat, so come on out and enjoy this exciting parade and then head  on over to the post-parade party!
2. San Francisco: Pier 39 
Starting at 11am | Free | *Fireworks at 9:30pm for about 20min
Want to have a full day of celebration and be at a prime fireworks spot? Then go to SF Pier 39!  Spend the day at the pier shopping, eating, and going to the aquarium.  From 11am-5pm, you can check out exhibits west of the Entrance Plaza, then hear the band Tainted Love play your favorite 80's tunes.  Last, but not least, watch the extremely popular City and County of San Francisco's Fireworks Show at 9:30pm with the best 180 degree view from Pier 39.  
 
Noon – 10pm | Free, $15 vehicle parking | 201 University Ave, Berkeley | *Fireworks @ 9:35pm | info here
This festival will fill all your 4th of July celebration needs!  There is a main stage with music from noon until the fireworks show at 9:35pm and music at the food court from 2pm-8pm.  The Shorebird Park is part of this festival and has an Adventure Playground with Waterballs, a Bungee Trampoline, and another stage with magicians, jugglers, and more! If that isn't enough, throughout the marina there are great food trucks and booths as well as: carnival rides, kite flying, a giant slide, train rides, drumming sessions, dragon boat rowing rides, sumo soccer, nerf tag, a photo booth, face painting, crafts, pony rides, a petting zoo, AND their huge fireworks show!  With everything here, why wouldn't you come and enjoy the fun?
11 am-4pm | Free | Jack London Square | *No Fireworks 
Spend your July 4th afternoon at Jack London Square for loads of family fun! This festival offers musical performances, clowns and puppets, interactive activities, a petting zoo, face painting, fun crafts and delicious treats.  If you couldn't tell by the name, this event is also great for kids.  Although there aren't any fireworks, this festival ends early enough for you to go wherever you want after!
4pm – 11:59 pm | $7-$15; order early: $12; groups either $9 or $7 depending on size | info here |*No Fireworks
If you're in the patriotic celebratory mood and 21+, join in on this pub crawl.  Order tickets ahead of time, receive a discount with larger groups, check-in early, and get a discount on all of the pub crawl bars from 4pm – 12am.  There will also be an after party, so get yourself and your friends right on over for drinks and to celebrate Independence Day!
How are you celebrating this 4th of July?  Let us know in the comments below or on Facebook and  Twitter.
---
The 4th of July is just around the corner, which means it's time for grilling out, chilling out, and celebrating one of the best days of the year! ABCey Events  has 5 easy DIY ideas to get you party ready for the upcoming holiday weekend.
---
Center Pieces
1) Center pieces are a necessity to make any great theme party shine. Nothing screams summer quite like a mason jar does, so these easy to make, adorable center pieces are sure to make your party sparkle for the 4th! Check out how to make them here.
_________________________________________________
2) Extra bottles laying around? We have your solution! This DIY is super easy and will no doubt give your 4th of July party the extra pop you've been looking for. Using wine bottles for a decoration? No complaints here! Be sure to find out how to make these adorable center pieces here.
_________________________________________________
Door Decor
3) Make sure that your guests feel welcome upon arrival with these festive wreaths to hang on your front door! These are inexpensive to make and only require 3 materials- talk about an ideal DIY! You can find out how to make these here.
_________________________________________________
4) Burlap wreath not your style? No worries- we've got back up options to make sure your guests are greeted in style at your front door. These awesome patriotic wreaths are easy to make and oh so chic! Don't miss out on this great door dec, find out to make these here.
---
4th of July Photo Backdrop
5) ABCey knows no party is complete without that perfect Instagram picture.  This simple DIY scrap flag is the ideal backdrop for guests to take photos at your 4th of July party!  What better way to celebrate the 4th than by taking fun, festive photos with your pals? Read more on how to make these here!
_________________________________________________
Wall Decor
6) Kites are a true symbol of summer time and can take anyone back to their childhood. This easy DIY kite garland is guaranteed to spruce up your wall space at your 4th of July get together! See here to find out how to make these kites the star of your party!
_________________________________________________
7) If you need to primp up those white walls before you host your 4th of July party this weekend, these will definitely do the trick! This American flag painted window is the extra festive touch you need to make sure your July 4th party is one to remember. Check out how to make these here!
_________________________________________________
Festive Table Decorations
8) Need some extra 4th of July table decor for your event?  These simplistic and festive signs add some patriotic pride to your upcoming independence day party! Find out to to make these here.
_________________________________________________
9) Nothing says festive fun quite like these darling red, white and blue inspired pin wheels! These are perfect for adding a little extra flare to your snack tables for the 4th. You can find out how to make these simple decorations here!
_________________________________________________
4th of July Luminaries
10) Light up your 4th of july party with these adorable patriotic luminaries! This DIY is super simple and uses recycled jars as the main material- easy and green! Don't miss out on the chance to illuminate your party, and find out how to do these here!
_________________________________________________
Will you use any of these fun and creative DIY's for your 4th of July party? ABCey wants to know your faves, or ones we missed! Let us know in the comments below or on Facebook and on Twitter.
---
HAPPY 4th of July from ABCey Events!!!
---
We hope you are all as excited as we are for one of the best holiday's of the year…The 4th of July. With fireworks, food, family, friends and fun, honestly, what could be  better?! We created a helpful guide to all things 4th of July, from amazing food and drink ideas to the newest apps inspired by Independence Day!

1. BOOZE:  Rather than chugging a beer by the pool, take your barbeque or party to the next level with these 4th of July inspired jello shots from Brit+Co.  And, for those wine lovers, be sure to check  the Pineapple and Berry White Wine Cocktail by She Knows  for some more fruity and patriotic drink ideas!
2. DESSERT:  Here is one that everyone is sure to love, chocolate covered strawberries! The Sisters Cafe brings these yummy deserts to the next level. Instead of using milk or dark chocolate, opt for white instead and dip the end into blue sprinkles. The 4th of July means getting back to your American roots, and what better way to honor that than by getting a recipe from Betty Crocker to make the ultimate American flag cake?!
3. APPS:  What is Independence Day without your favorite music blasting?! Check out Songza and the app creates a 4th of July playlist for you and your friends! And, give  July 4th Fun, Facts and Trivia  a try and be the hit of the party by knowing all about the roots of this important holiday! 

4. FIREWORKS:  All of the biggest shows such as Macys' Fourth of July Fireworks will be streaming online. However, if you are lucky enough to see fireworks live, head over to one of the many destinations all over the city to celebrate this wonderful holiday! You can find the full list of places to go here!
5. PHOTOS: Check out the latest of the multi-media messaging systems, Cooliris' BeamIt! This awesome app is basically Instagram, WhatsApp and Flipboard combined. If you want to share pictures but not have it take up most of your day, download BeamIt!
What are you going to do for Independence Day? Will you be making any of these yummy drinks or desserts, or try one of the fun apps? Let us know your thoughts in the comments below or on Facebook or Twitter! 
---
Independence Day is only one day away and we have the perfect lineup for you! Whether you walk the Embarcadero for some fireworks and a booze cruise or prefer a pub crawl on Fillmore Street, ABCey knows you'll have a fun, safe holiday!
1. July 4th Pub Crawl + Hot Dog Eating Contest | Thursday, July 4th | 2:00p.m.- 6:00p.m. | Kelley's Tavern, 3231 Fillmore St. San Francisco | Absolutely nothing is more American than tons of hot dogs and beer! Celebrate abundantly with Americana foods and drinks then follow the party to watch fireworks on Marina Green. This event promises a fun after-party, too!
2. America's Cup Opening Day | Thursday, July 4th | 3:00p.m. | Piers 27/29, Embarcadero, San Francisco | Celebrate the kick-off to weeks of races with all things sailing. The history, science, and culture of sailing will be intermixed with 
3. Speak Easy 4th of July Cruise | Thursday, July 4th | 6:00 p.m.-11:00 p.m. | Pier 40, South Beach Harbor, San Francisco | The best view of the city and the fireworks, a 1940s theme, and an open bar. Need we say more?
4. After Dark: Boom! | Thursday, July 4th | 6:00 p.m.-10:00 p.m. | The Exploratorium, Pier 15, San Francisco | Explore what makes fireworks explode with a special exhibit filled with experiments and fun! Get geared up to see the sky filled with pyrotechnics with this boom-themed learning experience! 
5. Fourth of July Celebration at the Pier | Thursday, July 4th | 12:00p.m.-10:00 p.m. | Pier 39, Embarcadero, San Francisco | During the day at this busy pier, live music and family fun make this the perfect place to spend your day off! As soon as 9:30p.m. rolls around, the city of San Francisco will dazzle you with an amazing fireworks display! Pier 39 is our pick for best firework-scouting spot!
What are your plans for Independence Day? Tell us in a comment or on Facebook and Twitter!
---