The Fourth of July is less than a week away, and that means major party planning! ABCey has made a list of the perfect patriotic DIYs for your party. Get ready to party all day long!
1. Popsicle Cocktails
Keep your guests cool all day long with these delicious and refreshing popsicle cocktails! For the kids, substitute the bubbly for Sprite to make a cute little mocktail.
2. Manicure
Don't forget to treat yourself a little! Replicate this fun little confetti nail art or make your own design!
3. Red, White, and Blue Cheesecake Bars
Add a little color to your desserts! These red, white, and blue cheesecake bars are a sweet treat that everyone would enjoy!
4. Bandana Picnic Quilt
Whether you're throwing a picnic party or planning to gaze at the fireworks, this DIY picnic quilt is perfect. You can use old bandanas or any other cloth you may have laying around.
5. Patriotic Suncatcher
These little DIY suncatchers are a cute addition to any decor you may have! You can make it into an activity for kids or use them to catch your guests' attention as well!
6. Firework Sunglasses
Add a spark to your outfit. Wow everyone with these DIY firework sunglasses! Spend the Fourth of July watching the fireworks through your own!
7. Confetti Party Poppers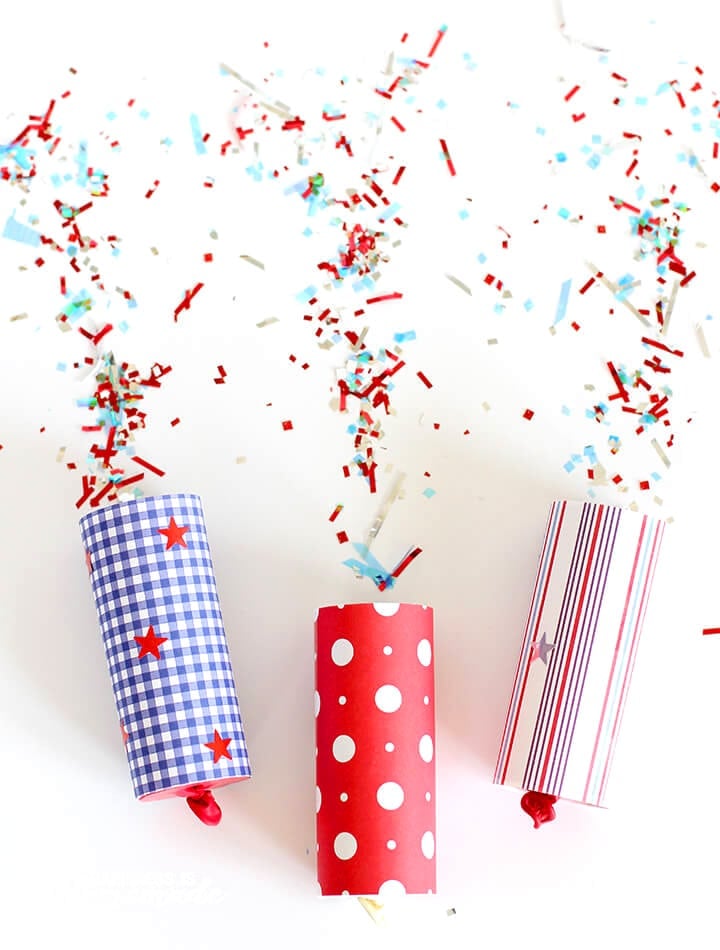 You can't celebrate the Fourth of July without some confetti! Make these easy DIY confetti party poppers to celebrate this patriotic holiday!
8. Star Spangled Shorts
This Fourth of July, you'll find the flag everywhere… even on yourself! Decorate your own shorts to sport our star-spangled banner!
9. DIY Chandelier
You definitely shouldn't be swinging from this chandelier, but it is something that your guests will absolutely adore!
10. Star Garland Backdrop
This star garland is multi-functional! If you're looking to create an amazing photo-op for your guests, hang a bunch side by side to make a starry background. There's also a traditional route you can opt for: hanging them for wall decor! Either way, it'll add a little twinkle to your party!
Will you use any of these simple and fun DIY decorations? Are there any that you made for the holidays? We'd love to hear from you! Let us know in the comments below or on Facebook and Twitter!
---
---
Startup Monday is ABCey's weekly post that showcases some of the best and most innovative startups based in the San Francisco Bay Area! These are often companies that we have our eye on or have worked with in the past. Today, we'd like to highlight Brandless!
Brandless
Brandless is an e-commerce company founded in San Francisco in 2015 that recently launched in July 2017. This startup focuses on being completely transparent with customers and bringing high quality products and healthy ingredients. They sell a variety of things, ranging from household items to beauty products to food! The best part? Each product is just $3!
It's simple. With the Brandless label, co-founders Tina Sharkey and Ido Leffler eliminated the "brand tax." This is the hidden cost of buying from a brand that drives up the prices of products.
Moreover, the product packaging consists of the company logo and descriptors, like kosher, organic, or gluten free. This simplifies the shopping process and provides transparency for the consumer. You also have the option to "B.more" and sign up to be a member, which includes benefits, such as free shipping.
Brandless and Feeding America
Also, when you sign up to "B.more," Brandless will donate the monetary equivalent of 10 meals to Feeding America. Brandless is partnered with Feeding America, the nation's leading domestic hunger relief organization, and with every purchase, a meal will be donated on your behalf to those facing hunger.
Why we love it!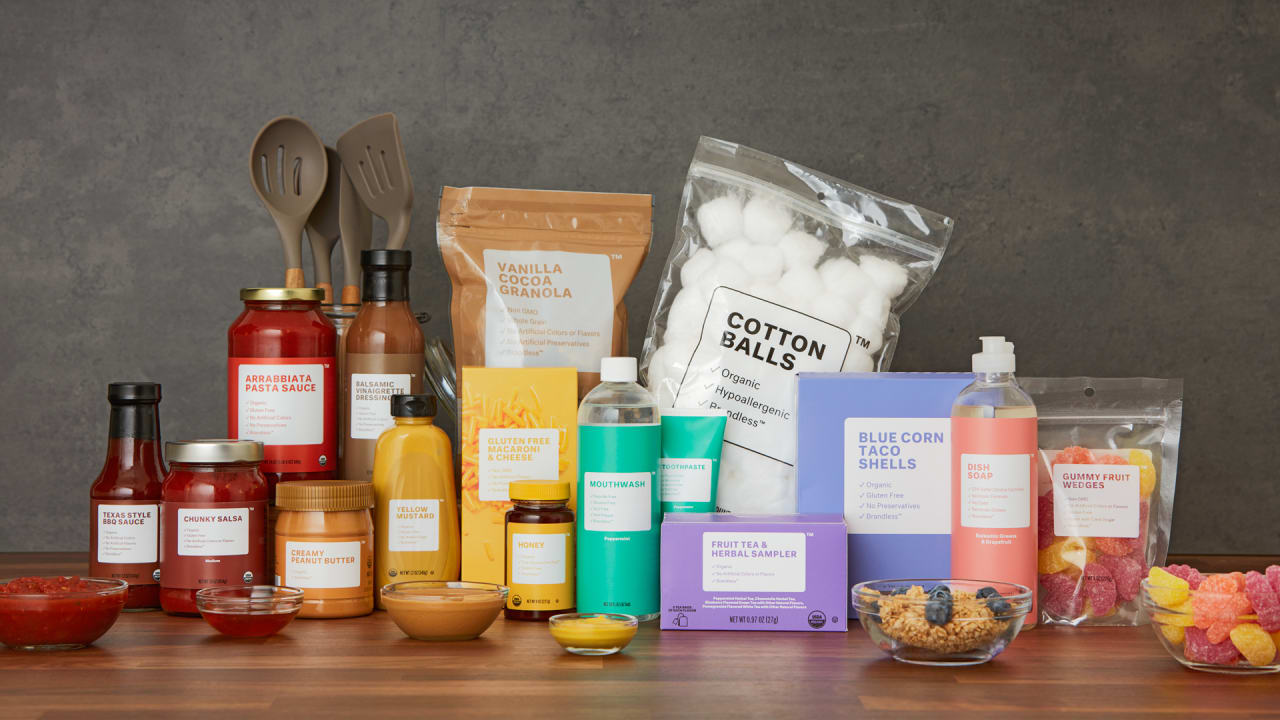 Brandless is very affordable and their products are health-conscious and environmentally friendly! Additionally, the company holds all their products to the highest standards. They also cater to what the community values most in their household items or in their foods. Furthermore, this startup dedicates itself leaving a positive impact on their community and the world.
Have you tried Brandless yet, or thinking about using it? Let us know in the comments below or on Facebook and Twitter.
---
Pride is finally here! ABCey has a list of 10 tips that will help you survive and make the best out of this weekend full of love and festivities!
1. Sun Protection
Afternoons in our foggy city may be cool, but be sure to put on some sun protection (sunscreen, lip balm, sunglasses) before you leave the house to avoid some nasty sun burns!
2. Hydrate, Hydrate, Hydrate
We may not even know it, but it's easy to become dehydrated when we spend the day dancing and keeping up with our favorite floats at Pride! Don't forget to bring your own Hydro Flask water bottle to save a few bucks and to stay well-hydrated.
3. Bring Ca$h
Many local vendors will be at Pride, so be sure to bring some cash to support your LGBTQ-friendly businesses in case they don't accept credit cards!
4. Phone Charger
You're going to be taking pictures and videos all day, so make sure you bring a portable charger so that you don't run out of juice. Snap away!
5. Go Hands Free
You won't worry about losing your phone or any of your free Pride swag when you put it in a cute bag!
6. Comfortable Shoes
We all have those super shoes that we're dying to wear out, but opt for your comfiest shoes because you'll be on your feet all day!
7. Add Some Rainbows!
What Pride outfit is complete without rainbows? Whether it's on an umbrella or on your socks, add a rainbow for a little more fun!
8. Rainbow Glitter
If you don't have the perfect outfit for Pride yet, don't worry! Rainbow glitter is the ultimate makeshift outfit! Cover yourself in glitter and head out to the parade! What else could you possibly need?!
9. Pride Balloons
What's more fun than balloons? Use rainbow balloons to accessorize your outfit or to just carry around the parade!
10. Bring Your Friends!
Friends make any event better! Round up all your closest friends to eat amazing food and to make memories you'll talk about for years!
Which one is your favorite tip to thrive at Pride? Do you have some of your own? Let us know in the comments and on Facebook and Twitter!
For more pride-inspired fun, ABCey Events has a Pre-Pride Checklist for you!
---
It's almost Friday! ABCey brings you this week's San Francisco Weekend Lineup with the top events in the Bay Area! It's going to be packed with lots of LGBT pride!
Weekend Lineup: Giants LGBT Night
June 21st | 7:15pm |special event ticket package |AT&T Park
Celebrate the Bay Area's rich LGBT culture with the San Francisco Giants! If you purchase a special event ticket package, you'll get a ticket to the evening's Giant's game, access to a pre-game party, and a limited edition gift. Part of the proceeds will go towards supporting local LGBT-focused non-profits!
SF Pride Parade Celebration
June 23rd | 12pm-6pm |Tickets|Civic Center Plaza
It's that time of year again! Come out to all the festivities to prepare for the 47th annual celebration of lesbian, gay, bisexual, and transgender pride! There will be inspirational speakers, music, food, and more to get you excited for the parade on Sunday.
Pink Mammoth Block Party
June 23rd | 12pm-9pm |$15-$20 Cover|119 Utah St.
The 6th annual Pink Mammoth Block Party will be happening again this year! Join in on the fun and wear all the pink you own. There will be lots of dancing, musical stylings provided by Thomas Jack and Pink Mammoth residents, and food! This year will feature the upcoming interactive Tree of Life and the Trolley Stage with a historic San Francisco Cable Car operating as a stage. Visit the Pink Mammoth Facebook Page for more info.
SF Pride Parade & Rally
 June 24th | 10:30am-6pm |Tickets|Embarcadero to Civic Center
Want to really show your pride? Make a sign and come march in the parade or cheer on the crowd! There will also be festivities like inspirational speakers, music, and food to enjoy as well. This event is a special tradition that's near and dear to SF's heart, so join in and wear your brightest apparel!
Frameline 42, International LGBTQ Film Festival
Ends June 24th | Times Vary |Tickets|Castro Theatre
The film festival that came to town on June 14th will be closing this Sunday, June 24th! Come see some groundbreaking documentaries, cinematic classics, and heart-warming films. Don't miss out on the longest-running, largest, and most widely LGBT cinema film exhibition in the world!
Whether you want to showcase your pride by joining a crowd in your brightest outfit, viewing an LGBT-related film, or by enjoying some baseball, there are plenty of ways to show some LGBT pride this weekend! 
Are you excited for Pride Weekend? Let us know which event you'll be attending in the comments below or on Facebook or Twitter!
---