Happy almost Friday! ABCey brings you this week's San Francisco Weekend Lineup with our FAVE events happening in San Francisco. Are you getting excited for these events this weekend?
Oracle Park's Free Summer Concert
San Francisco's Giants are proud to present the first ever Levi's Concert Series from now until September 27th. Enjoy a free pre-game concert before each Friday night home game. This week's lineup is local artist, Barry Zito. No game ticket required!
When: July 19th | 5:01-7pm | Seal Plaza at Oracle Park – Located behind center field | Cost: FREE |
Uncorked: SF Wine Fest
Uncorked Wine Festival is back for a special Friday night at the Fort Mason Festival Pavilion. Join them from 6-10pm and enjoy over 150 wines and champagnes, gourmet local food trucks and food vendors, live music by DJ Aaron Francisco, a custom photo booth and more! This event is 21 and over only.
When: July 19th | 6-10pm | Festival Pavilion (Fort Mason Center) | Cost: $65-$100 | Buy Tickets Here |
SF Anime Festival 2019
Get your wigs and costume on, find your Senpai and notice your Kohai while exploring great shops and restaurants in East and West Japantown Malls. Not sure what to do? Stop by Senpai booth to get Cosplay 101 from local cosplayers. This is a FREE event, no ticket needed!
When: July 20th | 11am-4pm | Japan Center | Cost: Free |
Bay Area Brew Festival
The Bay Area Brew Festival returns for its eight year, bringing back dozens of breweries, hundreds of beers, food trucks, dj, photo booth, and much more!. Admission includes unlimited beer samplings, with VIP attendees getting an extra hour of admission and some specialty beers poured during the first hour. This event is 21 and over only!
When: July 20th | 12-8:30 pm | Fort Mason Center | Cost: $45-$60 | Buy Tickets Here |
Dusty Rhino Pre-Burn
It's that time of the year again! Dusty Rhino is back at Public Works for our annual Pre-Burn extravaganza. As we prepare to get dusty for our eleventh year on playa, it's time to hit the dance floor with you again! This is the perfect opportunity to rekindle those playa vibes and prepare for the upcoming burn. Come dance the night away with good music and even better vibes!
When: july 20th-21st | 9pm-4am | Public Works | Cost: $10-$100 | Buy Ticets Here |
Ice Cream Sunday
Calling all ice cream lovers! Celebrate National Ice Cream Day with over 50 melt-worthy flavors — coned, cupped, rolled, scooped, swirled, and topped with everything under the sun! Put the cherry on top your Sunday with giant games, fun photo opportunities, live music, and savory snacks from a variety of Bay Area food trucks to enjoy in between the delicious desserts!
When: July 21st | 11am-5pm | SoMa StrEat Food Park | Cost: $5 | Buy Tickets Here |
Which weekend events will you be attending? Let us know in the comments below or on Facebook or Twitter!
If you're interested in learning more about events we've done for other San Francisco startups or other Fortune 500 companies, click here.
---
Planning an event but don't know where? Today, ABCey has curated a list of the top five new San Francisco venues for your next big conference or event!
1. Palette
Palette is a restaurant and gallery that explores the relationship between food, art and community. Located in the SoMa neighborhood of San Francisco, Palette is an 8,500 sq. ft. storied space within walking distance of the Moscone Center, Yerba Buena Gardens and the SFMOMA. With the ability to accommodate up to 225 guests, Palette is a great place for large events!
Location: 816 Folsom Street | Book here | Contact Info |

2. DecantSF
DecantSF is the newest addition to San Francisco's wine and beverage scene. It is available for private events such as tastings, wine list consulting for off-property events, and corporate gifting. Whether your event is small or big, DecantSF will work with you and specially customize a program just for you!
Location: 1168 Folsom Street | Book here | Contact Info |
3. Story on Union
Conveniently located on Union Street in the Cow Hollow neighborhood of San Francisco, Story on Union is the sweet spot for your next private event. Whether it is a cocktail party, rehearsal dinner, fundraiser or even retirement party, the options are endless! In addition, it can accomodate up to 175 people.
Location: 2136 Union Street | Book here |
4. Nommo
Opened by two acclaimed bar owners Thad Vogler and Jon Santer, Nommo was built with your event needs in mind! Nommo has a menu that appropriately spans land and sea. Not only are there seafood, but also there are cheese plates, little gem and chicory caesar salads, and desserts. With views of the Bay Bridge, this place is sure to be on your list!
Location: 396 Harrison St. | Book here |
5. The Brixton on 2nd
The Brixton San Francisco has opened the second location of its iconic, rock 'n roll inspired restaurant. It is a full service restaurant with a lively bar and cafe that features two separate private dining rooms available for guests, which are named after baseball players Willie Mays and Willie McCovey. If your event is small or big, this place will sure be a smash hit!
Location: 701 2nd Street at Townsend Street | Book here | Contact Info|
What are your favorite new San Francisco venues? Are there any we missed? Can ABCey help plan your next event at one of these fun spots? Let us know in the comments below or on Facebook or Twitter!
If you're interested in learning more about events we've done for other San Francisco startups or other Fortune 500 companies, click here.
---
Every once in a while, everybody needs an escape from the confining quarters of their work – whether they work in an office or from home! A retreat is the perfect opportunity for companies to …. But what is there to do? ABCey has curated a list of our top 10 favorite corporate retreat activities fit for everyone!
It's a giant playground for adults! Located in Lands End, this obstacle course built with ropes, ladders, and cables is immersed in a mini forest located in our urban city. The ropes course will challenge you mentally and also get your blood rushing in ways an office may not. So go through the highs and lows (literally!) with your team, and it'll surely bring out your adventurous side.
"Learning through laughter." Nerd Improv strives to create workshops that are meant to help your team get the most out of your retreat. It was designed to help push the boundaries while making a safe environment for everyone to share. For any questions, you can contact them here.
Hosted by 1AM, this workshop is meant to bring out your creative side with street art! Groups are encouraged to create their own street art individually and in groups with stencils and much more. Alongside the art, their team goes through the history of street art that you surely won't forget! The best part? You won't forget your experience anytime soon with the art hanging on your wall!
Escape your office with an escape room! Reason provides your team with high tech team building activities and immersive experiences. Instead of your typical escape room, you can experience this through VR goggles to transport yourself into another reality and much more. In addition to an awesome escape, this retreat will build a stronger and better team!
Get up from your office chair and get on a boat! Your retreat will feature some of the most beautiful views and create some of the best memories. Your sailing experience will be personalized to whatever mood your team needs whether it be relaxing or thrilling! So pack your favorite sea sickness remedy and sail away!
Love food trucks? You'll love this challenge even more! The Food Truck Challenge prompts teams to experience what it's like to have your own and run your own food truck. Judges will base their decision on every aspect from the food to the marketing, so be prepared!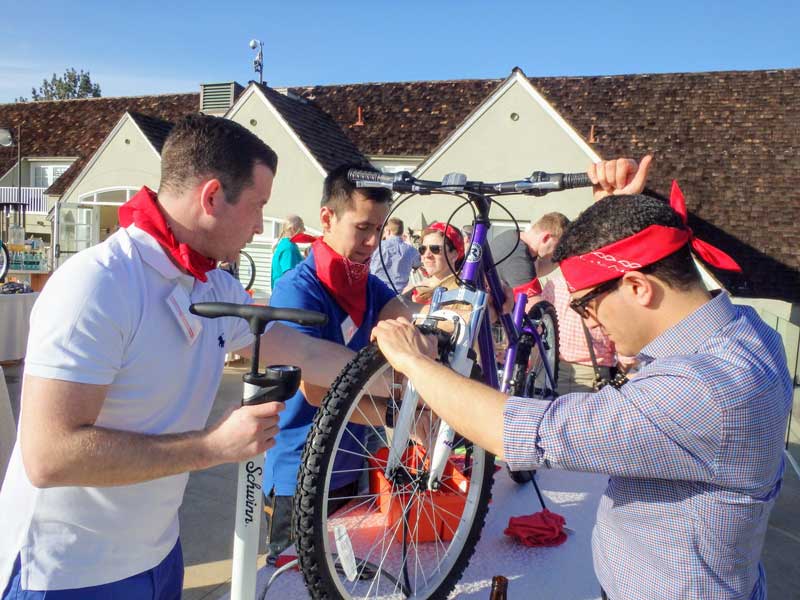 Drop the pens and papers and swap it out with wrenches and gears! This charity event challenges teams to build as many bikes as they can, and all the bikes built are donated to children around the world. It's an amazing cause and your team will build a competitive spirit together for a heartwarming cause as well.
This is great way to unwind after a long week of meetings. After splitting into teams, each group becomes their own winery (a dream come true)! After being briefed on the history of Sangria and competing in a trivia contest, teams have the opportunity to create their own unique blend, too.
Who doesn't love mini golf? Your team can make your own fun with challenging mini golf courses designed to trick the other team. If you're feeling charitable, there's also an option which involves cans of food to be donated as you complete the course. A little competition never hurt anyone, and hopefully you'll leave with a sense of accomplishment!
If you love food and you love San Francisco, we've got one of the most perfect retreat activities for you! This foodie adventure will prompt your teams to explore San Francisco while also trying some of the best foods around the city! You'll be leaving with a full belly and a new love for our hometown!
What are your favorite off-site activities?
These off-site corporate retreat activities can be adjusted to any retreat you have! Are you ready? Which ones did we miss? Let us know in the comments below or on Facebook or Twitter!
---
Whether it's a small event, a huge conference, or a gala, purchasing or renting event decor can be very wasteful and pricey! ABCey has compiled a list of our favorite ideas for upcycled event decor!
1. Actual Trash (and yes, we mean it!)
Actual trash! You can use thrown-out trash and transform it into a banner of trash bags or a beautiful backdrop for your guests. This one was even from one of our events, Creating Equilibrium – an environmental conference and festival that focused on sustainability! Based on the theme, we designed a depiction of our oceans by upcycling thrown-out trash.
2. Wooden Pallets
Wooden pallets are one of the best things to upcycle! It effortlessly adds a natural element to your event and can be transformed into a multitude of things! You can stack them for a makeshift table, hang photos and lights from them, paint them to make signs, and so much more. All it takes is a little imagination..
3. Old Rope and Leftover Boards
With old and sturdy rope and a board, you can create a suspended tabletop for any outdoor event! Dress it up for an elegant party or add some party favors for your guests! If you want add a playful feel for any younger guests or those with young hearts, you can create a swing! It'll also become a great photo-op for people to remember your event.
4. Hula Hoop
Hula hoops don't just have to stay around your waist (and sometimes the floor)! With some flowers and greenery, you can completely change your old hula hoop into a chandelier! You can also use it to highlight a statement word you want your guests to remember even after they leave! Cheers!
5. Jars
Jars and bottles are an easy element to upcycle! If you add a little water, you can use them as a vase for florals. Also, you can make it into an activity for your guests with a little paint or twine to let them customize their own! If you are looking to illuminate your event, placing candles or lights inside a jar is a great way add a soft glow!
What is your favorite upcycled event decor?
All these projects can also become a great interactive activity for you and your guests. They're just as elegant and beautiful as store-bought event decorations. Which ones will you use?  Let us know in the comments below or on Facebook or Twitter!
---
It's Presidents Day Weekend! ABCey Events has the Weekend Lineup with a list of the top Bay Area Weekend events! Enjoy the long weekend with  SF Beer Week or running around the city in your undies! Take some time to relax and plan out your weekend with these options in mind!
---

February 17 | 5 – 8pm | Tickets | SPARK | San Francisco
San Francisco is celebrating beer week and is featuring an Oyster and beer combo! For $30 you'll get a dozen oysters on the half shell and 6 – 4 ounce local craft stouts! Attendees have the option to also not pay and can chose which stouts to sample and also chose from a selection of 13 yummy food trucks!
February 18 | 12 – 4pm | Tickets | Pedro's Cantina | San Francisco
Break out your cutest set of undies and get ready to parade around the streets of SF in them! Run a mile with your friends and help raise money for The Children's Tumor Foundation and neurofibromatosis research!
February 18 | 7pm – 12am | Tickets | Patricia's Green | San Francisco
Rent a pair of headphones and get on the dance floor! The world kick off party for 2017's silent discos is this weekend. Bring your friends and your best moves!
February 18 | 12 – 10pm | Tickets | San Francisco
Calling all millennials! Who doesn't love the 90s more than us? Put together your best throwback outfit and enjoy $2 beers from various San Fran bars!
February 18 | 1:30 – 5pm | Tickets | Fort Mason Festival Pavilion | San Francisco
Want to experience the largest selection of American wines in the world? Come try one of the 7,100 wines available at the San Francisco Chronicles' wine competition! Become a wine connoisseur and taste the day away!
Tire yourself out this weekend and take  the extra day to relax on Monday! We're looking forward to a busy weekend with all these awesome events!
---
Will you be attending any of these Bay Area/SF events? What other SF events are you excited about this weekend? Let us know in the comments below or on Facebook and  Twitter!
---
---
July has flown by and it's time to start preparing ourselves for August! We can't believe how fast this month went by, and ABCey Events is here to help you make the most of the last weekend in July with a list of our fave SF Weekend Events going on!
---
Friday-Sunday, 7/29-7/31 | 6:30 pm | $75 |44 Tehama St. San Francisco 
Startup gurus- it's time to block out your calendars for this weekend's Entertainment for Social Change Startup Weekend! Bring your ideas from all different backgrounds, pitch  ideas, and create teams to develop solutions to  social issues. Some of Bay Area's top mentors will be in attendance to add guidance to you and your co-founders. Then, you and your team will pitch your ideas to judges over the course of 54- hours. Don't miss this incredible opportunity to network, connect and learn with talented influencers from around the Bay Area! This is your chance to be a part of/be the start of Silicon Valley's next big venture! You can register for this event here.
---
Saturday 7/30/16 | 11am- 9pm | $5 | 601 Mission Bay Boulevard North, San Francisco
Is there really a better way to celebrate the weekend than by consuming endless amounts of Mac and Cheese? This is one of those awesome SF weekend events that has a line up of amazing food! There are  over 10 mind blowing mac and cheese food trucks, ready to serve up deliciousness that will leave your taste buds amazed. Make sure to try as many as you can, as you will be able to vote for your fave! With only a $5 general admission,  you'll get free beer will be served as well as and free water all day long! Looking to make the most out of this event? Upgrade your ticket to the Big Cheese Passport for just $20 in advance ($25 at the door) and indulge in 4 heaping mac and cheese samples from any vendor! You don't want to miss out on this oh so cheesy event!
---
Sat-Sun, 7/30-7/31 | 10am-6pm | FREE | Cesar E. Chavez Park at the Berkeley Marina 
Nothing screams summer quite like kites!  The Berkeley Kite Festival this weekend allows fun for all ages (or something similar), so if you're thinking you are too old for kites…think again!  This festival features soaring kites the size of houses soaring in the sky, free kite flying lessons, and tons of great food and drinks to indulge in. This fun, free festival is the perfect way to spend your last weekend of July!
---
Friday, 7/29 | 9:30pm-1:30am | $15 | AURA NIGHTCLUB – 389 S. First Street, San Jose 
Ready for some all night colorful fun? Then this is the party for you!  This Color Splash event will be full of colorful paint blast, lasers, awesome lighting, confetti canons, and large visual LED panels. There will also be a live body painting showcase, plus go-go dancers in full body paint! Buy tickets to this one of a kind party here.
---
Friday 7/29 | 6pm-9pm | 1300 Potrero Avenue, San Francisco | $20 
Calling all SF wine lovers! This Friday, The Ivy Society and Three Day Rule are teaming up for one epic summer wine night at Eristavi Winery.  Unwind from your work week with this luxurious wine event where complimentary bread and cheese boards will also be served to help you fully enjoy the amazing wines.  Plus, this event is offering its very own Lyft code to ensure you get to and from the event safely! Use the code: LYFT2SUMMERWINE for 20% off your rides to and from the event. You can purchase tickets for the event here.
---
So grab your fav pals and enjoy these wonderful SF Weekend events together!
Going to any fun SF Weekend Events that we missed? Let us know in the comments below or on our Facebook and Twitter!
---
San Francisco is a beautiful city with so much to do! We love to spend our time exploring SF in ways we haven't thought of before! ABCey has compiled some of our favorite unique and local tours, perfect for a girls night or date night. We hope someone wants to take us out on the Seaplane tour soon!
Explore some of the most famous neighborhoods and sights in San Francisco while riding a Segway! This tour will take you through Chinatown, Northbeach and the Waterfront while enjoying the moonlit views. Purchase tickets here.
Enjoy sips of vino while you sail over to Treasure Island. Once there, you can visit three wineries on a self guided tour. Enjoy as little or as much time as you like at each venue and then get back on the boat for the trip back to mainland. Purchase tickets here.
If you love being outdoors, hiking, and learning all about San Francisco's rich history, this tour is for you. You can expect a five mile tour while exploring some hidden treasures and seeing some of the well know sights of SF.  Dogs allowed! Purchase tickets here.
As their slogan states, this is "the cure for the common tour". This car is equipped with a computer that talks to you. You can park and explore anywhere you'd like, and the tour continues when you continue to drive. Purchase tickets here.
See San Francisco like you never have before. Take off from the bay and fly around the famous attractions of The City. This flight is normally around 30 minutes and takes you by The Golden Gate Bridge, AT&T Park, Alcatraz and more! Purchase tickets here.
Which tour is on your to-do list?! Let us know in the comments below or Facebook and Twitter!
---
Are you ready for Outside Lands this weekend?! Whether it's your first or fourth time attending, there's lots to do and see! Navigating the festival is no walk in the park. ABCey has your local's guide to make sure your experience is stress free!
1. Know Your Lineup and Schedule
This year there is more than ever to do! Make sure you know the line up and schedule of events! You definitely don't want to miss something because you didn't do your research. Get the Outside Lands App to help with all your planning. You can build your own schedule  with all your personal picks and the app has everything in one place from food, event times and updates making it easy and convenient!
2. Ride your bike
There are a variety of ways to get to the festival. Drive, Uber, Muni or a 3-day shuttle pass! We suggest to bike for the best and easiest way to get there! You can valet your bike at the festival and if you park between 10am and 8pm they'll even hook you up with a free bike wash! Don't forget to bring your own lock!
3. Eat lots of Food
Alongside the amazing musical acts will be some equally amazing food! There will be a massive collection of local vendors, food trucks, restaurant partners and carts. Longtime favorites, Namu and Pacific Catch will there again, but you definitely don't want to miss out on some newbies including Sababa, The Monk's Kettle and Rocko's Ice Cream Tacos, and more! Set deep in the woods these are perfect spots to explore between sets!
4. Beer and Wine Lands
Since you can't bring in your own alcohol, The Wine and Beer Lands are your alcohol stops! Both are stacked with fantastic options. Beer Lands will feature amazing local brewers like Anchor and Sierra Nevada and incredible micro-brewers that you should definitely try as well! Overall,  there will be a staggering 32 breweries!
This year Wine Lands (37 winemakers, 120 +wines) has a new home in Lindley Meadow and will be going completely cashless! Your wristband is your festival ticket and your digital wallet at Wine Lands. Find out how to create your cashless account and get your 'Bison Bucks' here.
5. Be Awed by Some Art
There are many reasons why Outside Lands is a festival unlike any other, but a big one is the art! With outside art, from artists like Amanda Lynn and Jeben Berg, live painting by Sam Flores and Zio Ziegler +friends and Dr. Flotsam's Hell Brew Revue, you are sure to be stunned by some amazing masterpieces.
6.  Watch Master Chefs do Gastromagic
The festival's culinary entertainment is promising even more outlandish food stunts this year! Gastromagic is the celebration of culinary wonderment and the home for innovation around all things possible for food, drink, music magic and more. We can't wait for Morimoto Karaoke, where Iron Chef Morimoto will be rolling sushi while singing Karaoke! For the full Gastromagic schedule click here!
7. Participate in Other Activities
The Festival is jam packed with great music, food and comedy, but Outside Lands is also bringing you other can't miss activities like The House by Heiniken, Castland by Chromcast, Beer Camp by Sierra Nevada, Aloha Sculpture by Oluki and more! We are most excited for The Back Wine- Mini Golf Course! This new attraction will include a 3-hole mini golf course with each hole paired with a different wine tasting by Cannonball.
8. Experience the City with Night Shows
In case you can't get enough at the festival, there will be night shows around the city as well! We are can't wait for "The Notorious Wilco Brother" on August 6th. Few details have been released, but we know what every member of the indie rock band Wilco will be there. For a full list of performances, locations and to buy tickets click here!
Final reminders:
1. Phone charging: Don't worry about how to charge your phone, The Recharge Spot powered by Paypal has got you covered. They are stocked with a variety of phone chargers and you can even play a game for awesome prizes, get your face painted and more while you wait!
2. What to wear: Wear layers because one moment it can be warm and sunny, then winds gust and then next moment its foggy and cold. The weather changes quickly so be prepared! You can rent a locker to keep your things stored if you wish!
3. Cans/ Can'ts: Finally remember that you can't bring in any alcohol, chairs, professional still cameras or hard coolers. Blankets, empty camelbacks or other plastic containers and selfie sticks are a go. Here is a full list of can and can'ts.
Can't make it this year? Don't worry! This year Outside Lands will also be live streaming. We hope you have an amazing time at Outside Lands! Let us know what you're most excited for in the comments below or on Facebook and Twitter!
---
---