Every once in a while, everybody needs an escape from the confining quarters of their work – whether they work in an office or from home! A retreat is the perfect opportunity for companies to …. But what is there to do? ABCey has curated a list of our top 10 favorite corporate retreat activities fit for everyone!
It's a giant playground for adults! Located in Lands End, this obstacle course built with ropes, ladders, and cables is immersed in a mini forest located in our urban city. The ropes course will challenge you mentally and also get your blood rushing in ways an office may not. So go through the highs and lows (literally!) with your team, and it'll surely bring out your adventurous side.
"Learning through laughter." Nerd Improv strives to create workshops that are meant to help your team get the most out of your retreat. It was designed to help push the boundaries while making a safe environment for everyone to share. For any questions, you can contact them here.
Hosted by 1AM, this workshop is meant to bring out your creative side with street art! Groups are encouraged to create their own street art individually and in groups with stencils and much more. Alongside the art, their team goes through the history of street art that you surely won't forget! The best part? You won't forget your experience anytime soon with the art hanging on your wall!
Escape your office with an escape room! Reason provides your team with high tech team building activities and immersive experiences. Instead of your typical escape room, you can experience this through VR goggles to transport yourself into another reality and much more. In addition to an awesome escape, this retreat will build a stronger and better team!
Get up from your office chair and get on a boat! Your retreat will feature some of the most beautiful views and create some of the best memories. Your sailing experience will be personalized to whatever mood your team needs whether it be relaxing or thrilling! So pack your favorite sea sickness remedy and sail away!
Love food trucks? You'll love this challenge even more! The Food Truck Challenge prompts teams to experience what it's like to have your own and run your own food truck. Judges will base their decision on every aspect from the food to the marketing, so be prepared!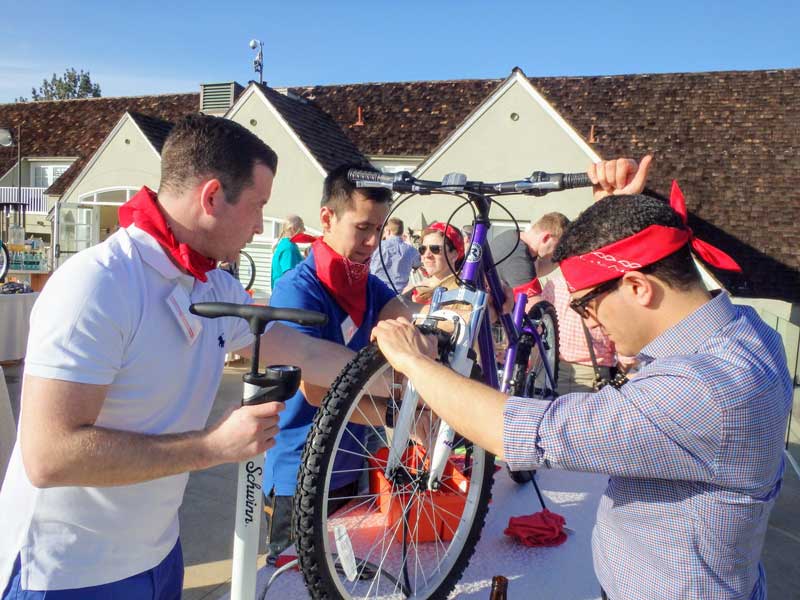 Drop the pens and papers and swap it out with wrenches and gears! This charity event challenges teams to build as many bikes as they can, and all the bikes built are donated to children around the world. It's an amazing cause and your team will build a competitive spirit together for a heartwarming cause as well.
This is great way to unwind after a long week of meetings. After splitting into teams, each group becomes their own winery (a dream come true)! After being briefed on the history of Sangria and competing in a trivia contest, teams have the opportunity to create their own unique blend, too.
Who doesn't love mini golf? Your team can make your own fun with challenging mini golf courses designed to trick the other team. If you're feeling charitable, there's also an option which involves cans of food to be donated as you complete the course. A little competition never hurt anyone, and hopefully you'll leave with a sense of accomplishment!
If you love food and you love San Francisco, we've got one of the most perfect retreat activities for you! This foodie adventure will prompt your teams to explore San Francisco while also trying some of the best foods around the city! You'll be leaving with a full belly and a new love for our hometown!
What are your favorite off-site activities?
These off-site corporate retreat activities can be adjusted to any retreat you have! Are you ready? Which ones did we miss? Let us know in the comments below or on Facebook or Twitter!
---
---
---
---
---
At ABCey, we love to keep our eye on all the hottest events, trends, and startups here in the Bay Area. This past week, Google hosted their annual Google for Entrepreneurs Demo Day 2017  (@GoogleForEntrep) here in San Francisco. Google brought together thirteen of the best startups from all across North America to compete on one stage.
At Google Demo Day, startups got the opportunity to showcase their technology as well as meet a crowd full of top investors. Startups like PRSONAS and Triton Wear battled on stage for two awards. Read on to see which startups won the judge's award and the audience's game changer award!
Battle of the Startups #GoogleDemoDay

Meet the Startup Winners:
Judge's Award: This award went to Stackfolio, a major player in today's market, and one of main reasons why their pitch caught the judge's attention. At Stackfolio, their goal is to create a faster way for institutions to trade. So, they developed a great online marketplace for loan trading!
https://www.youtube.com/watch?v=UBYHqdjStUg
Audience's Game Changer Award: This award went to Waymark, an art and tech startup located in Detroit, Michigan. It didn't take much for them to take home the award for the crowd favorite. Waymark's mission is to make video marketing more efficient for businesses by using their tool, MOVEMENT.  Waymark's tool collects information from your business's website to create your very own personalized business commercial, all within seconds!
---
Do you want to showcase your technology and meet top investors and mentors? Read more here on how to get nominated for next year's event!  Which startup is your fave? Let us know in the comments below or on Facebook and Twitter!
---
---
---
---
Here at ABCey, we like to keep up with all the latest tech trends. As Snapchat has arguably become the most popular social network among teens and millennials, we've caught on to the idea that it can be used for event marketing, to enhance guest experience, provide event messaging, and even promote your speakers or sponsors. Here are 10 ways to use Snapchat for your next event using geofilters, ads, lenses and more!
*A snapchat account is needed in order to post stories, chat, and send snapchats directly to users; we suggest your company uses an account at least for the duration of the event.
---
---
1. Pre-event Hype
From the very start, you can build up suspense by event marketing with Snapchat! Send invites to guests via snapchat to create important interaction with guests. Long before the event, keep your guests informed and excited by sending them snaps and posting about your event through the transformation of the venue, decor, or anything else that goes into the event prep!
2. BTS (Behind The Scenes)
Market your event by showing behind the scenes snaps on the event prep. From snapchats of swag bag prep, setting up guest registration, or watching the AV team set up an awesome projection mapping display, guests will be excited long before their arrival.

3. Speakers/Sponsors/Performers/VIP's
Are you bringing in speakers, sponsors, or VIP's? Follow in the footsteps of other event producers and let them take over your Snapchat to talk about the event and post snaps!
4. Live Updates
Engage with and update your guests! Utilize Snapchat by sending snaps and posting throughout the event when there's a speaker or performer. You can even use it to post info on the event/time changes, etc.  With this app you can bring event engagement to the next level!
---
5.  Thank you's
After the event, engage with attendees to solidify relationships built and keep the success of the event in their minds. Use Snapchat for post-event engagement with your guests by sending snaps to them personally,  messaging them, and posting on your event, and of course thanking them for attending!

6. Coupons, discount, or gift
One brilliant yogurt company let users send a snap of them with their product at their locations to the company's snapchat account, so that they could receive a reply snap with a coupon. You can do the same thing for an event, possibly for a product launch.  Just give users a discount on the event admission or a cool gift for buying the product!
---
7. Prizes for promoting
You can also give out prizes to people who use their Geofilter, and post the snap on Facebook or Instagram with the event or business hashtag. This can help promote your event through your attendees!
8. Ads: Lenses & Discover
Use lenses relating to your business or event to help with event promo's by reaching tons of users. Snapchat's Discover feature also has channels (ex: ESPN, Cosmopolitan, BuzzFeed) that create new content daily. Get your ad featured on a popular channel to help spread your content!
9. Snapchat Live Story
Snapchat's feature called Live Story is great for major sporting events or music festivals. This allows users in the vicinity to post to this story, and every snapchat user worldwide can view their snaps. If you are hosting a large enough event that gets OK-ed from Snapchat, Live Story can be an incredible tool. Over 100 million people use snapchat daily, so imagine what getting a live story can do!
10) On-Demand Geofilter
The On-Demand Geofilter  feature allows anyone to make a filter that users who are at a certain place can use, during a specific time range. Whether it's for the Oscars or for a birthday party, anyone can buy one, and they're cheap! Event promotion is enhanced as guests use the filter and post their story or send snaps.
Do you use Snapchat for your events? Let us know in the comments below or on Facebook and  Twitter.
---