Happy almost Friday! ABCey brings you this week's San Francisco Weekend Lineup with our FAVE events happening in San Francisco. Are you getting excited for these events this weekend?
Oracle Park's Free Summer Concert
San Francisco's Giants are proud to present the first ever Levi's Concert Series from now until September 27th. Enjoy a free pre-game concert before each Friday night home game. This week's lineup is local artist, Barry Zito. No game ticket required!
When: July 19th | 5:01-7pm | Seal Plaza at Oracle Park – Located behind center field | Cost: FREE |
Uncorked: SF Wine Fest
Uncorked Wine Festival is back for a special Friday night at the Fort Mason Festival Pavilion. Join them from 6-10pm and enjoy over 150 wines and champagnes, gourmet local food trucks and food vendors, live music by DJ Aaron Francisco, a custom photo booth and more! This event is 21 and over only.
When: July 19th | 6-10pm | Festival Pavilion (Fort Mason Center) | Cost: $65-$100 | Buy Tickets Here |
SF Anime Festival 2019
Get your wigs and costume on, find your Senpai and notice your Kohai while exploring great shops and restaurants in East and West Japantown Malls. Not sure what to do? Stop by Senpai booth to get Cosplay 101 from local cosplayers. This is a FREE event, no ticket needed!
When: July 20th | 11am-4pm | Japan Center | Cost: Free |
Bay Area Brew Festival
The Bay Area Brew Festival returns for its eight year, bringing back dozens of breweries, hundreds of beers, food trucks, dj, photo booth, and much more!. Admission includes unlimited beer samplings, with VIP attendees getting an extra hour of admission and some specialty beers poured during the first hour. This event is 21 and over only!
When: July 20th | 12-8:30 pm | Fort Mason Center | Cost: $45-$60 | Buy Tickets Here |
Dusty Rhino Pre-Burn
It's that time of the year again! Dusty Rhino is back at Public Works for our annual Pre-Burn extravaganza. As we prepare to get dusty for our eleventh year on playa, it's time to hit the dance floor with you again! This is the perfect opportunity to rekindle those playa vibes and prepare for the upcoming burn. Come dance the night away with good music and even better vibes!
When: july 20th-21st | 9pm-4am | Public Works | Cost: $10-$100 | Buy Ticets Here |
Ice Cream Sunday
Calling all ice cream lovers! Celebrate National Ice Cream Day with over 50 melt-worthy flavors — coned, cupped, rolled, scooped, swirled, and topped with everything under the sun! Put the cherry on top your Sunday with giant games, fun photo opportunities, live music, and savory snacks from a variety of Bay Area food trucks to enjoy in between the delicious desserts!
When: July 21st | 11am-5pm | SoMa StrEat Food Park | Cost: $5 | Buy Tickets Here |
Which weekend events will you be attending? Let us know in the comments below or on Facebook or Twitter!
If you're interested in learning more about events we've done for other San Francisco startups or other Fortune 500 companies, click here.
---
---
Startup Monday is ABCey's weekly post that showcases some of the most innovative San Francisco startups! These are selected from a list of companies that we LOVE or have worked with in the past. This week, we are putting the spotlight on Workday!
What is Workday
Workday is a free cloud-based business management platform founded in 2005. It specializes in people resource management and financial management. It is an effective and affordable system for tracking employees and developing a globally manageable company structure.
How it works
Workday caters to two main end users: employers and employees.
As an employer, you can use this app to track expenses and/or assign new tasks to your team. You can also view your employees' profiles and provide performance feedback.
As an employee, you can complete administrative tasks such as clocking in and out, tracking your pay, and requesting time off, all in one app.
Why we love it
We love Workday because it makes business management within an organization so much easier! Users can have access to work related applications and data on-the-go. What I love the most is that paycheck mistake, scheduling discrepancies can be easily detected and fixed in a timely manner. And, with the touch ID and Face ID features, users don't need to worry about the safety of the information.
Have you heard of them? Do you like Workday, too? Let us know what you think in the comments below or on Facebook and Twitter!
If you're interested in learning more about events we've done for otherSan Francisco startups or other fortune 500 companies, click here.
---
Tomorrow's the day we're all looking forward to: Friday! ABCey brings you this week's San Francisco Weekend Lineup with the top events happening in the Bay Area! If you don't have plans this weekend, we've got you covered from Star Wars at the Symphony Hall to a Burning Man trunk show!
July 20 | 6am – 9am | Prices range from $30.00 – $45.00 | San Francisco Belle, Hornblower
Usually, you may not be a morning person, but you're going to want to be one for Daybreaker SF! Get ready for an unforgettable time with crazy beats, amazing company, and tons of dancing! Being their 4th anniversary, their theme is "Come Sail Awake With Us" and they plan to entertain you all morning with activities like yoga, dancing, and face painting! It's one our favorites for the weekend, will we see you there?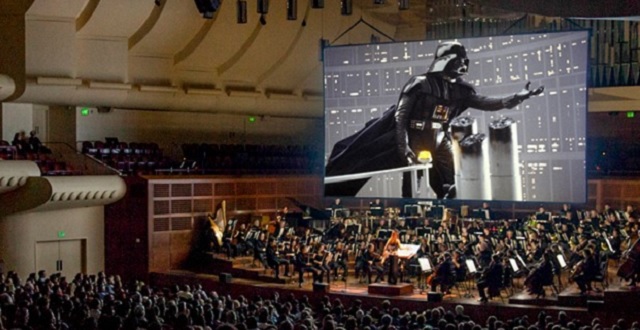 July 18 – August 3 | 7:30pm | Prices range from $75.00-$125.00 | Davies Symphony Hall
The SF Symphony summer concert series returns this weekend! If you love Star Wars, you're going to be ecstatic! The orchestra will play live scores from the original Star Wars trilogy with the films projected on stage! Talk about an unforgettable experience!
July 21 | 12:00pm – 6:00pm | Free admission | The Great Northern
Burning Man is coming up! Hope you're ready to begin shopping of your costume at the 12th Annual "Beyond the Fence" Trunk show! There will be over 30 local and independent designers selling unique costumes perfect for the desert getaway! Local DJs and cocktails will be available for you to enjoy while you take in inspiration on and off the Playa!

July 27-30 | 1:00pm – 10:00pm| Prices range from $20 and up, depending on donations | The Midway
In honor of Larry Harvey for starting Burning Man, we gather together to celebrate the passion he has created in others. This man dreamed of a world where creative minds can come together to cooperate and this vision led to the creation of Burning Man.
July 22 | 11:00am – 4:00pm | Free admission | Main Parade Ground
Rain or shine, the Presidio takes place on the Main Parade Ground. It features many vendors to get a taste of the diverse foods and cultures of the Bay Area and a free cultural dance performance on the fourth Sunday of each month! It will feature more than 25 international mobile food inventors, music for everyone, lawn games, yoga, and nature-based crafts for kids!
July 22 | 2pm | Free admission; First come, First Serve | Stern Grove
Since 1938, the SF Symphony returns every summer for an annual performance, and their return dates for this Sunday! If you're looking for a nice event to take your family or a relaxing day filled with beautiful music, we hope to see you there!
What does your San Francisco weekend lineup look like?
Which events will you be attending this weekend? We'd love to hear from you! Let us know in the comments below or on Facebook and Twitter!
---
It's almost Friday! ABCey brings you this week's Weekend Lineup with the top events in the Bay Area for the upcoming weekend! We've got everything from a  circus-themed dinner, to wine and beer tastings, and even hot air balloons! 
Thursday June 8th | 5-9pm |  Free Admission, $30 All You Can Drink Craft Beer | Spark Social SF, 601 Mission Bay Boulevard, North San Francisco, CA
Kick-off your carefree summer with exceptional beer and fresh air for an all-you-can-drink tasting adventure in the city! Featuring drinks from Fieldwork Brewing Company, New Bohemia Brewing Company, Drake's Brewing Company, and more! 
Starting Friday, June 9-17th | 7:30pm-Midnight | Cost: $50-$130 |  Ages 21+ | Tortona Big Top 2001 Ferry Point Alameda, CA  
From the co-creators of The Edwardian Ball, New Bohemia NYE, Phantasm SF, Lagunitas Beer Circus is the nightlife event of a lifetime. A circus-themed, dinner and theater experience that you will surely not forget! A wonderful night out that explores San Francisco's scandalous history and with a world-renowned performance.  
Weekend Lineup's Wine Down Fridays 
Friday June 9th | 5-8pm | Cost: FREE entry! | Urbano Cellars, 2323 B Fourth St. Berkeley, CA 94710
Friday's call for wine & food trucks! Get the weekend started with some delicious wine, food trucks, live music & art! A perfect start to your Friday night.
Sonoma County Hot Air Balloon Classic 2017
Saturday June 10th & Sunday June 11th  | 4am-10:30am  | Kids $5, Adults $20, Children 2 & under FREE | Keiser Park | 700 Windsor River Road, Windsor, CA
An early (but worth it!)  Weekend Lineup wake-up call to enjoy the beautiful hot air balloons in wine country. Right as the sun rises, these balloons will be launched from an open field into the sky. What a great way to start your morning! 
Spring Into Summer Parade & Fair
Saturday June 10th | 10am | Cost: FREE! | San Mateo County Event Center | 1346 Saratoga Drive, San Mateo, CA
Come enjoy the floats, bands & activities at the perfect event to kick-off summer! The parade will begin at Franklin Parkway, then continues along Delaware Street, and ends at the Fair. A perfect family activity for a fun Weekend Lineup Saturday afternoon! 
 _____________________________________
Will you be attending any of these Weekend Lineup Bay Area/SF events? What other SF events are you excited about? Let us know in the comments below or on Facebook and  Twitter!
---
---
Startup Monday is ABCey's weekly post that features some of the best and brightest companies in the Bay Area. They are often companies that we have our eye on, or have worked with in the past & would like to share with friends and followers of ABCey Events! 
---
Who doesn't love online shopping? At ABCey, we're loving Operator, a messaging app that helps you shop created by Uber cofounder Garrett Camp and former Zynga exec Robin Chan!  It combines the best parts of brick-and-mortar and online shopping. This app gives you the expert personal service you'd expect from an in-store employee. But, it doesn't lock you into shopping at just one physical location. Operator also offers the convenience of shopping from anywhere, anytime via your phone. Operator can even handle the heavy research you might want to skip or not be qualified to do. Afterwards, the annoying checkout experience is handled as well.
Operator Overview
It all starts with a message. Then, you're directly connected you to a network of shopping expertise that will find the best products. You can request almost anything and best of all, the service is free. Operator will take in mind price ranges, problem-related solutions, and even recommendations? Well, that's not what we usually hear nowadays when shopping online. The closest we get to getting recommendations when shopping alone online is through the reviews.
After deciding what you want, Operator also takes care of the billing process with no extra charges. Easily track your packages and ensure that your packages arrive! Also, if you need to return or exchange anything, message the Operator and they'll be there to help.
Start shopping anywhere and anytime! If you're planning on using this convenient shopping app, let us know in the comments below or on Facebook and Twitter.
---
July is already upon us and it's almost the weekend! We hope you are just as excited as we are for Independence Day on Monday, and ABCey has you covered with all of your 4th of July events coming soon! Until then, make the most of your weekend and check out these fun Bay Area events!
---
Fri. July 1st – Mon. July 4th, 2016| 11am-11pm |prices vary| 4501 Pleasanton Ave. Pleasanton, CA
If you haven't gone to the fair yet, GO!  This fair is a must-see attraction for everyone!  For kids, there is a children's park, adventure park, petting zoo, ferris wheel, and carnival.  Adults can be entertained with horse races, a beer garden, a wine bar, shopping areas, and live concerts.  There are only 4 more days til' the fair is over, so come check it out before it's too late!

Sat July 2nd & Sun July 3rd, 2016 | 10am-6pm | FREE | Fillmore St.–Jackson to Eddy St, San Francisco
Enjoy two days of music, food, art, and fun at the Fillmore Jazz Festival!  This festival takes over more than 12 blocks and has every kind of food and craft imaginable.  With 32 years under its belt, this festival has become incredibly popular and the largest free jazz festival on the West Coast.  Join the other 100,000 people who attend this event and jazz up your weekend!
Sat. July 2nd, 2016 | 10am-12pm | FREE | Stow Lake, Golden Gate Park, San Francisco
Experience nature this weekend and take a guided tour through Golden Gate Park.  This guided tour is free and a perfect way to collect your thoughts while getting fit!  With your own personal tour guide, you can learn all about the park, plants, and wildlife.  So get out and enjoy the great outdoors with a nice stroll!
Sat. July 2nd, 2016 | 7:30pm | FREE, RSVP for Early Entry Tickets | AT&T Park; 24 Willie Mays Plaza, San Francisco
Mix things up this weekend by seeing a play…a free play!  This Saturday, the San Francisco Opera is hosting a live simulcast and projecting their current play, Carmen, on AT&T Park's huge video screen.  You will definitely be entertained by Carmen, a femme fatale play with jealousy, danger, love and murder.  Head out to the ball park to watch this captivating play and a special pre-show and intermission with the other 30,000 attendees!
Sun. July 3rd, 2016 | 11am-4pm | FREE | 103 Montgomery Street, Main Post, Presidio, San Francisco
This year, Off the Grid has revamped their picnic and food truck event held in Presidio Park. They now have over the 30 food and beverage trucks, free yoga classes, games, and music!  You can also get clothes and accessories at their mobile shop, produce from their market, and help planning your next activity in San Francisco.  There are also FREE shuttles, PresidiGo, that travel to Embarcadero BART, certain SF streets, MUNI, and around the park.  Don't miss the chance to relax on the grass field and enjoy great food and company!
Fri. July 1st, 2016 | 8:30pm – 10:00pm | FREE | McInnis Park: 310 Smith Ranch Road, San Rafael, CA
Because this weekend is so jam packed, we have one more event that will get you in the mood for July 4th! Friday at McInnis Park, park rangers will have yummy s'mores to eat right before you walk to the top of the Nike Site to watch the 9:30pm Marin County Fair fireworks show.  Fireworks are always fun especially with s'mores and tomorrow you can get both for free!
What are you planning on doing this weekend? Let us know in the comments below or on Facebook &  Twitter!
---
Do you feel like this week went by incredibly fast and you haven't made plans for your weekend yet? Don't worry, ABCey Events has you covered! Whether you're into science, literature, food, or fashion – we've gathered a list of the most exciting events in San Francisco on September 13-14, 2014.
Free Shakespeare in the Park: The Taming of the Shew
Saturday and Sunday | 2pm | Main Post Lawn | 103 Montgomery Street, Main Post, Presidio
The ideal event to bring your friends and family together! Bring a blanket and some snacks and enjoy the funny and crazy plot twists in Shakespeare's The Taming of the Shew. A Green Show describing Shakespeare's background and history precedes the play, which makes this event great for non-Shakespeare literates as well.
Chic Metropolitan Fashion Show
Saturday | 7pm – 1am | 950 Mason St, San Francisco | Cover $30-50
If you are into fashion, you can't miss the Fast and Luxurious fashion show by Chic Metropolitan this Saturday. Held in The Grand Ballroom of the Fairmont Hotel and presented by multi-millionaire Robert Herjavec, Chic Metropolitan will introduce the latest fashion from Colleen Queen on more than 50 models. The Bay Area mash-up band The Rock-It Scientists will be playing at the event. Feel fancy and dip into the world of the rich and famous. Click here for more information and tickets.
Ghirardelli Square Chocolate Festival
Saturday and Sunday | 12pm – 5pm | Ghirardelli Square, San Francisco | Free entry but chocolate samples must be purchased.
Chocolate lovers will enjoy this weekend's 19th annual Ghirardelli Chocolate Festival! More than 30 vendors will be offering all kinds of sweet and delicious samples. The sampling tickets can be purchased here and the money will be donated to Project Open Hand. If you don't want to spend money on the sampling tickets, there are still plenty of other reasons to check out this event! There will be chef demonstrations from chocolatiers, cupcake bakers and many more, as well as the popular ice-cream sundae eating contest.
California Academy of Science: Free Admission Day
Sunday | 11am – 5pm | 55 Music Concourse Drive, San Francisco
This upcoming Sunday is one of the rare days when the California Academy of Sciences opens its doors for free to the public. Seize this opportunity! Bring family and friends and visit the world-class 400,000 square foot institution that includes an aquarium, a planetarium, a natural history museum and a four-story rainforest.
Where will you be this weekend? Tell us your plans in the comments below or on
Facebook
and
Twitter
.
---
We are already zipping through November which means that before we know it, Thanksgiving will roll on by to make way for December holidays. With these busy months coming up that are sure to be filled with lots of holiday parties, ABCey has gathered 5 ways to make use of those scattered leaves to make sure you and your house are party ready!
1. Wrapping | Amp up simple wrapping paper with brightly colored Fall leaves. And the best part, they're free! Just check out your backyard!
2. Stuffing | Stuff a vase with colorful leaves to create an easy center piece! Add in some acorns or little pumpkins you may have laying around too!
3. Candles | Give candles that Fall touch with a colorful leaf wrapped around it to instantly brighten your home!
4. Garlands | Garlands are a great decoration in general as they always tie a room together so nicely, but by making one with all your fall leaves, you are sure to grab attention!
5. Table Setting | What better way to decorate a Fall themed table than with Fall colors that are all natural! Want a little glitz? Spray paint the leaves metallic! So chic!
Which idea is our favorite?! Let us know  in the comments below or on Facebook & Twitter! 
---