Tomorrow's the day we're all looking forward to: Friday! ABCey brings you this week's San Francisco Weekend Lineup with the top events happening in the Bay Area! If you don't have plans this weekend, we've got you covered from Star Wars at the Symphony Hall to a Burning Man trunk show!
July 20 | 6am – 9am | Prices range from $30.00 – $45.00 | San Francisco Belle, Hornblower
Usually, you may not be a morning person, but you're going to want to be one for Daybreaker SF! Get ready for an unforgettable time with crazy beats, amazing company, and tons of dancing! Being their 4th anniversary, their theme is "Come Sail Awake With Us" and they plan to entertain you all morning with activities like yoga, dancing, and face painting! It's one our favorites for the weekend, will we see you there?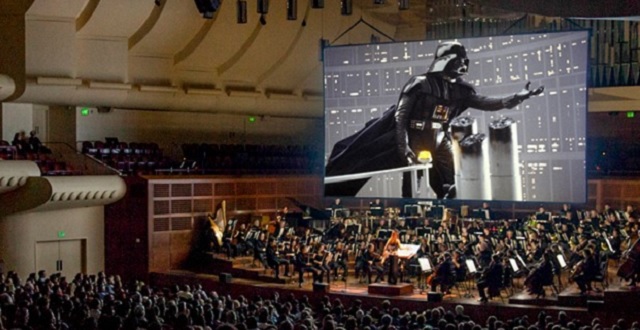 July 18 – August 3 | 7:30pm | Prices range from $75.00-$125.00 | Davies Symphony Hall
The SF Symphony summer concert series returns this weekend! If you love Star Wars, you're going to be ecstatic! The orchestra will play live scores from the original Star Wars trilogy with the films projected on stage! Talk about an unforgettable experience!
July 21 | 12:00pm – 6:00pm | Free admission | The Great Northern
Burning Man is coming up! Hope you're ready to begin shopping of your costume at the 12th Annual "Beyond the Fence" Trunk show! There will be over 30 local and independent designers selling unique costumes perfect for the desert getaway! Local DJs and cocktails will be available for you to enjoy while you take in inspiration on and off the Playa!

July 27-30 | 1:00pm – 10:00pm| Prices range from $20 and up, depending on donations | The Midway
In honor of Larry Harvey for starting Burning Man, we gather together to celebrate the passion he has created in others. This man dreamed of a world where creative minds can come together to cooperate and this vision led to the creation of Burning Man.
July 22 | 11:00am – 4:00pm | Free admission | Main Parade Ground
Rain or shine, the Presidio takes place on the Main Parade Ground. It features many vendors to get a taste of the diverse foods and cultures of the Bay Area and a free cultural dance performance on the fourth Sunday of each month! It will feature more than 25 international mobile food inventors, music for everyone, lawn games, yoga, and nature-based crafts for kids!
July 22 | 2pm | Free admission; First come, First Serve | Stern Grove
Since 1938, the SF Symphony returns every summer for an annual performance, and their return dates for this Sunday! If you're looking for a nice event to take your family or a relaxing day filled with beautiful music, we hope to see you there!
What does your San Francisco weekend lineup look like?
Which events will you be attending this weekend? We'd love to hear from you! Let us know in the comments below or on Facebook and Twitter!
---
It's almost Friday! ABCey brings you the Weekend Lineup for the best upcoming events in the Bay Area! There is everything from music and food festivals to a relaxing Father's Day bike ride through the San Francisco Zoo!
Weekend Lineup: San Francisco's World Refugee Day
Friday June 16th | 12-3:30pm | Free Admission | Mission District, 1850 Mission Street, San Francisco, CA
You don't want to miss San Francisco's World Refugee Day! It's fun and it's for a good cause! The days consists of cultural performances, international food, music, speakers, a talent show, a costume show and more to commemorate the bravery and contributions of refugees!
Phono Del Sol Music and Food Festival 
Saturday June 17th | 12-7pm | General Admission $29 | Potrero Del Sol Park (La Raza), 1500 Utah Street, San Francisco, CA
Phono Del Sol is a music & food festival that has an awesome lineup with 10 bands that will be performing all day long! There will also be 10 food trucks with an assortment of different types cuisine as well as a skate park! This festival is an all-age friendly event that will be the highlight of your weekend!
Presidio Kite Festival
Saturday June 17th | 12pm-5pm | Free Admission | Main Parade Ground, 103 Montgomery St, San Francisco, California 94129
Make your dad feel extra special this year and take him to the Presidio Kite Festival! This family-friendly event is the perfect way to celebrate Father's Day Weekend! Get your whole family together and head out to Presidio Park for some fun in the sun!
Raise the Temple!
Saturday June 17th | 2-10pm | General Admission $20-$27 | The Midway, 900 Marin Street, San Francisco, CA 94124
This day filled with music, art, and wellness is a fundraiser for the 2017 Temple at Burning Man! Come and show your support the build of the 18th Incarnation of The Burning Man Temple! All profits go to The Temple Build!
North Beach Festival
Saturday and Sunday June 17th-18th | 10am-6pm | Free Admission | Washington Square Park, North Beach District, San Francisco, CA
Don't miss out on San Francisco's 63rd annual North Beach Festival! There's obviously a reason it has been going on for this long! There will be all sorts of foods, a variety of drinks and amazing live entertainment!
Father's Day Bike About
Sunday June 18th | 8:30am-11:30am | $30 per peddler | San Francisco Zoo, Sloat Blvd & Great Hwy, San Francisco, CA 94132
Bring your family and celebrate Father's Day with an exciting hour-and-a-half long bike ride through the San Francisco Zoo! Everyone will enjoy seeing all of the exotic zoo animals! Make this Father's Day one your family never forgets!
Will you be attending any of these Weekend Lineup events? What other San Francisco events are you excited about this weekend? Let us know in the comments below or on Facebook and  Twitter!
---
It's Presidents Day Weekend! ABCey Events has the Weekend Lineup with a list of the top Bay Area Weekend events! Enjoy the long weekend with  SF Beer Week or running around the city in your undies! Take some time to relax and plan out your weekend with these options in mind!
---

February 17 | 5 – 8pm | Tickets | SPARK | San Francisco
San Francisco is celebrating beer week and is featuring an Oyster and beer combo! For $30 you'll get a dozen oysters on the half shell and 6 – 4 ounce local craft stouts! Attendees have the option to also not pay and can chose which stouts to sample and also chose from a selection of 13 yummy food trucks!
February 18 | 12 – 4pm | Tickets | Pedro's Cantina | San Francisco
Break out your cutest set of undies and get ready to parade around the streets of SF in them! Run a mile with your friends and help raise money for The Children's Tumor Foundation and neurofibromatosis research!
February 18 | 7pm – 12am | Tickets | Patricia's Green | San Francisco
Rent a pair of headphones and get on the dance floor! The world kick off party for 2017's silent discos is this weekend. Bring your friends and your best moves!
February 18 | 12 – 10pm | Tickets | San Francisco
Calling all millennials! Who doesn't love the 90s more than us? Put together your best throwback outfit and enjoy $2 beers from various San Fran bars!
February 18 | 1:30 – 5pm | Tickets | Fort Mason Festival Pavilion | San Francisco
Want to experience the largest selection of American wines in the world? Come try one of the 7,100 wines available at the San Francisco Chronicles' wine competition! Become a wine connoisseur and taste the day away!
Tire yourself out this weekend and take  the extra day to relax on Monday! We're looking forward to a busy weekend with all these awesome events!
---
Will you be attending any of these Bay Area/SF events? What other SF events are you excited about this weekend? Let us know in the comments below or on Facebook and  Twitter!
---
---
#TechTuesday highlights the best and brightest ideas in the tech world. ABCey would like to recognize these up and coming technologies for their innovative ideas and impact on the event world. ABCey has compiled 5 innovative ways event planners are utilizing drones! 
---
Although they were first used for military purposes, drones are becoming extremely useful tools for the event planning industry. Drones are not only used to capture stunning aerial images, but also in previously unimaginable ways that go beyond just pictures and videos.  Here are 5 great ways to use drones for your next event!

1. Aerial Event Photos and Videos
Drones are now a popular tool for event planners, because they can capture amazing aerial footage from an infinite number of angles.  They are also extremely versatile and can be used at conferences, trade shows, galas, festivals, and sporting events!  This tech allows for extraordinary 360 degree views of all attendees, as well as close ups of speakers and performances. 
2. Choosing the Perfect Venue/Site Selection
Drones can also be used for pre-event prep to collect venue images. Photos and videos make it so easy for clients and planners to choose the perfect site for an event!  From images of massive event properties to inside meeting rooms, there is almost no place a drone can't fly!
3. Entertainment Drones to Wow Your Guests
Companies have outdone themselves by using drones as a new form of entertainment for their guests!  Intel is one company that impressed their guests and set the world record by having 100 drones create a unique light show! Others, like Amsterdam Drone Entertainment, have programmed their drones to dance for crowds which has truly set a new standard for event entertainment!
4. The Best Delivery Service
Some other ways to use a drone? How about deliver food, drinks and invitations!  This interactive way of distributing items to people is mostly used by restaurants to give food to their customers.  But, this kind of delivery service can just as easily be adapted to fit the event industry's needs.  Using a drone to deliver items to guests is extremely innovative, interactive, and a great way to make your event stand out!
5. Extra $ From Advertising and Sponsors
Drones can also be lucrative for your business!  If you are hosting an event, sponsors may offer to pay you if you use drones to promote their business.  Attendees are often drawn to drone tech which is seen as a great opportunity for companies to advertise.  Because drones can drop off samples/products, hold up company posters, and display a brand logo, they are becoming the newest advertising trend!
Apps are also being made and adapted to incorporate drone technology.  Facebook recently announced they have updated their live video stream application, Facebook Live.  This update allows users to stream videos live from a drone.  Twitter's similar live video streaming application, Periscope, also announced this feature.
By capturing stunning footage, helping venue selection, entertaining and serving their guests, delivering items, and increasing revenue and an event's wow factor, drones are the new must-have gadget for anyone in the event industry!
Know any other ways drones are used?  Let us know in the comments below or on Facebook and on Twitter!
---
TGI-A-F (Thank Goodness It's Almost Friday)! The end of the month is swiftly approaching, and we can't help but notice, where did the time go? Many, utilize the month of January to get the year's resolutions, priorities, and agendas in order. However, with our minds consumed by tasks and workloads we must remember to schedule some fun into our daily lives. ABCey would like to take the time to applaud all of your hard work and in return reward you with an awesome weekend lineup to kick back your feet and smell the roses!
---
1. SF BEER WEEK OPENING GALA
---
FRIDAY. 22 JANUARY 2016 | 6:00-10:00 PM | PIER 35 | $80
---
One of the most anticipated events of the season has finally arrived! Beer week 2016 will run through January 22-January 31 and will give the Bay area 9 days of beer mayhem. This Friday, January 22, will be the official kick off party that will feature over 110 breweries from the Northern California area! If that's not enough, all attendees will receive a complimentary commemorative glass, 4 oz samples of an array of beers, and an extensive selection of food options that can be purchased. Get your hands on a ticket now before it's too late and make sure you check out the rest of the lineup!
---
CIRCUS: TIGHTROPE & JUGGLING CLASS
---
FRIDAY. 22 JANUARY 2016 | 7:00-9:00 PM | CIRCUS CENTER | FREE
---
Not a beer drinker? That's okay! This fun spin on fitness & acrobats will bring you back to the days of ferris wheels, cotton candy, and popcorn. This open session will allow you to explore different circus acts like juggling, tight wire, rolla bolla, feather balancing, and clowning. Even better, it's a family night, kids ages 8 and up are welcome to join in on the fun. Make sure you arrive to the Circus Center early to reserve your spot, space is limited and fills up quick!
---
ONE DEEP BREATH LAUNCH PARTY: YOGA + MIMOSAS!
---
SATURDAY. 23 JANUARY 2016 | 11:30 AM-1:30 PM | SPORTS BASEMENT | $15
---
Still feeling stressed and tired from the strenuous work week? Come unwind with some yoga and mimosas this Saturday at One Deep Breath's launch party! In celebration of this up and coming yoga business, guests will enjoy the relaxation and peace of an 1-hour Vinyasa flow yoga class followed by some yummy brunch items. Did we mention attendees will receive 20% off One Deep Breath private and small group session packages and 20% off a Sports Basement item purchased that day?
---
ART AT THE DUMP: RECOLOGY'S RECYCLED ART EXHIBIT
---
SATURDAY. 23 JANUARY 2016 | 1:00 PM-3:00 PM | RECOLOGY SAN FRANCISCO | FREE
---
This weekend is all about taking a break from reality and recognizing your hard work and achievements. This Saturday, Recology will be observing 4 months of artistic creation of their artists in-residence! This inspiring exhibition exemplifies work that has been created by gathering materials from the dump and utilizing it as a message to promote recycling and reuse of items. Enjoy this public exhibition to appreciate the artists, their craft, and the purpose it represents!
---
SALSA DANCE SOCIAL
---
SUNDAY. 24 JANUARY 2016 | 4:00 PM-12:00 AM | SLATE BAR | FREE BEFORE 6 PM
---
Are you rejuvenated, relaxed, and revitalized yet? Great, because this Salsa Dance Social is something you don't want to miss! Close out the weekend with your dancing shoes and your best outfit. Dancing starts as early as 4 PM for those of you with an early Monday morning and ends as late as midnight for the rest of you daredevils! Enjoy some of the greatest salsa, merengue, bachata, and reggaeton hits!
Which events helped you unwind the most this weekend? Let us know this upcoming week in our comments below or find us on Facebook or Twitter!
---
Time flies when you're having fun! Make the most of this festive season by getting out this weekend and attending some of the many exciting events that this city has to offer. ABCey's Weekend lineup is back again with even more fun bay area events to spice up your weekend!
---
1. Friday Nights at the de Young
Friday, November 13th, 2015 | 5PM – 8:45PM | de Young Museum | FREE
Tap into your artistic side with fun Friday events at the de Young! This isn't your regular museum visit. There is live music, hands on craft making, performances, tours, and even film screenings. This week there is a hypnosis tour in the sculpture garden that lets us get in touch with our inner selves. Sounds enlightening, right?
2. Hardwell
Friday, November 13th, 2015 | 8pm | Bill Graham Civic Auditorium, SF | $65
For those Friday nights where you want to get off work and dance the night away, there is a DJ to the rescue. Hardwell, the world renowned electronic/dance DJ is coming to the Bay this Friday to create an amazing live experience you will remember all the way until next Monday. Tickets can be purchased here.

3. Green Festival
All Weekend, November 13th-15th, 2015 | All Day| Cow Palace, SF | $15
Go green this Saturday with the 2015 Green Festival! The focus is on health and wellness with this event, featuring live speakers discussing healthy and sustainable habits and many other green focused activities. You can also shop with over 250 eco friendly vendors and learn how to put those greens to good use with demo cooking classes. See the event guide here.
4. Holiday Boutique
Saturday, November 14th, 2015 | 10AM-5PM | Los Altos, CA | $FREE
Get your Christmas shopping started early with a holiday boutique filled with tons of unique hand crafted items made by local artists and vendors. There is jewelry, gourmet food, holiday decor and much more great gift ideas! The best part about this is that the proceeds go to Children Advocates of Silicon Valley which supports foster children. Talk about shopping for a cause!
5.  Chocolate Salon
Sunday, November 15th, 2015 | 10AM-5PM | Fort Mason: The Generals Residence, SF | $25
Few things are sweeter than Sundays and chocolate, which is why pairing the two is a genius idea! Join the tasting party this Sunday at the Fall Chocolate Salon hosted in Fort Mason at a quaint old Victorian. There are over 30 chocolatiers and masters of culinary art there to educate and more importantly provide samples of their exquisite luxury chocolates! Get tickets here.
With so many great events happening this weekend, which ones will you attend? Let us know in the comments below or find us on twitter and facebook!
---
Whose ready to rage at Outside Lands this weekend?! Here at ABCey, we are getting ready for this music filled weekend. But don't worry, for those of you who aren't going we have some fun alternatives for you!
Featured Event: Outside Lands |Friday August 8th-Sunday August 10th| 12 pm-10 pm |Golden Gate Park| This is the place to be this weekend. Hundreds of thousands of music lovers flock to SF to jam to the tunes of their favorite bands and artists! Some performers include headliners Kanye West, Arctic Monkeys, Death Cab for Cutie, Tiesto and so many more! Tickets are sold out but you can head over to StubHub and find single day tickets (Warning: They are expensive)!
 1. Outside Lands Night Show: The Killers |Saturday August 9th|10 pm| The Independent, 628 Divisadero St., San Francisco| Whether or not you are going to Outside Lands, you can catch some of the acts afterwards! The Killers on Saturday night will be performing at The Independent at 10pm. If you went to the festival all day and can't seem to curb your music craving or weren't able to get tickets to Outside Lands but really want to experience part of the magic, then go on Saturday night to see The Killers!
2. Outside Lands Beach Cleanup: |Aug 9th| 10 am| |Ocean Beach at Noriega & Great Highway| Help keep San Francisco beautiful this weekend by joining the Outside Lands clean-team pick up the beach! Refreshments will be provided by Devil's Teeth Bakery and Noriega Produce and the cleaning supplies are supplied by Surfrider, San Franpsycho and Indosole. And, as if you needed another reason to go, festival gates are within walking distance!
 3. T-Party Screen Scene: | Aug 10th| 11am-5pm| The Chapel,  777 Valencia Street SF| This pop-up shop is a unique, one-day event that is dedicated to locally-designed t-shirts and screen printing. Some of the vendors include The Girl and Rhino, Original Language, Oaklandish and The Loin SF. This is a must stop event to grab some of the most unique t-shirts in one of the most unique cities.
 4. NightLife LIVE: Emerging Music & Art Paired With Science |Aug 7th| 6pm-10pm|The Cal Academy of Sciences| Check out rotating art installations while enjoying the music of neighboring Outside Lands. This is a perfect place to relax and enjoy great music accompanied with great art! So bring your friends out for a cultured night to wind down the work week! Tickets are only $12.
 5. Deaf Louder: The Second Bay Area Deaf Dance Festival: |Aug 8th- 9th at 8pm| Aug 10th at 4pm| Dance Mission Theater, 3316 24th St, SF| Maybe you're looking for something that will take you away from the Outside Lands craziness and want to experience something else this weekend. Deaf Louder features deaf dancers in an evening long showcase of contemporary dance and music. This dance festival is unlike any you've ever been too. Bringing out many emotions in the viewers, this is sure to be a great hit!
Will you be attending any of these awesome events?! Let us know if we missed any in the comments below or on Facebook & Twitter!
---
Here is our salute to the summertime barbeques and outdoor parties that are taking the nation by storm! ABCey Events has found the five best apps  to make any summer party kick it up to the next level.
1. First, and most importantly, download the SunSmart App.  After recording your skin type, this app will tell you when it is time for another layer of the lotion! Everyones' skin is different so what is good for someone else is not neccesarily good for you. Please be careful this summer and where the appropriate amount of sunscreen!
2. No summer party is ever complete without the jams pumping! To ensure your party is music filled with only the best tunes, check out TuneIn Radio, a free radio app that lets you broadcast your own music or pick and choose your favorite songs! One of the best and newest music apps we have seen in a while. 
3. To add to the party vibe of your event, download the Mixology app to learn how to make yummy cocktails! This app explains how to create each drink so your party is a booze-filled success! Perfect for pool parties! 
4. On to one of the most fabulous grilling apps you will find, GrillTime. GrillTime sets off alarms on your phone when to flip burgers, chicken or any other meat! Instead of guessing when the food is ready, or forgetting about it because of how much fun your party is, rely on this app to help you make the best tasting barbeque anyone has ever had! 
5. Finally, what is a party without a little Karaoke? Karaoke Anywhere is a mobile app that, like its' title says, you can take and rock out anywhere! What other game is more perfect for a pool party than a little friendly karaoke competition?
How will you be celebrating this summer season? Let us know below in the comments below or on Facebook or Twitter!
---
Here at ABCey, we are always excited when the weekend comes around, and we're sure you are too!  There are some great events taking place all throughout the Bay Area, including music festivals and lots of food. No matter what you choose to do, it's sure to be a great time!
Featured Event: BottleRock Festival | Friday, May 30 – Sunday, June 1 | Napa Valley | This is the second year of this feature music festival in Napa Valley including 60 bands with tons of wine, food, and beer. The lineup is sure to please any type of music taste with favorites including Outkast, Eric Church, Matt and Kim, and more! Even if the music isn't enough for you, the signature local food will definitely draw your taste buds in. The food offerings range from sushi to barbecue, and everything in between.  Single and 3-day passes are still available for $279.
1. Off the Grid Twilight at the Presidio | Thursday, May 29th | 5-9pm | Main Post Lawn Presidio | Here is a great example of why we love the Bay Area! Off the Grid is a reoccurring event every Thursday until June 26th and is the perfect excuse to leave work a little early this week. This event is free to the public and includes lantern-lit cabanas, campfires complete with relaxing Adirondack chairs, and plenty of food trucks. Come out and relax with family and friends while listening to the free music and taking in a leisurely summer evening.
2. Start Up and Tech Mixer | Friday, May 30th | 5 – 10pm | W Hotel, SF | This event is a great chance to network with other individuals in the tech industry and create a shared network of ideas. We're very excited about the Start Up and Tech Mixer which will include a variety of speakers and areas for networking with other tech professionals. It's sure to be a great time with a wide range of participants, food and drinks, and professional development. The event keeps the best of what tech conferences offer to bring a unique tech event to the industry. 
3. Chocolate and Chalk Art Festival | Saturday, May 31st | 10am – 5pm |Gourmet Ghetto, Berkeley | This event is a chocolate lover's dream with the acclaimed Gourmet Ghetto supporting local business and art at the same time! Buy tickets for the variety of dessert offerings and then sample unique chocolate, which will include: goat cheese truffles, a variety brownies, Oreo shakes, Caribbean chocolate soup, and more. The chalk art portion will include a contest between contestants on the sidewalks and will add a fun interactive flare for the event attendees. We're jealous of all those that will make it out to Berkeley to sample these tasty chocolate dishes!
4. Live 105's BFD | Sunday, June 1st | 11 am | Shoreline Amphitheatre | We are excited about this Sunday's concert at Shoreline Amphitheatre for Live 105's 20th annual BFD concert! The lineup is unique with bands ranging from Foster the People and M.I.A. to Fitz and the Tantrums. This is sure to be a fun-filled day with live music and dancing to pass your Sunday.  Tickets are still available and range from $47 for grass seating to $285 center stage. Check out the lineup this Sunday!
5. Walking Distance Dance Festival | Friday, May 30 – Saturday, May 31 | Friday @ 7:30pm & Saturday @ 4pm | Locations Vary | Here is a unique chance to see dance performances outside the theatre! This weekend marks the start of the Walking Distance Dance Tour that will lead its participants throughout the Mission district watching a variety of top dance companies perform. It will be a distinct chance to view a variety of dance styles and blends of music. We're sure this will be a great way to gain a different perspective of the city with it's blend of dance, music, and architecture.
This weekend is guaranteed to be a great time with all these great events. The girls at ABCey want to hear what you will be up to! Let us know in the comments below or on Facebook and Twitter.
---