On October 13th, 2018
ABCey Events
had the pleasure of producing the San Francisco Shipyard's annual Harvest party for their awesome residents and neighbors. Read on for our full event recap!
Guests, including lots of furry friends, stopped by for a pumpkin patch, live music, kids' activities and of course a selfie wall. Light bites and drinks were provided by the incomparable
Foxtail Catering & Events
including a DIY Bloody Mary Bar and Mimosa Bar.
---
Tomorrow's the day we're all looking forward to: Friday! ABCey brings you this week's San Francisco Weekend Lineup with the top events happening in the Bay Area! If you don't have plans this weekend, we've got you covered from Star Wars at the Symphony Hall to a Burning Man trunk show!
July 20 | 6am – 9am | Prices range from $30.00 – $45.00 | San Francisco Belle, Hornblower
Usually, you may not be a morning person, but you're going to want to be one for Daybreaker SF! Get ready for an unforgettable time with crazy beats, amazing company, and tons of dancing! Being their 4th anniversary, their theme is "Come Sail Awake With Us" and they plan to entertain you all morning with activities like yoga, dancing, and face painting! It's one our favorites for the weekend, will we see you there?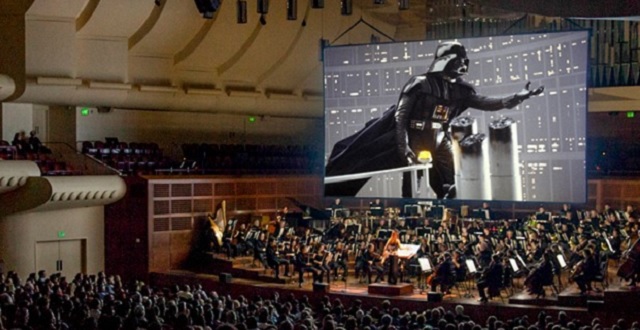 July 18 – August 3 | 7:30pm | Prices range from $75.00-$125.00 | Davies Symphony Hall
The SF Symphony summer concert series returns this weekend! If you love Star Wars, you're going to be ecstatic! The orchestra will play live scores from the original Star Wars trilogy with the films projected on stage! Talk about an unforgettable experience!
July 21 | 12:00pm – 6:00pm | Free admission | The Great Northern
Burning Man is coming up! Hope you're ready to begin shopping of your costume at the 12th Annual "Beyond the Fence" Trunk show! There will be over 30 local and independent designers selling unique costumes perfect for the desert getaway! Local DJs and cocktails will be available for you to enjoy while you take in inspiration on and off the Playa!

July 27-30 | 1:00pm – 10:00pm| Prices range from $20 and up, depending on donations | The Midway
In honor of Larry Harvey for starting Burning Man, we gather together to celebrate the passion he has created in others. This man dreamed of a world where creative minds can come together to cooperate and this vision led to the creation of Burning Man.
July 22 | 11:00am – 4:00pm | Free admission | Main Parade Ground
Rain or shine, the Presidio takes place on the Main Parade Ground. It features many vendors to get a taste of the diverse foods and cultures of the Bay Area and a free cultural dance performance on the fourth Sunday of each month! It will feature more than 25 international mobile food inventors, music for everyone, lawn games, yoga, and nature-based crafts for kids!
July 22 | 2pm | Free admission; First come, First Serve | Stern Grove
Since 1938, the SF Symphony returns every summer for an annual performance, and their return dates for this Sunday! If you're looking for a nice event to take your family or a relaxing day filled with beautiful music, we hope to see you there!
What does your San Francisco weekend lineup look like?
Which events will you be attending this weekend? We'd love to hear from you! Let us know in the comments below or on Facebook and Twitter!
---
It's almost Friday! ABCey brings you the Weekend Lineup for the best upcoming events in the Bay Area! There is everything from music and food festivals to a relaxing Father's Day bike ride through the San Francisco Zoo!
Weekend Lineup: San Francisco's World Refugee Day
Friday June 16th | 12-3:30pm | Free Admission | Mission District, 1850 Mission Street, San Francisco, CA
You don't want to miss San Francisco's World Refugee Day! It's fun and it's for a good cause! The days consists of cultural performances, international food, music, speakers, a talent show, a costume show and more to commemorate the bravery and contributions of refugees!
Phono Del Sol Music and Food Festival 
Saturday June 17th | 12-7pm | General Admission $29 | Potrero Del Sol Park (La Raza), 1500 Utah Street, San Francisco, CA
Phono Del Sol is a music & food festival that has an awesome lineup with 10 bands that will be performing all day long! There will also be 10 food trucks with an assortment of different types cuisine as well as a skate park! This festival is an all-age friendly event that will be the highlight of your weekend!
Presidio Kite Festival
Saturday June 17th | 12pm-5pm | Free Admission | Main Parade Ground, 103 Montgomery St, San Francisco, California 94129
Make your dad feel extra special this year and take him to the Presidio Kite Festival! This family-friendly event is the perfect way to celebrate Father's Day Weekend! Get your whole family together and head out to Presidio Park for some fun in the sun!
Raise the Temple!
Saturday June 17th | 2-10pm | General Admission $20-$27 | The Midway, 900 Marin Street, San Francisco, CA 94124
This day filled with music, art, and wellness is a fundraiser for the 2017 Temple at Burning Man! Come and show your support the build of the 18th Incarnation of The Burning Man Temple! All profits go to The Temple Build!
North Beach Festival
Saturday and Sunday June 17th-18th | 10am-6pm | Free Admission | Washington Square Park, North Beach District, San Francisco, CA
Don't miss out on San Francisco's 63rd annual North Beach Festival! There's obviously a reason it has been going on for this long! There will be all sorts of foods, a variety of drinks and amazing live entertainment!
Father's Day Bike About
Sunday June 18th | 8:30am-11:30am | $30 per peddler | San Francisco Zoo, Sloat Blvd & Great Hwy, San Francisco, CA 94132
Bring your family and celebrate Father's Day with an exciting hour-and-a-half long bike ride through the San Francisco Zoo! Everyone will enjoy seeing all of the exotic zoo animals! Make this Father's Day one your family never forgets!
Will you be attending any of these Weekend Lineup events? What other San Francisco events are you excited about this weekend? Let us know in the comments below or on Facebook and  Twitter!
---
It's Thursday, and you know what that means…ABCey Events has the Weekend Lineup with a list of the top 5 Bay Area Weekend events! We have everything from a 10 Hour Dance Event and Rum Festival to a Rooftop Party and of course the start of Burning Man. Don't miss out on these fun events going on Friday til' Sunday!
---
---
Top 5 Bay Area Weekend Events
Fri 8/26/16 and Sat 8/27/16| 5pm – 3am | 21+, no ins & outs| $20 tickets here, cash only at event | SF Mint
Celebrate the end of the work week this Friday! Get the party started with 10 hours of fun, food, drinks, and dance! First, walk into a projection-mapped courtyard and enjoy happy hour drinks from 5pm-10pm! Then, head down to the SF Mint building basement and dance til the wee hours of the morning! With world class DJs, amazing food from The Midway's own Madame Zola's Fortune Cafe, and top of the line art performances, you'll be entertained all night long! Get to this "once in a lifetime" event! 
Fri 8/26/16 to Sat 8/27/16| Fri 2pm – Sat 6pm | 21+ | $5-$130, Buy tickets here | SOMA Cultural Center
Like rum? Then get to this Bay Area Weekend Event? This festival will give you a chance to taste new rums, discover new brands, attend rum seminars and enjoy great music! You'll also learn history behind rum and how to differentiate the different grades of rum. But hurry, tickets are only on sale for a limited time! 
---
Sat 8/27/16| 4pm-7pm | $25, Buy tickets here | 620 Jones, SF
Meet and mingle with some of the best and brightest professionals and alumni! Don't skip this popular event to network and connect with other business individuals! There will be plenty of cocktails, and if you're hungry, there's a great restaurant downstairs! Also, make sure you stick with the dress code and wear white to celebrate the summer with a fabulous view! 
Sat 8/27/16 and Sun 8/28/16| 11am – 5pm | FREE | Ghirardelli Square
Love Etsy as much as we do? Then get to Ghirardelli Square this Sunday to check out over 60 local Etsy artisans. While you shop, grab some of the world famous chocolate and ice cream. If that wasn't enough, you can hop over to the Lagunitas Beer Garden! There you can sip on some great beer, enjoy great views of the Bay Area, fulfill your sweet tooth, and shop til' you drop! What more could you ask for?
Sun 8/28/16 til Mon 9/5/16| 10am – 12pm | $390+ tickets here  | Black Rock Desert, NV
Join over 70k people in one of the most hyped and talked about radical events of the year! Explore with others a magical and unique experience full of music, art, and wonder. Explore the theme camp's various bars, dj's, workshops,  and open mics, or try some flaming Skee-ball, check out the Hall of Mirrors, or the DIY movie theater! Stop by Center Camp for performances and galleries, the French Quarters Camp for elegant cocktails, sweets, and custom soaps, the Thunderdome for sword fighting, or the Firehouse Camp to paint. And, be sure to hop on an art car!
---
Will you be attending any of these Bay Area Weekend Events? Let us know below or on Facebook and Twitter!
---
By Kristi Fujimoto, Jessica Li-Jo, and Jennifer Fong
Summer is flying by and it's already August! Make sure you start this month off right by enjoying the weekend! There is a lot going on this weekend. So ABCey Events has your Weekend Lineup with the top 5 SF Events and Bay Area Events going on this Friday through Sunday! 
---
Top 5 SF Events
Fri to Sat, 8/5/16-8/7/16 | All day | Prices vary check here | Golden Gate Park
Spend your weekend at this year's Outside Lands! Don't miss out on all the exciting live events, fun festivals, delicious food, and many other amazing activities! Enjoy the view of the Bay Area and of course, the iconic Golden Gate Park, while dancing it out with your friends at the grand festival. Filled with 3 days worth of fun activities and special guests, Outside Lands is ready to make your weekend unforgettable! So come out this weekend and check out one of the top SF Events! Don't forget to check out our Outside Lands 2016 Survival Guide here!
Fri, 8/5/16 | Boards 11:30am, Cruises 12pm-2pm | $63 – $84, buy here | Pier 3, On the Embarcadero at Washington St.
Get a perfect view of the San Francisco Bay and enjoy an amazing lunch buffet on the Hornblower's SF Lunch Cruise! From the cruise line, you can will sail under the Golden Gate and Bay bridge, see the SF skyline and view Alcatraz Island up close. Take in the sights and bay breeze with lots of beverages, including alcoholic ones, to purchase while on board. Moreover, use Uber for the first time with the code HORNBLOWER and get up to $15 off. So take in these breathtaking sights, chow down on amazing food this Friday, and sign up here!
Sat 8/6/16 | 8pm – 12am | Prices vary, check here | 2153 Ferry Point, Alameda, CA 94501
Want something interesting to do this Saturday? Head to Alameda's Bohemian Carnival this Saturday! This unique carnival has much more than your normal circus acts. It also has an epic dance party, live and large variety of music, cabaret revue, and everything in between. View the wonders of this event and performances that range from hip hop, thespians,  cabaret combined with rave dancers, Planet Booty electronic musicians, animated villain characters and more! Anything you want to see, you'll find at this carnival! These theatrics and performances are a one of a kind titillating experience. Go party it up with a huge dance party! Order your tickets now, and you can win a pair of tickets here and here. So don't miss out on this amazing SF Event!
Sat to Sun, 8/6/16-8/7/16 | All day | FREE | Downtown Fremont
Come to the "largest free street festival west of the Mississippi". With nearly 400,000 people who attend annually, you can definitely expect that the Fremont festival will be bustling. With its' artsy vibe, you'll want to explore the arts & craft booths! Fremont Festival brings to you artisanal prepackaged food, food trucks, food vendors, tons of wine, beer and margaritas as well as continuous music and street performers. We also can't leave out the kids on the fun! There's an entire section of rides and shows for them as well. Since the 2016 Olympics are on, you don't have to a miss a minute. They'll be playing the olympics on a 15 foot HD screen. So, grab some food from the festival as well as enjoy the 2016 Rio Olympics!
Sat to Sun, 8/6/16-8/7/16 | All day | FREE | Japantown Peace Plaza
Join the melting pot by attending this weekend's Nihonmachi Festival! The Nihonmachi festival embraces the Asian-Pacific American life and celebrates its roots. Everyone is welcome to help indulge in the food fest, check out the car show, participate in doggie world(Sunday only), explore the various types of artisans, and watch live shows and performances! This is a great way to explore other cultures as learn a new thing or two.
Are you planning on going to these SF Events or Bay Area Events? If so, feel free to comment below or on comment on Facebook and Twitter!
---
The work week is finally over and the weekend is here once again! Hooray! And because the Bay Area winter season has been exceptionally pleasant, there's a myriad of outdoor events to take advantage of this weekend. ABCey is back with our top 5 fave events to help you toast to the weekend (because every weekend is a celebration).
---
1.SF BAY FLYWAY FESTIVAL: WILDLIFE & BIRDING CELEBRATION
---
Friday February 19th, 2016 | 5pm – 8pm | Mare Island, Vallejo | FREE
If you're a wildlife enthusiast, this is the perfect weekend for you. The Flyway Festival is an exciting event full of guided hikes, tours and workshops celebrating the migration of more than 1 million shorebirds through the San Francisco Bay. They will be serving hot soup and rolls, junk food (Yes!), and coffee. Check out this PDF for the full schedule of events.
---
2.SAN JOSE BIKE PARTY: THE SUPERHERO RIDE
---
Friday, February 19th, 2016 | 8pm | Children's Discovery Museum Parking Lot | FREE
It's a bird! It's a plane! No, it's the San Jose Bike Party! Grab your bikes, capes and super-powers because this is going to be one hero-tastic night. Ride Superhero-style in your favorite costume down the streets of San Jose. The Start/Finish meeting location is the Children's Discovery Museum parking lot. For more info, check out their website.
---
3.CHINATOWN STREET FAIR
---
Saturday, February 20th, 2016 | 10am – 4:30pm | Portsmouth Square, Chinatown | FREE
This Saturday and Sunday, explore the unique San Francisco neighborhood that is Chinatown. Held the same weekend as the Chinese New Year Parade, the Chinatown Community Street Fair is a great opportunity to immerse yourself in the Chinese culture. This jam-packed event will have lantern and kite making, calligraphy, fine art demonstrations, folk dance and puppet shows. With traditional and modern entertainment, this is one festival you and your family do not want to miss. Check out the full offerings here.
---
4.BON JOVI & CHEAP TRICK TRIBUTE CONCERT
---
Saturday, February 20th, 2016 | 8pm | Club Fox, Redwood City | $14/$16
Rock out on a Saturday night to the sounds of Bon Jovi, Cheap Trick and more with some of the Bay Area's best tribute bands. Not only will you be able to hear some great music but you'll also be able to contribute to a great cause. The money from each ticket will go to Wonder Dog Rescue Group, a charity that saves hundreds of dogs each year from getting euthanized. Check out their website for more details.
---
5.TULIPMANIA
---
Sunday, February 21st, 2016 | All Day | Pier 39 | FREE
Spring is almost here! To celebrate its impending arrival, head down to the San Francisco tourists' paradise, Pier 39, for the final day of Tulipmania. Soak in the sights and vibrant colors of more than 39,000 tulips and seasonal garden florals. Embark on either a self-guided or guided tour to learn helpful gardening tips and to just enjoy the beautiful flowers. The free guided tours depart at 10am from the Pier 39 entrance and you'll also receive a complimentary snack from Trish's Mini Donuts, some of the best donuts in town. Click here for more info.
Planning on heading to any of these events this weekend? Let us know in the comments below or on Facebook and Twitter!
---
The last weekend of January is here and we're seriously wondering, where did the time go? If you're not into the hype of Superbowl events (or just don't want to deal with the madness that is Superbowl City), ABCey has compiled a list of our top 5 fave events happening in the SF/Bay Area this weekend. And guess what? They have nothing to do with sports. From beer parties to Chinese New Year celebrations, you're sure to end off the month with a BANG!
---
1. BEER FRIDAY
---
Friday, January 29th, 2016 | 4pm-11pm | Devil's Canyon, San Carlos, CA | FREE*
Looking to have a good 'ole family-friendly time this weekend? Well, head on down to the Peninsula's own Devil's Canyon Brewing Company in San Carlos, CA. Enjoy a night filled with food trucks and live music with sustainable hand-crafted beer (for the adults) and root beer (for the kiddos). One dollar from each pint of beer sold will be donated to the Redwood City Animal Shelter – Pets in Need program, so be sure to drink up! For more info, check out their website.
---
2. JAZZ PIANIST: MAX CHANOWITZ
---
Friday, January 29th, 2016 | 6pm-8pm | PianoFight | FREE
After a stressful week, there's no better way to relax than listening to the smooth sounds of jazz with a cocktail in hand. PianoFight, a full service restaurant and bar in the Tenderloin district, will be featuring renowned jazz pianist Max Chanowitz. Admission is free, but be sure to RSVP in advance. 

---
3. 2016 CHINESE NEW YEAR FLOWER FAIR
---
Saturday, January 30th, 2016 | 10am – 8pm | Chinatown | FREE
Kick-off the celebration for the Year of The Red Monkey at the 2016 Chinese New Year Flower Fair. Hosted on the weekend before Lunar New Year, the flower fair is a chance for families to purchase the traditional flowers, plants and fruit for the holiday. While you're shopping, enjoy traditional Chinese dances, music, art and cultural displays. The kiddos can enjoy the festivities too at the Children's Play Area, where there will be a petting zoo, photo booth and other fun activities!
---
4. FREE ICE CREAM SANDWICH DAY
---
Saturday, January 30th, 2016 | Noon – 4pm | Stonestown Galleria | FREE*
I-scream! You-scream! We-all-scream for ICE CREAM! And you know what's even better than ice cream? Free ice cream! C.R.E.A.M. (Cookies Rule Everything Around Me) is celebrating their grand opening at Stonestown Galleria Mall by giving away free mini ice cream sandwiches. There's no official rsvp for this event, but you must like the CREAM Facebook page or sign up for Five Stars.
---
5. TREASURE ISLAND FLEA
---
Sunday, January 31st, 2016 | 10am – 4pm | Treasure Island | FREE
Say farewell to January with a Sunday Funday. Head over to the beautiful Treasure Island for their monthly open-air flea market. Located on the west side of the island on the Great Lawn, you'll get a chance to support numerous local vendors such as indie designers, handmakers, bakers and up-cyclers. Not interested in doing any shopping? No problem! You can enjoy outdoor exhibits and live music, participate in scavenger hunts, and satisfy your hunger with gourmet food trucks.
Which events are getting you most excited about the weekend? Let us know in the comments below or on Facebook and Twitter!
---
This upcoming weekend is looking to be a warm one and we couldn't be more excited! There is something  for everyone – from sport fanatics to music lovers. Read on for our top picks for events around the Bay that are guaranteed to be a good time!
FEATURED EVENT: The San Francisco Marathon | Sunday, July 27th | 5:30am | Ferry Building, San Francisco |  This Sunday, thousands of sneakers will take to the streets of our beautiful city in the 37th running of the The San Francisco Marathon (TSFM). This USA Track & Field certified race and Boston Marathon qualifier starts at the Ferry Building, runs along the Embarcadero, over the Golden Gate Bridge, through Golden Gate Park and Haight Ashbury before finishing in front of Cupid's Arrow. The event includes a race for runners of all levels: 5K, half marathon, full marathon, double marathon. This is a perfect opportunity to support local runners while enjoying the Bay!
1. Treasure Island Rock the Summer | Saturday, July 26th & Sunday, July 27th | 10am – 4pm | Treasure Island, San Francisco | Celebrate the flavor of summer with the Treasure Island Flea this beautiful weekend! From food truck brunch, to DIY mimosa kits and ice cream on a stick, this event has it all! It's also pet friendly, parking & children under the age of 12 are free. Otherwise, admission is only $3!
2. Rufus Wainwright & Quartlet San Francisco: Stern Grove Festival | Sunday, July 27th | 2pm | Sigmund Stern Grove (19th Avenue & Sloat Boulevard, San Francisco) | Grab a blanket & a cooler and come out to enjoy the sounds of acclaimed singer/songwriter Rufus Wainwright while he performs solo with piano, bringing together a rich blend of theatrical pop, cabaret, and classical styles. Opening the afternoon is the contemporary sound of instrumentalists Quartet San Francisco. Admission is free and it is a guaranteed fun time!
3. NBA Nation: Trampoline & Slam Dunk Showcase | Friday, July 25th & Saturday, July 26th | 12pm-8pm | Union Square Park, San Francisco | NBA Nation is 20,000 square feet of basketball action, including a full center court home to free interactive basketball activities, contests and clinics, and the opportunity to meet current NBA and WNBA player! This event offers fun activities for all ages and will provide mind blowing entertainment. 
4. Sundays on Telegraph | Sunday, July 27th | 12pm-5pm | Telegraph Avenue, Berkley | Come enjoy food, art, live music, and family activities at this year's Sundays on Telegraph! Music ranges from rock to blues, to folk, to hip-hop. Get ready for a circus-like atmosphere with a balloon clown, life-size chess, jugglers, and a stilt-walker. While browsing tie-dye and jewelry, listen to poetry, drumming, or the Cal Band, and relax with refreshments from local merchants at outside tables and umbrellas. A perfect day to make summer memories with friends & family!
5. Atletico Madrid at San Jose Earthquakes | Sunday, July 27th | 4pm| Candlestick Park, San Francisco | For those of you who didn't get enough soccer from the World Cup, we have an exciting game this weekend right here in our backyard! On Sunday, the infamous Candlestick will be transformed for the Earthquake's Copa Euroamericana match against UEFA Champions League finalist Atletico Madrid. Tickets are running from $25-$200. If you love the game of soccer, you can't miss this event! 
Will you be attending any of these awesome events?! Let us know if we missed any in the comments below or on Facebook & Twitter! 
---
Different hues & color combinations can support your event's message by helping to cement ideas or feelings in attendees.
Colors & color schemes create an ambiance at event venues  both consciously and unconsciously. At ABCey Events, we have rounded up our top five tips on ways to utilize the psychology of color effectively at your next event!
1. Consider contrast levels
The number of colors and the contrast between them creates different effects. Less variation and low contrast is more calming, while multicolor and high contrast creates a more energetic & vibrant vibe. Consider the theme of your event as well as the season you are planning to have it in. Fall is perfect for burnt orange & brown shades and Spring calls for pastels!
2. Adjust chromas to make the combinations of color work
There are no bad or wrong colors, there are only some unfortunate combinations. The chroma of the color you use will make it right. If you want colors that are more harmonious, or close on the color wheel, you still want contrast to vary their values & accents.
3. Be aware of iconic color combinations
Avoid color schemes that will remind people of different corporations. For example, red and gold could remind attendees of a fast-food place because people have such a connection to the hues you've chosen. But if you opt for a rich red and brushed gold, people aren't going to think McDonald's. Get creative and mix it up!
4. Always incorporate the corporate color of the host or sponsor
Even if it's color message is contrary to the event's message, this is an important tip! The logo color could be used minimally and softly at a corporate meditation session to just punctuate the event, for example.
5. Study successful color messages
The beauty of color is that the more you know, the more you know how to use it. Look at luxury ad campaigns for clues of color palettes that evoke a psychological response, or note the fun, bright colors in kids' products for examples of what works! Play it up!
What are your favorite color combinations to communicate a message to attendees? Let us know in the comments below or on Facebook & Twitter!
---
With the summer season now upon us,  ABCey is  continuing with our DIY creations in full force!  This Marquee light up sign can be customized to send any message of your choice to attendees at an event. It is a great decor addition for your room, event, or in our case – a wedding! This DIY project is simple to create and not many materials are needed. Read on for steps on how to create a similar sign! 
Materials:  
– 12 inch paper maché block letters
– Globe string lights (ours were purchased online from Target)
– Spray paint                                     
Tools:
– Exacto knife
– Heavy duty duck tape          
Once your materials are in order, start by using the exacto knife to cut out the top of each letter. Remove the top piece and any cardboard supports inside. You can either save this top piece for future projects or recycle it, but we won't be needing it for this one.
Next up, flip your letters upside down and cut x's where you want bulbs to go. Then punch out the hole using the dull side of your exacto knife. Repeat this with all your letters.
Next step is spray paint! Head to a rooftop, backyard, or other well-ventilated space to get your spray paint on. We recommend laying a cardboard down to protect your work area. Flip the letters so the hollow side is facing up and apply your spray paint in 3 coats to get a nice solid color. Let it dry for 10 minutes between each layer. 
While the letters are drying, unscrew all the bulbs from the string. Then when they're dry, flip them upside down again and in reverse order. Start inserting the back of the light string from the side that you do not intend to plug into the wall (aka the "female" end). You may have to connect 2 or 3 strands together to spell out your whole word. Insert the back portion of the light strand into each hole, making sure to start and end each letter at the bottom.
To hide those annoying wires, tape them down into place and secure with masking or duct tape so they won't show when you flip the letters back over. If you don't have time to do this step, you can skip it, but it really does help the letters look cleaner and more professional! Then, flip the letters over and screw in the bulbs. Now the moment you've been waiting for, plug them in and watch the letters be transformed!
What do you think of the light up marquee sign?! Will you be creating one for you next event? Let us know what you think in the comments below or on Facebook or Twitter! 
---