Tomorrow's the day we're all looking forward to: Friday! ABCey brings you this week's San Francisco Weekend Lineup with the top events happening in the Bay Area! If you don't have plans this weekend, we've got you covered from Star Wars at the Symphony Hall to a Burning Man trunk show!
July 20 | 6am – 9am | Prices range from $30.00 – $45.00 | San Francisco Belle, Hornblower
Usually, you may not be a morning person, but you're going to want to be one for Daybreaker SF! Get ready for an unforgettable time with crazy beats, amazing company, and tons of dancing! Being their 4th anniversary, their theme is "Come Sail Awake With Us" and they plan to entertain you all morning with activities like yoga, dancing, and face painting! It's one our favorites for the weekend, will we see you there?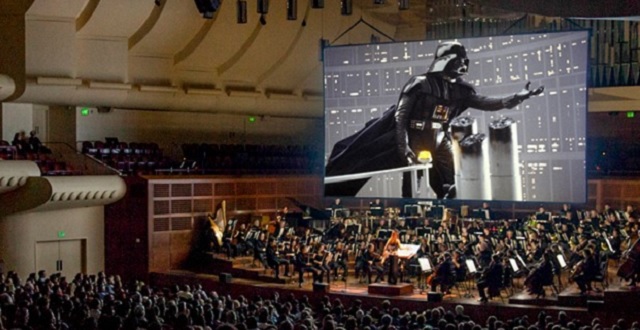 July 18 – August 3 | 7:30pm | Prices range from $75.00-$125.00 | Davies Symphony Hall
The SF Symphony summer concert series returns this weekend! If you love Star Wars, you're going to be ecstatic! The orchestra will play live scores from the original Star Wars trilogy with the films projected on stage! Talk about an unforgettable experience!
July 21 | 12:00pm – 6:00pm | Free admission | The Great Northern
Burning Man is coming up! Hope you're ready to begin shopping of your costume at the 12th Annual "Beyond the Fence" Trunk show! There will be over 30 local and independent designers selling unique costumes perfect for the desert getaway! Local DJs and cocktails will be available for you to enjoy while you take in inspiration on and off the Playa!

July 27-30 | 1:00pm – 10:00pm| Prices range from $20 and up, depending on donations | The Midway
In honor of Larry Harvey for starting Burning Man, we gather together to celebrate the passion he has created in others. This man dreamed of a world where creative minds can come together to cooperate and this vision led to the creation of Burning Man.
July 22 | 11:00am – 4:00pm | Free admission | Main Parade Ground
Rain or shine, the Presidio takes place on the Main Parade Ground. It features many vendors to get a taste of the diverse foods and cultures of the Bay Area and a free cultural dance performance on the fourth Sunday of each month! It will feature more than 25 international mobile food inventors, music for everyone, lawn games, yoga, and nature-based crafts for kids!
July 22 | 2pm | Free admission; First come, First Serve | Stern Grove
Since 1938, the SF Symphony returns every summer for an annual performance, and their return dates for this Sunday! If you're looking for a nice event to take your family or a relaxing day filled with beautiful music, we hope to see you there!
What does your San Francisco weekend lineup look like?
Which events will you be attending this weekend? We'd love to hear from you! Let us know in the comments below or on Facebook and Twitter!
---
Happy Thursday! ABCey Events has the Weekend Lineup with a list of the top Bay Area Weekend events! Whether you are looking to find a new favorite beer or want to break it down on the dance floor, this list has what you're looking for!
---
February 10 | 6 – 10:30pm | Tickets | Pier 48 | San Francisco
Love craft beers? 125 Breweries from NorCal are heading to Pier 48 this weekend! Enjoy your beers with some of the best Bay Area food there as well!
February 11 & 12 | 10 – 4:30 & 9 – 5 | Chinatown | San Francisco 
Chinatown is the place to be this weekend! Make Chinese lanterns and kite and see folk dancing and puppet shows. Additionally, the Chinese New Year Parade will be happening on Saturday and is known has one of the top ten parades in the world! Extra bonus this year as Cirque du Soleil will be performing!
February 2-16 | List of Events | San Francisco
Indiefest not only shows awesome movies but features a ton of fun events as well. This weekend does not disappoint as the 14th annual Big Lebowski Party is happening this Friday at the Brava Theater! Dress up for the costume contest, drink a White Russian and show off your Lebowski knowledge during trivia. The fun doesn't stop on Sunday as there is Princess Bride Bingo. Watch the film and play along on your board for a chance to win awesome prizes.. and don't forget the open bar!
February 11 & 12 | Pier 39 | San Francisco
39,000 tulips will be blooming at Pier 39! Learn some gardening tips and Instagram a beautiful photo of the tulips this weekend!
February 10 | 6 – 9AM | Tickets | City Nights | San Francisco
Wake up early tomorrow and party before work! Daybreaker SF is hosting a dance party  to benefit ACLU this Friday. Millennials will love the 90s theme while also enjoying yoga, fresh juice, and of course dancing!
---
Will you be attending any of these Bay Area/SF events? What other SF events are you excited about this weekend? Let us know in the comments below or on Facebook and  Twitter!
---
It's Thursday, and you know what that means…ABCey Events has the Weekend Lineup with a list of the top  Bay Area Weekend events! Don't miss out on these fun events going on Friday til' Sunday!
---
January 27 – 29 | Multiple Shows | AT&T Park |Tickets
It is Cirque du Soleil's last weekend in SF! Grab your tickets and enjoy this magical and entertaining show one last time before they leave town!
January 28 |6:30 – 7:30pm | Equinox Market Street, San Francisco, CA | RSVP
Get in a great free weekend workout with Fitbit's local free workout! Led by local fitness trainers this yoga flow class will also include healthy snacks, giveaways and music!
January 27th | 10am| 340 O'Farrell St San Francisco, CA
The Halal Guys are finally making their way to San Francisco! This New York City staple is hosting a grand opening for their SF location that includes giveaways: t-shirts, tote bags, push pins, fries, baklava and drinks! Head over and experience the amazingness that is their gyro platter!
January 28th | 10pm | The Great Northern | Tickets
Interested in supporting a Burning Man staple? Icebreakers Ball will be fundraising for Janky Barge! Get ready to dance all night long and make sure you wear your brightest whites!
January 27 | 6 – 11pm | Pier 39, San Francisco
Held the last Friday of every month, outdoor movie night at Pier 39 is featuring Escape from Alcatraz this Friday! Grab some friends, a blanket and popcorn and have a great night!
January 28 | 9pm | The Grand Nightclub | Tickets
A little party never killed nobody! Party like Gatsby for a night at the Grand Nightclub. Wear your best 20s outfit and get ready for dancing, photo booths and DJs!
January 26 | Temple Nightclub | Tickets
Attention all 90s kids! Get ready for a #throwbackthursday! Temple's DOPE 90s house party is back! Enjoy the best music of the 90s and get an early start to your weekend!
---
Will you be attending any of these Bay Area/SF events? What other SF events are you excited about this weekend? Let us know in the comments below or on Facebook and  Twitter!
---
Friday is here and the weekend is near! ABCey Events has our Weekend Lineup with the top 5 Bay Area and SF events that you don't want to miss!
---
Top 5 Bay Area/SF Events
January 20th – January 31 | Participating Restaurants | San Francisco
Who doesn't love yummy food and good prices? SF Restaurant Week kicks off tomorrow! Restaurant week celebrates the five star San Francisco dining community. 130 restaurants offer special multi-course pre fixed lunch and dinner menus where you can have a world class dining experience on a budget. Return to one of your favorite places or explore somewhere new!
January 21 | 9pm – 3am | Tickets | Cover $10 – 30 Donation | 119 Utah St.,  San Francisco
Following the Women's March happening earlier in the day in SF and Oakland go party alongside some amazing women while also helping out great causes! All donations go to Planned Parenthood and the SF Women's Community Clinic. Come out and support ladies all around the USA while dancing in the company of Rachel Torro, Laura Lisbona, Sharon Buck, Brass Tax's Haute Mess.
January 21 | Doors open at 8pm | Tickets | The Regency Ballroom, San Francisco
The Edwardian Ball is an fantastic celebration of art, music, theater, fashion, technology, circus and the creations of author and illustrator Edward Gorey. This is a multimedia extravaganza that grew from an underground club party to a world wide know event! Definitely worth checking out!
January 20  | 5pm | Public Works SF, San Francisco
Looking for a cool yoga experience? Deep House yoga combines house music and power flow yoga in a club environment to make an exercise experience you won't forget! Get away from the typical yoga studio this weekend and decompress under blacklights while listening to a DJ.
January 20 – 22 | Tours start every hour from 12 – 3 | Sea Lion Statue west of the Pier 39 Entrance Plaza, San Francisco
Looking for some exercise with the chance of spotting some cute sea lions? Pier 39 is celebrating its 39th year by hosting fun events throughout the coming year! This weekend the pier is celebrating the 27th anniversary of the sea lions' arrival to Pier 39 with free Sea Lion Encounter walking tours!
---
Will you be attending any of these Bay Area/SF events? What other SF events are you excited about this weeeknd? Let us know in the comments below or on Facebook and  Twitter!
---
July is already upon us and it's almost the weekend! We hope you are just as excited as we are for Independence Day on Monday, and ABCey has you covered with all of your 4th of July events coming soon! Until then, make the most of your weekend and check out these fun Bay Area events!
---
Fri. July 1st – Mon. July 4th, 2016| 11am-11pm |prices vary| 4501 Pleasanton Ave. Pleasanton, CA
If you haven't gone to the fair yet, GO!  This fair is a must-see attraction for everyone!  For kids, there is a children's park, adventure park, petting zoo, ferris wheel, and carnival.  Adults can be entertained with horse races, a beer garden, a wine bar, shopping areas, and live concerts.  There are only 4 more days til' the fair is over, so come check it out before it's too late!

Sat July 2nd & Sun July 3rd, 2016 | 10am-6pm | FREE | Fillmore St.–Jackson to Eddy St, San Francisco
Enjoy two days of music, food, art, and fun at the Fillmore Jazz Festival!  This festival takes over more than 12 blocks and has every kind of food and craft imaginable.  With 32 years under its belt, this festival has become incredibly popular and the largest free jazz festival on the West Coast.  Join the other 100,000 people who attend this event and jazz up your weekend!
Sat. July 2nd, 2016 | 10am-12pm | FREE | Stow Lake, Golden Gate Park, San Francisco
Experience nature this weekend and take a guided tour through Golden Gate Park.  This guided tour is free and a perfect way to collect your thoughts while getting fit!  With your own personal tour guide, you can learn all about the park, plants, and wildlife.  So get out and enjoy the great outdoors with a nice stroll!
Sat. July 2nd, 2016 | 7:30pm | FREE, RSVP for Early Entry Tickets | AT&T Park; 24 Willie Mays Plaza, San Francisco
Mix things up this weekend by seeing a play…a free play!  This Saturday, the San Francisco Opera is hosting a live simulcast and projecting their current play, Carmen, on AT&T Park's huge video screen.  You will definitely be entertained by Carmen, a femme fatale play with jealousy, danger, love and murder.  Head out to the ball park to watch this captivating play and a special pre-show and intermission with the other 30,000 attendees!
Sun. July 3rd, 2016 | 11am-4pm | FREE | 103 Montgomery Street, Main Post, Presidio, San Francisco
This year, Off the Grid has revamped their picnic and food truck event held in Presidio Park. They now have over the 30 food and beverage trucks, free yoga classes, games, and music!  You can also get clothes and accessories at their mobile shop, produce from their market, and help planning your next activity in San Francisco.  There are also FREE shuttles, PresidiGo, that travel to Embarcadero BART, certain SF streets, MUNI, and around the park.  Don't miss the chance to relax on the grass field and enjoy great food and company!
Fri. July 1st, 2016 | 8:30pm – 10:00pm | FREE | McInnis Park: 310 Smith Ranch Road, San Rafael, CA
Because this weekend is so jam packed, we have one more event that will get you in the mood for July 4th! Friday at McInnis Park, park rangers will have yummy s'mores to eat right before you walk to the top of the Nike Site to watch the 9:30pm Marin County Fair fireworks show.  Fireworks are always fun especially with s'mores and tomorrow you can get both for free!
What are you planning on doing this weekend? Let us know in the comments below or on Facebook &  Twitter!
---
TGI-A-F (Thank Goodness It's Almost Friday)! The end of the month is swiftly approaching, and we can't help but notice, where did the time go? Many, utilize the month of January to get the year's resolutions, priorities, and agendas in order. However, with our minds consumed by tasks and workloads we must remember to schedule some fun into our daily lives. ABCey would like to take the time to applaud all of your hard work and in return reward you with an awesome weekend lineup to kick back your feet and smell the roses!
---
1. SF BEER WEEK OPENING GALA
---
FRIDAY. 22 JANUARY 2016 | 6:00-10:00 PM | PIER 35 | $80
---
One of the most anticipated events of the season has finally arrived! Beer week 2016 will run through January 22-January 31 and will give the Bay area 9 days of beer mayhem. This Friday, January 22, will be the official kick off party that will feature over 110 breweries from the Northern California area! If that's not enough, all attendees will receive a complimentary commemorative glass, 4 oz samples of an array of beers, and an extensive selection of food options that can be purchased. Get your hands on a ticket now before it's too late and make sure you check out the rest of the lineup!
---
CIRCUS: TIGHTROPE & JUGGLING CLASS
---
FRIDAY. 22 JANUARY 2016 | 7:00-9:00 PM | CIRCUS CENTER | FREE
---
Not a beer drinker? That's okay! This fun spin on fitness & acrobats will bring you back to the days of ferris wheels, cotton candy, and popcorn. This open session will allow you to explore different circus acts like juggling, tight wire, rolla bolla, feather balancing, and clowning. Even better, it's a family night, kids ages 8 and up are welcome to join in on the fun. Make sure you arrive to the Circus Center early to reserve your spot, space is limited and fills up quick!
---
ONE DEEP BREATH LAUNCH PARTY: YOGA + MIMOSAS!
---
SATURDAY. 23 JANUARY 2016 | 11:30 AM-1:30 PM | SPORTS BASEMENT | $15
---
Still feeling stressed and tired from the strenuous work week? Come unwind with some yoga and mimosas this Saturday at One Deep Breath's launch party! In celebration of this up and coming yoga business, guests will enjoy the relaxation and peace of an 1-hour Vinyasa flow yoga class followed by some yummy brunch items. Did we mention attendees will receive 20% off One Deep Breath private and small group session packages and 20% off a Sports Basement item purchased that day?
---
ART AT THE DUMP: RECOLOGY'S RECYCLED ART EXHIBIT
---
SATURDAY. 23 JANUARY 2016 | 1:00 PM-3:00 PM | RECOLOGY SAN FRANCISCO | FREE
---
This weekend is all about taking a break from reality and recognizing your hard work and achievements. This Saturday, Recology will be observing 4 months of artistic creation of their artists in-residence! This inspiring exhibition exemplifies work that has been created by gathering materials from the dump and utilizing it as a message to promote recycling and reuse of items. Enjoy this public exhibition to appreciate the artists, their craft, and the purpose it represents!
---
SALSA DANCE SOCIAL
---
SUNDAY. 24 JANUARY 2016 | 4:00 PM-12:00 AM | SLATE BAR | FREE BEFORE 6 PM
---
Are you rejuvenated, relaxed, and revitalized yet? Great, because this Salsa Dance Social is something you don't want to miss! Close out the weekend with your dancing shoes and your best outfit. Dancing starts as early as 4 PM for those of you with an early Monday morning and ends as late as midnight for the rest of you daredevils! Enjoy some of the greatest salsa, merengue, bachata, and reggaeton hits!
Which events helped you unwind the most this weekend? Let us know this upcoming week in our comments below or find us on Facebook or Twitter!
---