Tomorrow's the day we're all looking forward to: Friday! ABCey brings you this week's San Francisco Weekend Lineup with the top events happening in the Bay Area! If you don't have plans this weekend, we've got you covered from Star Wars at the Symphony Hall to a Burning Man trunk show!
July 20 | 6am – 9am | Prices range from $30.00 – $45.00 | San Francisco Belle, Hornblower
Usually, you may not be a morning person, but you're going to want to be one for Daybreaker SF! Get ready for an unforgettable time with crazy beats, amazing company, and tons of dancing! Being their 4th anniversary, their theme is "Come Sail Awake With Us" and they plan to entertain you all morning with activities like yoga, dancing, and face painting! It's one our favorites for the weekend, will we see you there?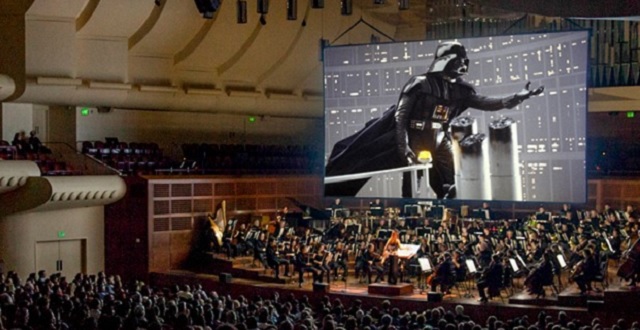 July 18 – August 3 | 7:30pm | Prices range from $75.00-$125.00 | Davies Symphony Hall
The SF Symphony summer concert series returns this weekend! If you love Star Wars, you're going to be ecstatic! The orchestra will play live scores from the original Star Wars trilogy with the films projected on stage! Talk about an unforgettable experience!
July 21 | 12:00pm – 6:00pm | Free admission | The Great Northern
Burning Man is coming up! Hope you're ready to begin shopping of your costume at the 12th Annual "Beyond the Fence" Trunk show! There will be over 30 local and independent designers selling unique costumes perfect for the desert getaway! Local DJs and cocktails will be available for you to enjoy while you take in inspiration on and off the Playa!

July 27-30 | 1:00pm – 10:00pm| Prices range from $20 and up, depending on donations | The Midway
In honor of Larry Harvey for starting Burning Man, we gather together to celebrate the passion he has created in others. This man dreamed of a world where creative minds can come together to cooperate and this vision led to the creation of Burning Man.
July 22 | 11:00am – 4:00pm | Free admission | Main Parade Ground
Rain or shine, the Presidio takes place on the Main Parade Ground. It features many vendors to get a taste of the diverse foods and cultures of the Bay Area and a free cultural dance performance on the fourth Sunday of each month! It will feature more than 25 international mobile food inventors, music for everyone, lawn games, yoga, and nature-based crafts for kids!
July 22 | 2pm | Free admission; First come, First Serve | Stern Grove
Since 1938, the SF Symphony returns every summer for an annual performance, and their return dates for this Sunday! If you're looking for a nice event to take your family or a relaxing day filled with beautiful music, we hope to see you there!
What does your San Francisco weekend lineup look like?
Which events will you be attending this weekend? We'd love to hear from you! Let us know in the comments below or on Facebook and Twitter!
---
It's almost Friday! ABCey brings you this week's Weekend Lineup with the top events in the Bay Area for the upcoming weekend! We've got everything from a  circus-themed dinner, to wine and beer tastings, and even hot air balloons! 
Thursday June 8th | 5-9pm |  Free Admission, $30 All You Can Drink Craft Beer | Spark Social SF, 601 Mission Bay Boulevard, North San Francisco, CA
Kick-off your carefree summer with exceptional beer and fresh air for an all-you-can-drink tasting adventure in the city! Featuring drinks from Fieldwork Brewing Company, New Bohemia Brewing Company, Drake's Brewing Company, and more! 
Starting Friday, June 9-17th | 7:30pm-Midnight | Cost: $50-$130 |  Ages 21+ | Tortona Big Top 2001 Ferry Point Alameda, CA  
From the co-creators of The Edwardian Ball, New Bohemia NYE, Phantasm SF, Lagunitas Beer Circus is the nightlife event of a lifetime. A circus-themed, dinner and theater experience that you will surely not forget! A wonderful night out that explores San Francisco's scandalous history and with a world-renowned performance.  
Weekend Lineup's Wine Down Fridays 
Friday June 9th | 5-8pm | Cost: FREE entry! | Urbano Cellars, 2323 B Fourth St. Berkeley, CA 94710
Friday's call for wine & food trucks! Get the weekend started with some delicious wine, food trucks, live music & art! A perfect start to your Friday night.
Sonoma County Hot Air Balloon Classic 2017
Saturday June 10th & Sunday June 11th  | 4am-10:30am  | Kids $5, Adults $20, Children 2 & under FREE | Keiser Park | 700 Windsor River Road, Windsor, CA
An early (but worth it!)  Weekend Lineup wake-up call to enjoy the beautiful hot air balloons in wine country. Right as the sun rises, these balloons will be launched from an open field into the sky. What a great way to start your morning! 
Spring Into Summer Parade & Fair
Saturday June 10th | 10am | Cost: FREE! | San Mateo County Event Center | 1346 Saratoga Drive, San Mateo, CA
Come enjoy the floats, bands & activities at the perfect event to kick-off summer! The parade will begin at Franklin Parkway, then continues along Delaware Street, and ends at the Fair. A perfect family activity for a fun Weekend Lineup Saturday afternoon! 
 _____________________________________
Will you be attending any of these Weekend Lineup Bay Area/SF events? What other SF events are you excited about? Let us know in the comments below or on Facebook and  Twitter!
---
Summer has finally arrived! What better way to celebrate than by getting out and enjoying the beautiful Bay Area? ABCey Events has got you covered with what's going on this weekend!
---
Friday June 24th | 5:00pm-8:45 pm | de Young Museum | FREE
Dance your way into the weekend with this dance-off hip-hop themed event happening at the de Young Museum Friday night starting at 5pm. In addition to showing off your best moves, the observation tower will be open until 8pm to see spectacular views of San Francisco. Don't miss out on your opportunity to show everyone the hip hop guru you really are!
__________________________________________________________
Saturday June 25th, Noon-6pm | Sunday June 26th 10:30am-6pm | Civic Center Plaza & along Market St. | FREE
Head into the heart of San Francisco this weekend for the best of local musical talent and cultural performances. The San Francisco Pride event is home to over 20 community-run stages and venues. What better way to experience the city and see firsthand the amazing diversity of the LGBT community in San Francisco?
__________________________________________________________
Saturday June 25th | 10:30-Noon | Presidio | FREE
This Saturday at the Pershing Square in the Presidio there will be a celebration for the wonderful city of San Francisco! In 1775-1776, 240 colonists traveled from what is present day Mexico and founded the Presidio of San Francisco. We have them to thank for their new cultural ideas and era of California history! Come and join the recognition of their incredible journey.
__________________________________________________________
Sunday June 26th | All Day | Treasure Island | $3
Don't miss out on this modernized market that is home to around 400-curated vendors every month. Vendors sell everything from originally made and designed items, to art and vintage collections. If those weren't enough to get you excited about this great event, there will also be over 15 food trucks to satisfy all your cravings while you shop! So come out and enjoy the summer while getting spectacular views of downtown San Francisco. What more could you ask for?
__________________________________________________________
Sunday June 26th | 2pm | San Francisco | FREE
Come and be a part of the tradition that has been going strong since 1938! The Stern Grove festival throws free concerts in the park every summer- Free outdoor music? Count us in! Finish out your weekend in this stunning park setting and watch performers such as George Clinton and Parliament Funkadelic. Get in on the fun this Sunday starting at 2pm!
__________________________________________________________
Have special plans for this weekend? Let us know in the comments below or on Facebook and Twitter!
---
The weekend is here! *cue applause* And ABCey is back with our weekend lineup. We've compiled a list of our 5 favorites things happening in the Bay Area this weekend. In the mood to laugh, dance, or even play in some clay? We've got you covered. So get out and take advantage of all that the beautiful Bay Area has to offer!
---
1. SAN JOSE BIKE PARTY: 100TH RIDE
---
Friday, January 15, 2016 | 7:30pm | Secret San Jose Location, San Jose, CA | FREE
What better way to relieve some of that work week stress than a nighttime bike ride. Join the San Jose Bike Party this Friday as they celebrate their 100th ride in the streets of the largest city in the Bay Area. This is a great chance to build community and explore the various local treasures the city has to offer. The exact meeting location and route is posted 24 hours before the event so be sure to check out their website before heading down.
---
2. BATS IMPROV: FRIDAY NIGHT THEATER SPORTS
---
Friday, January 15, 2016 | 8pm | Bayfront Theater | $8.50- $20
BATS Improv has been named the Bay Area's Best Theater Company and this Friday they are having their weekly Friday Night Theatersports. It's a face-paced, exciting and interactive theater competition. Tix can be purchased here for a discounted price or on their website. Be prepared for the unexpected and get ready to laugh until you cry!
---
3. 2016 FAMILY TECH FAIRE
---
Saturday, January 16, 2016 | 10am – 2pm | Avenidas, Palo Alto, CA | FREE
Kick off your Saturday with a family fun day at the Avenidas Tech Faire. Whether you're a self-proclaimed tech genius or merely looking to explore new technologies, there's something for everyone here. Enjoy food trucks, interactive presentations, tech talks with industry experts, and some cool exhibitions featuring robots, 3D printers, and more! Check out their website for the complete list of all the exciting events they have to offer. 
---
4. NEW WAVE DANCE PARTY: DEPECHE MODE NIGHT
---
Saturday January 16, 2016 | 9pm – 3am | The Cat Club | $7 before 10pm/$12 after
Put on your dancing shoes and get ready to party all night long! Join New Wave City at The Cat Club this Saturday for a night of socializing and dancing to the best of New Wave music. The front room will feature fan favorite music and videos, while the back room will be featuring the music and videos of Depeche Mode. Click here for more info.
---
5. POTTERY CLASS – CLAY + COFFEE
---
Sunday, January 17, 2016 | 9:30 – 11:30am | SMAart Gallery & Studio | $55
Wind down your weekend with a morning pottery class at SMAart Gallery & Studio. You'll be provided with coffee and a pastry to get your mind and body energized and then the instructors will teach you the art of wheel throwing. These classes are small and spaces fill up quick so be sure to RSVP asap! Don't worry if the tickets get sold out, they offer the same class every Saturday and Sunday morning so you'll have plenty of opportunities to to explore your creative side.
Planning on heading out to any of these events this weekend? Let us know in the comments below or on Twitter and Facebook!
---
Do you feel like this week went by incredibly fast and you haven't made plans for your weekend yet? Don't worry, ABCey Events has you covered! Whether you're into science, literature, food, or fashion – we've gathered a list of the most exciting events in San Francisco on September 13-14, 2014.
Free Shakespeare in the Park: The Taming of the Shew
Saturday and Sunday | 2pm | Main Post Lawn | 103 Montgomery Street, Main Post, Presidio
The ideal event to bring your friends and family together! Bring a blanket and some snacks and enjoy the funny and crazy plot twists in Shakespeare's The Taming of the Shew. A Green Show describing Shakespeare's background and history precedes the play, which makes this event great for non-Shakespeare literates as well.
Chic Metropolitan Fashion Show
Saturday | 7pm – 1am | 950 Mason St, San Francisco | Cover $30-50
If you are into fashion, you can't miss the Fast and Luxurious fashion show by Chic Metropolitan this Saturday. Held in The Grand Ballroom of the Fairmont Hotel and presented by multi-millionaire Robert Herjavec, Chic Metropolitan will introduce the latest fashion from Colleen Queen on more than 50 models. The Bay Area mash-up band The Rock-It Scientists will be playing at the event. Feel fancy and dip into the world of the rich and famous. Click here for more information and tickets.
Ghirardelli Square Chocolate Festival
Saturday and Sunday | 12pm – 5pm | Ghirardelli Square, San Francisco | Free entry but chocolate samples must be purchased.
Chocolate lovers will enjoy this weekend's 19th annual Ghirardelli Chocolate Festival! More than 30 vendors will be offering all kinds of sweet and delicious samples. The sampling tickets can be purchased here and the money will be donated to Project Open Hand. If you don't want to spend money on the sampling tickets, there are still plenty of other reasons to check out this event! There will be chef demonstrations from chocolatiers, cupcake bakers and many more, as well as the popular ice-cream sundae eating contest.
California Academy of Science: Free Admission Day
Sunday | 11am – 5pm | 55 Music Concourse Drive, San Francisco
This upcoming Sunday is one of the rare days when the California Academy of Sciences opens its doors for free to the public. Seize this opportunity! Bring family and friends and visit the world-class 400,000 square foot institution that includes an aquarium, a planetarium, a natural history museum and a four-story rainforest.
Where will you be this weekend? Tell us your plans in the comments below or on
Facebook
and
Twitter
.
---