Every once in a while, everybody needs an escape from the confining quarters of their work – whether they work in an office or from home! A retreat is the perfect opportunity for companies to …. But what is there to do? ABCey has curated a list of our top 10 favorite corporate retreat activities fit for everyone!
It's a giant playground for adults! Located in Lands End, this obstacle course built with ropes, ladders, and cables is immersed in a mini forest located in our urban city. The ropes course will challenge you mentally and also get your blood rushing in ways an office may not. So go through the highs and lows (literally!) with your team, and it'll surely bring out your adventurous side.
"Learning through laughter." Nerd Improv strives to create workshops that are meant to help your team get the most out of your retreat. It was designed to help push the boundaries while making a safe environment for everyone to share. For any questions, you can contact them here.
Hosted by 1AM, this workshop is meant to bring out your creative side with street art! Groups are encouraged to create their own street art individually and in groups with stencils and much more. Alongside the art, their team goes through the history of street art that you surely won't forget! The best part? You won't forget your experience anytime soon with the art hanging on your wall!
Escape your office with an escape room! Reason provides your team with high tech team building activities and immersive experiences. Instead of your typical escape room, you can experience this through VR goggles to transport yourself into another reality and much more. In addition to an awesome escape, this retreat will build a stronger and better team!
Get up from your office chair and get on a boat! Your retreat will feature some of the most beautiful views and create some of the best memories. Your sailing experience will be personalized to whatever mood your team needs whether it be relaxing or thrilling! So pack your favorite sea sickness remedy and sail away!
Love food trucks? You'll love this challenge even more! The Food Truck Challenge prompts teams to experience what it's like to have your own and run your own food truck. Judges will base their decision on every aspect from the food to the marketing, so be prepared!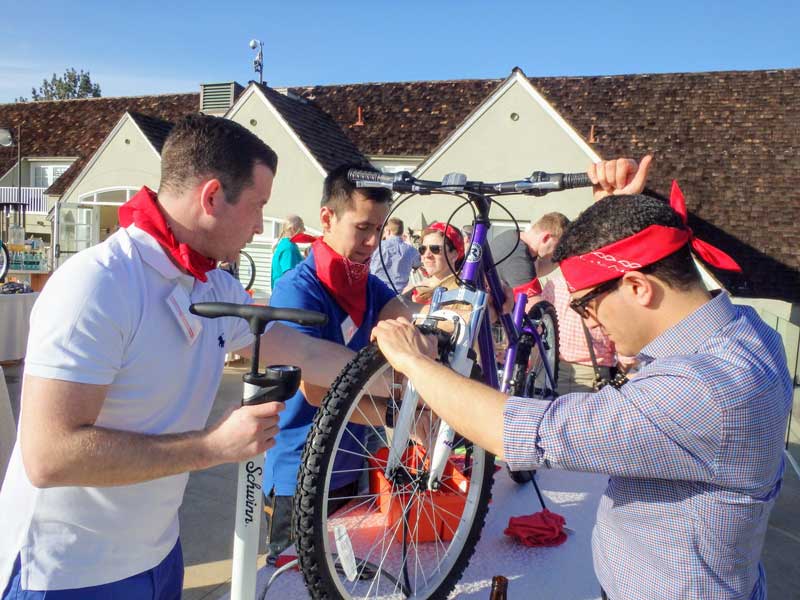 Drop the pens and papers and swap it out with wrenches and gears! This charity event challenges teams to build as many bikes as they can, and all the bikes built are donated to children around the world. It's an amazing cause and your team will build a competitive spirit together for a heartwarming cause as well.
This is great way to unwind after a long week of meetings. After splitting into teams, each group becomes their own winery (a dream come true)! After being briefed on the history of Sangria and competing in a trivia contest, teams have the opportunity to create their own unique blend, too.
Who doesn't love mini golf? Your team can make your own fun with challenging mini golf courses designed to trick the other team. If you're feeling charitable, there's also an option which involves cans of food to be donated as you complete the course. A little competition never hurt anyone, and hopefully you'll leave with a sense of accomplishment!
If you love food and you love San Francisco, we've got one of the most perfect retreat activities for you! This foodie adventure will prompt your teams to explore San Francisco while also trying some of the best foods around the city! You'll be leaving with a full belly and a new love for our hometown!
What are your favorite off-site activities?
These off-site corporate retreat activities can be adjusted to any retreat you have! Are you ready? Which ones did we miss? Let us know in the comments below or on Facebook or Twitter!
---
Whether organizing a conference, meeting, or event, planners are utilizing new techniques bolstered by the latest technology in order to ensure attendees get the most out of an event. With an increasing focus on achieving event ROI and success, it is becoming more and more important to improve event engagement by involving attendees throughout the experience: before, during and after! These features include apps, seating, visuals and much more!
Here are ABCey's Top 10 ways to boost participation at your next event!
---
1.Event Engagement with Mobile Apps
Mobile apps such as Whova, Event Friendly and Event Board aim to transform audience networking and event engagement. These platforms include key features such as the accessibility of communication amongst each other, the ability for guests to plan networking in advance and also receive real time updates. There is also the ability to receive feedback during and after the event!
2. Mixed Seating
We all know theatre style is making it's way out, and mixed seating IN! Mixed and informal seating at your event is important so that the audience is comfortable, and creates more space for lounging, networking, and engaging. We love this stage and seating design from Girl Boss!
3. Bioreactive Wristbands
There are a variety of new devices to engage the stage with the audience! Bioreactive wristbands were recently used at a Google-sponsored music event that displayed levels of emotion, movement and energy! These levels were presented on a real time board for the audience to see. Developments in new tech continue to change the event industry as it becomes more integrated into our daily lives!
4. Catchbox
Catchbox gives the audience the capability to speak and participate at an event or conference, making it fun and different! No more walking across the room to pass the mic! Attendees have a chance to engage with each other with the use of this throwable microphone. Make sure to keep your eye on the box so you don't get hit in the head!
5. Virtual Reality
Not all event engagement needs to include speaking! Having new technology at events provides participation with the use of virtual reality headsets. VR can range from the audience playing a game to showcasing a new product, and is even used to scout event spaces! This interactive technology allows the audience to have some fun!
6. Live Visual Thinking
ABCey recently used One Squiggly Line at the UpStart 10x Event! Visual note taking provides the audience a way to engage, brainstorm and share ideas with each other at events.
7. Social Media Influencers
One influential person can change the perspective of an event compared to many average social media users! The attendees who are more powerful on social media can be tracked prior to an event through monitoring. This allows them to engage with their followers and have a discussion.
8. Eye Catching Sets and Backdrops
It is important to have a design or event that is eye catching to the audience! Projection mapping can also help display content to really drive a brand's message across. This will spark the interest of the attendees and set the tone for engagement and discussion.
9. Special Perks
Give attendees a gift to show your appreciation, and you don't have to spend a ton! At our recent Upstart 10x Event, we created a cute low budget gift which included Dill Seeds from Urban Adamah (an event sponsor), tied with a custom flip book of all of the organizations members, and info on the company. This gave attendees a little something to discuss and take home!
10. Networking After Party
Well this one's a given! Who doesn't need a cocktail after a long day of sessions? DO provide a chance for attendees to continue the conversation, relax, and enjoy themselves. This also gives the guests the ability to talk about what they learned, as well as a way to meet and network with new people!
---
As attendees go to events to learn, network, and engage they also want an unforgettable experience! Event engagement allows the audience to have a unique involvement with the event. What are your favorite ways to stay tuned in at an event? Let us know in the comments below or on Facebook and Twitter!
---
#TechTuesday highlights the best and brightest ideas in the tech world. ABCey would like to recognize these up and coming technologies for their innovative ideas and impact on the event world! This Tuesday we are featuring Microsoft's augmented and virtual reality lenses, HoloLens! 
---
Ever ever wondered what technology would be like in the future? From the Internet to virtual reality, we have seen incredible technological advances that have had major impacts on the society. Now, companies like Microsoft are in the midst of bringing you high-definition holograms!
So go beyond the screen with Microsoft's HoloLens! It is the first self-contained, holographic computer that lets you better visualize your digital content and work. With this device, you can see the finest details of your work in relation to the world around you. Furthermore, your event attendees with be impressed when you use these lenses to show your products and ideas!
---
How it works: 
These lenses mix augmented and virtual reality and have stationary and moving holographic images . In addition, this tech uses gesture technology and voice recognition! You can navigate, open, select, drag, and place applications and holograms. Moreover, by simply gazing, you can move the cursor on this holographic computer. These lenses are so real that not only can you see the holograms, but you can also hear and locate it!
Although Microsoft hasn't announced a release date yet, they have a developmental edition for purchase. By purchasing this HoloLens edition for $3,000, you can be part of the first group of developers to test out this amazing tech! So what are you waiting for? Join these companies like Skype, RoboRaid, and HoloStudio, who are already on board. Get a head start and use some of the most advanced tech of our time! Sign up for the demo here!
This developmental package includes: 
Microsoft HoloLens Development Edition
Clicker 
Carrying Case
Microfiber Cloth 
Charger
Micro-USB 2.0 cable
Bring your ideas to life with Microsoft HoloLens!
Why we love it: 
Microsoft's HoloLens adds an incredible element to our future events. As the first holographic computer, the device lets you showcase your ideas in 3D during meetings, conferences, trade shows, and many more. In addition, Microsoft has paired up with Skype. Thus, the lens can be used at virtual conferences and meetings. This allows you to better show your ideas by drawing on your screen. Then, your Skype contact can see your drawings!
In addition, you can use it as a form of entertainment for your event attendees. It will surely catch everyone's attention! Attendees can use this device to go online, play games, and create their own holograms. When released, we believe that Microsoft's HoloLens will, in no time, have a major impact on our world, especially the event industry!
What do you think about Microsoft's HoloLens? Let us know in the comments or on Facebook and on Twitter!
---
#TechTuesday highlights the best and brightest ideas in the tech world. ABCey would like to recognize these up and coming technologies for their innovative ideas and impact on the event world!
---
Have you ever wanted to see a famous landmark or a potential event venue overseas, without actually having to spend the time, or money to travel?  Founded by Nihal Advani, Georama brings you the world's first real-time virtual tour platform! This amazing service can help anyone travel anywhere in the world instantly.
With Georama, viewers will be able to virtually travel anywhere in the world in real-time via mobile and interactive live video tours. To make the experience even more personal, viewers can pay a small fee to interact in real-time by asking questions or making suggestions to their respective guides, such as asking them to check out certain landmarks.
Instantly Experience The World With Georama!
How it works: 
With Georama, viewers can tune in live across their phones, computers, and tablets to view the tours and interact in real-time. You can request a live demo to learn more about Georama and how it can help your organization.
Georama features:
Live HD Video – High definition video with low latency for great viewing experience
Real-Time Interaction – Viewers can interact via comments and questions
Smooth & Reliable Video – Combining multiple networks helps create stabilized videos and increased reliability
Cross Platform – Viewable across all devices (computers, tablets, smartphones, VR headsets)
Seamless Integration – With a simple copy and paste, viewer can embed into their website
In-Depth Analytics – Viewers will be able to know who's watching, when and where
Why we love it: 
Georama provides one more thing we can all use for site selection for overseas events. Not only can it save us time, but also traveling expenses! With its seamless integration feature, we can easily share these tours to potential clients, friends, or family. We believe that Georama will in no time become the "the destination for virtual travel"!
Where are you going to travel with Georama? Let us know in the comments below or on Facebook and Twitter!
---
#TechTuesday highlights the best and brightest ideas in the tech world. ABCey would like to recognize these up and coming technologies for their innovative ideas and impact on the event world!
---
Are you watching an event or hosting a virtual business meeting? You might wonder, "Where's the interaction? I feel as if I'm barely there!" Well, that may change soon as Oculus VR, whom produces Oculus Rift, is pushing to provide consumers affordable virtual reality. Oculus Rift is a headset that provides users the ability to be immersified into virtual reality, and will serve as a means to offer something new and immersive to live audiences. Why not feel as if you are actually there to obtain a better experience?
Despite Oculus Rift being advertised for the gaming community, it has been successfully able to extend to other areas, one being EVENTS! With the inclusion of videos and other social features, the potential is vast!
The sky's the limit with Oculus Rift!
Many large events have often had trouble with increasing the venue size with the surplus of attendees.
Well, no longer! Oculus Rift allows visitor numbers to increase with no limit as visitors attend the event online. This boosts the attendance rate and can provide an unforgettable experience for everyone.
What should you know to prepare for such an awesome technology?
CieEvents proposes that the event management team should be aware that there may be some work involved in order to have stable and accessible virtual reality throughout the event. With both live and virtual attendance, host companies may go all in with their event budget, implementing more massive and engaging events.
How it works:
After purchasing Oculus Rift, set up the hardware by plugging in all of the required adapters and wires. Users may then install any software needed from the Oculus Website. After completing the installation, restart the computer. Any games or applications that is in the Oculus Store may be purchased on the website. The user is now able to set his/her headset to delve into virtual reality.
Why we love it:
Oculus Rift grants exciting technology for the future. It would not only allow people to feel more of a connection to the event, but also provides an enhanced experience. This is not a typical event/meeting that the user would experience. It would feel more real enhancing your visual senses!
What are your thoughts on Oculus Rift? Let us know on Facebook and Twitter!
---