Are you trying to put on an event, but can't think of a theme? We know how challenging this can be, as themes can sometimes be overdone or cheesy.They can be a great way for your attendees to get involved, transform your event, and can help add structure to the décor and activities. At ABCey, we've compiled a list of our 5 favorite event themes to inspire you for your next event!
1. Tomorrowland
This theme is a fun one because you can decide to set the year in the future and make the event and décor to showcase how you see that playing out. This is a prime theme for incorporating cool technology as well. Consider having a video mapping dance crew, LED dance floor, or a VR game lounge!
2. Casino Night
Who doesn't love casino night? This theme never gets old! There are so many activities you can do with this theme to spice up your event. Try making a ball pit photo booth filled with poker chips, have LED hoop dancers, or an iPad magician!
3. Indulgence
Everyone will love a theme that involves everything they could ever want. Think of anything and everything you desire and make an activity or a station out of it at your event! A donut wall, puppy petting zoo, an edible photo booth, and a champagne bar are just a few fun examples!
4. Urban Graffiti
If you want to make your event have more of an urban cityscape feel, graffiti is a great idea for an event! You can hire graffiti artists, have a digital graffiti wall, and incorporate bold, block colors wherever possible to give that graffiti-feel!
5. Outside In
Bring the outside in and turn your venue into a secret garden! Consider using plenty of grass, foliage, and flowers, and hang plants around the space. Transform the indoors and make your guests feel like they're hanging out right outside. See one of our past blogs to find out why humans love feeling connected to nature and more tips on how to incorporate it into your events!
Which event themes will you use?
Can you think of any other fun and different themes? We'd love to hear from you! Let us know in the comments below or on Facebook or Twitter!
---
Tomorrow's the day we're all looking forward to: Friday! ABCey brings you this week's San Francisco Weekend Lineup with the top events happening in the Bay Area! If you don't have plans this weekend, we've got you covered from Star Wars at the Symphony Hall to a Burning Man trunk show!
July 20 | 6am – 9am | Prices range from $30.00 – $45.00 | San Francisco Belle, Hornblower
Usually, you may not be a morning person, but you're going to want to be one for Daybreaker SF! Get ready for an unforgettable time with crazy beats, amazing company, and tons of dancing! Being their 4th anniversary, their theme is "Come Sail Awake With Us" and they plan to entertain you all morning with activities like yoga, dancing, and face painting! It's one our favorites for the weekend, will we see you there?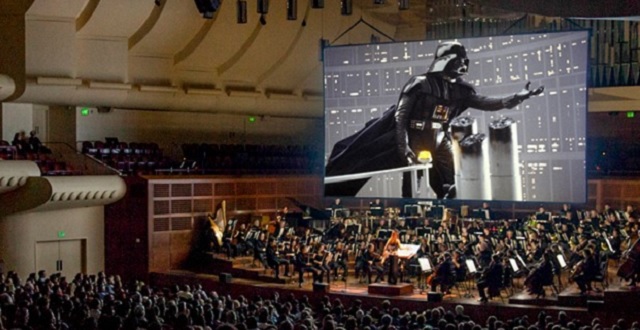 July 18 – August 3 | 7:30pm | Prices range from $75.00-$125.00 | Davies Symphony Hall
The SF Symphony summer concert series returns this weekend! If you love Star Wars, you're going to be ecstatic! The orchestra will play live scores from the original Star Wars trilogy with the films projected on stage! Talk about an unforgettable experience!
July 21 | 12:00pm – 6:00pm | Free admission | The Great Northern
Burning Man is coming up! Hope you're ready to begin shopping of your costume at the 12th Annual "Beyond the Fence" Trunk show! There will be over 30 local and independent designers selling unique costumes perfect for the desert getaway! Local DJs and cocktails will be available for you to enjoy while you take in inspiration on and off the Playa!

July 27-30 | 1:00pm – 10:00pm| Prices range from $20 and up, depending on donations | The Midway
In honor of Larry Harvey for starting Burning Man, we gather together to celebrate the passion he has created in others. This man dreamed of a world where creative minds can come together to cooperate and this vision led to the creation of Burning Man.
July 22 | 11:00am – 4:00pm | Free admission | Main Parade Ground
Rain or shine, the Presidio takes place on the Main Parade Ground. It features many vendors to get a taste of the diverse foods and cultures of the Bay Area and a free cultural dance performance on the fourth Sunday of each month! It will feature more than 25 international mobile food inventors, music for everyone, lawn games, yoga, and nature-based crafts for kids!
July 22 | 2pm | Free admission; First come, First Serve | Stern Grove
Since 1938, the SF Symphony returns every summer for an annual performance, and their return dates for this Sunday! If you're looking for a nice event to take your family or a relaxing day filled with beautiful music, we hope to see you there!
What does your San Francisco weekend lineup look like?
Which events will you be attending this weekend? We'd love to hear from you! Let us know in the comments below or on Facebook and Twitter!
---
ABCey's Top 10 Live Art Performances are a must have feature at your next event! These captivating and unique performances will bring your event to the next level! We cover everything from sand art animations  to live mural painting to water light graffiti!
1. 3D Sidewalk Chalk Art
3D Street Art is a fun attraction to incorporate into any outdoor event! This family friendly art is a show that kids and adults will both love! It's the perfect performance to include in almost any event! 
2. Sand Art Animations
Charlene Lanzel, a famous sand artist, creates amazing live performance using sand, a light box and a projector. This funky performance is the ultimate way to bring your event to life!
3. Speed Painted Portraits
Rock Demarco does speed paintings that are finished in under 10 minutes! These fast-past paintings are fun for everyone and make the perfect personalized party favor to send home with your guests!
4. Glitter and Glue Art
Everyone loves glitter! So why not include a Glitter Art Performance at your next event? This amazing art would make the best addition to any event!
5. Water Light Graffiti Paint
Antonin Fourneau uses Water Light Graffiti to by using LED lights and water. This interactive and unique type of art will wow your guests and create a beautiful show in the process!
6. Custom Shadow Show
Wow your guests with an extraordinary shadow show! This unique performance is a sure way to create a memorable event that your guests will never forget!
7. Digital Paintings
Jeremey Sutton combines technology and painting to create this art masterpiece! Digital Paintings are a cool way to integrate technology into your event!
8. Graffiti Art/Live Murals
The Graffiti Kings create live murals with graffiti at events all over the world! Watch the artists in action as they spray paint huge incredible portraits right in front of your eyes!
9. Projection Mapping Live Performance Art
Incorporate new projection mapping technology into live art performances for the ultimate experience at your next event! A Dandy Punk performances are great for any occasion!
10. Live Art Performances: Art Exhibitions
Allen Axelrod's interactive art performance is an awesome show to include in any event! This unique and fun work of art will definitely impress any audience!
What're your favorite live art performances? Let us know on Facebook and Twitter?
SaveSave
SaveSave
SaveSave
SaveSave
SaveSave
SaveSave
SaveSaveSaveSave
SaveSave
SaveSave
SaveSave
SaveSave
SaveSave
SaveSave
SaveSave
SaveSave
SaveSave
SaveSave
SaveSave
SaveSave
SaveSave
SaveSave
SaveSave
SaveSave
SaveSaveSaveSave
SaveSave
SaveSave
SaveSaveSaveSave
SaveSave
SaveSave
SaveSave
SaveSave
---
---
First impressions matter, so why not make your invites something your guests will never forget? Get creative and try out some funky and unique DIY event invitations! These affordable and fun invitations are a sure way to get your guests talking about the event well in advance!
1. Popsicle Stick Invitations
Set the tone of a summer party and send out some easy to make no-melt popsicle invitations!
2. Pop Up Rainbow Invitations
Add a splash of color to your invitations with this rainbow pop up!
3. Snow Globe Invitations
These cute and trendy snow globe invitations can be used for almost any kind of event!
4. Blow Up Balloon Invitations
In order to read the balloon invitation, the guest must blow up the balloon! They are easy to make and customizable for any occasion!
5. Film Roll Invitations
These clever and cute film rolls make the perfect event invitations!
6. Confetti Invitations
Confetti burst invitations are an exciting and memorable way to invite your guests that they won't see coming!
7. Decoder Invitations
This clever invite comes with decoding glasses that allow the guest to read the invitation!
8. Ladybug Invitations
These cute and trendy ladybug invitations are perfect for birthday parties or spring and summer events!
9. Flip Flop Invitations
Flip flop invitations are the perfect way to invite guests to a summer event. Too bad these aren't wearable!
10. Mini Event Invitations
Mini invitations are an adorable way to invite guests to any kind of event! Each invitation can be personalized for specific guests!
These invitations are a fun way to get your guests thinking about your upcoming event. Make a statement with one of these unique DIY event invitations!
What are your favorite DIY invitation ideas? Let us know in the comments below or on Facebook and Twitter!
---
---
Wedding invites can set the tone for your special day and get people excited about attending! They can be formal and classic or whimsical and unique. We've created a list of five unique invites that we love! At ABCey our favorite is the scratcher because it builds suspense, but tell us what you think!
1. Scratcher Invite
We all know the excitement of a lotto card, but this way your guest get to win their way into your wedding! Include a penny of the year you two met for a more personal touch!
2. Balloon Invite
Make your guests "inflate to save the date" with this balloon printed with wedding details! You can print in all different colors and if your guests have kids they will love the interaction this invite gives!
3. Puzzle Invite
Make your invite a bit of a game with this puzzle invite! Guests will have to piece their invite together before knowing all of the fun details of your special day!
4. Log Invite
This invite is especially good if your wedding has a bit more of a natural feel or is set outdoors. This invite is super easy and low budget but looks amazing!
5. Invite in a Can
This idea is definitely unique but can be so fun! Put your simple invite in a can and then seal. Guests will have to open up the can to get to the invite, and you can also add fun decor or objects inside to get guests even more excited!
Let us know in the comments below or on Facebook or Twitter!
---
Startup Monday is ABCey's weekly post that features some of the best and brightest companies in the Bay Area. They are often companies that we have our eye on or have worked with in the past & would like to share with friends and followers of ABCey Events!
This week, we want to draw your attention to PlagScan, a startup located in Palo Alto. PlagScan offers an unique content verification tool and is the leading service for the detection of plagiarism in Germany, including many parts of Europe. PlagScan is now establishing its service in the US market, cooperating mostly with academic institutions. While most other plagiarism detection services are only available for the academic market, PlagScan can be used for business as well.
You might wonder how a plagiarism detection software could be relevant to your job or your business and why ABCey would recommend to check PlagScan out. Let's say you are an event planner, marketing director, or work in any job that requires creativity and unique content. You spend a lot of time writing marketing texts, blogs, or press releases. Wouldn't it be great to check if your work is actually unique and hasn't been written before?
Plagscan is useful even if you are not the one writing the content for your business. Let's say you have hired writers or interns. Imagine they use published or copyrighted content in your business blogs, without giving proper credit. This is called plagiarism and would shed negative light on your business. With PlagScan you can easily check for plagiarism and make sure that your content is unique.
How it works: PlagScan uses advanced technology in its software that compares billions of online sources with the document you want to check. You can easily upload a document or copy and paste text. After submitting your text, you get a detailed report with the results.
Why we love it: PlagScan is cost-effective and fast. The company offers a competent service that is definitely worth investing in. Best of all: PlagScan also helps to improve your search engine optimization.
Would you use PlagScan? What do you think about this software? Tell us about your opinion in the comments below or on
Facebook
and
Twitter
!
---