Startup Monday is ABCey's weekly post that showcases some of the best and most innovative startups based in the San Francisco Bay Area! These are often companies that we have our eye on or have worked with in the past. Today, we'd like to highlight the sustainable fashion company, Rothy's!
Rothy's
What is it?
You've likely seen them plastered across your social media accounts, if not on someone's feet in San Francisco! Rothy's is a US fashion startup that manufactures women's shoes that are machine washable and made out of 100% recycled plastic materials. This makes Rothy's shoes breathable, moisture-free, and allows them to maintain their shape. Founders Roth Martin and Stephen Hawthornthwaite felt that there was a need in the fashion industry for sustainable shoe wear that was not only fashionable, but also comfortable.
Why We Love It
In addition to their aesthetics, the shoes are highly eco-friendly, and they are created for women on-the-go. As a company comprised of many women and a female CEO, ABCey loves this concept! They claim to be comfy like sneakers- oh, and also? They are really CUTE! We also love that they produce sustainable shoes! With these flats, you can be comfortable, stylish, and help the environment all in one purchase! As of Earth Day, they had already officially repurposed over 10 million bottles!
How it Works?
Visit Rothy's website, browse through their shoe selection, pick your favorite style and size, and they'll ship it to you like any other online store! Wear them whenever, wherever. If they get dirty, don't fret! They're machine washable so you can clean them with ease. If you get bored of the pair you have, Rothy's has a system in place where you can wash your pair and send them to Rothy's recycling facility so they can be reused, and you can buy a new pair that you like!
Now that's sustainable fashion at its finest!
Have you purchased a pair of Rothy's? How do you like them? We'd love to hear from you! Let us know in the comments below or on Facebook or Twitter!
---
Whether it's a small event, a huge conference, or a gala, purchasing or renting event decor can be very wasteful and pricey! ABCey has compiled a list of our favorite ideas for upcycled event decor!
1. Actual Trash (and yes, we mean it!)
Actual trash! You can use thrown-out trash and transform it into a banner of trash bags or a beautiful backdrop for your guests. This one was even from one of our events, Creating Equilibrium – an environmental conference and festival that focused on sustainability! Based on the theme, we designed a depiction of our oceans by upcycling thrown-out trash.
2. Wooden Pallets
Wooden pallets are one of the best things to upcycle! It effortlessly adds a natural element to your event and can be transformed into a multitude of things! You can stack them for a makeshift table, hang photos and lights from them, paint them to make signs, and so much more. All it takes is a little imagination..
3. Old Rope and Leftover Boards
With old and sturdy rope and a board, you can create a suspended tabletop for any outdoor event! Dress it up for an elegant party or add some party favors for your guests! If you want add a playful feel for any younger guests or those with young hearts, you can create a swing! It'll also become a great photo-op for people to remember your event.
4. Hula Hoop
Hula hoops don't just have to stay around your waist (and sometimes the floor)! With some flowers and greenery, you can completely change your old hula hoop into a chandelier! You can also use it to highlight a statement word you want your guests to remember even after they leave! Cheers!
5. Jars
Jars and bottles are an easy element to upcycle! If you add a little water, you can use them as a vase for florals. Also, you can make it into an activity for your guests with a little paint or twine to let them customize their own! If you are looking to illuminate your event, placing candles or lights inside a jar is a great way add a soft glow!
What is your favorite upcycled event decor?
All these projects can also become a great interactive activity for you and your guests. They're just as elegant and beautiful as store-bought event decorations. Which ones will you use?  Let us know in the comments below or on Facebook or Twitter!
---
The Fourth of July is less than a week away, and that means major party planning! ABCey has made a list of the perfect patriotic DIYs for your party. Get ready to party all day long!
1. Popsicle Cocktails
Keep your guests cool all day long with these delicious and refreshing popsicle cocktails! For the kids, substitute the bubbly for Sprite to make a cute little mocktail.
2. Manicure
Don't forget to treat yourself a little! Replicate this fun little confetti nail art or make your own design!
3. Red, White, and Blue Cheesecake Bars
Add a little color to your desserts! These red, white, and blue cheesecake bars are a sweet treat that everyone would enjoy!
4. Bandana Picnic Quilt
Whether you're throwing a picnic party or planning to gaze at the fireworks, this DIY picnic quilt is perfect. You can use old bandanas or any other cloth you may have laying around.
5. Patriotic Suncatcher
These little DIY suncatchers are a cute addition to any decor you may have! You can make it into an activity for kids or use them to catch your guests' attention as well!
6. Firework Sunglasses
Add a spark to your outfit. Wow everyone with these DIY firework sunglasses! Spend the Fourth of July watching the fireworks through your own!
7. Confetti Party Poppers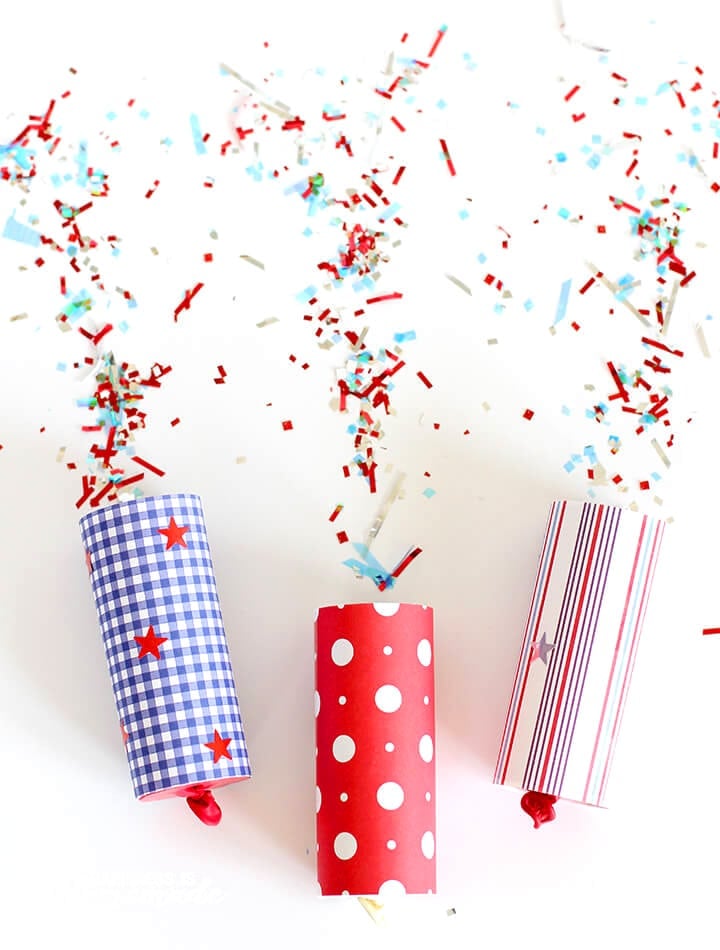 You can't celebrate the Fourth of July without some confetti! Make these easy DIY confetti party poppers to celebrate this patriotic holiday!
8. Star Spangled Shorts
This Fourth of July, you'll find the flag everywhere… even on yourself! Decorate your own shorts to sport our star-spangled banner!
9. DIY Chandelier
You definitely shouldn't be swinging from this chandelier, but it is something that your guests will absolutely adore!
10. Star Garland Backdrop
This star garland is multi-functional! If you're looking to create an amazing photo-op for your guests, hang a bunch side by side to make a starry background. There's also a traditional route you can opt for: hanging them for wall decor! Either way, it'll add a little twinkle to your party!
Will you use any of these simple and fun DIY decorations? Are there any that you made for the holidays? We'd love to hear from you! Let us know in the comments below or on Facebook and Twitter!
---
ABCey is excited to announce that we'll be co-producing Creating Equilibrium, an exclusive, invite only three-day innovation forum! The goal? Foster radical new approaches to solving critical environmental issues! The event will include a forum with tons of inspirational leaders, concerts, and an immersive festival to bring awareness and help unearth real-world solutions!
Creating Equilibrium's innovation forum is the ultimate way to stay informed and get involved in making a positive difference in the environment! 🌎♻️
Creating Equilibrium: The Visions Conference
Be a part of this revolutionary Visions Conference! This solution-focused conference will allow you to ask questions and learn from industry experts. You will also have the opportunity share your own ideas about how to increase sustainability and solve serious environmental problems! On Sunday, there will be a surprise "Hot Tub Time Machine" pool party w/ a very special celebrity guest among other fun surprises and water trivia.
Creating Equilibrium is an incubator for new and progressive ideas regarding the environment! If you're a part of a start up company with a concern for the environment, this is the perfect event for you! Apply now and be a part of this extraordinary experience!

The Village Green Festival
Enjoy fun entertainment and food as well as the beautiful scenery of Lake Tahoe during the Village Green Festival! Thisinnovative event is one that you don't want to miss!
The All Day Concert
Creating Equilibrium's concert will be featuring top performers like Dispatch, Allen Stone and so many others including their "secret stash."  You can have fun and feel good about doing it too! 🎤🎶🎵
Lake Tahoe is an incredible destination that is the perfect location to host this event! The natural beauty of the landscape with the crystal clear lake and the backdrop of enormous snowcapped mountains will make just about anyone want to save the environment! 🌞🌲🏔🏖
Don't miss out on this incredible opportunity to play your role in solving crucial environmental issues! Apply to get your Tickets now!
Will you be attending the Creating Equilibrium event? Let us know in the comments below or on Facebook and Twitter!
SaveSave
SaveSaveSaveSave
SaveSave
SaveSave
SaveSave
SaveSave
SaveSave
SaveSave
---
ABCey Events knows how important sustainability practices are- so here, green is the new black! We're sharing our top 5 favorite sustainability tips for you to try at your next event!
---
1) Go Mobile
It's time to ditch those age old paper programs at your next event and go mobile instead! Create an app for your event that will still provide all the same helpful info about your event, but is environmentally friendly. You're now sustainable AND showing people how tech savvy you are!  There are tons of websites to help create your own app, but our favorite is AppMachine!
---
2) Eliminate Waste
Forgo the paper plates and plastic utensils at your next event and try using chic reusable plates and silverware instead. Not only will you reduce the amount of waste produced, but it will also amp up the level of quality of your event! Not ready to bite the bullet yet in purchasing reusable china? Try out these eco friendly wooden options instead!
_____________________________________________________________________
3) Be Selective
It is important to remember that where you choose to host your event matters! Try to choose locations that are LEED certified with sustainability initiatives already in place. One of our favorite green venues in SF is The Hall, which provides all locally produced food and beverages! 
---
4) Consider The Timing Of Your Event
If possible, hold your event during the day to save on energy required by artificial lighting. If it's unavoidable, try using LED lighting instead- using LED lights can help reduce your carbon foot print up to 70%! Just because it's energy efficient lighting, doesn't mean it has to be boring. You can have almost all the same lighting effects using LED as you would with normal lighting, so there is no reason not to make the switch!
---
5) Sustainability in Spirits
As if you needed another reason to love happy hour… what if all your favorite drinks were now locally grown, organic, and made with seasonable products? Now they can be! By making a few simple changes, your happy hour just became a whole lot more sustainable. Add a whole new element to cocktail hour at your next event, and show your attendees how easy it is to go green!
Have any other ideas to make an event sustainable? Let us know in the comments below or on Facebook and on Twitter!
---
Tech Tuesday highlights the best and brightest ideas in the tech world.  ABCey would like to recognize these up and coming technologies for their innovative ideas and ability to think outside the box!
Whether they're on your way home from work or as part of your weekend morning routine, farmers' markets are one the favorite food stops  for Bay Area locals. Capay Valley Farm Shop is the up and coming provider of farm fresh goods, but they take it to the next stop by bringing it to your door!
Capay Valley Farm Shop offers a rare opportunity for families and institutions to buy 100% local, season food, directly from 40 small, family farms throughout the Capay Valley.
Check out their website and raid the farm shop pantry, or order a biweekly bundle of fresh veggies, eggs, chicken and honey to your own doorstep. Every item for sale is locally, ethically and lovingly produced. Where else can you find small-town farmer's market quality goods without having to leave your desk? Add in their homegrown jams, lotions and oils for a special treat in your next box. 
Capay Valley is using technology to help us progress towards a healthier, more humane society while also making our lives easier. Demand for local and unprocessed food is on the rise, especially in the Bay Area, so they couldn't ask for a better market! They are spreading the word with their e-newsletter which not only entices you to sign up for their farm fresh goodies, but also spices up your week with new recipes! 
What do you think of this convenient healthy tech-savvy company? Let us know in the comments below or on Facebook & Twitter!
---
---