Tag:
stern grove festival
Tomorrow's the day we're all looking forward to: Friday! ABCey brings you this week's San Francisco Weekend Lineup with the top events happening in the Bay Area! If you don't have plans this weekend, we've got you covered from Star Wars at the Symphony Hall to a Burning Man trunk show!
July 20 | 6am – 9am | Prices range from $30.00 – $45.00 | San Francisco Belle, Hornblower
Usually, you may not be a morning person, but you're going to want to be one for Daybreaker SF! Get ready for an unforgettable time with crazy beats, amazing company, and tons of dancing! Being their 4th anniversary, their theme is "Come Sail Awake With Us" and they plan to entertain you all morning with activities like yoga, dancing, and face painting! It's one our favorites for the weekend, will we see you there?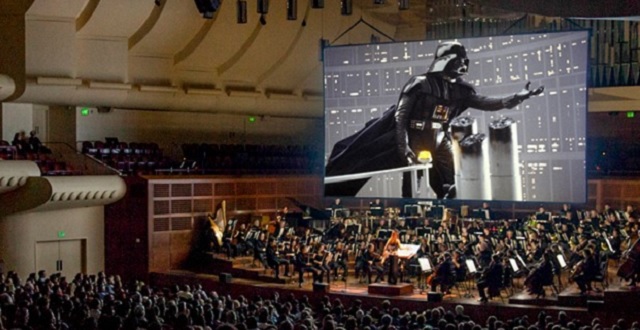 July 18 – August 3 | 7:30pm | Prices range from $75.00-$125.00 | Davies Symphony Hall
The SF Symphony summer concert series returns this weekend! If you love Star Wars, you're going to be ecstatic! The orchestra will play live scores from the original Star Wars trilogy with the films projected on stage! Talk about an unforgettable experience!
July 21 | 12:00pm – 6:00pm | Free admission | The Great Northern
Burning Man is coming up! Hope you're ready to begin shopping of your costume at the 12th Annual "Beyond the Fence" Trunk show! There will be over 30 local and independent designers selling unique costumes perfect for the desert getaway! Local DJs and cocktails will be available for you to enjoy while you take in inspiration on and off the Playa!

July 27-30 | 1:00pm – 10:00pm| Prices range from $20 and up, depending on donations | The Midway
In honor of Larry Harvey for starting Burning Man, we gather together to celebrate the passion he has created in others. This man dreamed of a world where creative minds can come together to cooperate and this vision led to the creation of Burning Man.
July 22 | 11:00am – 4:00pm | Free admission | Main Parade Ground
Rain or shine, the Presidio takes place on the Main Parade Ground. It features many vendors to get a taste of the diverse foods and cultures of the Bay Area and a free cultural dance performance on the fourth Sunday of each month! It will feature more than 25 international mobile food inventors, music for everyone, lawn games, yoga, and nature-based crafts for kids!
July 22 | 2pm | Free admission; First come, First Serve | Stern Grove
Since 1938, the SF Symphony returns every summer for an annual performance, and their return dates for this Sunday! If you're looking for a nice event to take your family or a relaxing day filled with beautiful music, we hope to see you there!
What does your San Francisco weekend lineup look like?
Which events will you be attending this weekend? We'd love to hear from you! Let us know in the comments below or on Facebook and Twitter!
---
Summer has finally arrived! What better way to celebrate than by getting out and enjoying the beautiful Bay Area? ABCey Events has got you covered with what's going on this weekend!
---
Friday June 24th | 5:00pm-8:45 pm | de Young Museum | FREE
Dance your way into the weekend with this dance-off hip-hop themed event happening at the de Young Museum Friday night starting at 5pm. In addition to showing off your best moves, the observation tower will be open until 8pm to see spectacular views of San Francisco. Don't miss out on your opportunity to show everyone the hip hop guru you really are!
__________________________________________________________
Saturday June 25th, Noon-6pm | Sunday June 26th 10:30am-6pm | Civic Center Plaza & along Market St. | FREE
Head into the heart of San Francisco this weekend for the best of local musical talent and cultural performances. The San Francisco Pride event is home to over 20 community-run stages and venues. What better way to experience the city and see firsthand the amazing diversity of the LGBT community in San Francisco?
__________________________________________________________
Saturday June 25th | 10:30-Noon | Presidio | FREE
This Saturday at the Pershing Square in the Presidio there will be a celebration for the wonderful city of San Francisco! In 1775-1776, 240 colonists traveled from what is present day Mexico and founded the Presidio of San Francisco. We have them to thank for their new cultural ideas and era of California history! Come and join the recognition of their incredible journey.
__________________________________________________________
Sunday June 26th | All Day | Treasure Island | $3
Don't miss out on this modernized market that is home to around 400-curated vendors every month. Vendors sell everything from originally made and designed items, to art and vintage collections. If those weren't enough to get you excited about this great event, there will also be over 15 food trucks to satisfy all your cravings while you shop! So come out and enjoy the summer while getting spectacular views of downtown San Francisco. What more could you ask for?
__________________________________________________________
Sunday June 26th | 2pm | San Francisco | FREE
Come and be a part of the tradition that has been going strong since 1938! The Stern Grove festival throws free concerts in the park every summer- Free outdoor music? Count us in! Finish out your weekend in this stunning park setting and watch performers such as George Clinton and Parliament Funkadelic. Get in on the fun this Sunday starting at 2pm!
__________________________________________________________
Have special plans for this weekend? Let us know in the comments below or on Facebook and Twitter!
---
This upcoming weekend is looking to be a warm one and we couldn't be more excited! There is something  for everyone – from sport fanatics to music lovers. Read on for our top picks for events around the Bay that are guaranteed to be a good time!
FEATURED EVENT: The San Francisco Marathon | Sunday, July 27th | 5:30am | Ferry Building, San Francisco |  This Sunday, thousands of sneakers will take to the streets of our beautiful city in the 37th running of the The San Francisco Marathon (TSFM). This USA Track & Field certified race and Boston Marathon qualifier starts at the Ferry Building, runs along the Embarcadero, over the Golden Gate Bridge, through Golden Gate Park and Haight Ashbury before finishing in front of Cupid's Arrow. The event includes a race for runners of all levels: 5K, half marathon, full marathon, double marathon. This is a perfect opportunity to support local runners while enjoying the Bay!
1. Treasure Island Rock the Summer | Saturday, July 26th & Sunday, July 27th | 10am – 4pm | Treasure Island, San Francisco | Celebrate the flavor of summer with the Treasure Island Flea this beautiful weekend! From food truck brunch, to DIY mimosa kits and ice cream on a stick, this event has it all! It's also pet friendly, parking & children under the age of 12 are free. Otherwise, admission is only $3!
2. Rufus Wainwright & Quartlet San Francisco: Stern Grove Festival | Sunday, July 27th | 2pm | Sigmund Stern Grove (19th Avenue & Sloat Boulevard, San Francisco) | Grab a blanket & a cooler and come out to enjoy the sounds of acclaimed singer/songwriter Rufus Wainwright while he performs solo with piano, bringing together a rich blend of theatrical pop, cabaret, and classical styles. Opening the afternoon is the contemporary sound of instrumentalists Quartet San Francisco. Admission is free and it is a guaranteed fun time!
3. NBA Nation: Trampoline & Slam Dunk Showcase | Friday, July 25th & Saturday, July 26th | 12pm-8pm | Union Square Park, San Francisco | NBA Nation is 20,000 square feet of basketball action, including a full center court home to free interactive basketball activities, contests and clinics, and the opportunity to meet current NBA and WNBA player! This event offers fun activities for all ages and will provide mind blowing entertainment. 
4. Sundays on Telegraph | Sunday, July 27th | 12pm-5pm | Telegraph Avenue, Berkley | Come enjoy food, art, live music, and family activities at this year's Sundays on Telegraph! Music ranges from rock to blues, to folk, to hip-hop. Get ready for a circus-like atmosphere with a balloon clown, life-size chess, jugglers, and a stilt-walker. While browsing tie-dye and jewelry, listen to poetry, drumming, or the Cal Band, and relax with refreshments from local merchants at outside tables and umbrellas. A perfect day to make summer memories with friends & family!
5. Atletico Madrid at San Jose Earthquakes | Sunday, July 27th | 4pm| Candlestick Park, San Francisco | For those of you who didn't get enough soccer from the World Cup, we have an exciting game this weekend right here in our backyard! On Sunday, the infamous Candlestick will be transformed for the Earthquake's Copa Euroamericana match against UEFA Champions League finalist Atletico Madrid. Tickets are running from $25-$200. If you love the game of soccer, you can't miss this event! 
Will you be attending any of these awesome events?! Let us know if we missed any in the comments below or on Facebook & Twitter! 
---