The Fourth of July is less than a week away, and that means major party planning! ABCey has made a list of the perfect patriotic DIYs for your party. Get ready to party all day long!
1. Popsicle Cocktails
Keep your guests cool all day long with these delicious and refreshing popsicle cocktails! For the kids, substitute the bubbly for Sprite to make a cute little mocktail.
2. Manicure
Don't forget to treat yourself a little! Replicate this fun little confetti nail art or make your own design!
3. Red, White, and Blue Cheesecake Bars
Add a little color to your desserts! These red, white, and blue cheesecake bars are a sweet treat that everyone would enjoy!
4. Bandana Picnic Quilt
Whether you're throwing a picnic party or planning to gaze at the fireworks, this DIY picnic quilt is perfect. You can use old bandanas or any other cloth you may have laying around.
5. Patriotic Suncatcher
These little DIY suncatchers are a cute addition to any decor you may have! You can make it into an activity for kids or use them to catch your guests' attention as well!
6. Firework Sunglasses
Add a spark to your outfit. Wow everyone with these DIY firework sunglasses! Spend the Fourth of July watching the fireworks through your own!
7. Confetti Party Poppers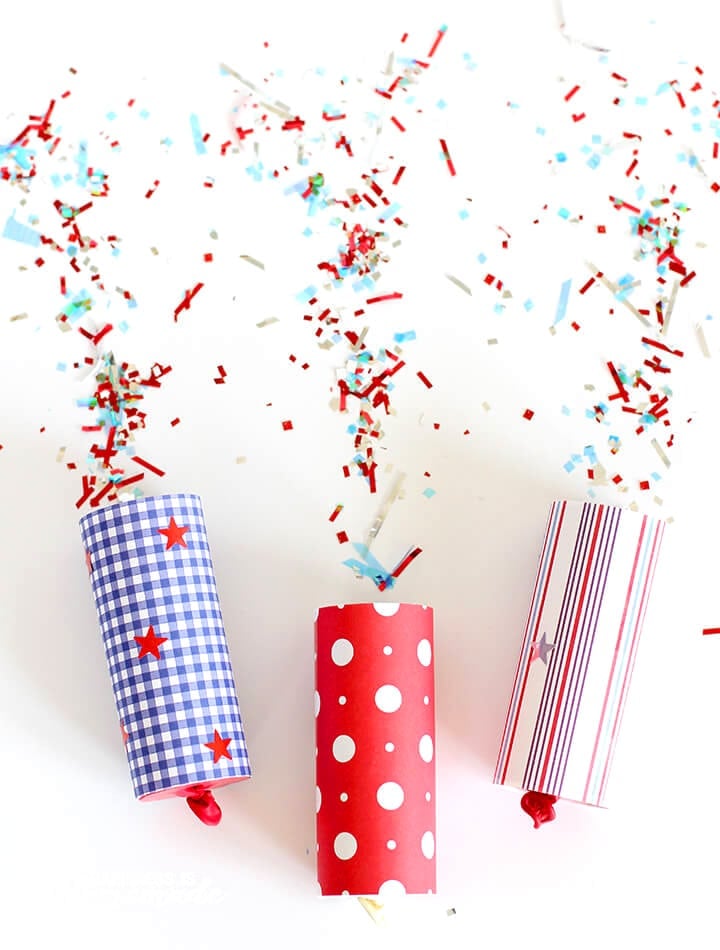 You can't celebrate the Fourth of July without some confetti! Make these easy DIY confetti party poppers to celebrate this patriotic holiday!
8. Star Spangled Shorts
This Fourth of July, you'll find the flag everywhere… even on yourself! Decorate your own shorts to sport our star-spangled banner!
9. DIY Chandelier
You definitely shouldn't be swinging from this chandelier, but it is something that your guests will absolutely adore!
10. Star Garland Backdrop
This star garland is multi-functional! If you're looking to create an amazing photo-op for your guests, hang a bunch side by side to make a starry background. There's also a traditional route you can opt for: hanging them for wall decor! Either way, it'll add a little twinkle to your party!
Will you use any of these simple and fun DIY decorations? Are there any that you made for the holidays? We'd love to hear from you! Let us know in the comments below or on Facebook and Twitter!
---
This Thanksgiving weekend has much more to offer than just turkey and gravy! Get into Christmas mood, explore the night sky, or learn about culture! ABCey's weekend line-up shows you the best events to round up your holiday weekend!
2014 Thanksgiving Sunrise Celebration
Thursday, November 27 | 4:15-6PM | Alcatraz | Cost $14
Join the presenters of current and past indigenous people for a unique celebration on Thanksgiving. Enjoy an evening of music, dance, and culture. You can learn about Indigenous people's history and struggles, while watching the sunset. The event is free but the boat ticket has to be purchased. Children under 5 years are free.
Ghirardelli Square 50th Annual Tree Lighting Ceremony & Santa Visit
Friday, November 28 | 4PM – 9PM | Ghirardelli Square, 900 North Point Street | FREE
Welcome the Christmas season this Friday at the Ghirardelli Square! Calm down from the Black Friday rush and enjoy a hot beverage while walking over the holiday market. Live music, snow, and vendors that offer gift ideas or delicious treats, will create the perfect spot to get into Christmas mood.
City Star Party & Telescope Night
Saturday, November 29 | 6PM – 9PM | Main Post (Presidio), Park Blvd. and Lincoln Blvd. | FREE
If you're into stars, here is your chance to enjoy a fun event revolving all around the night sky. Meet like-minded hobby astronomers, learn more about astronomy, or simply enjoy the great view! The San Francisco Amateur Astronomers provide the equipment for a perfect view.
Etsy Holiday Emporium
Saturday and Sunday, November 29 – 30 | 11AM – 5PM | Pier 35 | FREE
DIY fans can't miss this local shopping event! More than 200 vendors and DIY stations will be offering their products and foods. Click here to see the vendor list. Shop from local artists or get inspired for your own DIY projects! The event is free, but it is encouraged to bring your own bag. The first 50 visitors on Saturday will receive a free goodie bag!
What will you do this weekend? Let us know in the comments below or on Facebook or Twitter!
---
We hope you are all as excited as we are for one of the best holiday's of the year…The 4th of July. With fireworks, food, family, friends and fun, honestly, what could be  better?! We created a helpful guide to all things 4th of July, from amazing food and drink ideas to the newest apps inspired by Independence Day!

1. BOOZE:  Rather than chugging a beer by the pool, take your barbeque or party to the next level with these 4th of July inspired jello shots from Brit+Co.  And, for those wine lovers, be sure to check  the Pineapple and Berry White Wine Cocktail by She Knows  for some more fruity and patriotic drink ideas!
2. DESSERT:  Here is one that everyone is sure to love, chocolate covered strawberries! The Sisters Cafe brings these yummy deserts to the next level. Instead of using milk or dark chocolate, opt for white instead and dip the end into blue sprinkles. The 4th of July means getting back to your American roots, and what better way to honor that than by getting a recipe from Betty Crocker to make the ultimate American flag cake?!
3. APPS:  What is Independence Day without your favorite music blasting?! Check out Songza and the app creates a 4th of July playlist for you and your friends! And, give  July 4th Fun, Facts and Trivia  a try and be the hit of the party by knowing all about the roots of this important holiday! 

4. FIREWORKS:  All of the biggest shows such as Macys' Fourth of July Fireworks will be streaming online. However, if you are lucky enough to see fireworks live, head over to one of the many destinations all over the city to celebrate this wonderful holiday! You can find the full list of places to go here!
5. PHOTOS: Check out the latest of the multi-media messaging systems, Cooliris' BeamIt! This awesome app is basically Instagram, WhatsApp and Flipboard combined. If you want to share pictures but not have it take up most of your day, download BeamIt!
What are you going to do for Independence Day? Will you be making any of these yummy drinks or desserts, or try one of the fun apps? Let us know your thoughts in the comments below or on Facebook or Twitter! 
---