July 4th is here and it's time to celebrate!  There is lot's going on today, and we want to make sure you're in the know of the best Bay Area Events.  Look no further, ABCey has 5 exciting 4th of July events you definitely don't want to miss!
---
Mayor's Parade: 10am | Free | Starts at Lincoln & Park St. (route map and directions here) | *No Fireworks
South Shore Center's Festival: 3pm-5pm | Free | Alameda South Shore Center | *No Fireworks
Here are two events in one with a huge parade and a somewhat "official" after-party at the South Shore Center. With about 140 floats, 2,500 participants, horses, and dancers, Alameda Mayor's Forth Parade is one of the largest and longest Independence Day parades in the entire United States!  After this spectacle, keep the party going at the South Shore Center. There will be live music, pet animals, get henna tattoos, face paint, play games, participate in raffles and jump in the bouncy house!  There are also plenty of stores to shop at and places to eat, so come on out and enjoy this exciting parade and then head  on over to the post-parade party!
2. San Francisco: Pier 39 
Starting at 11am | Free | *Fireworks at 9:30pm for about 20min
Want to have a full day of celebration and be at a prime fireworks spot? Then go to SF Pier 39!  Spend the day at the pier shopping, eating, and going to the aquarium.  From 11am-5pm, you can check out exhibits west of the Entrance Plaza, then hear the band Tainted Love play your favorite 80's tunes.  Last, but not least, watch the extremely popular City and County of San Francisco's Fireworks Show at 9:30pm with the best 180 degree view from Pier 39.  
 
Noon – 10pm | Free, $15 vehicle parking | 201 University Ave, Berkeley | *Fireworks @ 9:35pm | info here
This festival will fill all your 4th of July celebration needs!  There is a main stage with music from noon until the fireworks show at 9:35pm and music at the food court from 2pm-8pm.  The Shorebird Park is part of this festival and has an Adventure Playground with Waterballs, a Bungee Trampoline, and another stage with magicians, jugglers, and more! If that isn't enough, throughout the marina there are great food trucks and booths as well as: carnival rides, kite flying, a giant slide, train rides, drumming sessions, dragon boat rowing rides, sumo soccer, nerf tag, a photo booth, face painting, crafts, pony rides, a petting zoo, AND their huge fireworks show!  With everything here, why wouldn't you come and enjoy the fun?
11 am-4pm | Free | Jack London Square | *No Fireworks 
Spend your July 4th afternoon at Jack London Square for loads of family fun! This festival offers musical performances, clowns and puppets, interactive activities, a petting zoo, face painting, fun crafts and delicious treats.  If you couldn't tell by the name, this event is also great for kids.  Although there aren't any fireworks, this festival ends early enough for you to go wherever you want after!
4pm – 11:59 pm | $7-$15; order early: $12; groups either $9 or $7 depending on size | info here |*No Fireworks
If you're in the patriotic celebratory mood and 21+, join in on this pub crawl.  Order tickets ahead of time, receive a discount with larger groups, check-in early, and get a discount on all of the pub crawl bars from 4pm – 12am.  There will also be an after party, so get yourself and your friends right on over for drinks and to celebrate Independence Day!
How are you celebrating this 4th of July?  Let us know in the comments below or on Facebook and  Twitter.
---
July is already upon us and it's almost the weekend! We hope you are just as excited as we are for Independence Day on Monday, and ABCey has you covered with all of your 4th of July events coming soon! Until then, make the most of your weekend and check out these fun Bay Area events!
---
Fri. July 1st – Mon. July 4th, 2016| 11am-11pm |prices vary| 4501 Pleasanton Ave. Pleasanton, CA
If you haven't gone to the fair yet, GO!  This fair is a must-see attraction for everyone!  For kids, there is a children's park, adventure park, petting zoo, ferris wheel, and carnival.  Adults can be entertained with horse races, a beer garden, a wine bar, shopping areas, and live concerts.  There are only 4 more days til' the fair is over, so come check it out before it's too late!

Sat July 2nd & Sun July 3rd, 2016 | 10am-6pm | FREE | Fillmore St.–Jackson to Eddy St, San Francisco
Enjoy two days of music, food, art, and fun at the Fillmore Jazz Festival!  This festival takes over more than 12 blocks and has every kind of food and craft imaginable.  With 32 years under its belt, this festival has become incredibly popular and the largest free jazz festival on the West Coast.  Join the other 100,000 people who attend this event and jazz up your weekend!
Sat. July 2nd, 2016 | 10am-12pm | FREE | Stow Lake, Golden Gate Park, San Francisco
Experience nature this weekend and take a guided tour through Golden Gate Park.  This guided tour is free and a perfect way to collect your thoughts while getting fit!  With your own personal tour guide, you can learn all about the park, plants, and wildlife.  So get out and enjoy the great outdoors with a nice stroll!
Sat. July 2nd, 2016 | 7:30pm | FREE, RSVP for Early Entry Tickets | AT&T Park; 24 Willie Mays Plaza, San Francisco
Mix things up this weekend by seeing a play…a free play!  This Saturday, the San Francisco Opera is hosting a live simulcast and projecting their current play, Carmen, on AT&T Park's huge video screen.  You will definitely be entertained by Carmen, a femme fatale play with jealousy, danger, love and murder.  Head out to the ball park to watch this captivating play and a special pre-show and intermission with the other 30,000 attendees!
Sun. July 3rd, 2016 | 11am-4pm | FREE | 103 Montgomery Street, Main Post, Presidio, San Francisco
This year, Off the Grid has revamped their picnic and food truck event held in Presidio Park. They now have over the 30 food and beverage trucks, free yoga classes, games, and music!  You can also get clothes and accessories at their mobile shop, produce from their market, and help planning your next activity in San Francisco.  There are also FREE shuttles, PresidiGo, that travel to Embarcadero BART, certain SF streets, MUNI, and around the park.  Don't miss the chance to relax on the grass field and enjoy great food and company!
Fri. July 1st, 2016 | 8:30pm – 10:00pm | FREE | McInnis Park: 310 Smith Ranch Road, San Rafael, CA
Because this weekend is so jam packed, we have one more event that will get you in the mood for July 4th! Friday at McInnis Park, park rangers will have yummy s'mores to eat right before you walk to the top of the Nike Site to watch the 9:30pm Marin County Fair fireworks show.  Fireworks are always fun especially with s'mores and tomorrow you can get both for free!
What are you planning on doing this weekend? Let us know in the comments below or on Facebook &  Twitter!
---
Hello April and welcome Spring! This is definitely one of our favorites seasons here at ABCey when the flowers are in bloom, the days are longer, the weather is pleasant and the air feels fresh. The weekend is the perfect time to experience this wonderful season in the Bay Area and we've got you covered with some incredible events to get your April off to a great start.
---
1. Free Krispy Kreme Day
---
FRIDAY APRIL 1ST, 2016 | ALL DAY | KRISPY KREME (DALY CITY)* | FREE
The weekends are meant for indulging, so why not take a break from your healthy diet and satisfy your sugar craving with a free Krispy Kreme doughnut. And no, this is no April Fool's Joke. Only a select few locations around the Bay Area are participating (the Daly City location is one of them) so make sure to call ahead of time before making your way down to a particular store. 
---
2. Funcheap's April Fools Pop-Up Comedy Weekend
---
FRIDAY APRIL 1ST, 2016 | 7:30PM & 10PM | FOLSOM STREET FOUNDRY | FREE*/$10
April Fools only comes once a year, so you can't let the day pass without getting some comedy in your system. Funcheap is taking over the Folsom Street Foundry on Friday and Saturday night with their pop-up comedy show featuring some of the best comedians in the Bay Area. They'll have a DJ spinning all night long and full bar with some amazing drink specials. Admission is free if you RSVP ahead of time (although $5 donations are encouraged), otherwise it's $10 at the door.
---
3. Macy's Flower Show: Family Fun Day
---
SATURDAY APRIL 2ND, 2016 | 11AM | MACY'S UNION SQUARE | FREE
Nothing screams Springtime more than flowers do and this weekend, the Flower Show at Macy's Union Square is the place to be. The kid's department is having a family fun day where the whole family can enjoy activities together such as bean bag tosses, kite making and other cool crafts, while enjoying music from a live dj. There are a myriad of other events happening that day, so make sure to check out their website so you don't miss out!
---
4. "Liquid Sky" Jimi Hendrix Tribute
---
SATURDAY APRIL 2ND, 2016 | 7PM – 9PM | BAL THEATER, SAN LEANDRO CA | $20
Who doesn't wish they could go back in time to see the legendary Jimi Hendrix perform?! Well until time travel becomes an actuality, the next best thing is the premier Jimi Hendrix tribute band, Liquid Sky. They'll be at San Leandro's historic BAL Theater, playing some of Jimi Hendrix' greatest hits from his first three albums. Tickets can be purchased here.
---
5. TOM's Wearhouse Sale
---
SUNDAY APRIL 3RD, 2016 | 9AM – 7PM | SAN MATEO EVENT CENTER | FREE*
Sundays are made for brunch and shopping and this Sunday, the 50,000 sq ft San Mateo Event Center will be be stocked full of TOMS products such as sunglasses and shoes for men, women and youth for the ultimate markdown of 50-70% off retail prices! And who doesn't love TOMS shoes? They're comfortable, affordable and are aligned with a great cause. Shoes will be refilled throughout the day, but of course it's best to get there early to have access to all the best offerings. More info can be found here.
What are your plans for the weekend? Let us know in the comments below or on Facebook and Twitter!
---
Are you wondering how to spend your upcoming weekend? This week ABCey's weekend lineup let's you know about the events that will get you laughing, sweating, and learning!
SF DOWNTOWN COMEDY THEATER 
---
February 27th | 10 PM | 287 Ellis St. San Francisco | $10
Begin your weekend with some laughter at the SF Downtown Comedy Theater.  Their 30 seat comedy theater is a warm and friendly place to enjoy some stand up comedy. While enjoying a fabulous night of entertainment you are also supporting a great cause. The SF Downtown Comedy Theater uses their talents as a fundraiser for Global Women Intact. Their BYOB policy allows this theater to be an affordable girls night out, or date, or celebration.
COLOR WARS
---
February 28th | 12-1 PM | San Francisco, CA | $15
It's time to get out of the house and go play outside! Let the little kid who is wishing we still had recess play outside this weekend at Color Wars SF. TiltFit is offering a different type of workout this Saturday. Once you get there you'll be placed on a team to compete in a series of challenges. This event is open to all skill levels, so don't be shy! Bring a friend or ride solo to win the Color War!
THE MASQUERADE BALL 
---
February 28th | 9-2 PM | San Francisco | $50
Time to bring out your masquerade mask and dance throughout the night! This Saturday the Payne Mansion is hosting the 6th annual Masquerade Ball.  Come hide your desires and release your inhibitions at the ball. Join in for a night of mystery and find out everything that this event has to offer.
CALIFORNIA ACADEMY OF SCIENCES 
---
Feb 27-March 1 | 10-5 PM | San Francisco | Free
This weekend the California Academy of Sciences is having free admission day for a few neighborhoods. If you live in Bernal Heights, Castro, Cole Valley, Glen Park, Haight, Lake Merced, Mission, Noe Valley, or St. Francis Wood this weekend you get the opportunity to experience the California Academy of Sciences for free. During your trip to the California Academy of Sciences you can engage in exhibits and shows. As well as looking at majestical live animals from around the world. Celebrate your weekend by learning new things from the California Academy of Sciences.
What will you do this weekend? Let us know on Facebook or Twitter!
---
Startup Monday is ABCey's weekly post that features some of the best and brightest companies in the Bay Area. They are often companies that we have our eye on or have worked with in the past & would like to share with friends and followers of ABCey Events!
IFTTT (pronounced like "gift" without the "g") is a San Francisco-based startup offering a service that lets you create connections with the simple phrase of: 
How IFTTT works: "Triggers" (the "this" part of the recipe) are the starting blocks for your connection. For example, a trigger could be: "I"m tagged in a photo on Facebook." The "Action" (the "that" part of the recipe) completes the connection and produces a result. A potential action to the Facebook photo trigger could be: "send me a text message." So the recipe would be, "If I'm tagged in a photo on Facebook, then send me a text message."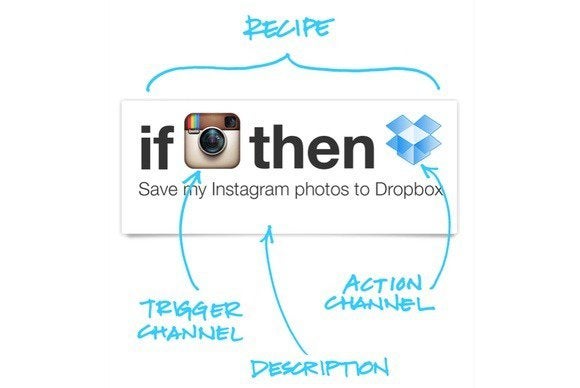 Why we love IFTTT: IFTTT makes our lives as event planners so much easier with the simple statement of "if this then that." Not only is the service so easy to use, but it allows us to make personal recipes regarding whichever channels we want! Whenever we receive a new email from a client, we can put it in the corresponding file or be notified via text message immediately. If we post a new blog, it can also be automatically posted on to our LinkedIn, Facebook, and Twitter accounts!
Would you IFTTT to help you plan your next event? Let us know in the comments below or on Facebook and Twitter.
---
From Urban Film Festivals to the Renegade Craft Fair, there are plenty of events to tap into your crafty side on the weekend of November 6 – 9, 2014! For a creative weekend, ABCey Events has got you covered! It's everybody's favorite topic of the week: ABCey's Weekend LineUp!
The Sum
Thursday, November 6th – 7th | 8AM – 9PM on Thursday; 10AM – 5PM on Friday | SFJAZZ, 201 Franklin Street | $400
The Sum is a two-day conference in San Francisco designed to help guests reimagine creative possibilities for themselves and their cities!
SF Urban Film Festival
Thursday, November 6th – Sunday, November 9th | Times vary depending on day | SPUR, 654 Mission Street |$22 for Saturday day pass, $18 for Sunday day pass
The SF Urban Film Festival is a film festival focused on urban planning, civic engagement, and film! It includes panel discussions on the future of city design along with screenings and a party onFriday night!
Bon Appétit Grub Crawl
Saturday, November 8th | 11AM, Hayes Valley; 5PM, Mission| Various locations | $149
The magazine is taking over Hayes Valley and the Mission for a day of culinary exploration at various eateries around town with the Bon Appétit Grub Crawl!
Muni Diaries Live
Saturday, November 8th | 7PM – 9PM | Elbo Room, 647 Valencia Street (between Sycamore and 17th streets) | $16.82
Share your best – and worst – MUNI stories at Muni Diaries Live! Hilarious storytellers include: Dhaya Lakshminarayanan, Ronn Vigh, Mat Honan, Josh Cereghino, Kevin Fagan, Klee Wiggins, and Jesse James.
Renegade Craft Fair
Saturday, November 8th – Sunday, November 9th | 11AM – 6PM | Fort Mason Center, 2 Marina Boulevard (at Beach Street) | FREE
Join the Renegade Craft Fair to shop and peruse over 300+ indie makers as this group starts there Holiday Tour! This is the perfect place to start checking off items from your Holiday gift lists with products ranging from stationary to jewelry to furniture!
What will you be doing in San Francisco November 6 – 9, 2014? Let us know in the comments below or on Facebook and Twitter!
---
It's that time of the week again! Start planning your weekend with the help of ABCey Events to maximize fun to its' fullest potential on your precious days off. From boat parties and and food festivals to baseball games and flavor tripping parties(??),  read on to discover what this weekend has in store!
Featured Event: Sunset Sound System Summer Boat Party | Sunday, August 17th | 5pm-11pm | Pier 3 | $55-60 | The Sunset Summer series is coming back to the Bay, but this time it's on a boat! While a San Francisco August can make a 'summer boat party' seem like a  bit of a joke when you're wearing your bathing suit under tens of jackets, the feelings of summertime freedom and dance are still kickin' when you are aboard! Included in the lineup is an array of  San Francisco's most well-recognized musical residents, including Galen, Solar and J-Bird as well as Honey Soundsystem star Jason Kendig, a man  who is sure to bring in a fun crowd. Dance, lounge and mingle on the beautiful Bay as the boat rides off into the sunset!

1. James Zabiela at Mighty | Friday, August 15th | 9pm | The Mighty (119 Utah St, San Francisco, CA) | English-bred James Zabiela has been a path-forger of deep emotional house music around the world for over a decade. He has recently taken a shift in his musical production, steering away from super-dance and moving towards more personal tracks! The blonde cutie will be sure to deliver all of the emotion and personality that he is known for when he comes onto the massive soundsystem at The Mighty on Friday. And, one of our pals, Birthday boy Darren Grayson of DISTRIKT will be opening.  This is a night not to miss!!
2. Flavor Tripping Party | Friday, August 15th | 7:30pm-9:30pm | Drake SF (508 4th St, San Francisco, CA) | $20 | This is the ultimate food tasting party! Flavor Tripping is a natural fruit that contains an enzyme that makes all sour tasting foods sweet! So eat lemons, limes, vinegar and other sour foods! They'll temporarily taste surprisingly sweet. Trays of sour tasting foods will be passed around and all you have to do is put the berry tablet on your tongue and make sour lemons taste like lemonade! Unique flavor tripping cocktails will be included, so make sure you go check out this unique party!
3. San Francisco Street Food Festival | Saturday, August 16th | 11am-7pm | Folsom and 24th Street, San Francisco, CA | It is FINALLY that time of year again! The SF Food Festival is back and ready to go! With over 80 local vendors, this day is a celebration of the diverse population we live in in this great city! Cancel all your plans and head over to Folsom Street for a day you won't regret!
4. BAVBB Presents 2014 Cal Cup Championship | Saturday, August 16th – Game 1: 12:30pm & Game 2: 3:30pm| Sunday, August 17th – Game 3: 12:30pm, Game 4 (Championship game): 3:30pm | Big Rec Field (Golden Gate Park 7th and Lincoln Ave. San Francisco, CA) | Tired of paying  the Giants exuberantly priced tickets but still want to go to a baseball game this side of the bridge? This game is really cool, the three oldest vintage baseball teams in California take each other on this weekend in the Bay Area Vintage Baseball (BAVBB). Admissions are free so grab your kids or friends and head over to the Big Rec field and watch some baseball! 
5.Urban Air Market in Dogpatch | Sunday, August 17th | 11am-6pm | Esprit Park, Minnesota and 19th Streets | The Bay Area's favorite sustainable shopping event is prepping for their summer pop-up show in San Francisco's historic Dogpatch neighborhood. The market will feature 100+ emerging designers and established brands, in addition to talented artists and musicians from our local creative community.  Urban Air Market provides the Bay Area with a unique shopping experience that allows consumers to meet the designers and artisans of their favorite products, while making sustainable, eco-friendly and locally produced goods accessible to the public. 
What will you be doing this weekend? Eating fantastic food on Folsom, or going boating with the Sunset crew? Let us know what we missed in the comments below or on Facebook & Twitter!

---
Whose ready to rage at Outside Lands this weekend?! Here at ABCey, we are getting ready for this music filled weekend. But don't worry, for those of you who aren't going we have some fun alternatives for you!
Featured Event: Outside Lands |Friday August 8th-Sunday August 10th| 12 pm-10 pm |Golden Gate Park| This is the place to be this weekend. Hundreds of thousands of music lovers flock to SF to jam to the tunes of their favorite bands and artists! Some performers include headliners Kanye West, Arctic Monkeys, Death Cab for Cutie, Tiesto and so many more! Tickets are sold out but you can head over to StubHub and find single day tickets (Warning: They are expensive)!
 1. Outside Lands Night Show: The Killers |Saturday August 9th|10 pm| The Independent, 628 Divisadero St., San Francisco| Whether or not you are going to Outside Lands, you can catch some of the acts afterwards! The Killers on Saturday night will be performing at The Independent at 10pm. If you went to the festival all day and can't seem to curb your music craving or weren't able to get tickets to Outside Lands but really want to experience part of the magic, then go on Saturday night to see The Killers!
2. Outside Lands Beach Cleanup: |Aug 9th| 10 am| |Ocean Beach at Noriega & Great Highway| Help keep San Francisco beautiful this weekend by joining the Outside Lands clean-team pick up the beach! Refreshments will be provided by Devil's Teeth Bakery and Noriega Produce and the cleaning supplies are supplied by Surfrider, San Franpsycho and Indosole. And, as if you needed another reason to go, festival gates are within walking distance!
 3. T-Party Screen Scene: | Aug 10th| 11am-5pm| The Chapel,  777 Valencia Street SF| This pop-up shop is a unique, one-day event that is dedicated to locally-designed t-shirts and screen printing. Some of the vendors include The Girl and Rhino, Original Language, Oaklandish and The Loin SF. This is a must stop event to grab some of the most unique t-shirts in one of the most unique cities.
 4. NightLife LIVE: Emerging Music & Art Paired With Science |Aug 7th| 6pm-10pm|The Cal Academy of Sciences| Check out rotating art installations while enjoying the music of neighboring Outside Lands. This is a perfect place to relax and enjoy great music accompanied with great art! So bring your friends out for a cultured night to wind down the work week! Tickets are only $12.
 5. Deaf Louder: The Second Bay Area Deaf Dance Festival: |Aug 8th- 9th at 8pm| Aug 10th at 4pm| Dance Mission Theater, 3316 24th St, SF| Maybe you're looking for something that will take you away from the Outside Lands craziness and want to experience something else this weekend. Deaf Louder features deaf dancers in an evening long showcase of contemporary dance and music. This dance festival is unlike any you've ever been too. Bringing out many emotions in the viewers, this is sure to be a great hit!
Will you be attending any of these awesome events?! Let us know if we missed any in the comments below or on Facebook & Twitter!
---
Here at ABCey, we're always trying to stay on top of emerging conference and tech trends that continue to shape the industry. These days it's less about going to a conference, and more about the experience!
1. Meetings are Experiences: Planners today are seeking more experiential programs that maximize attendees' time, create an emotional connection between attendees and the company, and align with business objectives of the meeting. Last year, ABCey events produced an event for San Francisco's biggest Security Conference, RSA and  SpiderOak, a 'zero-knowledge' privacy cloud tech company for Penetralia: Privacy Matters. We  incorporated live video mapping walls depicting the history and evolution of internet privacy, and created a experiential display with two boxes entitled "Privacy" and "Security" to show the difference between these two terms!
2. Mobile Technology: Like every other aspect in our lives, we rely on our phones or tablets to get us through the conference! With the emergence of all these conference apps, such as eventmobi, foursquare, DoubleDutch and various social media platforms, the audience member can always stay connected, coordinate meet-ups and know what is going on at the event.
3. Interactive Technology: Some of the newest technology trends this year are audience focused. From responsive imaging to 3D lighting, these new technologies are paving the way for bigger and better technologies to take center stage of conferences in the future. In February, we hosted FireEyes' Guardian of the Galaxy themed party where guests were able to stand in as superhero cyborgs using 3D mapping and those images were projected onto mannequins posed and ready to save the world.
4. Geofencing and Location Awareness Technologies: This allows conference planners the opportunity to instantaneously send information out to attendees once they enter the geofencing proximity, making it significantly easier. With location awareness technologies, guests can check in to a conference just by walking into the geofence zone!

5. Bringing In The Local Culture: Large conference halls are out and cultural city locations are in this year! Attendees want a more local experience so planners are bringing in regional cuisines and farm to table-esque foods and topping it off with local craft breweries and wineries unavailable to people at home!
What other trends have you noticed?  Leave us your thoughts in the comments below or on Facebook & Twitter!
---
Looking for some great event blogs to learn the best tips and tricks in the industry? The girls at ABCey have put together some  must-reads to help you stay informed and get inspired! Though we do our fair share of blogging of our own, we still look to other helpful resources to stay on the ball and keep up to date with current trends! 

1. Velvet Chainsaw: Fellow #eventprof Jeff Hurt knows what he's talking about. On his blog, Velvet Chainsaw, he shares noteworthy daily posts . with innovative  ideas and  a fresh take or different perspective on the event industry. This blog should be on the top of your must-read list! @JeffHurt
2. Event Manager Blog: This blog is the leader in event technology trends. Specializing in innovation, this blog is for all kinds of event planners, from fledglings to full-blown party planners! @eventMB
3. Liz King Events: Liz is a leader and influencer in the event planning community, and has formerly won the #Eventprofs Most Thought Provoking Blog award. She is dedicated to educating fellow event professionals on how technology can enhance their events. @LizKingevents
4. Event Juice: This UK based blog is a must read! It has a little bit of everything for all kinds of event professionals and conference planners. If you don't know exactly what you're looking for, fear not! @eventjuice
5. Techsytalk: This blog, also created by Liz King is a great tech resource for event planners and features great content and event planning  technology tips and news. This blog features an event technology of the week and is also the home for techsytalk LIVE, the premier Event Tech Conference and Showcase – For Planners, By Planners – focused on educating planners and introducing them to new event technology companies! @techsytalk
6. Hello Endless: Looking for a younger take on how to throw a rager? Look no further than Hello Endless, a blog started by a few college students who are very passionate about sharing their expertise in the events' world! @helloendless
7. BizBash: BizBash is the mecca of all things creative for events! This is one of our favorite sites for inspiration! Get creative ideas for your next conference and see what is trendy in the event world while getting the scoop on where and what the leading eventprofs are coming up with. @BizBash
8. Event Industry News: This event blog is tailored to conference events. If you are looking for information or recaps on any conference, go to this site and learn everything you need to know! @EventNewsBlog
9. Special Events: This is an all-telling blog. Anything you want to know about special events and what goes into them, just check it out in this blog! @special_events
10. Bizzabo: This is a great mobile and networking platform for your conferences, but they also have our own informative blog to keep you up-to-date on all things event tech and they are always digging up some great tips to ease your conference planning woes. @bizzabo
What are your favorite event blogs?  Are there any we missed?! Let us know in the comments below or on Facebook  & Twitter!

---