Tomorrow's the day we're all looking forward to: Friday! ABCey brings you this week's San Francisco Weekend Lineup with the top events happening in the Bay Area! If you don't have plans this weekend, we've got you covered from Star Wars at the Symphony Hall to a Burning Man trunk show!
July 20 | 6am – 9am | Prices range from $30.00 – $45.00 | San Francisco Belle, Hornblower
Usually, you may not be a morning person, but you're going to want to be one for Daybreaker SF! Get ready for an unforgettable time with crazy beats, amazing company, and tons of dancing! Being their 4th anniversary, their theme is "Come Sail Awake With Us" and they plan to entertain you all morning with activities like yoga, dancing, and face painting! It's one our favorites for the weekend, will we see you there?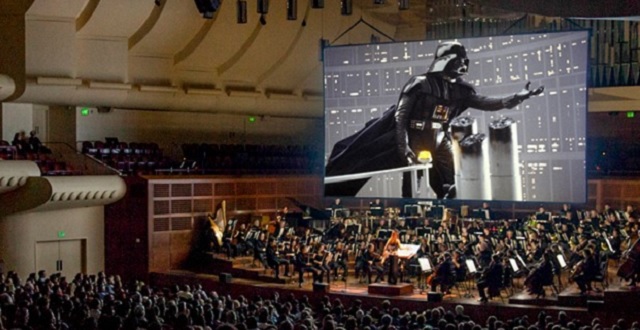 July 18 – August 3 | 7:30pm | Prices range from $75.00-$125.00 | Davies Symphony Hall
The SF Symphony summer concert series returns this weekend! If you love Star Wars, you're going to be ecstatic! The orchestra will play live scores from the original Star Wars trilogy with the films projected on stage! Talk about an unforgettable experience!
July 21 | 12:00pm – 6:00pm | Free admission | The Great Northern
Burning Man is coming up! Hope you're ready to begin shopping of your costume at the 12th Annual "Beyond the Fence" Trunk show! There will be over 30 local and independent designers selling unique costumes perfect for the desert getaway! Local DJs and cocktails will be available for you to enjoy while you take in inspiration on and off the Playa!

July 27-30 | 1:00pm – 10:00pm| Prices range from $20 and up, depending on donations | The Midway
In honor of Larry Harvey for starting Burning Man, we gather together to celebrate the passion he has created in others. This man dreamed of a world where creative minds can come together to cooperate and this vision led to the creation of Burning Man.
July 22 | 11:00am – 4:00pm | Free admission | Main Parade Ground
Rain or shine, the Presidio takes place on the Main Parade Ground. It features many vendors to get a taste of the diverse foods and cultures of the Bay Area and a free cultural dance performance on the fourth Sunday of each month! It will feature more than 25 international mobile food inventors, music for everyone, lawn games, yoga, and nature-based crafts for kids!
July 22 | 2pm | Free admission; First come, First Serve | Stern Grove
Since 1938, the SF Symphony returns every summer for an annual performance, and their return dates for this Sunday! If you're looking for a nice event to take your family or a relaxing day filled with beautiful music, we hope to see you there!
What does your San Francisco weekend lineup look like?
Which events will you be attending this weekend? We'd love to hear from you! Let us know in the comments below or on Facebook and Twitter!
---
The girls at ABCey have done some digging to make sure you have the best weekend possible! We've put together our top picks for the events happening in the Bay Area, and can't wait for you to check them out!
Featured Event | Chillin' Productions Anniversary| Saturday, July 19th | 8pm-2am | Mezzanine, 444 Jessie Street | Twice a year, Chillin' brings you artists and designers for your purchasing pleasure. This year marks the end of their 16 year run, and they're going out with a bang of an anniversary party. The night will include 200 artists and 80 fashion designers displaying new styles available for sale. The night wouldn't be complete without Chillin' creator Irene Hernandes dropping beats with many other funky local musicians! This is your last chance to see SF talent showcased like this, so don't miss the Mezzanine this Saturday! $10 cover. 
1. San Francisco Symphony presents: Pixar in Concert| Thursday, July 17th – Sunday, July 20th| 7:30pm Thu.-Sat., 2pm Sun. | Davies Symphony Hall| From the Toy Story trilogy to The Incredibles and Up, Pixar Animation Studios has forever impacted filmmaking and given audiences of all ages some of the most beloved characters in cinematic history. This summer, the San Francisco Symphony presents Pixar in Concert, with visually stunning clips and memorable scores from each of Pixar's movies performed live by the San Francisco Symphony.  Just imagine how amazing it's going to be to watch your favorite movie music come to life before you, from some of the most talented musicians in the area! Tickets start at $35.
2. 1000 Treasure Hunters | Saturday, July 19th – Sunday, July 20th| 12pm-4pm Sat., 5:30pm Sun. | J-Pop Summit in Japantown| Get ready for the biggest treasure hunt this city has ever seen. Thousands of participants of all ages are invited to search for dozens of clues and puzzles ingeniously hidden throughout Japantown. No special skills or familiarity with Japantown area are needed to play. The game starts with simple instructions of mysterious clues for you and your team. Use these and your skills of detection to find the treasure. The treasure is not "first come, first win," so the goal is just to get to the X! Even if you don't compete in the hunt, you can still get wrapped up in the secrets tales and magic that the J-Pop Summit revolves around this weekend in Japantown.  There will also be cosplay and sake tasting, where else would you want to be? $22 to for the treasure hunt, no cover for festival. 
3. PureVision | Friday, July 18  – Sunday, July 20 | Friday 12 pm – Sunday 9pm | Sopiago Springs Resort, Pioneer, CA | This feel good, family fun campout event started ten years ago in the beautiful Sierra Nevada mountains as a small scale festival and has transformed to a three day adventure with 52 DJs worth of bass-bumping house music. This festival lasts for three days and two nights, with ample family bonding opportunities, adventure, nature exploration and non-stop EDM! The event promotes mental clarity, dancing, barbecuing and naked swimming! Pull out your camping gear and head out to the woods for this very special "yearly migration of the North Bay!" Tickets $63 Presale. 
4. Non- Stop Bhangra #105: Crash an Indian Wedding | Saturday, July 19 | 9pm – 3am | 161 Eerie Street, Public Works | This event really is one of a kind, and it sounds like so much fun! Have you ever wanted to crash an Indian wedding party, where you walk into a room filled with bright beautiful outfits, arms in the air, swirling of colors you've come to envy at traditional Indian Weddings? This month's theme for Non Stop Bhangra is "Crash an Indian Wedding party", without the guilt of not being invited. Put on your dancing shoes and show off the moves you will learn during the dance lesson or show off the moves you've been secretly practicing for the perfect occasion. Let's dance together like it's our own wedding, plus henna, indian snacks and dance lessons! This is a creative way to showcase Indian traditions and have a great time!
5. Summer Sundays Kickoff | Sunday, July 20 | 1-8pm | Mars Bar, 798 Brannan Street, SF | The Mars Bar has become famous for their Summer Sundays series, which boasts fun sundays of partying on the outdoor patio/tiki bar! The summer season kicks off on Sunday, with special music featuring David Harness, Kieth Kraft, Andrew Phelan and Johnny Collective! Come out for the first day of the week to enjoy some groovy tunes, sip some fancy cocktails and eat some scrumptious food! No better way to spend a San Francisco summer Sunday. "Everyday is a great day at Mars Bar". Free before 3pm, RSVP here!
So, what are you doing this weekend? Is there anything we missed?  Let us know below in the comments or on Facebook or Twitter!
---