The Fourth of July is less than a week away, and that means major party planning! ABCey has made a list of the perfect patriotic DIYs for your party. Get ready to party all day long!
1. Popsicle Cocktails
Keep your guests cool all day long with these delicious and refreshing popsicle cocktails! For the kids, substitute the bubbly for Sprite to make a cute little mocktail.
2. Manicure
Don't forget to treat yourself a little! Replicate this fun little confetti nail art or make your own design!
3. Red, White, and Blue Cheesecake Bars
Add a little color to your desserts! These red, white, and blue cheesecake bars are a sweet treat that everyone would enjoy!
4. Bandana Picnic Quilt
Whether you're throwing a picnic party or planning to gaze at the fireworks, this DIY picnic quilt is perfect. You can use old bandanas or any other cloth you may have laying around.
5. Patriotic Suncatcher
These little DIY suncatchers are a cute addition to any decor you may have! You can make it into an activity for kids or use them to catch your guests' attention as well!
6. Firework Sunglasses
Add a spark to your outfit. Wow everyone with these DIY firework sunglasses! Spend the Fourth of July watching the fireworks through your own!
7. Confetti Party Poppers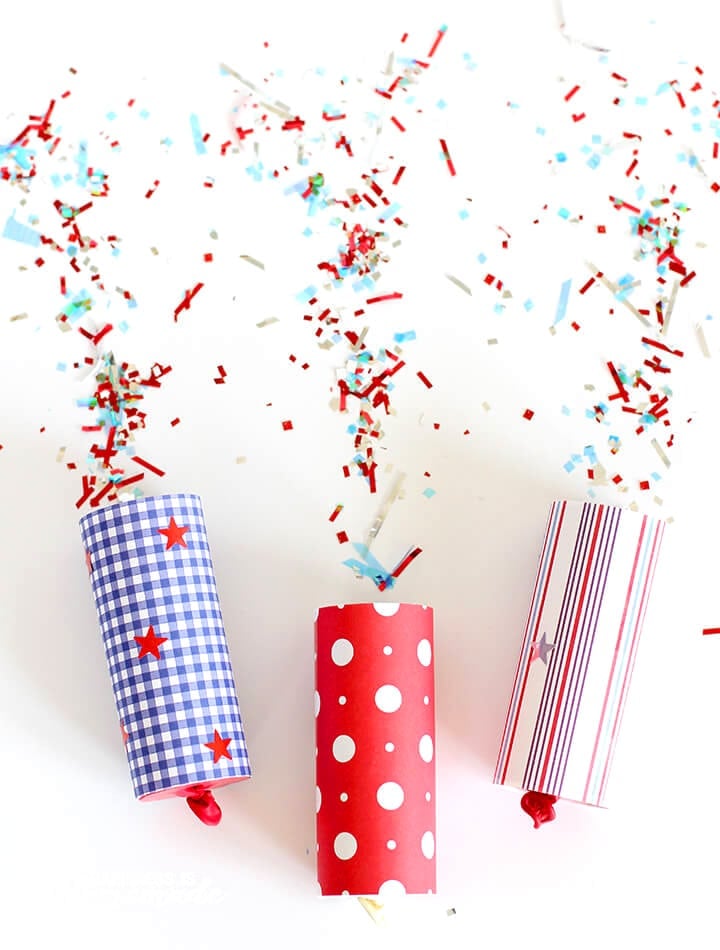 You can't celebrate the Fourth of July without some confetti! Make these easy DIY confetti party poppers to celebrate this patriotic holiday!
8. Star Spangled Shorts
This Fourth of July, you'll find the flag everywhere… even on yourself! Decorate your own shorts to sport our star-spangled banner!
9. DIY Chandelier
You definitely shouldn't be swinging from this chandelier, but it is something that your guests will absolutely adore!
10. Star Garland Backdrop
This star garland is multi-functional! If you're looking to create an amazing photo-op for your guests, hang a bunch side by side to make a starry background. There's also a traditional route you can opt for: hanging them for wall decor! Either way, it'll add a little twinkle to your party!
Will you use any of these simple and fun DIY decorations? Are there any that you made for the holidays? We'd love to hear from you! Let us know in the comments below or on Facebook and Twitter!
---
ABCey is excited to announce that we'll be co-producing Creating Equilibrium, an exclusive, invite only three-day innovation forum! The goal? Foster radical new approaches to solving critical environmental issues! The event will include a forum with tons of inspirational leaders, concerts, and an immersive festival to bring awareness and help unearth real-world solutions!
Creating Equilibrium's innovation forum is the ultimate way to stay informed and get involved in making a positive difference in the environment! 🌎♻️
Creating Equilibrium: The Visions Conference
Be a part of this revolutionary Visions Conference! This solution-focused conference will allow you to ask questions and learn from industry experts. You will also have the opportunity share your own ideas about how to increase sustainability and solve serious environmental problems! On Sunday, there will be a surprise "Hot Tub Time Machine" pool party w/ a very special celebrity guest among other fun surprises and water trivia.
Creating Equilibrium is an incubator for new and progressive ideas regarding the environment! If you're a part of a start up company with a concern for the environment, this is the perfect event for you! Apply now and be a part of this extraordinary experience!

The Village Green Festival
Enjoy fun entertainment and food as well as the beautiful scenery of Lake Tahoe during the Village Green Festival! Thisinnovative event is one that you don't want to miss!
The All Day Concert
Creating Equilibrium's concert will be featuring top performers like Dispatch, Allen Stone and so many others including their "secret stash."  You can have fun and feel good about doing it too! 🎤🎶🎵
Lake Tahoe is an incredible destination that is the perfect location to host this event! The natural beauty of the landscape with the crystal clear lake and the backdrop of enormous snowcapped mountains will make just about anyone want to save the environment! 🌞🌲🏔🏖
Don't miss out on this incredible opportunity to play your role in solving crucial environmental issues! Apply to get your Tickets now!
Will you be attending the Creating Equilibrium event? Let us know in the comments below or on Facebook and Twitter!
SaveSave
SaveSaveSaveSave
SaveSave
SaveSave
SaveSave
SaveSave
SaveSave
SaveSave
---