As we approach 2017's Fourth of July weekend, ABCey has made the ultimate check-list for your perfect patriotic party! Here are 10 of our favorite recipes, decorations, and party must-haves for your greatest Fourth of July yet! 
1. USA Rice Crispy Treats
Everyone loves a tasty treat at a party! These colorful rice crispy treats are perfect for your Fourth of July gathering! Plus they are great for all ages & the straws add a perfect touch! 
2. Festive Donuts
These patriotic donuts look too good to eat! The festive frosting is an easy add-on for the perfect dessert! 
3. Confetti Balloons
Next, instead of ordinary balloons, try these confetti filled balloons for a unique and sparkling touch to your event!
4. Star Spangled Sangria
Sangria is the perfect summer drink, so why not customize it for the Fourth of July! Add some colorful fruit to make your cocktail look & taste delicious!
5. LED Star Sunglasses
Light up the party with these great LED star sunglasses! They glow in red, white and blue colors and are perfect for night time when the fireworks are displayed! 
6. Perfect Utensil Holder
Here's a great way to display your table wear for this American holiday! Grab some patriotic-colored plastic forks and spoons to pair with these festive mason jars! 
7. Trendy Garland
Garland can be used for any holiday or event! Add some color around the house or outside with this red, white and blue tissue garland by Etsy. 
8. Fourth of July Fantastic Photo Booth
Grab some confetti & sparklers to set up an unforgettable photo booth for you & your guests! These DIY firework poppers are the perfect accessory for your event photos!  Find how to make them here. 
9. DIY Ring Toss
If you're having a backyard BBQ or party, this easy-to-make game is perfect! It's great for guests of all ages and super decorative for any backyard gathering! Here is how to make & create this festive game. 
10. Summer Smoothies
Cool down with some refreshing & heathy smoothies for this hot holiday! A great alternative for sangria for the youngsters under 21! Here is the link to some delicious smoothie recipes that are sure to get you in the Fourth of July spirit! 
__________________________________________________________________
How are you celebrating the Fourth of July? What did we miss? Let us know in the comments below or on our Facebook or Twitter! 
Sources: CoolGlow, Etsy, Brit + Co, Guest of a Guest, Country Living, Etsy, Tell Love and Party, Everyday Dishes, Brit + Co
---
It's almost Friday! ABCey brings you this week's Weekend Lineup with the top events in the Bay Area for the upcoming weekend! We've got everything from a  circus-themed dinner, to wine and beer tastings, and even hot air balloons! 
Thursday June 8th | 5-9pm |  Free Admission, $30 All You Can Drink Craft Beer | Spark Social SF, 601 Mission Bay Boulevard, North San Francisco, CA
Kick-off your carefree summer with exceptional beer and fresh air for an all-you-can-drink tasting adventure in the city! Featuring drinks from Fieldwork Brewing Company, New Bohemia Brewing Company, Drake's Brewing Company, and more! 
Starting Friday, June 9-17th | 7:30pm-Midnight | Cost: $50-$130 |  Ages 21+ | Tortona Big Top 2001 Ferry Point Alameda, CA  
From the co-creators of The Edwardian Ball, New Bohemia NYE, Phantasm SF, Lagunitas Beer Circus is the nightlife event of a lifetime. A circus-themed, dinner and theater experience that you will surely not forget! A wonderful night out that explores San Francisco's scandalous history and with a world-renowned performance.  
Weekend Lineup's Wine Down Fridays 
Friday June 9th | 5-8pm | Cost: FREE entry! | Urbano Cellars, 2323 B Fourth St. Berkeley, CA 94710
Friday's call for wine & food trucks! Get the weekend started with some delicious wine, food trucks, live music & art! A perfect start to your Friday night.
Sonoma County Hot Air Balloon Classic 2017
Saturday June 10th & Sunday June 11th  | 4am-10:30am  | Kids $5, Adults $20, Children 2 & under FREE | Keiser Park | 700 Windsor River Road, Windsor, CA
An early (but worth it!)  Weekend Lineup wake-up call to enjoy the beautiful hot air balloons in wine country. Right as the sun rises, these balloons will be launched from an open field into the sky. What a great way to start your morning! 
Spring Into Summer Parade & Fair
Saturday June 10th | 10am | Cost: FREE! | San Mateo County Event Center | 1346 Saratoga Drive, San Mateo, CA
Come enjoy the floats, bands & activities at the perfect event to kick-off summer! The parade will begin at Franklin Parkway, then continues along Delaware Street, and ends at the Fair. A perfect family activity for a fun Weekend Lineup Saturday afternoon! 
 _____________________________________
Will you be attending any of these Weekend Lineup Bay Area/SF events? What other SF events are you excited about? Let us know in the comments below or on Facebook and  Twitter!
---
Whether you're hosting a small get-together, big celebration, or just a night in, decisions about food can be difficult to make. Not to worry, we have a great list of apps to ease meal planning! From recipes, to restaurant suggestion,s to food delivery apps we've got you covered! We're excited to try EatWith and their private chefs for our next dinner party!
ChefsFeed is the inside connection to the best dishes and food culture. They offers chefs a platform to engage with guests, featuring reviews from more than 1,000 chefs in 24 cities. Who doesn't want the inside scoop from the chefs themselves? Users can read up to date reviews on food and restaurant reviews, check out chefs recommendations and search for reviews by chef, dish, cuisine or keywords.
GrubHub is an online and mobile food ordering company dedicated to connecting hungry diners with local takeout restaurants. You can order directly from approximately 35,000 takeout restaurants in more than 900 U.S. cities and London. If your hosting a get together, but don't feel like cooking, just order in. With Grubhub, food for everyone is just a click away!
EatWith is a community marketplace offering authentic dining experiences in people's homes in over 150 cities around the world. Through EatWith guests can not only connect with amazing hosts, and enjoy delicious homemade cuisine, but you can also hire a chef for your very own custom private event! You team up with a chef to create an intimate event and personalized menu your guests will not forget!
Yummly is the ultimate kitchen tool and recipe discovery app that combines beautiful pictures with recipes from around the web to make it easier for you cook, eat and share. You can filter recipes by the ingredients you have on hand, create different recipe boxes, and build shopping lists for the week based on the recipes you choose. It's perfect if you're hosting a dinner party and plan to cook!
Evernote is a great event planning tool we often talk about to stay organized, but there is also food version? Whether you're organizing recipes, looking for a good place to eat, or just want to lifelog meals, Evernote Food is an ideal companion app. You can save recipes from the web just like Evernote, and so much more!
What food apps do you use? Let us know with a comments below or message us on Facebook and Twitter!
---
Are you ready for Thanksgiving tomorrow? If you're running a little late getting everything together, don't stress out because ABCey has put together 5 last-minute (and easy) Thanksgiving dishes for you, friends, and family to enjoy!
Bake Brie with Cranberry Sauce and Walnuts
Warn your guests: this Baked Brie with Cranberry Sauce and Walnuts is so good, they might fill up on it before the turkey is even out of the oven!
Perfect Glazed Carrots
While calling these Glazed Carrots "perfect" might seem a bit presumptuous, your friends and family won't be thinking so when they try them. This delicious side dish not only tastes delicious but adds a pop of color to your table as well!
Roasted Brussel Sprouts, Bacon, & Apples
Nothing screams Fall as much as this Roasted Brussel Sprouts, Bacon and Apples to accompany your main event. Plus you've got your veggies, fruit, and protein all in one dish!
Savory Cornbread
What's a Thanksgiving without Savory Cornbread? Luckily, this simple and straightforward recipe creates a deliciously comforting side dish.
Oreo Ice Cream Pie
While Oreos might not be a traditional Thanksgiving dessert, we are so thankful for them anyways! Nothing round out the meal better than this Oreo Ice Cream Pie which takes so little time to prep and cook.
Which dishes will you be making this Thanksgiving? Let us know in the comments below or on Facebook and Twitter!
---
Startup Monday is ABCey's weekly post that features some of the best and brightest companies in the Bay Area. They are often companies that we have our eye on or have worked with in the past & would like to share with friends and followers of ABCey Events!
IFTTT (pronounced like "gift" without the "g") is a San Francisco-based startup offering a service that lets you create connections with the simple phrase of: 
How IFTTT works: "Triggers" (the "this" part of the recipe) are the starting blocks for your connection. For example, a trigger could be: "I"m tagged in a photo on Facebook." The "Action" (the "that" part of the recipe) completes the connection and produces a result. A potential action to the Facebook photo trigger could be: "send me a text message." So the recipe would be, "If I'm tagged in a photo on Facebook, then send me a text message."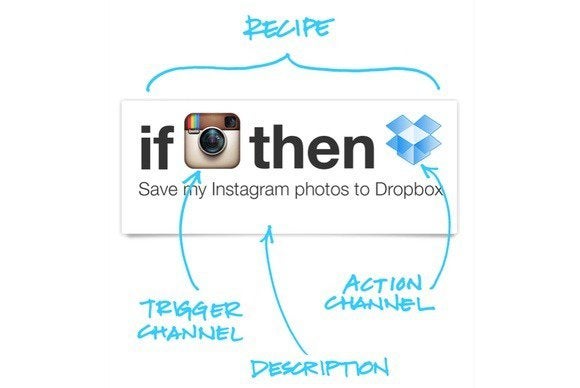 Why we love IFTTT: IFTTT makes our lives as event planners so much easier with the simple statement of "if this then that." Not only is the service so easy to use, but it allows us to make personal recipes regarding whichever channels we want! Whenever we receive a new email from a client, we can put it in the corresponding file or be notified via text message immediately. If we post a new blog, it can also be automatically posted on to our LinkedIn, Facebook, and Twitter accounts!
Would you IFTTT to help you plan your next event? Let us know in the comments below or on Facebook and Twitter.
---