The Fourth of July is less than a week away, and that means major party planning! ABCey has made a list of the perfect patriotic DIYs for your party. Get ready to party all day long!
1. Popsicle Cocktails
Keep your guests cool all day long with these delicious and refreshing popsicle cocktails! For the kids, substitute the bubbly for Sprite to make a cute little mocktail.
2. Manicure
Don't forget to treat yourself a little! Replicate this fun little confetti nail art or make your own design!
3. Red, White, and Blue Cheesecake Bars
Add a little color to your desserts! These red, white, and blue cheesecake bars are a sweet treat that everyone would enjoy!
4. Bandana Picnic Quilt
Whether you're throwing a picnic party or planning to gaze at the fireworks, this DIY picnic quilt is perfect. You can use old bandanas or any other cloth you may have laying around.
5. Patriotic Suncatcher
These little DIY suncatchers are a cute addition to any decor you may have! You can make it into an activity for kids or use them to catch your guests' attention as well!
6. Firework Sunglasses
Add a spark to your outfit. Wow everyone with these DIY firework sunglasses! Spend the Fourth of July watching the fireworks through your own!
7. Confetti Party Poppers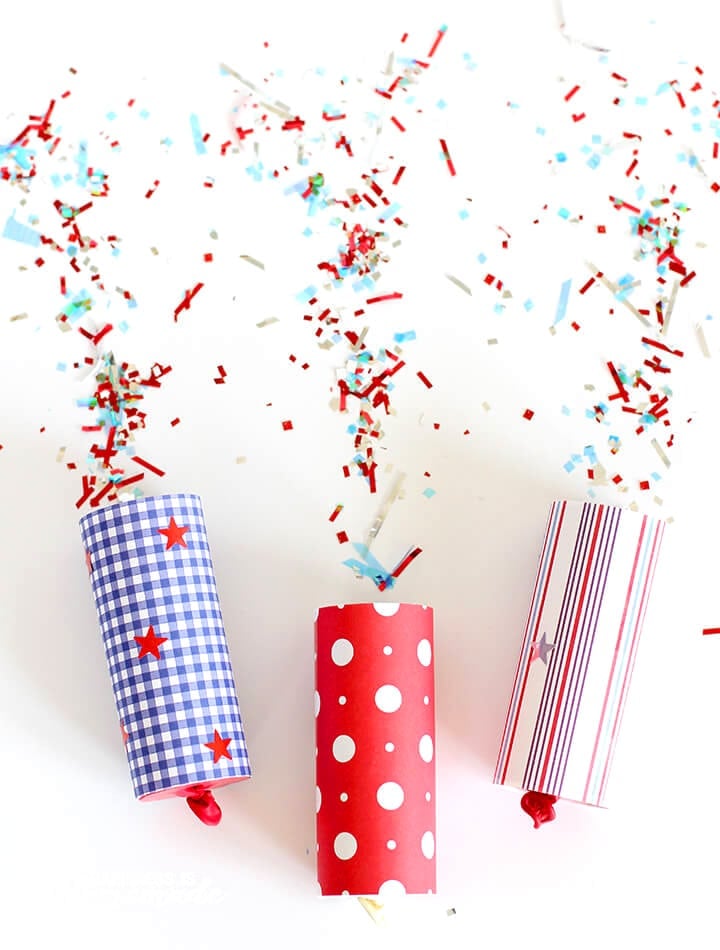 You can't celebrate the Fourth of July without some confetti! Make these easy DIY confetti party poppers to celebrate this patriotic holiday!
8. Star Spangled Shorts
This Fourth of July, you'll find the flag everywhere… even on yourself! Decorate your own shorts to sport our star-spangled banner!
9. DIY Chandelier
You definitely shouldn't be swinging from this chandelier, but it is something that your guests will absolutely adore!
10. Star Garland Backdrop
This star garland is multi-functional! If you're looking to create an amazing photo-op for your guests, hang a bunch side by side to make a starry background. There's also a traditional route you can opt for: hanging them for wall decor! Either way, it'll add a little twinkle to your party!
Will you use any of these simple and fun DIY decorations? Are there any that you made for the holidays? We'd love to hear from you! Let us know in the comments below or on Facebook and Twitter!
---
July is already upon us and it's almost the weekend! We hope you are just as excited as we are for Independence Day on Monday, and ABCey has you covered with all of your 4th of July events coming soon! Until then, make the most of your weekend and check out these fun Bay Area events!
---
Fri. July 1st – Mon. July 4th, 2016| 11am-11pm |prices vary| 4501 Pleasanton Ave. Pleasanton, CA
If you haven't gone to the fair yet, GO!  This fair is a must-see attraction for everyone!  For kids, there is a children's park, adventure park, petting zoo, ferris wheel, and carnival.  Adults can be entertained with horse races, a beer garden, a wine bar, shopping areas, and live concerts.  There are only 4 more days til' the fair is over, so come check it out before it's too late!

Sat July 2nd & Sun July 3rd, 2016 | 10am-6pm | FREE | Fillmore St.–Jackson to Eddy St, San Francisco
Enjoy two days of music, food, art, and fun at the Fillmore Jazz Festival!  This festival takes over more than 12 blocks and has every kind of food and craft imaginable.  With 32 years under its belt, this festival has become incredibly popular and the largest free jazz festival on the West Coast.  Join the other 100,000 people who attend this event and jazz up your weekend!
Sat. July 2nd, 2016 | 10am-12pm | FREE | Stow Lake, Golden Gate Park, San Francisco
Experience nature this weekend and take a guided tour through Golden Gate Park.  This guided tour is free and a perfect way to collect your thoughts while getting fit!  With your own personal tour guide, you can learn all about the park, plants, and wildlife.  So get out and enjoy the great outdoors with a nice stroll!
Sat. July 2nd, 2016 | 7:30pm | FREE, RSVP for Early Entry Tickets | AT&T Park; 24 Willie Mays Plaza, San Francisco
Mix things up this weekend by seeing a play…a free play!  This Saturday, the San Francisco Opera is hosting a live simulcast and projecting their current play, Carmen, on AT&T Park's huge video screen.  You will definitely be entertained by Carmen, a femme fatale play with jealousy, danger, love and murder.  Head out to the ball park to watch this captivating play and a special pre-show and intermission with the other 30,000 attendees!
Sun. July 3rd, 2016 | 11am-4pm | FREE | 103 Montgomery Street, Main Post, Presidio, San Francisco
This year, Off the Grid has revamped their picnic and food truck event held in Presidio Park. They now have over the 30 food and beverage trucks, free yoga classes, games, and music!  You can also get clothes and accessories at their mobile shop, produce from their market, and help planning your next activity in San Francisco.  There are also FREE shuttles, PresidiGo, that travel to Embarcadero BART, certain SF streets, MUNI, and around the park.  Don't miss the chance to relax on the grass field and enjoy great food and company!
Fri. July 1st, 2016 | 8:30pm – 10:00pm | FREE | McInnis Park: 310 Smith Ranch Road, San Rafael, CA
Because this weekend is so jam packed, we have one more event that will get you in the mood for July 4th! Friday at McInnis Park, park rangers will have yummy s'mores to eat right before you walk to the top of the Nike Site to watch the 9:30pm Marin County Fair fireworks show.  Fireworks are always fun especially with s'mores and tomorrow you can get both for free!
What are you planning on doing this weekend? Let us know in the comments below or on Facebook &  Twitter!
---
It's summertime and there's ALWAYS a reason to celebrate! Getting the gang together for a night out "just because" can get pricy, but don't let that stop you! ABCey wants you to have a fun mini-event while staying within budget. Here are our favorite ways to party on the cheap!
1. Find your Happy Hour | Absolutely no one with normal job hours can make a 4 p.m. happy hour. Look for bars with both food and drink specials, like El Rio in the Mission. Their happy hour goes from 1 p.m.-8 p.m. and on Fridays after 5:30, they give away free oysters. Sounds like the happiest hours of the week!
2. Take it Outside | When the weather's this perfect, who can bother staying indoors? Tell your friends to grab a blanket and a potluck dish and meet you at the nearest park, beach, or garden! Pro tip: keep an eye out for free outdoor events in your city, like concerts and craft fairs. There's nothing better than taking in music, friends, and good food on a summer day!
3. Stalk it Out | All around your city on any given day, there are dozens of events going on that you don't even know about! Be up to date on your city's happenings with websites like Fun Cheap SF that help you stay on top of all things free and inexpensive. Bet you didn't know that there's a free core & endurance outdoor workout today at Kezar Stadium in SF!
4. Night at the Museum | When the sun goes down, skip the bars and head straight for the museum! Spots like the California Academy of Sciences, the De Young, and the Exploratorium offer free exhibits and special events or tickets cheaper (and more inclusive) than regular admission. Let's be honest: haven't you always wanted to have a glass of wine while looking at art?
5. BYOB | Nothing makes wine taste sweeter than paying $15 a bottle in a restaurant! OpenTable has a list of restaurants that allow BYOB and don't have a corkage fees. Bring the party with you by buying your own booze (and maybe slipping in a flask for yourself!)
What do you and your friends do to have a fun night out on the cheap? Let us know in a comment or on Facebook & Twitter!
---