---
Tomorrow's the day we're all looking forward to: Friday! ABCey brings you this week's San Francisco Weekend Lineup with the top events happening in the Bay Area! If you don't have plans this weekend, we've got you covered from Star Wars at the Symphony Hall to a Burning Man trunk show!
July 20 | 6am – 9am | Prices range from $30.00 – $45.00 | San Francisco Belle, Hornblower
Usually, you may not be a morning person, but you're going to want to be one for Daybreaker SF! Get ready for an unforgettable time with crazy beats, amazing company, and tons of dancing! Being their 4th anniversary, their theme is "Come Sail Awake With Us" and they plan to entertain you all morning with activities like yoga, dancing, and face painting! It's one our favorites for the weekend, will we see you there?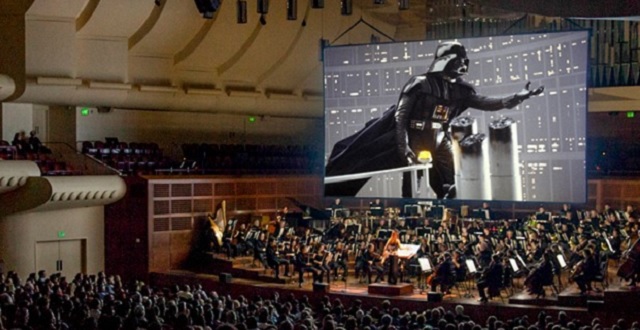 July 18 – August 3 | 7:30pm | Prices range from $75.00-$125.00 | Davies Symphony Hall
The SF Symphony summer concert series returns this weekend! If you love Star Wars, you're going to be ecstatic! The orchestra will play live scores from the original Star Wars trilogy with the films projected on stage! Talk about an unforgettable experience!
July 21 | 12:00pm – 6:00pm | Free admission | The Great Northern
Burning Man is coming up! Hope you're ready to begin shopping of your costume at the 12th Annual "Beyond the Fence" Trunk show! There will be over 30 local and independent designers selling unique costumes perfect for the desert getaway! Local DJs and cocktails will be available for you to enjoy while you take in inspiration on and off the Playa!

July 27-30 | 1:00pm – 10:00pm| Prices range from $20 and up, depending on donations | The Midway
In honor of Larry Harvey for starting Burning Man, we gather together to celebrate the passion he has created in others. This man dreamed of a world where creative minds can come together to cooperate and this vision led to the creation of Burning Man.
July 22 | 11:00am – 4:00pm | Free admission | Main Parade Ground
Rain or shine, the Presidio takes place on the Main Parade Ground. It features many vendors to get a taste of the diverse foods and cultures of the Bay Area and a free cultural dance performance on the fourth Sunday of each month! It will feature more than 25 international mobile food inventors, music for everyone, lawn games, yoga, and nature-based crafts for kids!
July 22 | 2pm | Free admission; First come, First Serve | Stern Grove
Since 1938, the SF Symphony returns every summer for an annual performance, and their return dates for this Sunday! If you're looking for a nice event to take your family or a relaxing day filled with beautiful music, we hope to see you there!
What does your San Francisco weekend lineup look like?
Which events will you be attending this weekend? We'd love to hear from you! Let us know in the comments below or on Facebook and Twitter!
---
ABCey's Top 10 Live Art Performances are a must have feature at your next event! These captivating and unique performances will bring your event to the next level! We cover everything from sand art animations  to live mural painting to water light graffiti!
1. 3D Sidewalk Chalk Art
3D Street Art is a fun attraction to incorporate into any outdoor event! This family friendly art is a show that kids and adults will both love! It's the perfect performance to include in almost any event! 
2. Sand Art Animations
Charlene Lanzel, a famous sand artist, creates amazing live performance using sand, a light box and a projector. This funky performance is the ultimate way to bring your event to life!
3. Speed Painted Portraits
Rock Demarco does speed paintings that are finished in under 10 minutes! These fast-past paintings are fun for everyone and make the perfect personalized party favor to send home with your guests!
4. Glitter and Glue Art
Everyone loves glitter! So why not include a Glitter Art Performance at your next event? This amazing art would make the best addition to any event!
5. Water Light Graffiti Paint
Antonin Fourneau uses Water Light Graffiti to by using LED lights and water. This interactive and unique type of art will wow your guests and create a beautiful show in the process!
6. Custom Shadow Show
Wow your guests with an extraordinary shadow show! This unique performance is a sure way to create a memorable event that your guests will never forget!
7. Digital Paintings
Jeremey Sutton combines technology and painting to create this art masterpiece! Digital Paintings are a cool way to integrate technology into your event!
8. Graffiti Art/Live Murals
The Graffiti Kings create live murals with graffiti at events all over the world! Watch the artists in action as they spray paint huge incredible portraits right in front of your eyes!
9. Projection Mapping Live Performance Art
Incorporate new projection mapping technology into live art performances for the ultimate experience at your next event! A Dandy Punk performances are great for any occasion!
10. Live Art Performances: Art Exhibitions
Allen Axelrod's interactive art performance is an awesome show to include in any event! This unique and fun work of art will definitely impress any audience!
What're your favorite live art performances? Let us know on Facebook and Twitter?
SaveSave
SaveSave
SaveSave
SaveSave
SaveSave
SaveSave
SaveSaveSaveSave
SaveSave
SaveSave
SaveSave
SaveSave
SaveSave
SaveSave
SaveSave
SaveSave
SaveSave
SaveSave
SaveSave
SaveSave
SaveSave
SaveSave
SaveSave
SaveSave
SaveSaveSaveSave
SaveSave
SaveSave
SaveSaveSaveSave
SaveSave
SaveSave
SaveSave
SaveSave
---
It's almost Friday! ABCey brings you this week's Weekend Lineup with the top events in the Bay Area for the upcoming weekend! We've got everything from a  circus-themed dinner, to wine and beer tastings, and even hot air balloons! 
Thursday June 8th | 5-9pm |  Free Admission, $30 All You Can Drink Craft Beer | Spark Social SF, 601 Mission Bay Boulevard, North San Francisco, CA
Kick-off your carefree summer with exceptional beer and fresh air for an all-you-can-drink tasting adventure in the city! Featuring drinks from Fieldwork Brewing Company, New Bohemia Brewing Company, Drake's Brewing Company, and more! 
Starting Friday, June 9-17th | 7:30pm-Midnight | Cost: $50-$130 |  Ages 21+ | Tortona Big Top 2001 Ferry Point Alameda, CA  
From the co-creators of The Edwardian Ball, New Bohemia NYE, Phantasm SF, Lagunitas Beer Circus is the nightlife event of a lifetime. A circus-themed, dinner and theater experience that you will surely not forget! A wonderful night out that explores San Francisco's scandalous history and with a world-renowned performance.  
Weekend Lineup's Wine Down Fridays 
Friday June 9th | 5-8pm | Cost: FREE entry! | Urbano Cellars, 2323 B Fourth St. Berkeley, CA 94710
Friday's call for wine & food trucks! Get the weekend started with some delicious wine, food trucks, live music & art! A perfect start to your Friday night.
Sonoma County Hot Air Balloon Classic 2017
Saturday June 10th & Sunday June 11th  | 4am-10:30am  | Kids $5, Adults $20, Children 2 & under FREE | Keiser Park | 700 Windsor River Road, Windsor, CA
An early (but worth it!)  Weekend Lineup wake-up call to enjoy the beautiful hot air balloons in wine country. Right as the sun rises, these balloons will be launched from an open field into the sky. What a great way to start your morning! 
Spring Into Summer Parade & Fair
Saturday June 10th | 10am | Cost: FREE! | San Mateo County Event Center | 1346 Saratoga Drive, San Mateo, CA
Come enjoy the floats, bands & activities at the perfect event to kick-off summer! The parade will begin at Franklin Parkway, then continues along Delaware Street, and ends at the Fair. A perfect family activity for a fun Weekend Lineup Saturday afternoon! 
 _____________________________________
Will you be attending any of these Weekend Lineup Bay Area/SF events? What other SF events are you excited about? Let us know in the comments below or on Facebook and  Twitter!
---
#TechTuesday highlights the best and brightest ideas in the tech world. ABCey would like to recognize these up and coming technologies for their innovative ideas and impact on the event world. ABCey has compiled 5 innovative ways event planners are utilizing drones! 
---
Although they were first used for military purposes, drones are becoming extremely useful tools for the event planning industry. Drones are not only used to capture stunning aerial images, but also in previously unimaginable ways that go beyond just pictures and videos.  Here are 5 great ways to use drones for your next event!

1. Aerial Event Photos and Videos
Drones are now a popular tool for event planners, because they can capture amazing aerial footage from an infinite number of angles.  They are also extremely versatile and can be used at conferences, trade shows, galas, festivals, and sporting events!  This tech allows for extraordinary 360 degree views of all attendees, as well as close ups of speakers and performances. 
2. Choosing the Perfect Venue/Site Selection
Drones can also be used for pre-event prep to collect venue images. Photos and videos make it so easy for clients and planners to choose the perfect site for an event!  From images of massive event properties to inside meeting rooms, there is almost no place a drone can't fly!
3. Entertainment Drones to Wow Your Guests
Companies have outdone themselves by using drones as a new form of entertainment for their guests!  Intel is one company that impressed their guests and set the world record by having 100 drones create a unique light show! Others, like Amsterdam Drone Entertainment, have programmed their drones to dance for crowds which has truly set a new standard for event entertainment!
4. The Best Delivery Service
Some other ways to use a drone? How about deliver food, drinks and invitations!  This interactive way of distributing items to people is mostly used by restaurants to give food to their customers.  But, this kind of delivery service can just as easily be adapted to fit the event industry's needs.  Using a drone to deliver items to guests is extremely innovative, interactive, and a great way to make your event stand out!
5. Extra $ From Advertising and Sponsors
Drones can also be lucrative for your business!  If you are hosting an event, sponsors may offer to pay you if you use drones to promote their business.  Attendees are often drawn to drone tech which is seen as a great opportunity for companies to advertise.  Because drones can drop off samples/products, hold up company posters, and display a brand logo, they are becoming the newest advertising trend!
Apps are also being made and adapted to incorporate drone technology.  Facebook recently announced they have updated their live video stream application, Facebook Live.  This update allows users to stream videos live from a drone.  Twitter's similar live video streaming application, Periscope, also announced this feature.
By capturing stunning footage, helping venue selection, entertaining and serving their guests, delivering items, and increasing revenue and an event's wow factor, drones are the new must-have gadget for anyone in the event industry!
Know any other ways drones are used?  Let us know in the comments below or on Facebook and on Twitter!
---