The Fourth of July is less than a week away, and that means major party planning! ABCey has made a list of the perfect patriotic DIYs for your party. Get ready to party all day long!
1. Popsicle Cocktails
Keep your guests cool all day long with these delicious and refreshing popsicle cocktails! For the kids, substitute the bubbly for Sprite to make a cute little mocktail.
2. Manicure
Don't forget to treat yourself a little! Replicate this fun little confetti nail art or make your own design!
3. Red, White, and Blue Cheesecake Bars
Add a little color to your desserts! These red, white, and blue cheesecake bars are a sweet treat that everyone would enjoy!
4. Bandana Picnic Quilt
Whether you're throwing a picnic party or planning to gaze at the fireworks, this DIY picnic quilt is perfect. You can use old bandanas or any other cloth you may have laying around.
5. Patriotic Suncatcher
These little DIY suncatchers are a cute addition to any decor you may have! You can make it into an activity for kids or use them to catch your guests' attention as well!
6. Firework Sunglasses
Add a spark to your outfit. Wow everyone with these DIY firework sunglasses! Spend the Fourth of July watching the fireworks through your own!
7. Confetti Party Poppers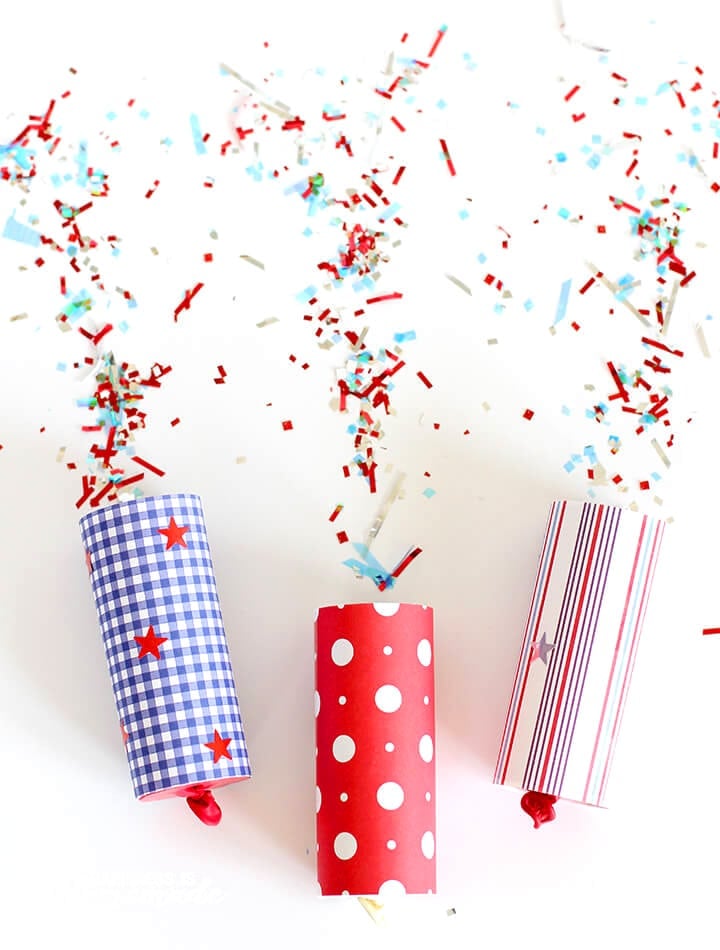 You can't celebrate the Fourth of July without some confetti! Make these easy DIY confetti party poppers to celebrate this patriotic holiday!
8. Star Spangled Shorts
This Fourth of July, you'll find the flag everywhere… even on yourself! Decorate your own shorts to sport our star-spangled banner!
9. DIY Chandelier
You definitely shouldn't be swinging from this chandelier, but it is something that your guests will absolutely adore!
10. Star Garland Backdrop
This star garland is multi-functional! If you're looking to create an amazing photo-op for your guests, hang a bunch side by side to make a starry background. There's also a traditional route you can opt for: hanging them for wall decor! Either way, it'll add a little twinkle to your party!
Will you use any of these simple and fun DIY decorations? Are there any that you made for the holidays? We'd love to hear from you! Let us know in the comments below or on Facebook and Twitter!
---
The Olympic Games are in full swing and it's time to get into the competitive spirit! What better way to celebrate the games than by hosting an Olympic Games party? From food to activities, ABCey is here to help!  
---
---
Entertainment and Games
Virtual Reality Games
Be a part of the games with fun entertainment and games to entertain your guests! Bring a high tech twist to your Olympic games party by bringing virtual reality. From basketball to tennis to volleyball, choose whatever sports your guests like most, and they can play on virtual reality screens and with goggles! Also, you can also get virtual and integrated sports floor technology, and let your guests enjoy playing on their favorite field!
Backyard Upgraded Games
In addition, upgrade your outdoor games with fully interactive games! Not only are games, like this Super Bowl hamster wheel, fun, but they are also unique twists. You can adapt this game for soccer, track and field, and tons of other sports for more Olympic fun! Also, guests will love that you compete with others to get the highest score. So bring the competitive spirit to your Olympic Games viewing party with games like this one!
---
Party Favors:
DIY Olympic Gold Medals
Another key element of a party is rewarding your guests for coming! Save money and stay with the Olympic games party theme thanks to these DIY Olympic medals. With some glue, glitter, bottle caps, and ribbon, you can easily make these great medals. Your guests will feel special that you spent the time to DIY making these fun party favors!
---
Olympic Games party food and beverages:
Olympic Games cake pop torches
Although you can't be in Rio, you can still feel the electric vibe and feel like you're right in the middle of the action! The celebrations start with the lighting and passing of the torch, so don't forget a decoration to symbolize it. These decorative torches are not only festive, but they are also sweet! So let your guests make their own cake pop snacks and indulge their sweet tooth!
Olympic rings drinks
An Olympic party wouldn't be complete without the rings! You can creatively show your Olympic theme with these fun cocktail glasses drink! Or, you can also add some sugar or salt to your glasses to liven up your cocktails and any drinks you're planning to make! Also, you can use this trick for any drinking cup. Here is how to make them!
Colored ring ice cubes
In addition to your sugared cups, you can keep your refreshments cool thanks to these ice cubes! Not only do they perfectly fit with the Olympic Games party theme, but all you need is food coloring. Toss these rings into any clear flavored drink so guests can drink in style! Find out how to make them here!
---
Extras:
Ticket invitations
Invite guests to your party in style with these awesome tickets! Although they may be disappointed that they aren't going flying to Rio, they'll be excited to join in on the action at your party. These printable tickets will immediately load to your computer and let you customize it. This lets you add your own date, venue, and time. So feel special attending your top notch event.
Olympic rings backdrop
Create the perfect backdrop for your food/beverage tables and throughout your party venue! In addition, you'll save money with these DIY Olympic rings. Also, you won't believe how simple these are to make. Simply pin or glue colored crepe paper over polystyrene rings, and there you have it. An easy decoration that will impress your guests!
---
How are you planning your Olympic Games party? Let us know in the comments below or on Facebook and Twitter!
---
Startup Monday is ABCey's weekly post that features some of the best and brightest companies. They are often companies that we have our eye on or have worked with in the past & would like to share with friends and followers of ABCey Events! 
Splacer is an online marketplace for renting out and listing creative event spaces for any occasion. This innovative group of architects' goal is to bring together owners of unique spaces with people looking to create memorable event experiences. This Tel Aviv based company launched in fall of 2014, but announced last week that they raised $1.4 million in seed funding and are growing rapidly.
How it works: Splacer is the AirBnB for event spaces. Event organizers can browse and discover listings using various filters and view venue photos. Owners can sign up with basic info about their space, get approved and instantly start renting. Splacer believes in creating a system of living that is collaborative, socially just and ecologically responsible. Be a part of their movement and sign up to list your space or find your next meeting, party, photoshoot or pop-up shop venue!
Will you be listing or looking for your next event space on Splacer? Let us know in the comments below or on Facebook and Twitter.
---