Every once in a while, everybody needs an escape from the confining quarters of their work – whether they work in an office or from home! A retreat is the perfect opportunity for companies to …. But what is there to do? ABCey has curated a list of our top 10 favorite corporate retreat activities fit for everyone!
It's a giant playground for adults! Located in Lands End, this obstacle course built with ropes, ladders, and cables is immersed in a mini forest located in our urban city. The ropes course will challenge you mentally and also get your blood rushing in ways an office may not. So go through the highs and lows (literally!) with your team, and it'll surely bring out your adventurous side.
"Learning through laughter." Nerd Improv strives to create workshops that are meant to help your team get the most out of your retreat. It was designed to help push the boundaries while making a safe environment for everyone to share. For any questions, you can contact them here.
Hosted by 1AM, this workshop is meant to bring out your creative side with street art! Groups are encouraged to create their own street art individually and in groups with stencils and much more. Alongside the art, their team goes through the history of street art that you surely won't forget! The best part? You won't forget your experience anytime soon with the art hanging on your wall!
Escape your office with an escape room! Reason provides your team with high tech team building activities and immersive experiences. Instead of your typical escape room, you can experience this through VR goggles to transport yourself into another reality and much more. In addition to an awesome escape, this retreat will build a stronger and better team!
Get up from your office chair and get on a boat! Your retreat will feature some of the most beautiful views and create some of the best memories. Your sailing experience will be personalized to whatever mood your team needs whether it be relaxing or thrilling! So pack your favorite sea sickness remedy and sail away!
Love food trucks? You'll love this challenge even more! The Food Truck Challenge prompts teams to experience what it's like to have your own and run your own food truck. Judges will base their decision on every aspect from the food to the marketing, so be prepared!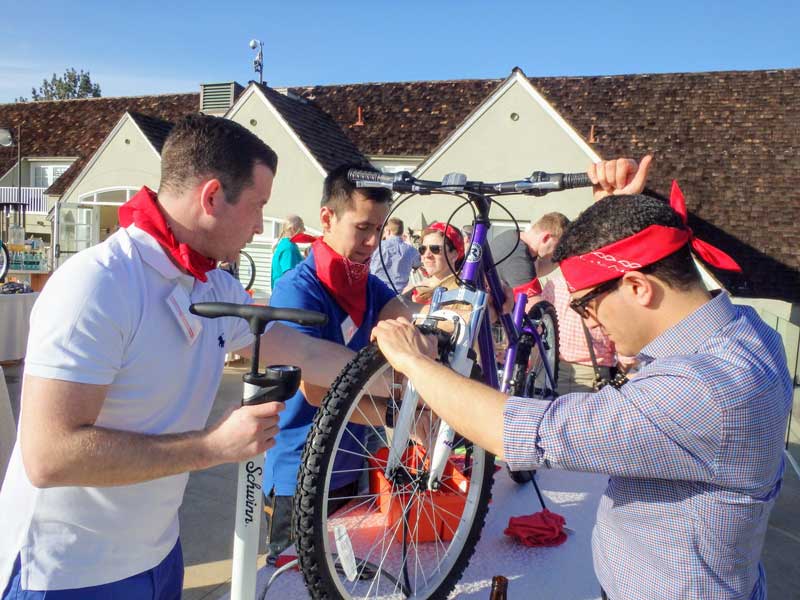 Drop the pens and papers and swap it out with wrenches and gears! This charity event challenges teams to build as many bikes as they can, and all the bikes built are donated to children around the world. It's an amazing cause and your team will build a competitive spirit together for a heartwarming cause as well.
This is great way to unwind after a long week of meetings. After splitting into teams, each group becomes their own winery (a dream come true)! After being briefed on the history of Sangria and competing in a trivia contest, teams have the opportunity to create their own unique blend, too.
Who doesn't love mini golf? Your team can make your own fun with challenging mini golf courses designed to trick the other team. If you're feeling charitable, there's also an option which involves cans of food to be donated as you complete the course. A little competition never hurt anyone, and hopefully you'll leave with a sense of accomplishment!
If you love food and you love San Francisco, we've got one of the most perfect retreat activities for you! This foodie adventure will prompt your teams to explore San Francisco while also trying some of the best foods around the city! You'll be leaving with a full belly and a new love for our hometown!
What are your favorite off-site activities?
These off-site corporate retreat activities can be adjusted to any retreat you have! Are you ready? Which ones did we miss? Let us know in the comments below or on Facebook or Twitter!
---
ABCey's Top 10 Live Art Performances are a must have feature at your next event! These captivating and unique performances will bring your event to the next level! We cover everything from sand art animations  to live mural painting to water light graffiti!
1. 3D Sidewalk Chalk Art
3D Street Art is a fun attraction to incorporate into any outdoor event! This family friendly art is a show that kids and adults will both love! It's the perfect performance to include in almost any event! 
2. Sand Art Animations
Charlene Lanzel, a famous sand artist, creates amazing live performance using sand, a light box and a projector. This funky performance is the ultimate way to bring your event to life!
3. Speed Painted Portraits
Rock Demarco does speed paintings that are finished in under 10 minutes! These fast-past paintings are fun for everyone and make the perfect personalized party favor to send home with your guests!
4. Glitter and Glue Art
Everyone loves glitter! So why not include a Glitter Art Performance at your next event? This amazing art would make the best addition to any event!
5. Water Light Graffiti Paint
Antonin Fourneau uses Water Light Graffiti to by using LED lights and water. This interactive and unique type of art will wow your guests and create a beautiful show in the process!
6. Custom Shadow Show
Wow your guests with an extraordinary shadow show! This unique performance is a sure way to create a memorable event that your guests will never forget!
7. Digital Paintings
Jeremey Sutton combines technology and painting to create this art masterpiece! Digital Paintings are a cool way to integrate technology into your event!
8. Graffiti Art/Live Murals
The Graffiti Kings create live murals with graffiti at events all over the world! Watch the artists in action as they spray paint huge incredible portraits right in front of your eyes!
9. Projection Mapping Live Performance Art
Incorporate new projection mapping technology into live art performances for the ultimate experience at your next event! A Dandy Punk performances are great for any occasion!
10. Live Art Performances: Art Exhibitions
Allen Axelrod's interactive art performance is an awesome show to include in any event! This unique and fun work of art will definitely impress any audience!
What're your favorite live art performances? Let us know on Facebook and Twitter?
SaveSave
SaveSave
SaveSave
SaveSave
SaveSave
SaveSave
SaveSaveSaveSave
SaveSave
SaveSave
SaveSave
SaveSave
SaveSave
SaveSave
SaveSave
SaveSave
SaveSave
SaveSave
SaveSave
SaveSave
SaveSave
SaveSave
SaveSave
SaveSave
SaveSaveSaveSave
SaveSave
SaveSave
SaveSaveSaveSave
SaveSave
SaveSave
SaveSave
SaveSave
---
---
It's Thursday, and you know what that means…ABCey Events has the Weekend Lineup with a list of the top 5 Bay Area Weekend events! We have everything from a 10 Hour Dance Event and Rum Festival to a Rooftop Party and of course the start of Burning Man. Don't miss out on these fun events going on Friday til' Sunday!
---
---
Top 5 Bay Area Weekend Events
Fri 8/26/16 and Sat 8/27/16| 5pm – 3am | 21+, no ins & outs| $20 tickets here, cash only at event | SF Mint
Celebrate the end of the work week this Friday! Get the party started with 10 hours of fun, food, drinks, and dance! First, walk into a projection-mapped courtyard and enjoy happy hour drinks from 5pm-10pm! Then, head down to the SF Mint building basement and dance til the wee hours of the morning! With world class DJs, amazing food from The Midway's own Madame Zola's Fortune Cafe, and top of the line art performances, you'll be entertained all night long! Get to this "once in a lifetime" event! 
Fri 8/26/16 to Sat 8/27/16| Fri 2pm – Sat 6pm | 21+ | $5-$130, Buy tickets here | SOMA Cultural Center
Like rum? Then get to this Bay Area Weekend Event? This festival will give you a chance to taste new rums, discover new brands, attend rum seminars and enjoy great music! You'll also learn history behind rum and how to differentiate the different grades of rum. But hurry, tickets are only on sale for a limited time! 
---
Sat 8/27/16| 4pm-7pm | $25, Buy tickets here | 620 Jones, SF
Meet and mingle with some of the best and brightest professionals and alumni! Don't skip this popular event to network and connect with other business individuals! There will be plenty of cocktails, and if you're hungry, there's a great restaurant downstairs! Also, make sure you stick with the dress code and wear white to celebrate the summer with a fabulous view! 
Sat 8/27/16 and Sun 8/28/16| 11am – 5pm | FREE | Ghirardelli Square
Love Etsy as much as we do? Then get to Ghirardelli Square this Sunday to check out over 60 local Etsy artisans. While you shop, grab some of the world famous chocolate and ice cream. If that wasn't enough, you can hop over to the Lagunitas Beer Garden! There you can sip on some great beer, enjoy great views of the Bay Area, fulfill your sweet tooth, and shop til' you drop! What more could you ask for?
Sun 8/28/16 til Mon 9/5/16| 10am – 12pm | $390+ tickets here  | Black Rock Desert, NV
Join over 70k people in one of the most hyped and talked about radical events of the year! Explore with others a magical and unique experience full of music, art, and wonder. Explore the theme camp's various bars, dj's, workshops,  and open mics, or try some flaming Skee-ball, check out the Hall of Mirrors, or the DIY movie theater! Stop by Center Camp for performances and galleries, the French Quarters Camp for elegant cocktails, sweets, and custom soaps, the Thunderdome for sword fighting, or the Firehouse Camp to paint. And, be sure to hop on an art car!
---
Will you be attending any of these Bay Area Weekend Events? Let us know below or on Facebook and Twitter!
---
---
Not all "kid themed" activities have to be just for kids. ABCey found a way to make some of the most childish of activities the most fun for you and your friends and family. From an adult goodie filled piñata to a "boozy popsicle," we promise you'll have more fun than any child would with these adult party activities.
1. Slip n Slide
Don't just have some friends over for a pool day, have an all out water party! Break out those swim suits, rent an inflatable slip n slide, fill up water balloons, and get out those water guns. Fill the day with different water games to get the competive juices flowing. We promise it's way more fun as an adult.
2. Paint Twister
Get messy and add paint to your twister board. Have everyone come in white clothes and get colorful with paint on this classic childhood game. And hey, we won't judge you if you make it a drinking game too.
3. Piñata
Piñatas aren't just for kids and candy. Buy a pretty party piñata and instead fill it with adult goodies like mini alcohol bottles, lottery scratchers, LED sunglasses, gift cards, and anything else inappropriate you can think of! Everyone will have a blast hitting the piñata and will be fighting to see who can collect the most Jose Cuervo bottles!
4. Giant Jenga
If your looking for a fun DIY project and party activity, giant jenga is just for you! Get out those power tools and sharpies. After constructing the blocks, write questions or activities on each block! It will be a blast for your guests, and it is sure to get them laughing.
5. Hamster Balls
Rent and jump into these inflatable balls! You have to admit,  these look like the most fun thing you've seen in your adult life. Be the actual bowling ball in a game of bowling or challenge your friend to a sumo match. Don't worry, you'll have plenty of protection, but we can't promise your competitor won't pout if you beat them.

6. Boozy Popsicles
Popsicles aren't just a kid favorite, give them an adult twist and serve them at your next summer party! With flavors like strawberry champagne, tequila mango with chile, and blackberry chèvre bourdon, they are sure to get everyone's taste buds singing and the party going! For a full list of flavor options and recipes click here!
Will you be including one of these activities at your next party? Let us know in the comments below or on Facebook or Twitter!
---