Startup Monday is ABCey's weekly post that showcases some of the most innovative San Francisco startups! These are often selected from a list of companies that we LOVE or have worked with in the past. This week, we are putting the spotlight on Oh My Green. A startup dedicated to deliver healthy and natural foods to companies.
What is Oh My Green?
Founded in 2014, Oh My Green is a California based healthy food and wellness services provider that aims to make healthy eating and good nutrition easy. Oh My Green offers a custom, nutritious office food program for your organization. The company delivers healthy office snacks, kitchen design, and stocking services, to catering, cafe management, and wellness programming.
How it Works?
Regardless of your company size and budget, Oh My Green brings delicious snacks and drinks to your workplace. Its monthly snack box subscription is perfect for offices with 50 or less. All you need to do is sign up and fill out your company's information and note dietary preferences. Oh My Green also provides a variety of office catering options for corporate events. Its tech-enabled service, which relies on machine learning can give you personalized recommendations for meals and snacks.
Why Do We Love it?
We love Oh My Green because they truly care about people and their health and well-being. Whether you're vegan or have food allergies, Oh My Green can customize a menu for your company's needs. When it comes to catering, Oh My Green always sources ingredients from local farms to maximize freshness and nutritional value of the food. Its advanced technology also allows you to manage orders, track your consumption, control your budget and so much more!
Have you heard of Oh My Green? Let us know what you think in the comments below or on Facebook and Twitter!
---
Startup Monday is ABCey's weekly post that showcases some of the best and most innovative startups based in the San Francisco Bay Area! These are often companies that we have our eye on or have worked with in the past. Today, we'd like to highlight Brandless!
Brandless
Brandless is an e-commerce company founded in San Francisco in 2015 that recently launched in July 2017. This startup focuses on being completely transparent with customers and bringing high quality products and healthy ingredients. They sell a variety of things, ranging from household items to beauty products to food! The best part? Each product is just $3!
It's simple. With the Brandless label, co-founders Tina Sharkey and Ido Leffler eliminated the "brand tax." This is the hidden cost of buying from a brand that drives up the prices of products.
Moreover, the product packaging consists of the company logo and descriptors, like kosher, organic, or gluten free. This simplifies the shopping process and provides transparency for the consumer. You also have the option to "B.more" and sign up to be a member, which includes benefits, such as free shipping.
Brandless and Feeding America
Also, when you sign up to "B.more," Brandless will donate the monetary equivalent of 10 meals to Feeding America. Brandless is partnered with Feeding America, the nation's leading domestic hunger relief organization, and with every purchase, a meal will be donated on your behalf to those facing hunger.
Why we love it!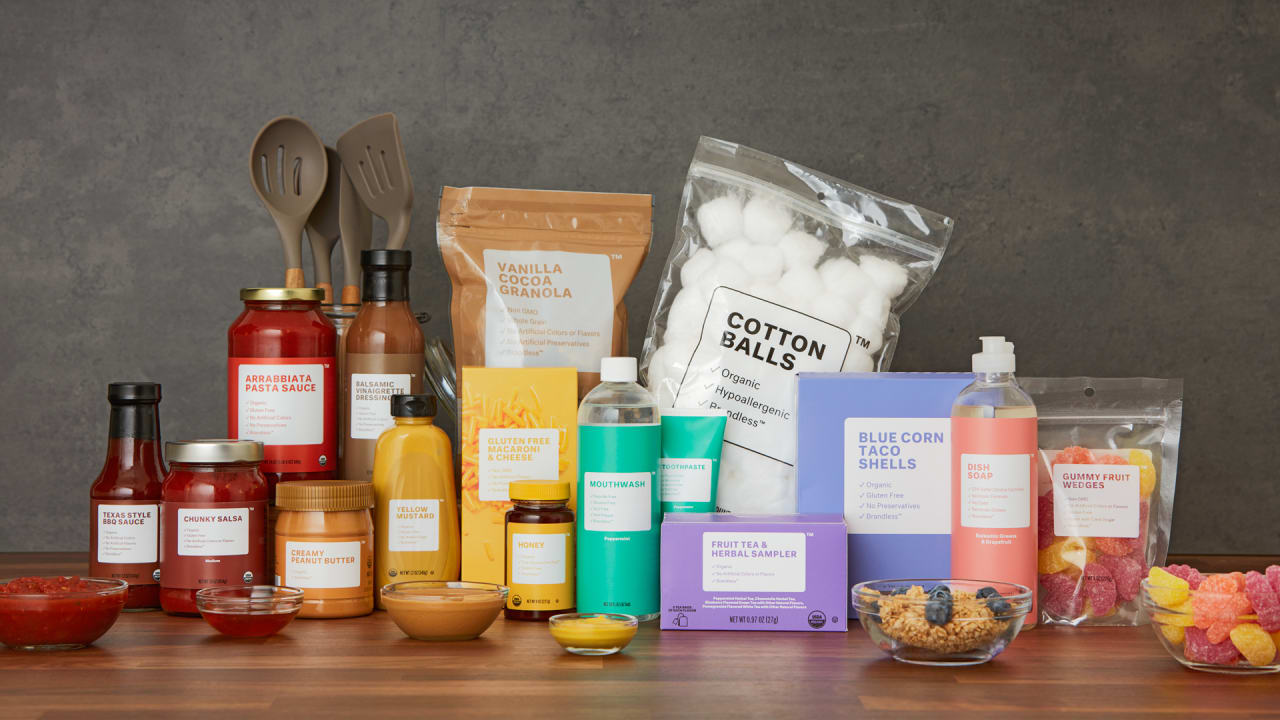 Brandless is very affordable and their products are health-conscious and environmentally friendly! Additionally, the company holds all their products to the highest standards. They also cater to what the community values most in their household items or in their foods. Furthermore, this startup dedicates itself leaving a positive impact on their community and the world.
Have you tried Brandless yet, or thinking about using it? Let us know in the comments below or on Facebook and Twitter.
---
ABCey is excited to announce that we'll be co-producing Creating Equilibrium, an exclusive, invite only three-day innovation forum! The goal? Foster radical new approaches to solving critical environmental issues! The event will include a forum with tons of inspirational leaders, concerts, and an immersive festival to bring awareness and help unearth real-world solutions!
Creating Equilibrium's innovation forum is the ultimate way to stay informed and get involved in making a positive difference in the environment! 🌎♻️
Creating Equilibrium: The Visions Conference
Be a part of this revolutionary Visions Conference! This solution-focused conference will allow you to ask questions and learn from industry experts. You will also have the opportunity share your own ideas about how to increase sustainability and solve serious environmental problems! On Sunday, there will be a surprise "Hot Tub Time Machine" pool party w/ a very special celebrity guest among other fun surprises and water trivia.
Creating Equilibrium is an incubator for new and progressive ideas regarding the environment! If you're a part of a start up company with a concern for the environment, this is the perfect event for you! Apply now and be a part of this extraordinary experience!

The Village Green Festival
Enjoy fun entertainment and food as well as the beautiful scenery of Lake Tahoe during the Village Green Festival! Thisinnovative event is one that you don't want to miss!
The All Day Concert
Creating Equilibrium's concert will be featuring top performers like Dispatch, Allen Stone and so many others including their "secret stash."  You can have fun and feel good about doing it too! 🎤🎶🎵
Lake Tahoe is an incredible destination that is the perfect location to host this event! The natural beauty of the landscape with the crystal clear lake and the backdrop of enormous snowcapped mountains will make just about anyone want to save the environment! 🌞🌲🏔🏖
Don't miss out on this incredible opportunity to play your role in solving crucial environmental issues! Apply to get your Tickets now!
Will you be attending the Creating Equilibrium event? Let us know in the comments below or on Facebook and Twitter!
SaveSave
SaveSaveSaveSave
SaveSave
SaveSave
SaveSave
SaveSave
SaveSave
SaveSave
---