Startup Monday is ABCey's weekly post that showcases some of the best and most innovative startups based in the San Francisco Bay Area! These are often companies that we have our eye on or have worked with in the past. Today, we'd like to highlight Brandless!
Brandless
Brandless is an e-commerce company founded in San Francisco in 2015 that recently launched in July 2017. This startup focuses on being completely transparent with customers and bringing high quality products and healthy ingredients. They sell a variety of things, ranging from household items to beauty products to food! The best part? Each product is just $3!
It's simple. With the Brandless label, co-founders Tina Sharkey and Ido Leffler eliminated the "brand tax." This is the hidden cost of buying from a brand that drives up the prices of products.
Moreover, the product packaging consists of the company logo and descriptors, like kosher, organic, or gluten free. This simplifies the shopping process and provides transparency for the consumer. You also have the option to "B.more" and sign up to be a member, which includes benefits, such as free shipping.
Brandless and Feeding America
Also, when you sign up to "B.more," Brandless will donate the monetary equivalent of 10 meals to Feeding America. Brandless is partnered with Feeding America, the nation's leading domestic hunger relief organization, and with every purchase, a meal will be donated on your behalf to those facing hunger.
Why we love it!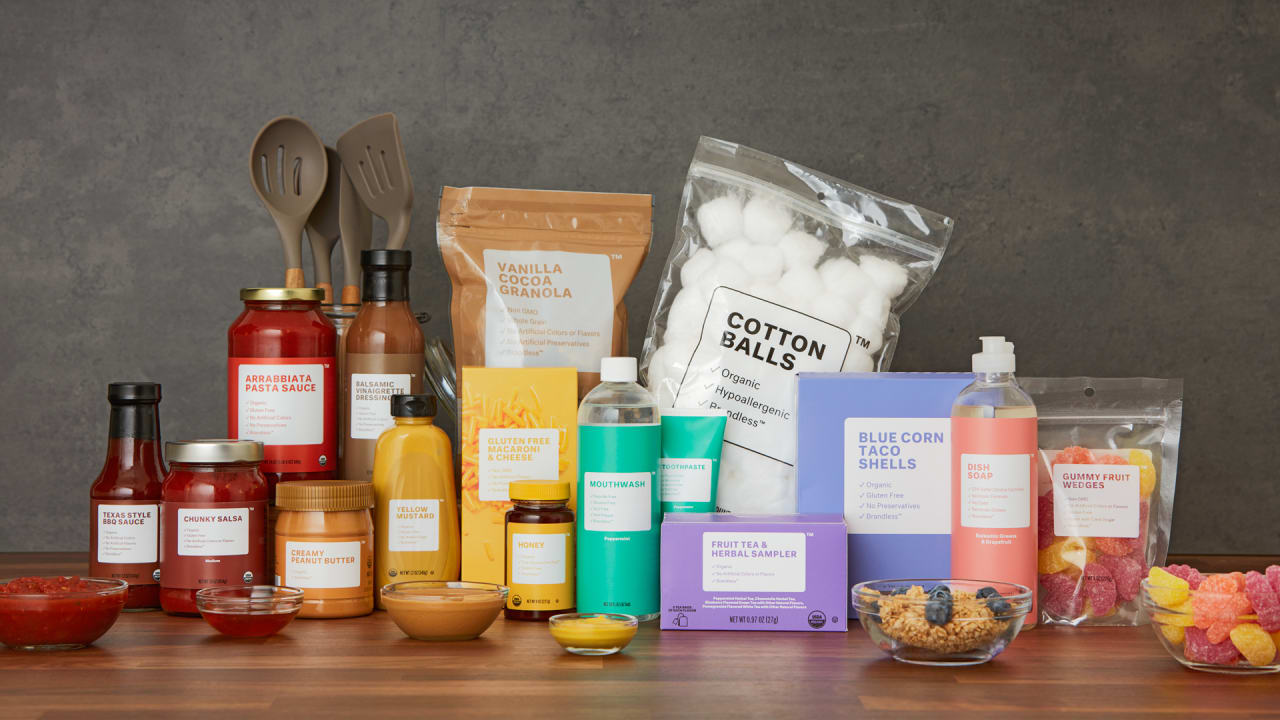 Brandless is very affordable and their products are health-conscious and environmentally friendly! Additionally, the company holds all their products to the highest standards. They also cater to what the community values most in their household items or in their foods. Furthermore, this startup dedicates itself leaving a positive impact on their community and the world.
Have you tried Brandless yet, or thinking about using it? Let us know in the comments below or on Facebook and Twitter.
---
Startup Monday is ABCey's weekly post that features some of the best and brightest companies in the Bay Area. They are often companies that we have our eye on, or have worked with in the past & would like to share with friends and followers of ABCey Events! 
---
Who doesn't love online shopping? At ABCey, we're loving Operator, a messaging app that helps you shop created by Uber cofounder Garrett Camp and former Zynga exec Robin Chan!  It combines the best parts of brick-and-mortar and online shopping. This app gives you the expert personal service you'd expect from an in-store employee. But, it doesn't lock you into shopping at just one physical location. Operator also offers the convenience of shopping from anywhere, anytime via your phone. Operator can even handle the heavy research you might want to skip or not be qualified to do. Afterwards, the annoying checkout experience is handled as well.
Operator Overview
It all starts with a message. Then, you're directly connected you to a network of shopping expertise that will find the best products. You can request almost anything and best of all, the service is free. Operator will take in mind price ranges, problem-related solutions, and even recommendations? Well, that's not what we usually hear nowadays when shopping online. The closest we get to getting recommendations when shopping alone online is through the reviews.
After deciding what you want, Operator also takes care of the billing process with no extra charges. Easily track your packages and ensure that your packages arrive! Also, if you need to return or exchange anything, message the Operator and they'll be there to help.
Start shopping anywhere and anytime! If you're planning on using this convenient shopping app, let us know in the comments below or on Facebook and Twitter.
---
Let's face it, whether your a mom on the go or working crazy hours at the office, it's not always easy to find the time to shop. But lucky for us we live in a world where technology loves to make our lives just a little bit easier, which bring us to a new era of shopping! Try on clothes at home, wear designer dresses at a fraction of the cost, get a personal stylist? It's all possible thanks to businesses like these:
Rent the Runway
Want a stunning dress to go with your next big event…without the issue of breaking the bank? Rent the Runway offers shoppers the chance to rent designer pieces, dresses, jewelry, and handbags at 10% off the retail cost! How it works is that you select the dress you like and have it shipped to your home (with an additional size at no cost!) You keep the items for a 4 to 8 day period with Rent the Runway also providing a hassle free return with prepaid, pre-addressed packaging.
Le Tote
Similar to Rent the Runway, Le Tote is a rental company for clothing, but instead of special event clothing Le Tote offers shoppers everyday rentable wear! Shoppers have access to unlimited rentals worth up to $1000 plus,  you're even able to keep the clothes as long as you like (similar to the concept of renting a Netflix DVD) for the cost of $49 a month.
Stitch Fix
Too busy to get he latest looks? Why not hire a personal stylist? Stitch Fix, a San Francisco based clothing retailer, mixes tech and fashion bringing five new items to your door with every order! How it works: Customers pay a $20 styling fee (applying to the cost of the items you keep) and fill out an online style profile, stylists will use customers' profiles as well as social media outlets like Facebook and Pinterest to find five items styled just for you! Once customers receive the items they have three days to try them and pick and choose their favorites.  

True&Co
Having trouble finding the perfect bra? True&Co can fix that! Similar to Stitch Fix, True&Co offers shoppers the opportunity to try on items without the commitment of keeping it. All you need to do is their 2 minute online quiz to determine your size, select styles you love, and then try it on! And don't worry, if it doesn't fit the first time True&Co works with you to help you find your perfect match!
Which of these shopping sites are you most excited about?! Share with us your thoughts in the comments below! Or on Facebook and Twitter
---
---