Tomorrow's the day we're all looking forward to: Friday! ABCey brings you this week's San Francisco Weekend Lineup with the top events happening in the Bay Area! If you don't have plans this weekend, we've got you covered from Star Wars at the Symphony Hall to a Burning Man trunk show!
July 20 | 6am – 9am | Prices range from $30.00 – $45.00 | San Francisco Belle, Hornblower
Usually, you may not be a morning person, but you're going to want to be one for Daybreaker SF! Get ready for an unforgettable time with crazy beats, amazing company, and tons of dancing! Being their 4th anniversary, their theme is "Come Sail Awake With Us" and they plan to entertain you all morning with activities like yoga, dancing, and face painting! It's one our favorites for the weekend, will we see you there?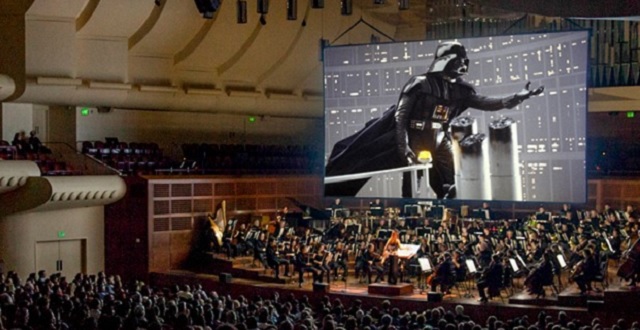 July 18 – August 3 | 7:30pm | Prices range from $75.00-$125.00 | Davies Symphony Hall
The SF Symphony summer concert series returns this weekend! If you love Star Wars, you're going to be ecstatic! The orchestra will play live scores from the original Star Wars trilogy with the films projected on stage! Talk about an unforgettable experience!
July 21 | 12:00pm – 6:00pm | Free admission | The Great Northern
Burning Man is coming up! Hope you're ready to begin shopping of your costume at the 12th Annual "Beyond the Fence" Trunk show! There will be over 30 local and independent designers selling unique costumes perfect for the desert getaway! Local DJs and cocktails will be available for you to enjoy while you take in inspiration on and off the Playa!

July 27-30 | 1:00pm – 10:00pm| Prices range from $20 and up, depending on donations | The Midway
In honor of Larry Harvey for starting Burning Man, we gather together to celebrate the passion he has created in others. This man dreamed of a world where creative minds can come together to cooperate and this vision led to the creation of Burning Man.
July 22 | 11:00am – 4:00pm | Free admission | Main Parade Ground
Rain or shine, the Presidio takes place on the Main Parade Ground. It features many vendors to get a taste of the diverse foods and cultures of the Bay Area and a free cultural dance performance on the fourth Sunday of each month! It will feature more than 25 international mobile food inventors, music for everyone, lawn games, yoga, and nature-based crafts for kids!
July 22 | 2pm | Free admission; First come, First Serve | Stern Grove
Since 1938, the SF Symphony returns every summer for an annual performance, and their return dates for this Sunday! If you're looking for a nice event to take your family or a relaxing day filled with beautiful music, we hope to see you there!
What does your San Francisco weekend lineup look like?
Which events will you be attending this weekend? We'd love to hear from you! Let us know in the comments below or on Facebook and Twitter!
---
It's almost Friday! ABCey brings you this week's Weekend Lineup with the top events in the Bay Area for the upcoming weekend! There is everything from kite festivals and yoga fests to picnics and music in the park! 
---
Weekend Lineup: Berkeley Kite Festival
July 29th-30th | 10am-6pm | Free Admission, Parking $15| Berkeley Marina, University Ave and Marina Blvd
Who said kites were only for kids?! Come fly your kite at the 32nd Annual Berkeley Kite Festival and West Coast Kite Championships. The event will also include music, food and hands-on activities for everyone to enjoy!
Yoga Fest
Saturday, July 29th | 10am-5pm | Free Admission | Sports Basement Berkeley, 2727 Milvia St, Berkeley, CA
The Yoga Fest in Berkeley is finally here! Join this event with your fellow yogis as there are 5 different classes to choose from. If you come join the relaxation and fun, you will have the opportunity to get 20% off at the Sports Basement store!
Music in the Park
Saturday, July 29th | 12pm-8pm| Free Admission | Mission Dolores Park, San Francisco, CA
Come party at Dolores Park while listening to live music from local musicians! Sit back, relax and have fun with your friends and family under the sun in the beautiful park of San Francisco!
Presidio Picnic
Sunday, July 30th | 11am-4pm | Free Admission| Main Post Lawn, 103 Montgomery St, San Francisco, CA
Who doesn't love food trucks?! Off The Grid at The Presidio is back for families to enjoy good food and fun activities! Even though there will be tasty food, there will also be free activities such as yoga classes, games and a photo booth!
---
What events will you be attending this weekend? Let us know in the comments below or on Facebook or Twitter! 
---
July is already upon us and it's almost the weekend! We hope you are just as excited as we are for Independence Day on Monday, and ABCey has you covered with all of your 4th of July events coming soon! Until then, make the most of your weekend and check out these fun Bay Area events!
---
Fri. July 1st – Mon. July 4th, 2016| 11am-11pm |prices vary| 4501 Pleasanton Ave. Pleasanton, CA
If you haven't gone to the fair yet, GO!  This fair is a must-see attraction for everyone!  For kids, there is a children's park, adventure park, petting zoo, ferris wheel, and carnival.  Adults can be entertained with horse races, a beer garden, a wine bar, shopping areas, and live concerts.  There are only 4 more days til' the fair is over, so come check it out before it's too late!

Sat July 2nd & Sun July 3rd, 2016 | 10am-6pm | FREE | Fillmore St.–Jackson to Eddy St, San Francisco
Enjoy two days of music, food, art, and fun at the Fillmore Jazz Festival!  This festival takes over more than 12 blocks and has every kind of food and craft imaginable.  With 32 years under its belt, this festival has become incredibly popular and the largest free jazz festival on the West Coast.  Join the other 100,000 people who attend this event and jazz up your weekend!
Sat. July 2nd, 2016 | 10am-12pm | FREE | Stow Lake, Golden Gate Park, San Francisco
Experience nature this weekend and take a guided tour through Golden Gate Park.  This guided tour is free and a perfect way to collect your thoughts while getting fit!  With your own personal tour guide, you can learn all about the park, plants, and wildlife.  So get out and enjoy the great outdoors with a nice stroll!
Sat. July 2nd, 2016 | 7:30pm | FREE, RSVP for Early Entry Tickets | AT&T Park; 24 Willie Mays Plaza, San Francisco
Mix things up this weekend by seeing a play…a free play!  This Saturday, the San Francisco Opera is hosting a live simulcast and projecting their current play, Carmen, on AT&T Park's huge video screen.  You will definitely be entertained by Carmen, a femme fatale play with jealousy, danger, love and murder.  Head out to the ball park to watch this captivating play and a special pre-show and intermission with the other 30,000 attendees!
Sun. July 3rd, 2016 | 11am-4pm | FREE | 103 Montgomery Street, Main Post, Presidio, San Francisco
This year, Off the Grid has revamped their picnic and food truck event held in Presidio Park. They now have over the 30 food and beverage trucks, free yoga classes, games, and music!  You can also get clothes and accessories at their mobile shop, produce from their market, and help planning your next activity in San Francisco.  There are also FREE shuttles, PresidiGo, that travel to Embarcadero BART, certain SF streets, MUNI, and around the park.  Don't miss the chance to relax on the grass field and enjoy great food and company!
Fri. July 1st, 2016 | 8:30pm – 10:00pm | FREE | McInnis Park: 310 Smith Ranch Road, San Rafael, CA
Because this weekend is so jam packed, we have one more event that will get you in the mood for July 4th! Friday at McInnis Park, park rangers will have yummy s'mores to eat right before you walk to the top of the Nike Site to watch the 9:30pm Marin County Fair fireworks show.  Fireworks are always fun especially with s'mores and tomorrow you can get both for free!
What are you planning on doing this weekend? Let us know in the comments below or on Facebook &  Twitter!
---
Whether your interested in a leisurely weekend of pumpkins and painting, or looking to have some fun with cocktails and a lunar eclipse, ABCey Events has got you covered! It's everybody's favorite topic of the week: ABCey's Weekend LineUp!
Off the Grid Presidio
Thursday, October 23th to Sunday, October 26th | 5PM – 9PM | Presidio Main Post Lawn | Free
Want a relaxing evening with friends, drinking beers and exploring new foods? The then Off the Grid: Presidio is the place to be. Kick back and enjoy the nice weather with lantern-lit dining cabanas, cabana style cocktail service, fire pits, and live music!
Eclipse Nightlife
Did you know there's a solar eclipse today? What better way to celebrate this natural marvel than in style with the  California Academy of Science's Nightlife. Enjoy some cocktails, solar eclipse DIY projects, live music, and much more at the California Academy of sciences, tonight!
Paint & Wine Party: Haunting Halloween
Friday, October 24th | 7PM – 10PM | Beyond Canvas Studio, the Mission | $50
Looking for a mellow Halloween gathering before the big event next week? Night enjoy a bit of paint and wine at the Beyond Canvas Studio in the Mission. Get a little tipsy while creating an easy to do (instructed) step by step ghoulish masterpiece!
DayDrink: A Comedy Brunch
Saturday, October 25th | 12PM – 3PM | Cafe Royale | $30
Want a side of comedy with those eggs?! Join Cafe Royale this weekend for a bunch of brunch favorites: bacon, eggs, and did we mention mimosas with the added bonus of some feel good stand up comedy!
Costume Party, Pumpkin Patch
Sunday, October 26th | All Day | Treasure Island| $3
Looking to get a little more mileage out of that Halloween costume this year? Why not stop by Treasure Island's monthly flea market with the added bonus of enjoying a pumpkin patch, vintage costume shopping, and did we mention 2 for 1 cocktails!
What will you be doing this weekend? Tell us about your plans in the comments below or on Facebook and Twitter!
---
Here at ABCey, we are always excited when the weekend comes around, and we're sure you are too!  There are some great events taking place all throughout the Bay Area, including music festivals and lots of food. No matter what you choose to do, it's sure to be a great time!
Featured Event: BottleRock Festival | Friday, May 30 – Sunday, June 1 | Napa Valley | This is the second year of this feature music festival in Napa Valley including 60 bands with tons of wine, food, and beer. The lineup is sure to please any type of music taste with favorites including Outkast, Eric Church, Matt and Kim, and more! Even if the music isn't enough for you, the signature local food will definitely draw your taste buds in. The food offerings range from sushi to barbecue, and everything in between.  Single and 3-day passes are still available for $279.
1. Off the Grid Twilight at the Presidio | Thursday, May 29th | 5-9pm | Main Post Lawn Presidio | Here is a great example of why we love the Bay Area! Off the Grid is a reoccurring event every Thursday until June 26th and is the perfect excuse to leave work a little early this week. This event is free to the public and includes lantern-lit cabanas, campfires complete with relaxing Adirondack chairs, and plenty of food trucks. Come out and relax with family and friends while listening to the free music and taking in a leisurely summer evening.
2. Start Up and Tech Mixer | Friday, May 30th | 5 – 10pm | W Hotel, SF | This event is a great chance to network with other individuals in the tech industry and create a shared network of ideas. We're very excited about the Start Up and Tech Mixer which will include a variety of speakers and areas for networking with other tech professionals. It's sure to be a great time with a wide range of participants, food and drinks, and professional development. The event keeps the best of what tech conferences offer to bring a unique tech event to the industry. 
3. Chocolate and Chalk Art Festival | Saturday, May 31st | 10am – 5pm |Gourmet Ghetto, Berkeley | This event is a chocolate lover's dream with the acclaimed Gourmet Ghetto supporting local business and art at the same time! Buy tickets for the variety of dessert offerings and then sample unique chocolate, which will include: goat cheese truffles, a variety brownies, Oreo shakes, Caribbean chocolate soup, and more. The chalk art portion will include a contest between contestants on the sidewalks and will add a fun interactive flare for the event attendees. We're jealous of all those that will make it out to Berkeley to sample these tasty chocolate dishes!
4. Live 105's BFD | Sunday, June 1st | 11 am | Shoreline Amphitheatre | We are excited about this Sunday's concert at Shoreline Amphitheatre for Live 105's 20th annual BFD concert! The lineup is unique with bands ranging from Foster the People and M.I.A. to Fitz and the Tantrums. This is sure to be a fun-filled day with live music and dancing to pass your Sunday.  Tickets are still available and range from $47 for grass seating to $285 center stage. Check out the lineup this Sunday!
5. Walking Distance Dance Festival | Friday, May 30 – Saturday, May 31 | Friday @ 7:30pm & Saturday @ 4pm | Locations Vary | Here is a unique chance to see dance performances outside the theatre! This weekend marks the start of the Walking Distance Dance Tour that will lead its participants throughout the Mission district watching a variety of top dance companies perform. It will be a distinct chance to view a variety of dance styles and blends of music. We're sure this will be a great way to gain a different perspective of the city with it's blend of dance, music, and architecture.
This weekend is guaranteed to be a great time with all these great events. The girls at ABCey want to hear what you will be up to! Let us know in the comments below or on Facebook and Twitter.
---
Can you believe it's already Thursday? That means we're only one day away from getting our weekend started. Let ABCey help you decide which event to attend. We've got everything from a roller skating DJ party to a pet costume contest!

1. Final 2013 Off the Grid Party & Masquerade | Friday, October 25 | 5pm – 10pm | Fort Mason Center | Embark on a mobile food adventure with 32 other food trucks at Fort Mason. It is the last one scheduled for this season, and they'll be celebrating it in style. So don't forget to bring your masquerade mask! The event is totally free, but don't forget cash for the food trucks. Also make sure you visit the witches bar and try some amazing Pumpkin Ale. Let us know how you like it!
2. Friday Night Outdoor Roller Skate DJ Party: "Midnight Rollers" | Friday, October 25 | 8:45pm | Ferry Building | If you're looking for a unique way to experience the night life around San Francisco, this is perfect for you! Skaters meet up outside the Ferry Building then go on an awesome 10 mile skate tour around the city. Some stops include Pier 39, Palace of Fine Arts and AT&T Park just to name a few. So come bring your skates and ditch your usual Friday night gym routine!
3. Noe Valley Harvest Festival | Saturday, October 26 | 10am – 5pm | 24th St. and Sanchez St. | It's a family affair at the 9th annual Noe Valley Harvest Festival! There will be non-stop entertainment for children and adults. They've got live bands playing all day. There will also be a pumpkin patch, a dog costume contest, dunk tanks and more. Make sure you stop by and bring the kids!
4. Wharf Fest 2013 | Saturday, October 26 |11am – 830pm | Fisherman's Wharf | Just because there's no fleet week this year, doesn't mean we can't have our own fun at the wharf! Enjoy a chowder competition, craft beer tasting, and a free screening of award winning film's from last year's San Francisco International Ocean Film Festival. Then top off your evening with an amazing fireworks show!
5. Pet Pride Day 2013 | Sunday, October 27 | 11am – 3pm | Golden Gate Park | Don't think costumes are only meant for humans! Come out to Golden Gate Park and take part in the pet costume contest. If you don't have a furry friend to dress-up, then maybe you can adopt one. There will also be a ton of pet vendors, as well as a pet trick competition. Come down and showcase your pet's best costume!

6. A special event, Evening of Hope | Saturday, October 26 | 6pm – 11pm | Metreon | This year featuring Heklina as our Misstress of Ceremonies, is San Francisco's must-attend fête complete with cocktails, culinary delights. There will be gorgeous models wearing fashion with a message – one-of-a-kind Condom Couture designed by local and national designers. They will also have an auction with great prizes, such as a classic San Francisco night at the Four Seasons, a chartered cruise on the Bay, and so much more!

Where do you plan to be this weekend? Sound off in our comments below or on Facebook or Twitter!
---