Are you trying to put on an event, but can't think of a theme? We know how challenging this can be, as themes can sometimes be overdone or cheesy.They can be a great way for your attendees to get involved, transform your event, and can help add structure to the décor and activities. At ABCey, we've compiled a list of our 5 favorite event themes to inspire you for your next event!
1. Tomorrowland
This theme is a fun one because you can decide to set the year in the future and make the event and décor to showcase how you see that playing out. This is a prime theme for incorporating cool technology as well. Consider having a video mapping dance crew, LED dance floor, or a VR game lounge!
2. Casino Night
Who doesn't love casino night? This theme never gets old! There are so many activities you can do with this theme to spice up your event. Try making a ball pit photo booth filled with poker chips, have LED hoop dancers, or an iPad magician!
3. Indulgence
Everyone will love a theme that involves everything they could ever want. Think of anything and everything you desire and make an activity or a station out of it at your event! A donut wall, puppy petting zoo, an edible photo booth, and a champagne bar are just a few fun examples!
4. Urban Graffiti
If you want to make your event have more of an urban cityscape feel, graffiti is a great idea for an event! You can hire graffiti artists, have a digital graffiti wall, and incorporate bold, block colors wherever possible to give that graffiti-feel!
5. Outside In
Bring the outside in and turn your venue into a secret garden! Consider using plenty of grass, foliage, and flowers, and hang plants around the space. Transform the indoors and make your guests feel like they're hanging out right outside. See one of our past blogs to find out why humans love feeling connected to nature and more tips on how to incorporate it into your events!
Which event themes will you use?
Can you think of any other fun and different themes? We'd love to hear from you! Let us know in the comments below or on Facebook or Twitter!
---
Humans love feeling connected to nature, and it can be very therapeutic too!  Well, there's a new emerging trend in the event industry that relies heavily on the bioliphic design concept. It also seeks to incorporate naturally designed spaces into your events. Read more to learn about the many benefits of nature-inspired events, both for the event planner and the attendees.
There are 4 Main Benefits of Nature-Based Design that have been scientifically proven. These include, improved well-being, improved productivity, enhanced creativity, and an increased likelihood of positive emotions. These all come from feeling connected to the outdoors, and all of them are helpful for event managers seeking to make their guests happy!
How to Do It
There are two key strategies to incorporating nature into your events:
Look for venues that naturally showcase the outdoors!
This could include outdoor terraces and balconies, views of the water, such as the ocean, lakes or pond, and abundant natural light through skylights and large windows. Green walls and water features, gardens and outdoor greenspace, or décor that uses natural materials, like wood and stone are also good options!
Bring the outdoors to an indoor venue! There are several ways to do this, such as:
Seeing nature:

You can accomplish this through digital signage and walls, backdrops, artwork, and murals that include elements of nature. Live herbal centerpieces, hedge rows, or an indoor garden, forest, or water feature can also give your guests a sense of being outside!
Hearing nature:

Events can get pretty loud and busy, so what's more desirable than a nice spot to get some peace and quiet? Start by selecting a location within the venue that's as quiet as possible. Offer speakers or headsets with natural sounds of running water, ocean waves, bird song, etc. that your attendees can listen to when they want to relax!
Feeling nature:

Textures like wood, sand, water, stone, and grass stimulate biophilic responses, so try to find a way to incorporate these into your event space! These materials could be used in onsite hubs, lounges, and exhibit booths, for example.
Smelling nature:

Even just the smell of the outdoors can connect people to the outside world. Try infusing your event space with natural scents using essential oils. By picking the right scent, you're sure to generate positive feelings among your guests!
What's one of your favorite nature inspired events?
How else have you seen nature incorporated in the events you've attended or planned? We'd love to hear from you! Let us know in the comments below or on Facebook and Twitter!
Source: Event Manager Blog
---
Tomorrow's the day we're all looking forward to: Friday! ABCey brings you this week's San Francisco Weekend Lineup with the top events happening in the Bay Area! If you don't have plans this weekend, we've got you covered from Star Wars at the Symphony Hall to a Burning Man trunk show!
July 20 | 6am – 9am | Prices range from $30.00 – $45.00 | San Francisco Belle, Hornblower
Usually, you may not be a morning person, but you're going to want to be one for Daybreaker SF! Get ready for an unforgettable time with crazy beats, amazing company, and tons of dancing! Being their 4th anniversary, their theme is "Come Sail Awake With Us" and they plan to entertain you all morning with activities like yoga, dancing, and face painting! It's one our favorites for the weekend, will we see you there?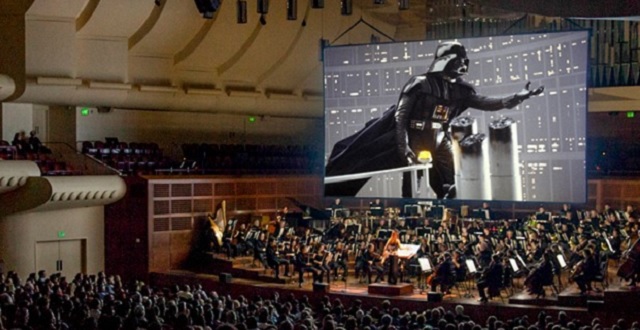 July 18 – August 3 | 7:30pm | Prices range from $75.00-$125.00 | Davies Symphony Hall
The SF Symphony summer concert series returns this weekend! If you love Star Wars, you're going to be ecstatic! The orchestra will play live scores from the original Star Wars trilogy with the films projected on stage! Talk about an unforgettable experience!
July 21 | 12:00pm – 6:00pm | Free admission | The Great Northern
Burning Man is coming up! Hope you're ready to begin shopping of your costume at the 12th Annual "Beyond the Fence" Trunk show! There will be over 30 local and independent designers selling unique costumes perfect for the desert getaway! Local DJs and cocktails will be available for you to enjoy while you take in inspiration on and off the Playa!

July 27-30 | 1:00pm – 10:00pm| Prices range from $20 and up, depending on donations | The Midway
In honor of Larry Harvey for starting Burning Man, we gather together to celebrate the passion he has created in others. This man dreamed of a world where creative minds can come together to cooperate and this vision led to the creation of Burning Man.
July 22 | 11:00am – 4:00pm | Free admission | Main Parade Ground
Rain or shine, the Presidio takes place on the Main Parade Ground. It features many vendors to get a taste of the diverse foods and cultures of the Bay Area and a free cultural dance performance on the fourth Sunday of each month! It will feature more than 25 international mobile food inventors, music for everyone, lawn games, yoga, and nature-based crafts for kids!
July 22 | 2pm | Free admission; First come, First Serve | Stern Grove
Since 1938, the SF Symphony returns every summer for an annual performance, and their return dates for this Sunday! If you're looking for a nice event to take your family or a relaxing day filled with beautiful music, we hope to see you there!
What does your San Francisco weekend lineup look like?
Which events will you be attending this weekend? We'd love to hear from you! Let us know in the comments below or on Facebook and Twitter!
---
Whether it's a small event, a huge conference, or a gala, purchasing or renting event decor can be very wasteful and pricey! ABCey has compiled a list of our favorite ideas for upcycled event decor!
1. Actual Trash (and yes, we mean it!)
Actual trash! You can use thrown-out trash and transform it into a banner of trash bags or a beautiful backdrop for your guests. This one was even from one of our events, Creating Equilibrium – an environmental conference and festival that focused on sustainability! Based on the theme, we designed a depiction of our oceans by upcycling thrown-out trash.
2. Wooden Pallets
Wooden pallets are one of the best things to upcycle! It effortlessly adds a natural element to your event and can be transformed into a multitude of things! You can stack them for a makeshift table, hang photos and lights from them, paint them to make signs, and so much more. All it takes is a little imagination..
3. Old Rope and Leftover Boards
With old and sturdy rope and a board, you can create a suspended tabletop for any outdoor event! Dress it up for an elegant party or add some party favors for your guests! If you want add a playful feel for any younger guests or those with young hearts, you can create a swing! It'll also become a great photo-op for people to remember your event.
4. Hula Hoop
Hula hoops don't just have to stay around your waist (and sometimes the floor)! With some flowers and greenery, you can completely change your old hula hoop into a chandelier! You can also use it to highlight a statement word you want your guests to remember even after they leave! Cheers!
5. Jars
Jars and bottles are an easy element to upcycle! If you add a little water, you can use them as a vase for florals. Also, you can make it into an activity for your guests with a little paint or twine to let them customize their own! If you are looking to illuminate your event, placing candles or lights inside a jar is a great way add a soft glow!
What is your favorite upcycled event decor?
All these projects can also become a great interactive activity for you and your guests. They're just as elegant and beautiful as store-bought event decorations. Which ones will you use?  Let us know in the comments below or on Facebook or Twitter!
---
ABCey is excited to announce that we'll be co-producing Creating Equilibrium, an exclusive, invite only three-day innovation forum! The goal? Foster radical new approaches to solving critical environmental issues! The event will include a forum with tons of inspirational leaders, concerts, and an immersive festival to bring awareness and help unearth real-world solutions!
Creating Equilibrium's innovation forum is the ultimate way to stay informed and get involved in making a positive difference in the environment! 🌎♻️
Creating Equilibrium: The Visions Conference
Be a part of this revolutionary Visions Conference! This solution-focused conference will allow you to ask questions and learn from industry experts. You will also have the opportunity share your own ideas about how to increase sustainability and solve serious environmental problems! On Sunday, there will be a surprise "Hot Tub Time Machine" pool party w/ a very special celebrity guest among other fun surprises and water trivia.
Creating Equilibrium is an incubator for new and progressive ideas regarding the environment! If you're a part of a start up company with a concern for the environment, this is the perfect event for you! Apply now and be a part of this extraordinary experience!

The Village Green Festival
Enjoy fun entertainment and food as well as the beautiful scenery of Lake Tahoe during the Village Green Festival! Thisinnovative event is one that you don't want to miss!
The All Day Concert
Creating Equilibrium's concert will be featuring top performers like Dispatch, Allen Stone and so many others including their "secret stash."  You can have fun and feel good about doing it too! 🎤🎶🎵
Lake Tahoe is an incredible destination that is the perfect location to host this event! The natural beauty of the landscape with the crystal clear lake and the backdrop of enormous snowcapped mountains will make just about anyone want to save the environment! 🌞🌲🏔🏖
Don't miss out on this incredible opportunity to play your role in solving crucial environmental issues! Apply to get your Tickets now!
Will you be attending the Creating Equilibrium event? Let us know in the comments below or on Facebook and Twitter!
SaveSave
SaveSaveSaveSave
SaveSave
SaveSave
SaveSave
SaveSave
SaveSave
SaveSave
---
July is already upon us and it's almost the weekend! We hope you are just as excited as we are for Independence Day on Monday, and ABCey has you covered with all of your 4th of July events coming soon! Until then, make the most of your weekend and check out these fun Bay Area events!
---
Fri. July 1st – Mon. July 4th, 2016| 11am-11pm |prices vary| 4501 Pleasanton Ave. Pleasanton, CA
If you haven't gone to the fair yet, GO!  This fair is a must-see attraction for everyone!  For kids, there is a children's park, adventure park, petting zoo, ferris wheel, and carnival.  Adults can be entertained with horse races, a beer garden, a wine bar, shopping areas, and live concerts.  There are only 4 more days til' the fair is over, so come check it out before it's too late!

Sat July 2nd & Sun July 3rd, 2016 | 10am-6pm | FREE | Fillmore St.–Jackson to Eddy St, San Francisco
Enjoy two days of music, food, art, and fun at the Fillmore Jazz Festival!  This festival takes over more than 12 blocks and has every kind of food and craft imaginable.  With 32 years under its belt, this festival has become incredibly popular and the largest free jazz festival on the West Coast.  Join the other 100,000 people who attend this event and jazz up your weekend!
Sat. July 2nd, 2016 | 10am-12pm | FREE | Stow Lake, Golden Gate Park, San Francisco
Experience nature this weekend and take a guided tour through Golden Gate Park.  This guided tour is free and a perfect way to collect your thoughts while getting fit!  With your own personal tour guide, you can learn all about the park, plants, and wildlife.  So get out and enjoy the great outdoors with a nice stroll!
Sat. July 2nd, 2016 | 7:30pm | FREE, RSVP for Early Entry Tickets | AT&T Park; 24 Willie Mays Plaza, San Francisco
Mix things up this weekend by seeing a play…a free play!  This Saturday, the San Francisco Opera is hosting a live simulcast and projecting their current play, Carmen, on AT&T Park's huge video screen.  You will definitely be entertained by Carmen, a femme fatale play with jealousy, danger, love and murder.  Head out to the ball park to watch this captivating play and a special pre-show and intermission with the other 30,000 attendees!
Sun. July 3rd, 2016 | 11am-4pm | FREE | 103 Montgomery Street, Main Post, Presidio, San Francisco
This year, Off the Grid has revamped their picnic and food truck event held in Presidio Park. They now have over the 30 food and beverage trucks, free yoga classes, games, and music!  You can also get clothes and accessories at their mobile shop, produce from their market, and help planning your next activity in San Francisco.  There are also FREE shuttles, PresidiGo, that travel to Embarcadero BART, certain SF streets, MUNI, and around the park.  Don't miss the chance to relax on the grass field and enjoy great food and company!
Fri. July 1st, 2016 | 8:30pm – 10:00pm | FREE | McInnis Park: 310 Smith Ranch Road, San Rafael, CA
Because this weekend is so jam packed, we have one more event that will get you in the mood for July 4th! Friday at McInnis Park, park rangers will have yummy s'mores to eat right before you walk to the top of the Nike Site to watch the 9:30pm Marin County Fair fireworks show.  Fireworks are always fun especially with s'mores and tomorrow you can get both for free!
What are you planning on doing this weekend? Let us know in the comments below or on Facebook &  Twitter!
---