The Fourth of July is less than a week away, and that means major party planning! ABCey has made a list of the perfect patriotic DIYs for your party. Get ready to party all day long!
1. Popsicle Cocktails
Keep your guests cool all day long with these delicious and refreshing popsicle cocktails! For the kids, substitute the bubbly for Sprite to make a cute little mocktail.
2. Manicure
Don't forget to treat yourself a little! Replicate this fun little confetti nail art or make your own design!
3. Red, White, and Blue Cheesecake Bars
Add a little color to your desserts! These red, white, and blue cheesecake bars are a sweet treat that everyone would enjoy!
4. Bandana Picnic Quilt
Whether you're throwing a picnic party or planning to gaze at the fireworks, this DIY picnic quilt is perfect. You can use old bandanas or any other cloth you may have laying around.
5. Patriotic Suncatcher
These little DIY suncatchers are a cute addition to any decor you may have! You can make it into an activity for kids or use them to catch your guests' attention as well!
6. Firework Sunglasses
Add a spark to your outfit. Wow everyone with these DIY firework sunglasses! Spend the Fourth of July watching the fireworks through your own!
7. Confetti Party Poppers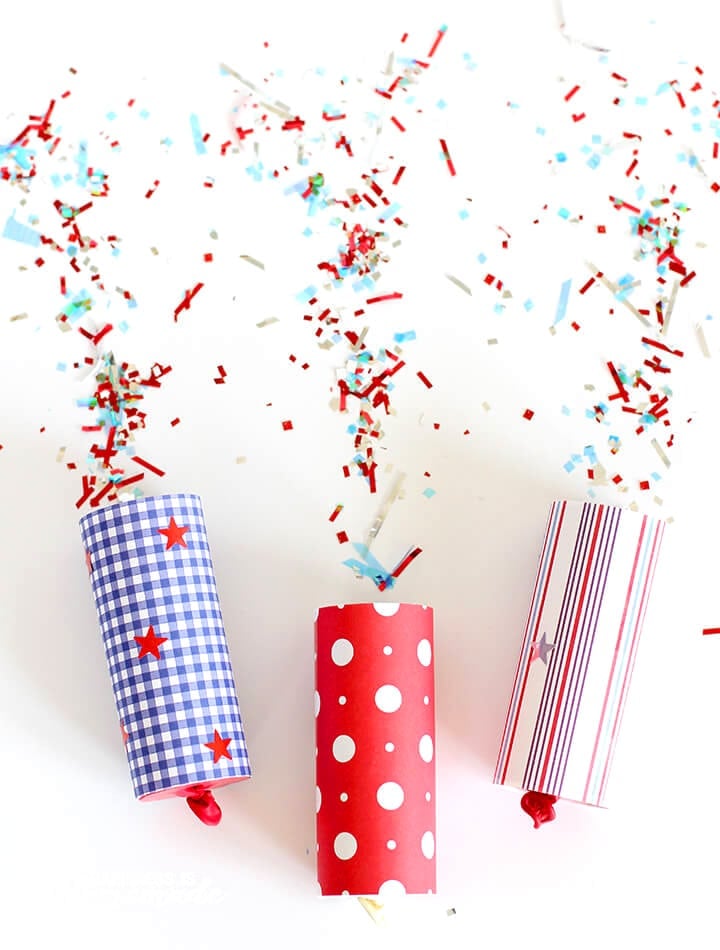 You can't celebrate the Fourth of July without some confetti! Make these easy DIY confetti party poppers to celebrate this patriotic holiday!
8. Star Spangled Shorts
This Fourth of July, you'll find the flag everywhere… even on yourself! Decorate your own shorts to sport our star-spangled banner!
9. DIY Chandelier
You definitely shouldn't be swinging from this chandelier, but it is something that your guests will absolutely adore!
10. Star Garland Backdrop
This star garland is multi-functional! If you're looking to create an amazing photo-op for your guests, hang a bunch side by side to make a starry background. There's also a traditional route you can opt for: hanging them for wall decor! Either way, it'll add a little twinkle to your party!
Will you use any of these simple and fun DIY decorations? Are there any that you made for the holidays? We'd love to hear from you! Let us know in the comments below or on Facebook and Twitter!
---
As we approach 2017's Fourth of July weekend, ABCey has made the ultimate check-list for your perfect patriotic party! Here are 10 of our favorite recipes, decorations, and party must-haves for your greatest Fourth of July yet! 
1. USA Rice Crispy Treats
Everyone loves a tasty treat at a party! These colorful rice crispy treats are perfect for your Fourth of July gathering! Plus they are great for all ages & the straws add a perfect touch! 
2. Festive Donuts
These patriotic donuts look too good to eat! The festive frosting is an easy add-on for the perfect dessert! 
3. Confetti Balloons
Next, instead of ordinary balloons, try these confetti filled balloons for a unique and sparkling touch to your event!
4. Star Spangled Sangria
Sangria is the perfect summer drink, so why not customize it for the Fourth of July! Add some colorful fruit to make your cocktail look & taste delicious!
5. LED Star Sunglasses
Light up the party with these great LED star sunglasses! They glow in red, white and blue colors and are perfect for night time when the fireworks are displayed! 
6. Perfect Utensil Holder
Here's a great way to display your table wear for this American holiday! Grab some patriotic-colored plastic forks and spoons to pair with these festive mason jars! 
7. Trendy Garland
Garland can be used for any holiday or event! Add some color around the house or outside with this red, white and blue tissue garland by Etsy. 
8. Fourth of July Fantastic Photo Booth
Grab some confetti & sparklers to set up an unforgettable photo booth for you & your guests! These DIY firework poppers are the perfect accessory for your event photos!  Find how to make them here. 
9. DIY Ring Toss
If you're having a backyard BBQ or party, this easy-to-make game is perfect! It's great for guests of all ages and super decorative for any backyard gathering! Here is how to make & create this festive game. 
10. Summer Smoothies
Cool down with some refreshing & heathy smoothies for this hot holiday! A great alternative for sangria for the youngsters under 21! Here is the link to some delicious smoothie recipes that are sure to get you in the Fourth of July spirit! 
__________________________________________________________________
How are you celebrating the Fourth of July? What did we miss? Let us know in the comments below or on our Facebook or Twitter! 
Sources: CoolGlow, Etsy, Brit + Co, Guest of a Guest, Country Living, Etsy, Tell Love and Party, Everyday Dishes, Brit + Co
---
From LED hula hoops to glowing cocktails to LED party gloves, ABCey has compiled a list of 10 glowing trends that bring you innovative ways to illuminate your future events!
---
1. LED Hula Hoops
Take your event to the next level with these LED hula hoops! Use them as a prop for your event performances, or as a decor to make your ideas and brand pop. We love SPinFX  for using advanced LED devices with customizable graphic displays, such as the Phoenix Hoop, to create a unique and innovative form of live performance art that will be sure to bring any ideas to life, and have your guests talking about it all night long!
2. Glowing Cocktails
Light up your next party with these glowing cocktails!  Just mix a bit of tonic water into your drink of choice, turn on the black lights, and watch your drink light up!  You can also use LED ice cubes that come in a variety of colors to impress your guests.
3. LED Dancing Suits
Amaze your guests with these colorful LED dancing suits! Not only will your live performances be incredibly eye-catching, but they will also continue to maintain your party's glow throughout the entire night.
4. Glow-In-The-Dark Hair
Promote your brand in style with glow-in-the-dark hair! This is a unique and creative way to display any desired images, words, or logos for the duration of your event!
5. Rainbow Slinkys
Add a futuristic yet whimsical element to your event by hanging rainbow colored glow-in-the-dark slinkys. This chaotic but creative approach will leave your event glowing brighter than ever!

6. Glowing Mason Jars
Repurposing mason jars is always a great DIY project, and is even better as a lighting decor project. With some fun glow paint, you can easily make these glowing mason jars and use them as centerpieces or lanterns!
7. Glowing Cotton Candy
Thinking of having a Pop Art themed party?  Give your guests a sweet and glowing treat by creating a wall of glowing cotton candy! Just serve them on a LED stick and you are set!
8. Neon Yarn
Let your artistic side glow at your next event by using neon colored yarn!  With just nails, yarn, and a hammer, you can create and showcase your own personal string art!
9. Glow-In-The-Dark Balloons
Change your daytime party decor into nighttime by reinventing the glow sticks! Simply put a glow stick in each balloon, and you're all set. Use these glow-in-the-dark balloons as string lights, pool decorations, or to add some color.

10. Glowing Accessories
Perk up your dance floor by handing out glowing accessories as party favors at your next event. From LED party gloves to LED shoelaces to LED ties, these accessories will make sure your guests glow wherever they go!
Which one of these glowing trends is your fave? Let us know in the comments below or on Facebook and on Twitter!
---
Summer is in the air, and the farmer's markets here in San Francisco are overflowing with beautiful flowers! With that in mind, ABCey thought it might be fun to get crafty and make some decorative vases. Since mason jars are quite popular right now, we decided to take it up a notch and add a unique gold-dipped edge, all gold, and an ombre to the mix with our jars. They were so fun to make that we wanted to share the results with you!  
MATERIALS:
Metallic Spray Paint (We used two different types of Gold – Krylon Metallic and Ace Hardware Metallic, the Krylon was our favorite, it's rose gold-ey and has great coverage)

Mason Jars

Water Based Paint

Paint Brush

Masking Tape
INSTRUCTIONS: 
1. First and foremost, put down lots of newspaper, preferably in a well ventilated space or outside — the spray paint gets messy.
2.  We started with all gold jars, which require an easy couple layers of spray paint, and you're left with a simple, elegant, golden mason jar. Stand at least 12″ away from the jar as you spray or it goes on too thick. A couple light coats is better than one thick coat.
3. To make only part of the jar colored, tear off a piece of masking tape and wrap it around the jar to mark the line where you want the color to end. 
4. Turn your jar upside down on the newspaper and spray your jar with spray paint above the tape line.  
5. Let it dry and apply another coat once it dries, but watch out for tricky drips if you apply a thick coat.  After the paint is dry, simply remove the tape. It is likely that some paint will have leaked under the tape. Just used a sharp object to scrap it off. It should come off easily.
6. The next step is a little trickier. We loved these gold dipped jars so much that we decided to try some other styles so we painted some of our half gold jars pink on top! We wanted blush colored spray paint to do the other half but they didn't sell blush colored spray paint, so we used paint and a paint brush. Make sure you use water based paint, it will come out more smoothy and make less of a mess.
7. We were able to do ombre with the paint and paint brush, an upside to not having that second color of spray paint! We took the pink color, applied it to an inch thick strip of the jar above the previously sprayed gold (make sure you do spray paint first, it dries faster and gives you a great guide for where to put the rest of your paint).
8. As you move up towards the mouth of the jar, make different batches of paint and add more white to each batch. We applied three batches and each was about an inch thick. The blending worked out really nicely because the paint dripped down after we were done. You can see that the blush pink gets lighter as you move upwards.

All in all, we're loving this look and this quick DIY. Hopefully we'll be doing a couple more in the near future! How did yours turn out? What did you use your painted jars for? Share you thoughts with us on  Facebook and Twitter or leave us a comment below!
---