Tomorrow's the day we're all looking forward to: Friday! ABCey brings you this week's San Francisco Weekend Lineup with the top events happening in the Bay Area! If you don't have plans this weekend, we've got you covered from Star Wars at the Symphony Hall to a Burning Man trunk show!
July 20 | 6am – 9am | Prices range from $30.00 – $45.00 | San Francisco Belle, Hornblower
Usually, you may not be a morning person, but you're going to want to be one for Daybreaker SF! Get ready for an unforgettable time with crazy beats, amazing company, and tons of dancing! Being their 4th anniversary, their theme is "Come Sail Awake With Us" and they plan to entertain you all morning with activities like yoga, dancing, and face painting! It's one our favorites for the weekend, will we see you there?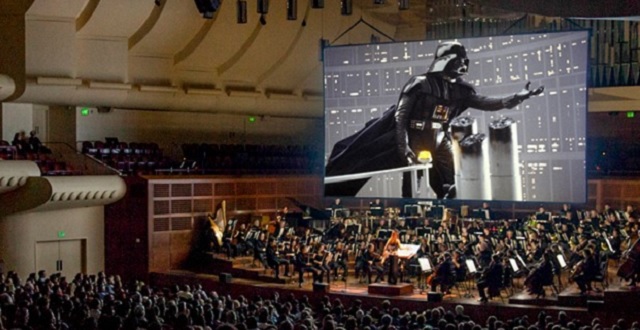 July 18 – August 3 | 7:30pm | Prices range from $75.00-$125.00 | Davies Symphony Hall
The SF Symphony summer concert series returns this weekend! If you love Star Wars, you're going to be ecstatic! The orchestra will play live scores from the original Star Wars trilogy with the films projected on stage! Talk about an unforgettable experience!
July 21 | 12:00pm – 6:00pm | Free admission | The Great Northern
Burning Man is coming up! Hope you're ready to begin shopping of your costume at the 12th Annual "Beyond the Fence" Trunk show! There will be over 30 local and independent designers selling unique costumes perfect for the desert getaway! Local DJs and cocktails will be available for you to enjoy while you take in inspiration on and off the Playa!

July 27-30 | 1:00pm – 10:00pm| Prices range from $20 and up, depending on donations | The Midway
In honor of Larry Harvey for starting Burning Man, we gather together to celebrate the passion he has created in others. This man dreamed of a world where creative minds can come together to cooperate and this vision led to the creation of Burning Man.
July 22 | 11:00am – 4:00pm | Free admission | Main Parade Ground
Rain or shine, the Presidio takes place on the Main Parade Ground. It features many vendors to get a taste of the diverse foods and cultures of the Bay Area and a free cultural dance performance on the fourth Sunday of each month! It will feature more than 25 international mobile food inventors, music for everyone, lawn games, yoga, and nature-based crafts for kids!
July 22 | 2pm | Free admission; First come, First Serve | Stern Grove
Since 1938, the SF Symphony returns every summer for an annual performance, and their return dates for this Sunday! If you're looking for a nice event to take your family or a relaxing day filled with beautiful music, we hope to see you there!
What does your San Francisco weekend lineup look like?
Which events will you be attending this weekend? We'd love to hear from you! Let us know in the comments below or on Facebook and Twitter!
---
With the weekend just around the corner, I hope you decide to trade in your business suit for some jeans and shades! The Bay area has been warming up, and it's the perfect weather to open up the windows and take a walk around the park. For this week's weekend lineup ABCey wanted to take advantage of the forecast and give you some great outdoor events to choose from!
---
---
Friday February 26th, 2016 | 5:00pm – 9:30pm |2460 Sutter St. | $12 Adults $8 Students (Seniors & Kids under 12 free)
If you're looking to travel the globe without the baggage fees, step out to Pacific Heights Friday night and experience a taste of Russia! The festival will host an array of events that are triggered to entice all senses. So if you're looking to indulge your tastebuds with some authentic Russian food or admire the art of traditional dance, this event is the place to be!
---
THE COMEDY ROAST OF DONALD TRUMP
---
Friday, February 26th, 2016 | 8pm | Pappy's, Berkeley | $10
One of the most debated candidates for this year's election has been nominated as the guest of honor for this month's comedy roast hosted by RoastSF! Mr. Trump will not be in attendance for this event, however, his impersonator is KNOWN for his class act impression, and will be severely roasted by 8 improv comics. Regardless if you love him or you hate him, it's no question that you won't have a hurt stomach from laughing at this event!
---
HOMELESS HOMES POP UP WORKSHOP
---
Saturday, February 27th, 2016 | 11am – 6pm | Nimby, Oakland | FREE
Want to make a difference in your community? Homelessness in The Bay area has been the topic of discussion, especially with the growing tents that are vacating the streets. This Saturday and Sunday, this pop up workshop is uniting people within the community to take a hands-on-approach by creating micro-homes for the homeless. Start off your Saturday the right way by giving back to those in need!
---
---
Saturday, February 27th, 2016 | 1pm-4 pm | Levi's Stadium, Santa Clara | $79-$125
For all of the bacon lovers (we know how many of you there are), this is an event you don't want to miss! Enjoy the VIP treatment of walking the field while enjoying a brew and a slice of bacon. Guests will be able to indulge in 50+ bacon infused dishes and proceed to wash them down with a choice of 100+ craft beers and cider samples, all of which are from some of the best local vendors and breweries! Enjoy games, some fun in the sun, and if you're feeling brave, sign up for the bacon eating contest, which is sure to leave you full for days!
---
MARDI GRAS CELEBRATION TREASURE ISLAND FLEA
---
Sunday, February 28th, 2016 | All Day | Great Lawn, Ave of the Palms, Treasure Island | $3
If you can't make it out to New Orleans this year to celebrate Mardi Gras, the Treasure Island Flea has the solution! This Sunday, local street musicians and New Orleans menus will be fused together to make this event come to life. Choose to shop from the 400+ curated vendors while trying a 2-fo-1 TI Flea Hurricane Cocktail as you watch the city transform, this is a great way to kick back and relax before Monday! 
---
A GATHERING OF ROYALS- ACADEMY OF FRIENDS 2016 GALA
---
Saturday, February 28th, 2016 | 5pm-10 pm | San Francisco Design Center, San Francisco | $225.39-&757.95
Are you planning to watch The Oscar's Sunday night? If so, and you're looking for a change of scenery, head down to the San Francisco Design Center for a great cause! Not only does this gala give you the opportunity to dress up as if you were at The Oscar's, but 100% of the proceeds are directed towards HIV/AIDS services in the Bay area. Enjoy complimentary food, wine, and champagne, and if you're feeling up to it keep partying at the after party at SF Oasis!
What event(s) are you placing on your calendar for this upcoming weekend? Let us know in the comments below or on Facebook and Twitter!
---