It's almost Friday! ABCey brings you this week's San Francisco Weekend Lineup with the top events happening in the Bay Area! We hope you have plenty of room on your schedule. We have things from Street Soccer USA to TreasureFest to Guaclandia!
July 27-29 | 3pm – 11pm | Free admission | Alameda County Fairgrounds, Pleasanton, CA
Bring all your friends! It's the first ever NorCal Night Market with with food, games, art, shopping, and performances at Alameda County Fairgrounds! It's the perfect place to find unique and amazing gifts for all your loved ones from crafts vendors or commission a special piece by a local artist at our Art Walk!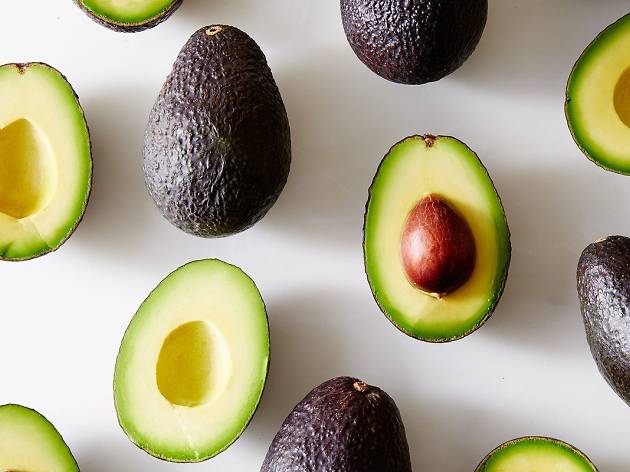 July 27-28 | Times vary by day | Free admission | SF Marathon Health & Fitness Expo, 2 Marina Boulevard
Love avocados? Express your love at Guaclandia! The makers of the WHOLLY GUACAMOLE® brand invite Bay Area residents to visit Guaclandia, its one-of-a-kind mobile exhibit dedicated to all things avocado. It'll be filled with Instagram-able photo ops paired with tons of guacamole on the side!
Saturday, July 28 | 11am – 2:30pm | Free admission | Waverly Place, San Francisco
Craving Chinatown is the first food festival in the Chinatown community! It will feature a selection of restaurants and foods that bring back memories of the San Francisco Chinatown community. Local Chinatown restaurants will feature unique dishes and snacks as well as food demonstrations! It'll be the perfect San Francisco weekend!
July 28-29 | 9am – 5pm | Free | Union Square, San Francisco
We're just as upset as you are that the World Cup ended! But not to fret, Street Soccer USA is coming to San Francisco! Teams from all ages and backgrounds will come together to share and to celebrate their diversity and passion for our city in our Social Impact, Corporate, and Open Cup competitions. Find your friends and cheer for your favorite team!
July 28-29 | 10am – 4pm | Cost: $5.00 | 500 Ave n, San Francisco, CA 94130
TreasureFest hosts 400+ local artists, makers, designers, antique collectors, under ground food start-ups, & more. Hope your bellies are empty and your dancing shoes are on because there are tons of food trucks and food tents with Hawaiian inspired dishes and local bands will be playing all day long! Also, the first 1000 each day get lei'd! (free leis).
Sunset Campout 2018
July 27-30 | Friday 12:00pm – Monday 9am | Cost: $205+ | Belden Town Resort, Belden CA 95915
Be prepared for a weekend full of amazing artists like  Solar, Galen and J-Bird, to get you pumped! There'll also be muralists and live painters, as well as art installations and interactive pieces. If you're ready for a weekend full of fun in the river, friends, art, music, and food, pack your bags!
What does your San Francisco weekend lineup look like?
Which events are you most excited about? Did you go to one and loved it? We'd love to hear from you! Let us know about it in the comments below or on Facebook or Twitter! We hope to see you there!
---
The Fourth of July is less than a week away, and that means major party planning! ABCey has made a list of the perfect patriotic DIYs for your party. Get ready to party all day long!
1. Popsicle Cocktails
Keep your guests cool all day long with these delicious and refreshing popsicle cocktails! For the kids, substitute the bubbly for Sprite to make a cute little mocktail.
2. Manicure
Don't forget to treat yourself a little! Replicate this fun little confetti nail art or make your own design!
3. Red, White, and Blue Cheesecake Bars
Add a little color to your desserts! These red, white, and blue cheesecake bars are a sweet treat that everyone would enjoy!
4. Bandana Picnic Quilt
Whether you're throwing a picnic party or planning to gaze at the fireworks, this DIY picnic quilt is perfect. You can use old bandanas or any other cloth you may have laying around.
5. Patriotic Suncatcher
These little DIY suncatchers are a cute addition to any decor you may have! You can make it into an activity for kids or use them to catch your guests' attention as well!
6. Firework Sunglasses
Add a spark to your outfit. Wow everyone with these DIY firework sunglasses! Spend the Fourth of July watching the fireworks through your own!
7. Confetti Party Poppers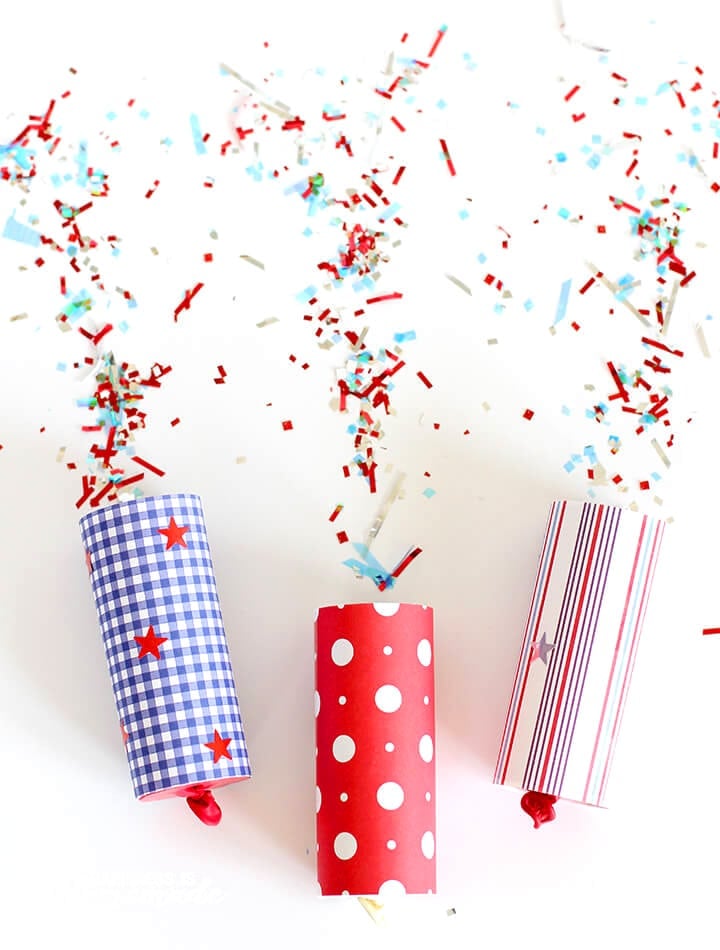 You can't celebrate the Fourth of July without some confetti! Make these easy DIY confetti party poppers to celebrate this patriotic holiday!
8. Star Spangled Shorts
This Fourth of July, you'll find the flag everywhere… even on yourself! Decorate your own shorts to sport our star-spangled banner!
9. DIY Chandelier
You definitely shouldn't be swinging from this chandelier, but it is something that your guests will absolutely adore!
10. Star Garland Backdrop
This star garland is multi-functional! If you're looking to create an amazing photo-op for your guests, hang a bunch side by side to make a starry background. There's also a traditional route you can opt for: hanging them for wall decor! Either way, it'll add a little twinkle to your party!
Will you use any of these simple and fun DIY decorations? Are there any that you made for the holidays? We'd love to hear from you! Let us know in the comments below or on Facebook and Twitter!
---
July 4th is here and it's time to celebrate!  There is lot's going on today, and we want to make sure you're in the know of the best Bay Area Events.  Look no further, ABCey has 5 exciting 4th of July events you definitely don't want to miss!
---
Mayor's Parade: 10am | Free | Starts at Lincoln & Park St. (route map and directions here) | *No Fireworks
South Shore Center's Festival: 3pm-5pm | Free | Alameda South Shore Center | *No Fireworks
Here are two events in one with a huge parade and a somewhat "official" after-party at the South Shore Center. With about 140 floats, 2,500 participants, horses, and dancers, Alameda Mayor's Forth Parade is one of the largest and longest Independence Day parades in the entire United States!  After this spectacle, keep the party going at the South Shore Center. There will be live music, pet animals, get henna tattoos, face paint, play games, participate in raffles and jump in the bouncy house!  There are also plenty of stores to shop at and places to eat, so come on out and enjoy this exciting parade and then head  on over to the post-parade party!
2. San Francisco: Pier 39 
Starting at 11am | Free | *Fireworks at 9:30pm for about 20min
Want to have a full day of celebration and be at a prime fireworks spot? Then go to SF Pier 39!  Spend the day at the pier shopping, eating, and going to the aquarium.  From 11am-5pm, you can check out exhibits west of the Entrance Plaza, then hear the band Tainted Love play your favorite 80's tunes.  Last, but not least, watch the extremely popular City and County of San Francisco's Fireworks Show at 9:30pm with the best 180 degree view from Pier 39.  
 
Noon – 10pm | Free, $15 vehicle parking | 201 University Ave, Berkeley | *Fireworks @ 9:35pm | info here
This festival will fill all your 4th of July celebration needs!  There is a main stage with music from noon until the fireworks show at 9:35pm and music at the food court from 2pm-8pm.  The Shorebird Park is part of this festival and has an Adventure Playground with Waterballs, a Bungee Trampoline, and another stage with magicians, jugglers, and more! If that isn't enough, throughout the marina there are great food trucks and booths as well as: carnival rides, kite flying, a giant slide, train rides, drumming sessions, dragon boat rowing rides, sumo soccer, nerf tag, a photo booth, face painting, crafts, pony rides, a petting zoo, AND their huge fireworks show!  With everything here, why wouldn't you come and enjoy the fun?
11 am-4pm | Free | Jack London Square | *No Fireworks 
Spend your July 4th afternoon at Jack London Square for loads of family fun! This festival offers musical performances, clowns and puppets, interactive activities, a petting zoo, face painting, fun crafts and delicious treats.  If you couldn't tell by the name, this event is also great for kids.  Although there aren't any fireworks, this festival ends early enough for you to go wherever you want after!
4pm – 11:59 pm | $7-$15; order early: $12; groups either $9 or $7 depending on size | info here |*No Fireworks
If you're in the patriotic celebratory mood and 21+, join in on this pub crawl.  Order tickets ahead of time, receive a discount with larger groups, check-in early, and get a discount on all of the pub crawl bars from 4pm – 12am.  There will also be an after party, so get yourself and your friends right on over for drinks and to celebrate Independence Day!
How are you celebrating this 4th of July?  Let us know in the comments below or on Facebook and  Twitter.
---
July is already upon us and it's almost the weekend! We hope you are just as excited as we are for Independence Day on Monday, and ABCey has you covered with all of your 4th of July events coming soon! Until then, make the most of your weekend and check out these fun Bay Area events!
---
Fri. July 1st – Mon. July 4th, 2016| 11am-11pm |prices vary| 4501 Pleasanton Ave. Pleasanton, CA
If you haven't gone to the fair yet, GO!  This fair is a must-see attraction for everyone!  For kids, there is a children's park, adventure park, petting zoo, ferris wheel, and carnival.  Adults can be entertained with horse races, a beer garden, a wine bar, shopping areas, and live concerts.  There are only 4 more days til' the fair is over, so come check it out before it's too late!

Sat July 2nd & Sun July 3rd, 2016 | 10am-6pm | FREE | Fillmore St.–Jackson to Eddy St, San Francisco
Enjoy two days of music, food, art, and fun at the Fillmore Jazz Festival!  This festival takes over more than 12 blocks and has every kind of food and craft imaginable.  With 32 years under its belt, this festival has become incredibly popular and the largest free jazz festival on the West Coast.  Join the other 100,000 people who attend this event and jazz up your weekend!
Sat. July 2nd, 2016 | 10am-12pm | FREE | Stow Lake, Golden Gate Park, San Francisco
Experience nature this weekend and take a guided tour through Golden Gate Park.  This guided tour is free and a perfect way to collect your thoughts while getting fit!  With your own personal tour guide, you can learn all about the park, plants, and wildlife.  So get out and enjoy the great outdoors with a nice stroll!
Sat. July 2nd, 2016 | 7:30pm | FREE, RSVP for Early Entry Tickets | AT&T Park; 24 Willie Mays Plaza, San Francisco
Mix things up this weekend by seeing a play…a free play!  This Saturday, the San Francisco Opera is hosting a live simulcast and projecting their current play, Carmen, on AT&T Park's huge video screen.  You will definitely be entertained by Carmen, a femme fatale play with jealousy, danger, love and murder.  Head out to the ball park to watch this captivating play and a special pre-show and intermission with the other 30,000 attendees!
Sun. July 3rd, 2016 | 11am-4pm | FREE | 103 Montgomery Street, Main Post, Presidio, San Francisco
This year, Off the Grid has revamped their picnic and food truck event held in Presidio Park. They now have over the 30 food and beverage trucks, free yoga classes, games, and music!  You can also get clothes and accessories at their mobile shop, produce from their market, and help planning your next activity in San Francisco.  There are also FREE shuttles, PresidiGo, that travel to Embarcadero BART, certain SF streets, MUNI, and around the park.  Don't miss the chance to relax on the grass field and enjoy great food and company!
Fri. July 1st, 2016 | 8:30pm – 10:00pm | FREE | McInnis Park: 310 Smith Ranch Road, San Rafael, CA
Because this weekend is so jam packed, we have one more event that will get you in the mood for July 4th! Friday at McInnis Park, park rangers will have yummy s'mores to eat right before you walk to the top of the Nike Site to watch the 9:30pm Marin County Fair fireworks show.  Fireworks are always fun especially with s'mores and tomorrow you can get both for free!
What are you planning on doing this weekend? Let us know in the comments below or on Facebook &  Twitter!
---