Tomorrow's the day we're all looking forward to: Friday! ABCey brings you this week's San Francisco Weekend Lineup with the top events happening in the Bay Area! If you don't have plans this weekend, we've got you covered from Star Wars at the Symphony Hall to a Burning Man trunk show!
July 20 | 6am – 9am | Prices range from $30.00 – $45.00 | San Francisco Belle, Hornblower
Usually, you may not be a morning person, but you're going to want to be one for Daybreaker SF! Get ready for an unforgettable time with crazy beats, amazing company, and tons of dancing! Being their 4th anniversary, their theme is "Come Sail Awake With Us" and they plan to entertain you all morning with activities like yoga, dancing, and face painting! It's one our favorites for the weekend, will we see you there?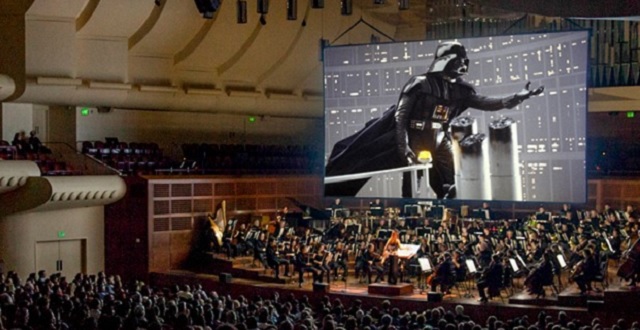 July 18 – August 3 | 7:30pm | Prices range from $75.00-$125.00 | Davies Symphony Hall
The SF Symphony summer concert series returns this weekend! If you love Star Wars, you're going to be ecstatic! The orchestra will play live scores from the original Star Wars trilogy with the films projected on stage! Talk about an unforgettable experience!
July 21 | 12:00pm – 6:00pm | Free admission | The Great Northern
Burning Man is coming up! Hope you're ready to begin shopping of your costume at the 12th Annual "Beyond the Fence" Trunk show! There will be over 30 local and independent designers selling unique costumes perfect for the desert getaway! Local DJs and cocktails will be available for you to enjoy while you take in inspiration on and off the Playa!

July 27-30 | 1:00pm – 10:00pm| Prices range from $20 and up, depending on donations | The Midway
In honor of Larry Harvey for starting Burning Man, we gather together to celebrate the passion he has created in others. This man dreamed of a world where creative minds can come together to cooperate and this vision led to the creation of Burning Man.
July 22 | 11:00am – 4:00pm | Free admission | Main Parade Ground
Rain or shine, the Presidio takes place on the Main Parade Ground. It features many vendors to get a taste of the diverse foods and cultures of the Bay Area and a free cultural dance performance on the fourth Sunday of each month! It will feature more than 25 international mobile food inventors, music for everyone, lawn games, yoga, and nature-based crafts for kids!
July 22 | 2pm | Free admission; First come, First Serve | Stern Grove
Since 1938, the SF Symphony returns every summer for an annual performance, and their return dates for this Sunday! If you're looking for a nice event to take your family or a relaxing day filled with beautiful music, we hope to see you there!
What does your San Francisco weekend lineup look like?
Which events will you be attending this weekend? We'd love to hear from you! Let us know in the comments below or on Facebook and Twitter!
---
July has flown by and it's time to start preparing ourselves for August! We can't believe how fast this month went by, and ABCey Events is here to help you make the most of the last weekend in July with a list of our fave SF Weekend Events going on!
---
Friday-Sunday, 7/29-7/31 | 6:30 pm | $75 |44 Tehama St. San Francisco 
Startup gurus- it's time to block out your calendars for this weekend's Entertainment for Social Change Startup Weekend! Bring your ideas from all different backgrounds, pitch  ideas, and create teams to develop solutions to  social issues. Some of Bay Area's top mentors will be in attendance to add guidance to you and your co-founders. Then, you and your team will pitch your ideas to judges over the course of 54- hours. Don't miss this incredible opportunity to network, connect and learn with talented influencers from around the Bay Area! This is your chance to be a part of/be the start of Silicon Valley's next big venture! You can register for this event here.
---
Saturday 7/30/16 | 11am- 9pm | $5 | 601 Mission Bay Boulevard North, San Francisco
Is there really a better way to celebrate the weekend than by consuming endless amounts of Mac and Cheese? This is one of those awesome SF weekend events that has a line up of amazing food! There are  over 10 mind blowing mac and cheese food trucks, ready to serve up deliciousness that will leave your taste buds amazed. Make sure to try as many as you can, as you will be able to vote for your fave! With only a $5 general admission,  you'll get free beer will be served as well as and free water all day long! Looking to make the most out of this event? Upgrade your ticket to the Big Cheese Passport for just $20 in advance ($25 at the door) and indulge in 4 heaping mac and cheese samples from any vendor! You don't want to miss out on this oh so cheesy event!
---
Sat-Sun, 7/30-7/31 | 10am-6pm | FREE | Cesar E. Chavez Park at the Berkeley Marina 
Nothing screams summer quite like kites!  The Berkeley Kite Festival this weekend allows fun for all ages (or something similar), so if you're thinking you are too old for kites…think again!  This festival features soaring kites the size of houses soaring in the sky, free kite flying lessons, and tons of great food and drinks to indulge in. This fun, free festival is the perfect way to spend your last weekend of July!
---
Friday, 7/29 | 9:30pm-1:30am | $15 | AURA NIGHTCLUB – 389 S. First Street, San Jose 
Ready for some all night colorful fun? Then this is the party for you!  This Color Splash event will be full of colorful paint blast, lasers, awesome lighting, confetti canons, and large visual LED panels. There will also be a live body painting showcase, plus go-go dancers in full body paint! Buy tickets to this one of a kind party here.
---
Friday 7/29 | 6pm-9pm | 1300 Potrero Avenue, San Francisco | $20 
Calling all SF wine lovers! This Friday, The Ivy Society and Three Day Rule are teaming up for one epic summer wine night at Eristavi Winery.  Unwind from your work week with this luxurious wine event where complimentary bread and cheese boards will also be served to help you fully enjoy the amazing wines.  Plus, this event is offering its very own Lyft code to ensure you get to and from the event safely! Use the code: LYFT2SUMMERWINE for 20% off your rides to and from the event. You can purchase tickets for the event here.
---
So grab your fav pals and enjoy these wonderful SF Weekend events together!
Going to any fun SF Weekend Events that we missed? Let us know in the comments below or on our Facebook and Twitter!
---