Startup Monday is ABCey's weekly post that showcases some of the best and most innovative startups based in the San Francisco Bay Area! These are often companies that we have our eye on or have worked with in the past. Today, we'd like to highlight Spoke!
Spoke
What is it?
Spoke is a workplace manager system that gives support teams within organizations a single place to manage employee requests. It includes ticketing, knowledge management, and self-service powered by artificial intelligence (A.I.). By allowing employees from different departments to communicate on a single platform, this system makes workplace management simpler and more efficient!
Why We Love It?
Spoke uses advanced technology to make work management faster and easier, and at ABCey, we love tech! This system allows companies to focus more on the work that's important to them. It helps employees get answers quickly, so they can continue doing their jobs well. Not to mention, it's extremely affordable with prices ranging from as little as $1/month-$3/month, depending on the type of plan you get. Now that's a steal!
How Does it Work?
Spoke uses chatbots, which automatically respond to employees' questions on Slack, email, SMS, and the web, so you don't have to respond to every single request! Its ticketing system is also organized and easy to use, unlike traditional ticketing systems, giving you everything you need to manage employee requests all in one place. Not only this, but Spoke's knowledge management base keeps tabs on all sorts of important information, no matter where it came from within the company. This way, you don't have to worry about keeping track of it all yourself!
Do you use Spoke? How do you like it? We'd love to hear from you! Let us know in the comments below or on Facebook or Twitter!
---
---
#TechTuesday highlights the best and brightest ideas in the tech world. ABCey would like to recognize these up and coming technologies for their innovative ideas and impact on the event world!
---
When configuring all the details while planning your next event, sometimes the "transportation" tab gets shuffled unintentionally to the wait-until-the-last-minute detail to arrange. However, if your event has VIP guests such as keynote speakers or sponsors, transportation becomes even more crucial to arrange asap. With the Teleport app, event planner and organizers now have a very simple and convenient way to chauffeur their VIP guests to and fro any event.
Teleport, in partnership with Uber, uses the ridesharing app to send an Uber ride to pick up guests and bring them to a location of your choice.
How it works:
You, the sender, will send a teleport request link to the person/guest of your choice. Once the receiver accepts the request, they will be directed to the web app where they will drop a pin to set their pickup location. They will then be able to see the ETA, a map to the final destination and all the driver's information (name, phone number and license plate number). The receiver doesn't need to have the Teleport app, Uber app, nor do they need to even have an iPhone.
Just like with Uber, the ride is paid for by the sender, so the receiver doesn't have to worry about payments when the car arrives. You can even choose which type of car to send, like an UberBLACK for those VIP guests.
And just like that, your VIP guests' transportation needs are taken care of; easy and hassle-free.
Why we love it:
Teleport streamlines communication. Unlike with the traditional Uber app, the sender no longer has to be the middle-man, communicating the details back and forth between the receiver and driver. Now you can make sure that your guests get to where they need to be, making it one less thing you have to worry about on the day of your event.
Plan to use the Teleport app for your next event? Let us know in the comments below or on Facebook and Twitter!
---
---
Startup Monday is ABCey's weekly post that features some of the best and brightest companies in the Bay Area. They are often companies that we have our eye on or have worked with in the past & would like to share with friends and followers of ABCey Events!
---
When it comes to the workplace, collaborating in a team is the norm. Although extremely beneficial, it requires continuous back and forth dialogue which can sometimes get a little hectic and disorganized when having to communicate through multiple online platforms. We're all about efficiency and productivity here at ABCey, so today we're highlighting Slack, a messenger app that is sure to improve your team communication, making it more simple and more efficient.
Channels:
Team Conversations are organized into Channels. You can create different channels for specific departments, groups or conversations. Public channels are open for all members of the team, allowing them to pop in at any time and join the conversation. Private channels are for confidential projects that can be viewed by invitation only.
Direct messages:
Need to communicate to someone directly? Use the direct message function to send private and secure messages.
File Sharing:
Working on an event proposal or drafting a contract? Documents, images, pdfs, spreadsheets can be uploaded into a particular channel and team members can view the document and make comments on it.
App Integration:
Need to access your twitter feed? You can streamline the tools and systems you already use by plugging app notifications into particular channels.
Search and Archive:
Everything in Slack is archived. You can search for specific conversations or even content within a particular document that was shared on a channel.
Device Syncing:
Sync the desktop app with your mobile phone and you'll always be connected to the conversation.
Slack is the perfect platform to organize your team communication and increase daily productivity. Planning on using this amazing app for your team? Let us know on Facebook or Twitter!
---
With the weekend just around the corner, I hope you decide to trade in your business suit for some jeans and shades! The Bay area has been warming up, and it's the perfect weather to open up the windows and take a walk around the park. For this week's weekend lineup ABCey wanted to take advantage of the forecast and give you some great outdoor events to choose from!
---
---
Friday February 26th, 2016 | 5:00pm – 9:30pm |2460 Sutter St. | $12 Adults $8 Students (Seniors & Kids under 12 free)
If you're looking to travel the globe without the baggage fees, step out to Pacific Heights Friday night and experience a taste of Russia! The festival will host an array of events that are triggered to entice all senses. So if you're looking to indulge your tastebuds with some authentic Russian food or admire the art of traditional dance, this event is the place to be!
---
THE COMEDY ROAST OF DONALD TRUMP
---
Friday, February 26th, 2016 | 8pm | Pappy's, Berkeley | $10
One of the most debated candidates for this year's election has been nominated as the guest of honor for this month's comedy roast hosted by RoastSF! Mr. Trump will not be in attendance for this event, however, his impersonator is KNOWN for his class act impression, and will be severely roasted by 8 improv comics. Regardless if you love him or you hate him, it's no question that you won't have a hurt stomach from laughing at this event!
---
HOMELESS HOMES POP UP WORKSHOP
---
Saturday, February 27th, 2016 | 11am – 6pm | Nimby, Oakland | FREE
Want to make a difference in your community? Homelessness in The Bay area has been the topic of discussion, especially with the growing tents that are vacating the streets. This Saturday and Sunday, this pop up workshop is uniting people within the community to take a hands-on-approach by creating micro-homes for the homeless. Start off your Saturday the right way by giving back to those in need!
---
---
Saturday, February 27th, 2016 | 1pm-4 pm | Levi's Stadium, Santa Clara | $79-$125
For all of the bacon lovers (we know how many of you there are), this is an event you don't want to miss! Enjoy the VIP treatment of walking the field while enjoying a brew and a slice of bacon. Guests will be able to indulge in 50+ bacon infused dishes and proceed to wash them down with a choice of 100+ craft beers and cider samples, all of which are from some of the best local vendors and breweries! Enjoy games, some fun in the sun, and if you're feeling brave, sign up for the bacon eating contest, which is sure to leave you full for days!
---
MARDI GRAS CELEBRATION TREASURE ISLAND FLEA
---
Sunday, February 28th, 2016 | All Day | Great Lawn, Ave of the Palms, Treasure Island | $3
If you can't make it out to New Orleans this year to celebrate Mardi Gras, the Treasure Island Flea has the solution! This Sunday, local street musicians and New Orleans menus will be fused together to make this event come to life. Choose to shop from the 400+ curated vendors while trying a 2-fo-1 TI Flea Hurricane Cocktail as you watch the city transform, this is a great way to kick back and relax before Monday! 
---
A GATHERING OF ROYALS- ACADEMY OF FRIENDS 2016 GALA
---
Saturday, February 28th, 2016 | 5pm-10 pm | San Francisco Design Center, San Francisco | $225.39-&757.95
Are you planning to watch The Oscar's Sunday night? If so, and you're looking for a change of scenery, head down to the San Francisco Design Center for a great cause! Not only does this gala give you the opportunity to dress up as if you were at The Oscar's, but 100% of the proceeds are directed towards HIV/AIDS services in the Bay area. Enjoy complimentary food, wine, and champagne, and if you're feeling up to it keep partying at the after party at SF Oasis!
What event(s) are you placing on your calendar for this upcoming weekend? Let us know in the comments below or on Facebook and Twitter!
---
Startup Monday is ABCey's weekly post that features some of the best and brightest companies in the Bay Area. They are often companies that we have our eye on or have worked with in the past & would like to share with friends and followers of ABCey Events!
IFTTT (pronounced like "gift" without the "g") is a San Francisco-based startup offering a service that lets you create connections with the simple phrase of: 
How IFTTT works: "Triggers" (the "this" part of the recipe) are the starting blocks for your connection. For example, a trigger could be: "I"m tagged in a photo on Facebook." The "Action" (the "that" part of the recipe) completes the connection and produces a result. A potential action to the Facebook photo trigger could be: "send me a text message." So the recipe would be, "If I'm tagged in a photo on Facebook, then send me a text message."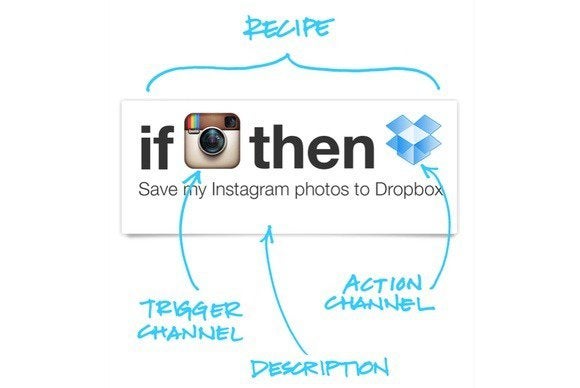 Why we love IFTTT: IFTTT makes our lives as event planners so much easier with the simple statement of "if this then that." Not only is the service so easy to use, but it allows us to make personal recipes regarding whichever channels we want! Whenever we receive a new email from a client, we can put it in the corresponding file or be notified via text message immediately. If we post a new blog, it can also be automatically posted on to our LinkedIn, Facebook, and Twitter accounts!
Would you IFTTT to help you plan your next event? Let us know in the comments below or on Facebook and Twitter.
---
The world of technology is constantly changing and is adding value to the event industry! Here at ABCey, we love to keep up on current startups and trends that can enhance the event experience for attendees. We did some digging to find 5 event startups that will engage your audience and make them active participants throughout your event.

1. Postano: Put your attendees in the spotlight and make them feel like social media rockstars through this unique platform! Bring your conversation to life at your next event by showcasing your attendees' social content, tweets and Instagrams on social media displays. Attendees can actively participate rather than simply listen and this will enrich their experience and create visibility for your event.
2. Catchbox: The world's first throwable microphone was created for audience engagement. It is a great way to get participants talking! Catchbox lowers the barrier for people to comment and present questions. The box comes in different bright colors and is easy to throw or pass from one audience member to the next, making participation easy and fun!
3. PowerVote:  Maximize the value of your event by engaging your audience, encouraging your participants, and encouraging their feedback. If you want your to gather information about your audience's opinion, PowerVote can instantly display voting results in an graphical format. Presentations can be directly streamed to the audience's mobile devices and people can vote or provide feedback in the moment.
4. Sopreso: Through this unique platform, your audience can ask, comment, and like your presentation live. Once you develop a presentation and run Sopreso on your laptop, the audience can connect to the presentation with their smart devices. Additionally, this platform extends the lifetime of your presentation! You can easily follow up on your leads, answer all questions, and keep the community alive.
5. TweetWall Pro: A TweetWall offers a great opportunity to interact with audiences. Rather than asking a few audience members questions, inspire all attendees to share their thoughts. People can ask questions on Twitter and get live responses. Interesting topics can quietly be discussed, and interaction is highly encouraged. Onlookers of TweetWalls find it difficult not to participate, inspiring engagement from all viewers. Post event reports allow you to follow up with attendees directly!
With so many advances in technology, passive audience participation is coming to an end. We love each of these startups, and Postano really stands out to us because you can see what people are saying about your event and what popular topics of interest are, as well as create visibility for your event! Which of these unique event startups would you use to engage your audience members? Let us know in the comments below or on Facebook and Twitter! 
---
---
Silicon Valley's biggest event of the year is finally here! Tonight, we find out which companies will win Tech Crunchies Awards.  Here at ABCey, we decided to dive into those nominated for Best Education Startup. We think each company in this category has made valuable contributions to changing the face of education. Let's take a look at the nominees!
  1. Code.org: This non-profit organization is committed to growing computer programming education. This startup believes every student in every school should have the opportunity to learn computer science, and the subject should be included in the core curriculum of U.S. education. Code.org's mission is to spread the word that there is a worldwide shortage of computer programmers, and that it is much easier to learn to program than you think. Online courses, brick + mortar schools, and summer camps can provide students with computer programming education! 
2. CreativeLIVE: The world's leading live, online classroom is designed for creative entrepreneurs. This startup is transforming the $100 billion continuing education market by offering complete access to the brightest teachers in the world via a social and interactive video platform. Anyone in the world can watch the live-streamed classes for free. Copies of the courses are available to purchase at any time. Since the company was founded in 2010, more than one million students from over 200 countries have utilized the platform, and popular classes have attracted more than 150,000 students! 
3. Duolingo: This free language learning service is fun and user-friendly! While you are learning a new language, the users help translate the web, completing sentences, and rating other users' translations. This startup offers courses in Spanish, French, Italian, German, and Portuguese! An independent study was conducted that proves Duolingo trumps university-level language learning. The app is also available for iPhones and Androids so you can be productive on the go! 
4. Khan Academy: A free world-class education is available for anyone anywhere. This educational non-profit produces a collection of free online micro lectures on various subjects such as mathematics, finance, physics, computer science, history, astronomy, economics, chemistry, and biology. Game mechanics are also incorporated to reward students with badges for reaching certain skill levels. Khan Academy's resources and materials are available to anyone and it is free of charge. Stats are available to track what you've been learning and whether or not you are hitting your goals. 
5. Treehouse: Affordable technology education is available for people everywhere! In order to help subscribers learn web design, development, and iOS development, Treehouse uses short videos, quizzes, and badges. The service comes at a cost of $29 to $49 dollars per month. You are guided each step of the way. To start, just hop onto a track. Tracks offer guided pathways through the content. Content is structured in a way that makes it quite simple for you to learn skills within a specific role. 
Technology is truly changing the dynamic of education and educational resources are readily available for professors and students with access to the web.  Each of these startups are helping people achieve their dreams. Which one do you think should win an award? Let us know in the comments  below or on Facebook and Twitter! 

---