---
---
It's almost Friday! ABCey brings you this week's San Francisco Weekend Lineup with the top events happening in the Bay Area! We hope you have plenty of room on your schedule. We have things from Street Soccer USA to TreasureFest to Guaclandia!
July 27-29 | 3pm – 11pm | Free admission | Alameda County Fairgrounds, Pleasanton, CA
Bring all your friends! It's the first ever NorCal Night Market with with food, games, art, shopping, and performances at Alameda County Fairgrounds! It's the perfect place to find unique and amazing gifts for all your loved ones from crafts vendors or commission a special piece by a local artist at our Art Walk!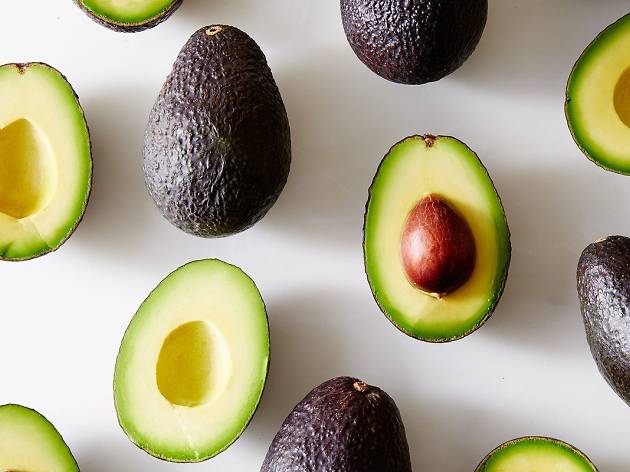 July 27-28 | Times vary by day | Free admission | SF Marathon Health & Fitness Expo, 2 Marina Boulevard
Love avocados? Express your love at Guaclandia! The makers of the WHOLLY GUACAMOLE® brand invite Bay Area residents to visit Guaclandia, its one-of-a-kind mobile exhibit dedicated to all things avocado. It'll be filled with Instagram-able photo ops paired with tons of guacamole on the side!
Saturday, July 28 | 11am – 2:30pm | Free admission | Waverly Place, San Francisco
Craving Chinatown is the first food festival in the Chinatown community! It will feature a selection of restaurants and foods that bring back memories of the San Francisco Chinatown community. Local Chinatown restaurants will feature unique dishes and snacks as well as food demonstrations! It'll be the perfect San Francisco weekend!
July 28-29 | 9am – 5pm | Free | Union Square, San Francisco
We're just as upset as you are that the World Cup ended! But not to fret, Street Soccer USA is coming to San Francisco! Teams from all ages and backgrounds will come together to share and to celebrate their diversity and passion for our city in our Social Impact, Corporate, and Open Cup competitions. Find your friends and cheer for your favorite team!
July 28-29 | 10am – 4pm | Cost: $5.00 | 500 Ave n, San Francisco, CA 94130
TreasureFest hosts 400+ local artists, makers, designers, antique collectors, under ground food start-ups, & more. Hope your bellies are empty and your dancing shoes are on because there are tons of food trucks and food tents with Hawaiian inspired dishes and local bands will be playing all day long! Also, the first 1000 each day get lei'd! (free leis).
Sunset Campout 2018
July 27-30 | Friday 12:00pm – Monday 9am | Cost: $205+ | Belden Town Resort, Belden CA 95915
Be prepared for a weekend full of amazing artists like  Solar, Galen and J-Bird, to get you pumped! There'll also be muralists and live painters, as well as art installations and interactive pieces. If you're ready for a weekend full of fun in the river, friends, art, music, and food, pack your bags!
What does your San Francisco weekend lineup look like?
Which events are you most excited about? Did you go to one and loved it? We'd love to hear from you! Let us know about it in the comments below or on Facebook or Twitter! We hope to see you there!
---
The Fourth of July is less than a week away, and that means major party planning! ABCey has made a list of the perfect patriotic DIYs for your party. Get ready to party all day long!
1. Popsicle Cocktails
Keep your guests cool all day long with these delicious and refreshing popsicle cocktails! For the kids, substitute the bubbly for Sprite to make a cute little mocktail.
2. Manicure
Don't forget to treat yourself a little! Replicate this fun little confetti nail art or make your own design!
3. Red, White, and Blue Cheesecake Bars
Add a little color to your desserts! These red, white, and blue cheesecake bars are a sweet treat that everyone would enjoy!
4. Bandana Picnic Quilt
Whether you're throwing a picnic party or planning to gaze at the fireworks, this DIY picnic quilt is perfect. You can use old bandanas or any other cloth you may have laying around.
5. Patriotic Suncatcher
These little DIY suncatchers are a cute addition to any decor you may have! You can make it into an activity for kids or use them to catch your guests' attention as well!
6. Firework Sunglasses
Add a spark to your outfit. Wow everyone with these DIY firework sunglasses! Spend the Fourth of July watching the fireworks through your own!
7. Confetti Party Poppers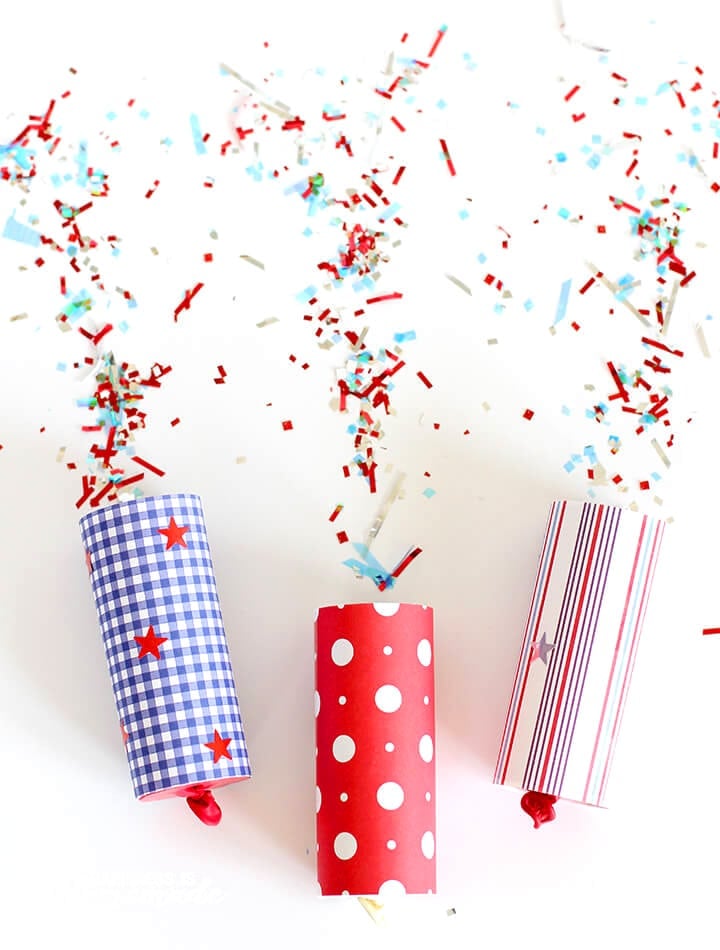 You can't celebrate the Fourth of July without some confetti! Make these easy DIY confetti party poppers to celebrate this patriotic holiday!
8. Star Spangled Shorts
This Fourth of July, you'll find the flag everywhere… even on yourself! Decorate your own shorts to sport our star-spangled banner!
9. DIY Chandelier
You definitely shouldn't be swinging from this chandelier, but it is something that your guests will absolutely adore!
10. Star Garland Backdrop
This star garland is multi-functional! If you're looking to create an amazing photo-op for your guests, hang a bunch side by side to make a starry background. There's also a traditional route you can opt for: hanging them for wall decor! Either way, it'll add a little twinkle to your party!
Will you use any of these simple and fun DIY decorations? Are there any that you made for the holidays? We'd love to hear from you! Let us know in the comments below or on Facebook and Twitter!
---
---
---
---
Here at ABCey, we like to keep up with all the latest tech trends. As Snapchat has arguably become the most popular social network among teens and millennials, we've caught on to the idea that it can be used for event marketing, to enhance guest experience, provide event messaging, and even promote your speakers or sponsors. Here are 10 ways to use Snapchat for your next event using geofilters, ads, lenses and more!
*A snapchat account is needed in order to post stories, chat, and send snapchats directly to users; we suggest your company uses an account at least for the duration of the event.
---
---
1. Pre-event Hype
From the very start, you can build up suspense by event marketing with Snapchat! Send invites to guests via snapchat to create important interaction with guests. Long before the event, keep your guests informed and excited by sending them snaps and posting about your event through the transformation of the venue, decor, or anything else that goes into the event prep!
2. BTS (Behind The Scenes)
Market your event by showing behind the scenes snaps on the event prep. From snapchats of swag bag prep, setting up guest registration, or watching the AV team set up an awesome projection mapping display, guests will be excited long before their arrival.

3. Speakers/Sponsors/Performers/VIP's
Are you bringing in speakers, sponsors, or VIP's? Follow in the footsteps of other event producers and let them take over your Snapchat to talk about the event and post snaps!
4. Live Updates
Engage with and update your guests! Utilize Snapchat by sending snaps and posting throughout the event when there's a speaker or performer. You can even use it to post info on the event/time changes, etc.  With this app you can bring event engagement to the next level!
---
5.  Thank you's
After the event, engage with attendees to solidify relationships built and keep the success of the event in their minds. Use Snapchat for post-event engagement with your guests by sending snaps to them personally,  messaging them, and posting on your event, and of course thanking them for attending!

6. Coupons, discount, or gift
One brilliant yogurt company let users send a snap of them with their product at their locations to the company's snapchat account, so that they could receive a reply snap with a coupon. You can do the same thing for an event, possibly for a product launch.  Just give users a discount on the event admission or a cool gift for buying the product!
---
7. Prizes for promoting
You can also give out prizes to people who use their Geofilter, and post the snap on Facebook or Instagram with the event or business hashtag. This can help promote your event through your attendees!
8. Ads: Lenses & Discover
Use lenses relating to your business or event to help with event promo's by reaching tons of users. Snapchat's Discover feature also has channels (ex: ESPN, Cosmopolitan, BuzzFeed) that create new content daily. Get your ad featured on a popular channel to help spread your content!
9. Snapchat Live Story
Snapchat's feature called Live Story is great for major sporting events or music festivals. This allows users in the vicinity to post to this story, and every snapchat user worldwide can view their snaps. If you are hosting a large enough event that gets OK-ed from Snapchat, Live Story can be an incredible tool. Over 100 million people use snapchat daily, so imagine what getting a live story can do!
10) On-Demand Geofilter
The On-Demand Geofilter  feature allows anyone to make a filter that users who are at a certain place can use, during a specific time range. Whether it's for the Oscars or for a birthday party, anyone can buy one, and they're cheap! Event promotion is enhanced as guests use the filter and post their story or send snaps.
Do you use Snapchat for your events? Let us know in the comments below or on Facebook and  Twitter.
---
The 4th of July is just around the corner, which means it's time for grilling out, chilling out, and celebrating one of the best days of the year! ABCey Events  has 5 easy DIY ideas to get you party ready for the upcoming holiday weekend.
---
Center Pieces
1) Center pieces are a necessity to make any great theme party shine. Nothing screams summer quite like a mason jar does, so these easy to make, adorable center pieces are sure to make your party sparkle for the 4th! Check out how to make them here.
_________________________________________________
2) Extra bottles laying around? We have your solution! This DIY is super easy and will no doubt give your 4th of July party the extra pop you've been looking for. Using wine bottles for a decoration? No complaints here! Be sure to find out how to make these adorable center pieces here.
_________________________________________________
Door Decor
3) Make sure that your guests feel welcome upon arrival with these festive wreaths to hang on your front door! These are inexpensive to make and only require 3 materials- talk about an ideal DIY! You can find out how to make these here.
_________________________________________________
4) Burlap wreath not your style? No worries- we've got back up options to make sure your guests are greeted in style at your front door. These awesome patriotic wreaths are easy to make and oh so chic! Don't miss out on this great door dec, find out to make these here.
---
4th of July Photo Backdrop
5) ABCey knows no party is complete without that perfect Instagram picture.  This simple DIY scrap flag is the ideal backdrop for guests to take photos at your 4th of July party!  What better way to celebrate the 4th than by taking fun, festive photos with your pals? Read more on how to make these here!
_________________________________________________
Wall Decor
6) Kites are a true symbol of summer time and can take anyone back to their childhood. This easy DIY kite garland is guaranteed to spruce up your wall space at your 4th of July get together! See here to find out how to make these kites the star of your party!
_________________________________________________
7) If you need to primp up those white walls before you host your 4th of July party this weekend, these will definitely do the trick! This American flag painted window is the extra festive touch you need to make sure your July 4th party is one to remember. Check out how to make these here!
_________________________________________________
Festive Table Decorations
8) Need some extra 4th of July table decor for your event?  These simplistic and festive signs add some patriotic pride to your upcoming independence day party! Find out to to make these here.
_________________________________________________
9) Nothing says festive fun quite like these darling red, white and blue inspired pin wheels! These are perfect for adding a little extra flare to your snack tables for the 4th. You can find out how to make these simple decorations here!
_________________________________________________
4th of July Luminaries
10) Light up your 4th of july party with these adorable patriotic luminaries! This DIY is super simple and uses recycled jars as the main material- easy and green! Don't miss out on the chance to illuminate your party, and find out how to do these here!
_________________________________________________
Will you use any of these fun and creative DIY's for your 4th of July party? ABCey wants to know your faves, or ones we missed! Let us know in the comments below or on Facebook and on Twitter.
---
---