Startup Monday is ABCey's weekly post that showcases some of the most innovative startups based in San Francisco! These are often companies that we have our eye on or have worked with in the past. This week, we are putting the spotlight on Loopd! 
Loopd is an event engagement platform aimed to make networking easier and to access to relevant marketing materials for your attendees, but it doesn't stop there! Loopd is a great tool that benefits event planners and booth staff, too! It allows you to track guest traffic information, view interaction history and follow up with attendees!
How does it work?
Loopd is able to provide information and promote engagement with two devices: Bluetooth beacons and chips located in lanyards! Beacons are placed around the venue and communicate with the chips around guests' necks to allow for location-tracking tools. For guests to share networking information, a simple tap between their badges can help exchange all needed information! Talk about convenient. To receive materials from any booth you visited at the event, a quick look to the app will give you access to all the fliers and promotions from the exhibitor! As event planners, you are able to track how successful your event is with real time analytics and to see what attracts the most guests.
Why we love Loopd!
Aside from the networking capabilities and analytics, Loopd also cuts down on check in and check out times! Event planners always find ways to cut down on waiting times to prevent boring guests, and Loopd is an amazing solution. With this technology, guests are able to cut down on their carbon footprint by networking through the badges instead of passing out business cards. Also, it eliminates the need for printed fliers since it can be shared through the app!
Have you had to opportunity to use Loopd or interested in trying it out? We'd love to hear from you! Let us know in the comments below or on Facebook and Twitter!
If you'd like to see other San Francisco startups we've featured before, click here.
---
---
#TechTuesday highlights the best and brightest ideas in the tech world. Today's #TechTuesday features the 10 best event organization apps to help you stay sane and organized as an event planner!
There's a new iphone / ipad app on the scene that is garnering a lot of buzz…and for good reason. Super Planner is an event industry app developed by Howard Givner, and is one of the most in-depth mobile tools on the market today.
It is a digital encyclopedia of industry calculators convenient enough to carry with you everywhere in your purse or pocket. Just as a good measuring tape, hotel directory, business calendar and frequent flyer miles are mainstays for the planner, so too should be the Super Planner.
This app acts as a personal assistant to help you stay on task with your planning. It includes integrated calendars, to-do lists, and notes. 24me keeps track of your tasks and schedules all in one place and sends you reminders for them so you don't forget. The app also reminds you about bills and other important information, as it connects to your financial institutions, service providers, and social networks. This app is especially great for smaller events!
Asana is a great way to keep everyone on your event planning team in the loop! It lets you assign tasks to different team members while keeping track of who's doing what. Asana gives you the ability to easily monitor what's getting done and who's getting it done.
Boomset helps speed up the registration process by allowing you to check people in using QR codes, print bases and create wristbands. It also integrates with other platforms you might already be using for your event, so it makes registration simple!
CamScanner basically transforms your phone into a scanner. It's great for digitalizing contracts, agreements, marketing material and other important documents you need to send to clients. It also has the ability to convert documents into PDFs. Now that's convenient!
Timebridge makes scheduling fast and simple! The app collects information about everyone's availability, takes into account preferences, and then automatically arranges a good meeting time. This is a great way to arrange meetings or even events with a lot of people without having to deal with the long back and forth of emailing!
This event organization app helps simplify communication between the event planner and the client. It allows you to create a card system detailing different sections of the project, so everyone knows what stage each part of the event is at. There's even a client review card so the client can approve the final step!
Sometimes it can be hard to find events you want to attend. Luckily, Eventgrabber can help! It matches people with the types of occasions they'll likely be interested in. They can look at the top events going on, see the most popular events with locals, and even order a taxi or an Uber to take them to the next party. As an event planner, this app is extremely useful for attracting guests who would genuinely be interested in your type of event!
This app essentially turns your smartphone into a walkie-talkie, making communication with your event staff easy! There's no need to hang on to multiple devices, and it prevents you from having to physically locate various members of your crew during the actual event!
Pingg is a great tool for running your events, as it lets you create invitations, guest lists, and thank you messages for your attendees all in one place! Not only this, but you can also add a gift registry, schedule reminders, and search for local services for your event as well. This handy app let's you keep all the little details of your event organized!
What event organization apps do you use to stay sane when planning events?
Event planning can be extremely stressful and overwhelming, and these tools are guaranteed to help simplify your job! Which apps you use? Are there any we missed? Let us know in the comments below or on Facebook and Twitter!
---
---
Startup Monday is ABCey's weekly post that showcases some of the best and most innovative startups based in the San Francisco Bay Area! These are often companies that we have our eye on or have worked with in the past. Today, we'd like to highlight Brandless!
Brandless
Brandless is an e-commerce company founded in San Francisco in 2015 that recently launched in July 2017. This startup focuses on being completely transparent with customers and bringing high quality products and healthy ingredients. They sell a variety of things, ranging from household items to beauty products to food! The best part? Each product is just $3!
It's simple. With the Brandless label, co-founders Tina Sharkey and Ido Leffler eliminated the "brand tax." This is the hidden cost of buying from a brand that drives up the prices of products.
Moreover, the product packaging consists of the company logo and descriptors, like kosher, organic, or gluten free. This simplifies the shopping process and provides transparency for the consumer. You also have the option to "B.more" and sign up to be a member, which includes benefits, such as free shipping.
Brandless and Feeding America
Also, when you sign up to "B.more," Brandless will donate the monetary equivalent of 10 meals to Feeding America. Brandless is partnered with Feeding America, the nation's leading domestic hunger relief organization, and with every purchase, a meal will be donated on your behalf to those facing hunger.
Why we love it!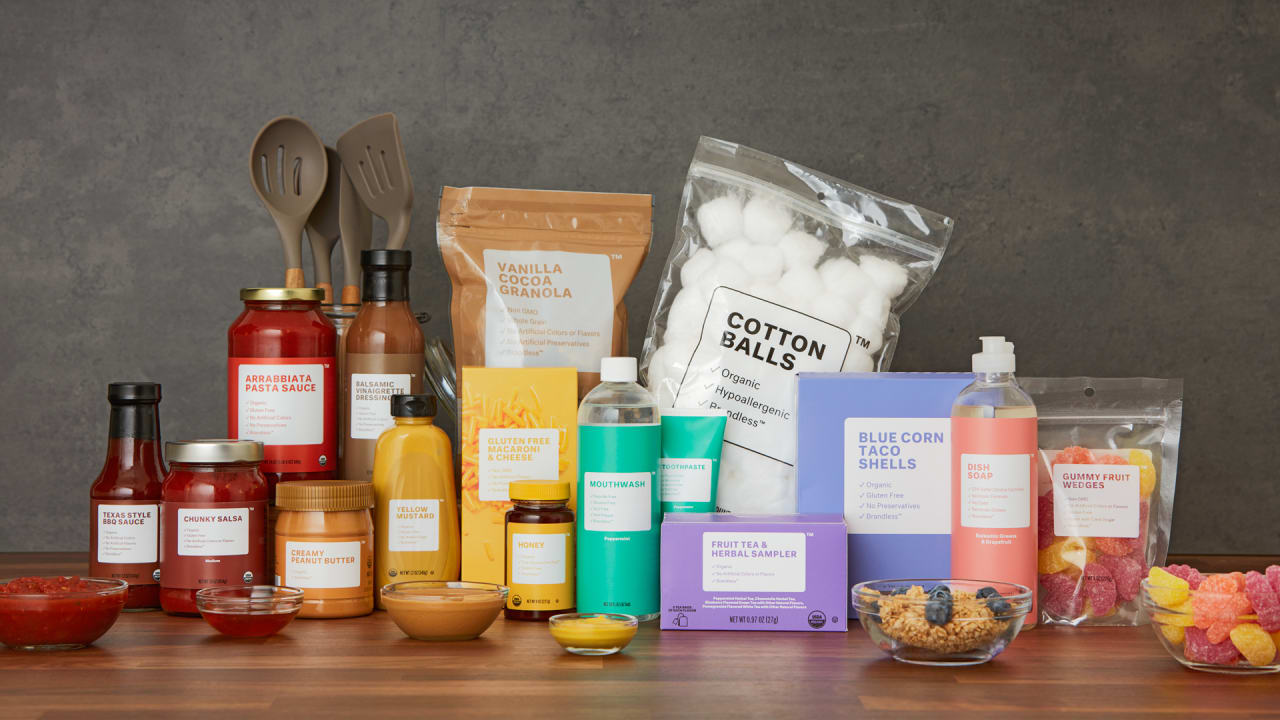 Brandless is very affordable and their products are health-conscious and environmentally friendly! Additionally, the company holds all their products to the highest standards. They also cater to what the community values most in their household items or in their foods. Furthermore, this startup dedicates itself leaving a positive impact on their community and the world.
Have you tried Brandless yet, or thinking about using it? Let us know in the comments below or on Facebook and Twitter.
---
---
#TechTuesday highlights the best and brightest ideas in the tech world.  Today's #TechTuesday, features Fly Another Day, a software that will ensure the highest event participation all within seconds!
---
Fly Another Day



Events profs ever wonder why attendance numbers are low? Fly Another day makes date selection easier by choosing ideal dates and locations that encourage participation. The software does this by analyzing potential issues that may affect the availability of your audience!
Fly Another day can be used for various events like business functions, product launches, marketing releases, or even private events!
We are always looking for innovative ways to make event planning more efficient for us and our clients. This software saves us a lot of stress as well as increasing participation for our clients!
---
Do you use Fly Another Day?  Let us know in the comments below or on Facebook and Twitter!
---
Tech Tuesday highlights the best and brightest ideas in the tech world. ABCey would like to recognize these up and coming companies for their innovative ideas and ability to think outside the box!
So many innovative ideas in the tech world come in the form of disruptive services, meaning they show up an existing service by presenting a better version. Think of them as tech life hacks!
1. PaperKarma | You can FINALLY stop getting catalogs from that weird store you bought from 5 years ago! With the PaperKarma app, just take a picture of the unwanted mail and they take care of the rest.
2. Sidecar | Ride-share companies connecting the car haves and have-nots are incredibly popular cab alternatives, but Sidecar is our favorite. It was born and raised in San Francisco, the cars are nice and the people friendly, and we've never had to wait more than 3 minutes for a ride! 
3. Fantastical | This event calendar for Mac lets users customize the language in their event details so it's easier for them to read. Plus, Fantastical recognizes the event's location and can invite your contacts to join you!
4. SwiftKey | It is so nice to stop saying, "damn you, autocorrect!" Swiftkey for Android, iPhone, and tablet learns how you type so it can better predict your next word. Their newest feature, Flow, allows the user to send messages by swiping their finger over the letters.
5. Sparrow | By incorporating Dropbox and drag-and-drop attachments into e-mail, Sparrow became the highest grossing app less than a day on the market! Since its acquisition by Google, we expect to see some awesome changes to our gmail mailbox!
6. Dark Sky | While you can never really trust the weather reports for the Bay Area, technology is getting close! Dark Sky tells you the weather report in your specific GPS location with up-to-the-minute accuracy.
7. Robin for Android | Watch out Siri, there's a new girl on the road! Navigating traffic can be tough, but Robin handles your social media, navigation, music, parking, and texting for you! Just tell her what you want with hands-free voice control and let her take on the tasks while you're at the wheel.
8. Camera + | This app makes Instagram's filters look like the dark ages! Unlike the iPhone camera, this app allows you to manage brightness, focus, and exposure with separate taps before you take your picture. The incredible editing features will turn your snaps into works of art!
9. Spotify |Instead of making the uncomfortable decision between buying every song on iTunes and stealing songs online, Spotify showed us a new way to enjoy music. Live streaming Spotify radio on your phone kills your battery but it's completely worth it!
10. Dropbox | The world breathed a collective sigh of relief when Dropbox freed us from flash-drives. Now, we can't imagine a time before sharing files wasn't as easy as clicking "upload" and "share!"
Do you use these apps? Tell us what you think of them and our list in the comments section or on Facebook and Twitter!
---