Tomorrow's the day we're all looking forward to: Friday! ABCey brings you this week's San Francisco Weekend Lineup with the top events happening in the Bay Area! If you don't have plans this weekend, we've got you covered from Star Wars at the Symphony Hall to a Burning Man trunk show!
July 20 | 6am – 9am | Prices range from $30.00 – $45.00 | San Francisco Belle, Hornblower
Usually, you may not be a morning person, but you're going to want to be one for Daybreaker SF! Get ready for an unforgettable time with crazy beats, amazing company, and tons of dancing! Being their 4th anniversary, their theme is "Come Sail Awake With Us" and they plan to entertain you all morning with activities like yoga, dancing, and face painting! It's one our favorites for the weekend, will we see you there?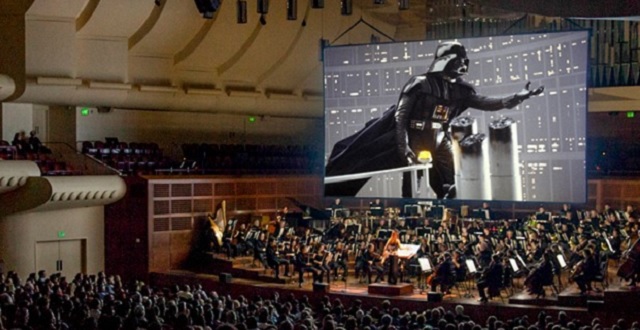 July 18 – August 3 | 7:30pm | Prices range from $75.00-$125.00 | Davies Symphony Hall
The SF Symphony summer concert series returns this weekend! If you love Star Wars, you're going to be ecstatic! The orchestra will play live scores from the original Star Wars trilogy with the films projected on stage! Talk about an unforgettable experience!
July 21 | 12:00pm – 6:00pm | Free admission | The Great Northern
Burning Man is coming up! Hope you're ready to begin shopping of your costume at the 12th Annual "Beyond the Fence" Trunk show! There will be over 30 local and independent designers selling unique costumes perfect for the desert getaway! Local DJs and cocktails will be available for you to enjoy while you take in inspiration on and off the Playa!

July 27-30 | 1:00pm – 10:00pm| Prices range from $20 and up, depending on donations | The Midway
In honor of Larry Harvey for starting Burning Man, we gather together to celebrate the passion he has created in others. This man dreamed of a world where creative minds can come together to cooperate and this vision led to the creation of Burning Man.
July 22 | 11:00am – 4:00pm | Free admission | Main Parade Ground
Rain or shine, the Presidio takes place on the Main Parade Ground. It features many vendors to get a taste of the diverse foods and cultures of the Bay Area and a free cultural dance performance on the fourth Sunday of each month! It will feature more than 25 international mobile food inventors, music for everyone, lawn games, yoga, and nature-based crafts for kids!
July 22 | 2pm | Free admission; First come, First Serve | Stern Grove
Since 1938, the SF Symphony returns every summer for an annual performance, and their return dates for this Sunday! If you're looking for a nice event to take your family or a relaxing day filled with beautiful music, we hope to see you there!
What does your San Francisco weekend lineup look like?
Which events will you be attending this weekend? We'd love to hear from you! Let us know in the comments below or on Facebook and Twitter!
---
It's Memorial Day Weekend and we can't wait to celebrate this great weather by attending some fun events this weekend! As usual, there are tons of awesome things going on in the Bay Area. At ABCey, we did some digging around and created a list of our top picks!
FEATURED EVENT: Lightning in a Bottle| Thursday, May 22 – May 26 | San Antonio Recreation Area (Bradley, CA)| All Day | The Do Lab's yearly campout festival has made its way up to Northern California, relocating from its previous home in Southern California. The event centers around electronic dance music, and incorporates elements of meditation, transformation, Chumash heritage and many yogis. The lineup includes Moby, Gold Panda, Phantogram, Gramatik, Little Dragon, and more. We wish we could make it down this weekend, but we're very jealous of those that are! Have fun kids! $260 for a full weekend pass.
1. San Francisco PopFest | Thursday – Sunday, May 22 – 25 | Various SF Venues | All Day | SF PopFest is an opportunity to enjoy some Indie Pop music nearby this weekend. Thursday night kicks off at the Knockout on Mission, and has other events for different ages at clubs throughout the city. The lineup sounds great, featuring The Mantles, Wimp, Fine Steps and many more. There is definitely something for everyone at this fun festival! $45 for a weekend pass.
2. Giraffe Meteor Shower | Friday May 23 | Bay Area | 10pm-12am | Studies predict this will be the most intense meteor shower in a decade! The meteors will radiate from the constellation Camelopardalis, and from 200 year old comet dust that the earth is set to pass through.  This beautiful spectacle should not be missed, so let's hope that we have clear skies this Friday night!
3. Carnaval Festival San Francisco | Saturday-Sunday, May 24-25 | Harrison Street between 16th and 24th | This festival turns Harrison street into a celebration of food, music, dance and art. The theme of the 36th Annual Carnaval SF is La Rumba de la Copa Mundial – Celebration of the World Cup – and international performances, an art car show and lots of soccer. On Sunday, there is a parade that starts on the corner of 24th and Bryant street. The event is free but donations are accepted!

4. 3rd Birthday Bash for The Treasure Island Flea Market| Saturday-Sunday, May 24-25 | The Great Lawn of Treasure Island | Funcheap SF is throwing a big birthday party for the SF monthly flea market. Each month the Treasure Island Flea Market featured hundreds of local vendors, outdoor exhibits, and food trucks. The bash is kicking it up a notch this weekend with live bands, clowns, stilt walkers, fortune tellers, face painters, artists and much more. Bring the family and pets out this Memorial Day weekend! $3 admission. 
5. San Francisco International Beer Festival | Saturday, May 24 | Fort Mason Center | 7pm-10pm | This year marks the 31st year of drinking beer for a good cause so head out and sample while contributing to the proud parents of Telegraph Hill Cooperative Nursery School. More than 100 brewers come out for great beer and an even better time. $75 general admission. 
6. Stompy + Sunset – Last Call | Sunday, May 25 | Cafe Cocomo |2pm-2am | Ending their 12 year run at the beloved Cafe Cocomo, Stompy + Sunset will host a special live event featuring regulars like Solar, J-Bird, Galen and bringing in special guest star Metro Area. Come out and kick off Summer in the sunshine to see the boys off. $20 cover.
7. 2014 Forbidden Island Luau | Sunday, May 25 | Forbidden Island Lounge, Alameda |2pm-10pm | It's time for the annual tropical bash in the Bay Area at Alameda's only Tiki Lounge. Enjoy award winning exotic cocktails, and decadent libations at this tropical paradise, while watching Hawai'ian cultural performances, fire dancing, and music. $5 cover. 
8. Food Wagon Fandango Music Festival |Sunday, May 25 | SOMA StEat Food Park Picnic | 2pm-10pm | Gear up for this local folk, blues and country music festival featuring Cello, Doug Blumer, Parlor Tricks and other talented bands. Food trucks are always a welcomed addition, especially if they serve barbecue so check out 12 of the Bay Area's top food trucks, and chase it down with beer and sangria specials all day! $5 admission.  
9. Burmese New Year Water Festival |Sunday, May 25 | Kennedy Park |10 am – 3 pm | Join the Bay Area Burmese community for a unique, colorful and fun celebration of Thingyan. The event will feature traditional dance performance, Burmese food, Burmese fashion and an area to play with water! We are lucky to have the chance to learn and  celebrate another culture! Free.
10. Memorial Day Beer Lunch Cruise | Monday, May 26 | Hornblower's Landing |12pm – 2pm | Enjoy a two hour BBQ lunch with champagne and beer this three day weekend, while taking in the sites from a cruise around the bay. A relaxing boat ride around the bay sounds like the perfect way to spend our day off! $73 per person.
There's so much great stuff to do this weekend, how will you choose!? Leave us a comment below or drop us a line on Facebook & Twitter. Tell us all about the amazing events you made it to this weekend!
---