Whether it's a small event, a huge conference, or a gala, purchasing or renting event decor can be very wasteful and pricey! ABCey has compiled a list of our favorite ideas for upcycled event decor!
1. Actual Trash (and yes, we mean it!)
Actual trash! You can use thrown-out trash and transform it into a banner of trash bags or a beautiful backdrop for your guests. This one was even from one of our events, Creating Equilibrium – an environmental conference and festival that focused on sustainability! Based on the theme, we designed a depiction of our oceans by upcycling thrown-out trash.
2. Wooden Pallets
Wooden pallets are one of the best things to upcycle! It effortlessly adds a natural element to your event and can be transformed into a multitude of things! You can stack them for a makeshift table, hang photos and lights from them, paint them to make signs, and so much more. All it takes is a little imagination..
3. Old Rope and Leftover Boards
With old and sturdy rope and a board, you can create a suspended tabletop for any outdoor event! Dress it up for an elegant party or add some party favors for your guests! If you want add a playful feel for any younger guests or those with young hearts, you can create a swing! It'll also become a great photo-op for people to remember your event.
4. Hula Hoop
Hula hoops don't just have to stay around your waist (and sometimes the floor)! With some flowers and greenery, you can completely change your old hula hoop into a chandelier! You can also use it to highlight a statement word you want your guests to remember even after they leave! Cheers!
5. Jars
Jars and bottles are an easy element to upcycle! If you add a little water, you can use them as a vase for florals. Also, you can make it into an activity for your guests with a little paint or twine to let them customize their own! If you are looking to illuminate your event, placing candles or lights inside a jar is a great way add a soft glow!
What is your favorite upcycled event decor?
All these projects can also become a great interactive activity for you and your guests. They're just as elegant and beautiful as store-bought event decorations. Which ones will you use?  Let us know in the comments below or on Facebook or Twitter!
---
The Fourth of July is less than a week away, and that means major party planning! ABCey has made a list of the perfect patriotic DIYs for your party. Get ready to party all day long!
1. Popsicle Cocktails
Keep your guests cool all day long with these delicious and refreshing popsicle cocktails! For the kids, substitute the bubbly for Sprite to make a cute little mocktail.
2. Manicure
Don't forget to treat yourself a little! Replicate this fun little confetti nail art or make your own design!
3. Red, White, and Blue Cheesecake Bars
Add a little color to your desserts! These red, white, and blue cheesecake bars are a sweet treat that everyone would enjoy!
4. Bandana Picnic Quilt
Whether you're throwing a picnic party or planning to gaze at the fireworks, this DIY picnic quilt is perfect. You can use old bandanas or any other cloth you may have laying around.
5. Patriotic Suncatcher
These little DIY suncatchers are a cute addition to any decor you may have! You can make it into an activity for kids or use them to catch your guests' attention as well!
6. Firework Sunglasses
Add a spark to your outfit. Wow everyone with these DIY firework sunglasses! Spend the Fourth of July watching the fireworks through your own!
7. Confetti Party Poppers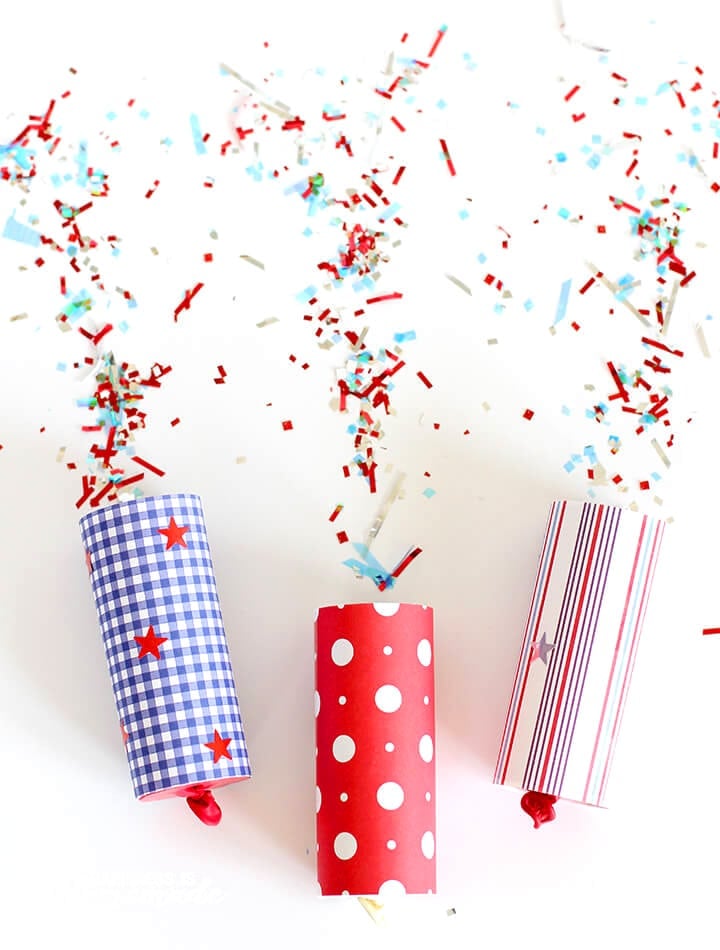 You can't celebrate the Fourth of July without some confetti! Make these easy DIY confetti party poppers to celebrate this patriotic holiday!
8. Star Spangled Shorts
This Fourth of July, you'll find the flag everywhere… even on yourself! Decorate your own shorts to sport our star-spangled banner!
9. DIY Chandelier
You definitely shouldn't be swinging from this chandelier, but it is something that your guests will absolutely adore!
10. Star Garland Backdrop
This star garland is multi-functional! If you're looking to create an amazing photo-op for your guests, hang a bunch side by side to make a starry background. There's also a traditional route you can opt for: hanging them for wall decor! Either way, it'll add a little twinkle to your party!
Will you use any of these simple and fun DIY decorations? Are there any that you made for the holidays? We'd love to hear from you! Let us know in the comments below or on Facebook and Twitter!
---
ABCey Events knows how important sustainability practices are- so here, green is the new black! We're sharing our top 5 favorite sustainability tips for you to try at your next event!
---
1) Go Mobile
It's time to ditch those age old paper programs at your next event and go mobile instead! Create an app for your event that will still provide all the same helpful info about your event, but is environmentally friendly. You're now sustainable AND showing people how tech savvy you are!  There are tons of websites to help create your own app, but our favorite is AppMachine!
---
2) Eliminate Waste
Forgo the paper plates and plastic utensils at your next event and try using chic reusable plates and silverware instead. Not only will you reduce the amount of waste produced, but it will also amp up the level of quality of your event! Not ready to bite the bullet yet in purchasing reusable china? Try out these eco friendly wooden options instead!
_____________________________________________________________________
3) Be Selective
It is important to remember that where you choose to host your event matters! Try to choose locations that are LEED certified with sustainability initiatives already in place. One of our favorite green venues in SF is The Hall, which provides all locally produced food and beverages! 
---
4) Consider The Timing Of Your Event
If possible, hold your event during the day to save on energy required by artificial lighting. If it's unavoidable, try using LED lighting instead- using LED lights can help reduce your carbon foot print up to 70%! Just because it's energy efficient lighting, doesn't mean it has to be boring. You can have almost all the same lighting effects using LED as you would with normal lighting, so there is no reason not to make the switch!
---
5) Sustainability in Spirits
As if you needed another reason to love happy hour… what if all your favorite drinks were now locally grown, organic, and made with seasonable products? Now they can be! By making a few simple changes, your happy hour just became a whole lot more sustainable. Add a whole new element to cocktail hour at your next event, and show your attendees how easy it is to go green!
Have any other ideas to make an event sustainable? Let us know in the comments below or on Facebook and on Twitter!
---
Startup Monday is ABCey's weekly post that features some of the best and brightest companies in the Bay Area. They are often companies that we have our eye on or have worked with in the past & would like to share with friends and followers of ABCey Events!
With the mission of "reinventing weeknight dinner!" Munchery provides for its followers not only affordable food delivered right to your door, but healthy food as well (and did we mention tasty!) Working in event planning we understand what it's like to live life on the go, being swamped with overflowing meeting and scheduling, planning out what's for dinner is usually just an after thought to an already stressful day. But with Munchery meals you get food that is good as well as convenient with an ever changing menu that is sure to rival your local chinese take out!
How it works: Every day a team of local chefs create a variety of handmade entrees and desserts, all you have to do is select an entree of your choosing and select a time for delivery between 5-9pm (and don't forget to tip your delivery driver).

Why we love it!: Not only does the Munchery provide it's customers with deliciously affordable meals but for every meal ordered a meal is donated! And not to mention that the business is green, using sustainable packaging with boxes made of renewable plant fibers.
Would you try out Munchery? Let us know in the comments below or on Facebook and Twitter!
---
Spring time is in full swing, and at ABCey we have the latest trends to keep your events fresh and in season! Here are our 5 favorite spring time event trends!
1. Mix and Match: From bold prints to textures, mixing and matching is a great way to brighten up your event decor and usher in the spring time! Try mixing white hot textures with bold animal prints, or even mix bold colors to brighten up any event!
2. Radiant Orchid: The pantone color of the year is a great spring time color. Play off the wonderful blooms of the season and bring this bright, floral color to all aspects of your event! Small or large doses of this beautiful orchid color is a beautiful and elegant way to bring a touch of spring time to any event!
3. Green Room: Bring the outdoors in! The biggest thing we noticed at SXSW? Indoor greenery. Connect your event to the outdoors by creating intimate gardens and brightening up your event space. We absolutely loved this wonderful green wall! Its a springy, beautiful way to blur the line between indoor and out!
4. Go Retro: From neon and geometric shapes to old fashioned, marquee signage theres no better way to freshen up a spring party than by bringing back retro! We love the old school typography and patterns that are making appearances everywhere! What's your favorite retro look?
5. Bold Florals: Go bold with florals this spring! Bright and structured florals are a must for this spring and summer. Take a page out of the runway looks and match stunning textured flowers with architectural, angular greenery and settings. It will surely be a statement piece for any occasion.
These fun, fresh trends are the perfect way to set your event apart from the rest! What's your favorite trend to excite your guests and ring in the spring with?! Let us know in the comments below or on Facebook and Twitter!
---
There is so much emphasis on being environmentally conscious nowadays, so ABCey has come up with a few tips on how to plan your next event while keeping the environment in mind. Here are a few of our favorite ideas to make your event that much more environmentally friendly! We challenge you to try at least one of these next time you have an event. We sure will! 
1. Use plants as favors! It's the gift that keeps on giving!
2. Design the menu according to the season and focus on locally grown food. (It usually tastes better anyway!)
3. Decorate with eco-friendly items. Try some dried flowers for a beautiful display! Check out Etsy for some beautiful, handmade options!
4. Shop your local antique store for vintage finds. Mismatched cups make for a fun atmosphere!
5. Collect pictures electronically by giving guests a hash tag for any pictures they post! You'll collect so many funny pictures from everyone's point of view!
What's your next event and how are you going to incorporate eco-conscious planning? Let us know with a comment or a tweet! Make sure to follow us on Pinterest and stay updated with ABCey for more fun party planning tips!
---