The Fourth of July is less than a week away, and that means major party planning! ABCey has made a list of the perfect patriotic DIYs for your party. Get ready to party all day long!
1. Popsicle Cocktails
Keep your guests cool all day long with these delicious and refreshing popsicle cocktails! For the kids, substitute the bubbly for Sprite to make a cute little mocktail.
2. Manicure
Don't forget to treat yourself a little! Replicate this fun little confetti nail art or make your own design!
3. Red, White, and Blue Cheesecake Bars
Add a little color to your desserts! These red, white, and blue cheesecake bars are a sweet treat that everyone would enjoy!
4. Bandana Picnic Quilt
Whether you're throwing a picnic party or planning to gaze at the fireworks, this DIY picnic quilt is perfect. You can use old bandanas or any other cloth you may have laying around.
5. Patriotic Suncatcher
These little DIY suncatchers are a cute addition to any decor you may have! You can make it into an activity for kids or use them to catch your guests' attention as well!
6. Firework Sunglasses
Add a spark to your outfit. Wow everyone with these DIY firework sunglasses! Spend the Fourth of July watching the fireworks through your own!
7. Confetti Party Poppers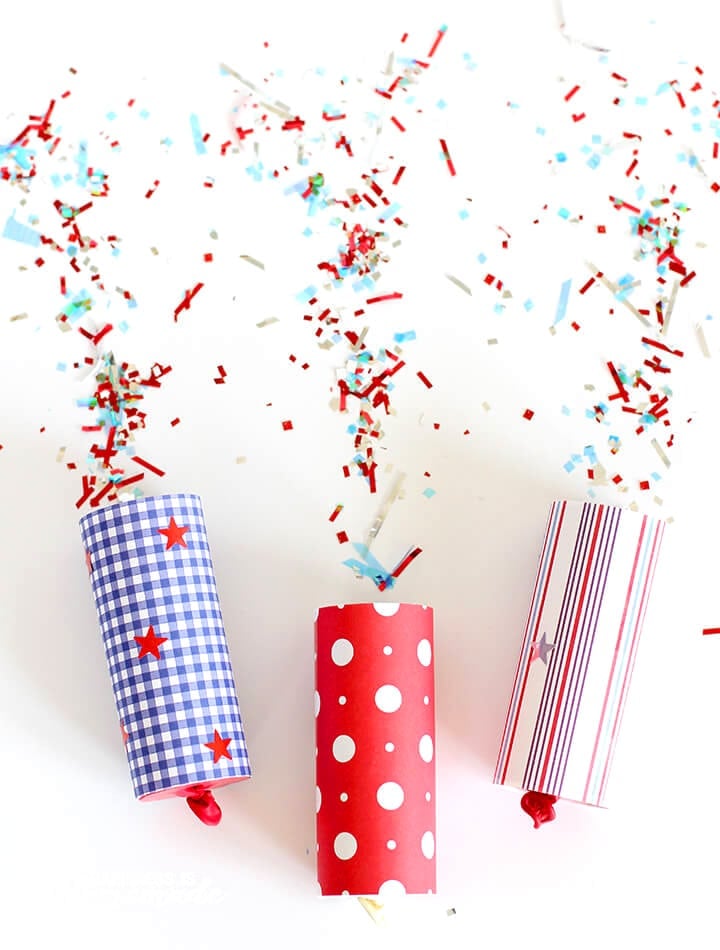 You can't celebrate the Fourth of July without some confetti! Make these easy DIY confetti party poppers to celebrate this patriotic holiday!
8. Star Spangled Shorts
This Fourth of July, you'll find the flag everywhere… even on yourself! Decorate your own shorts to sport our star-spangled banner!
9. DIY Chandelier
You definitely shouldn't be swinging from this chandelier, but it is something that your guests will absolutely adore!
10. Star Garland Backdrop
This star garland is multi-functional! If you're looking to create an amazing photo-op for your guests, hang a bunch side by side to make a starry background. There's also a traditional route you can opt for: hanging them for wall decor! Either way, it'll add a little twinkle to your party!
Will you use any of these simple and fun DIY decorations? Are there any that you made for the holidays? We'd love to hear from you! Let us know in the comments below or on Facebook and Twitter!
---
As we approach 2017's Fourth of July weekend, ABCey has made the ultimate check-list for your perfect patriotic party! Here are 10 of our favorite recipes, decorations, and party must-haves for your greatest Fourth of July yet! 
1. USA Rice Crispy Treats
Everyone loves a tasty treat at a party! These colorful rice crispy treats are perfect for your Fourth of July gathering! Plus they are great for all ages & the straws add a perfect touch! 
2. Festive Donuts
These patriotic donuts look too good to eat! The festive frosting is an easy add-on for the perfect dessert! 
3. Confetti Balloons
Next, instead of ordinary balloons, try these confetti filled balloons for a unique and sparkling touch to your event!
4. Star Spangled Sangria
Sangria is the perfect summer drink, so why not customize it for the Fourth of July! Add some colorful fruit to make your cocktail look & taste delicious!
5. LED Star Sunglasses
Light up the party with these great LED star sunglasses! They glow in red, white and blue colors and are perfect for night time when the fireworks are displayed! 
6. Perfect Utensil Holder
Here's a great way to display your table wear for this American holiday! Grab some patriotic-colored plastic forks and spoons to pair with these festive mason jars! 
7. Trendy Garland
Garland can be used for any holiday or event! Add some color around the house or outside with this red, white and blue tissue garland by Etsy. 
8. Fourth of July Fantastic Photo Booth
Grab some confetti & sparklers to set up an unforgettable photo booth for you & your guests! These DIY firework poppers are the perfect accessory for your event photos!  Find how to make them here. 
9. DIY Ring Toss
If you're having a backyard BBQ or party, this easy-to-make game is perfect! It's great for guests of all ages and super decorative for any backyard gathering! Here is how to make & create this festive game. 
10. Summer Smoothies
Cool down with some refreshing & heathy smoothies for this hot holiday! A great alternative for sangria for the youngsters under 21! Here is the link to some delicious smoothie recipes that are sure to get you in the Fourth of July spirit! 
__________________________________________________________________
How are you celebrating the Fourth of July? What did we miss? Let us know in the comments below or on our Facebook or Twitter! 
Sources: CoolGlow, Etsy, Brit + Co, Guest of a Guest, Country Living, Etsy, Tell Love and Party, Everyday Dishes, Brit + Co
---
---
Thought the dip-dye trend was dead? Think again! Dip-dying is a fun way to add color and creativity to your event without going too over the top. Not to mention, you just have to dip and dye! ABCey has gathered 10 different ideas for dip-dying for you to DIY;)
1. Tablecloths | Start your party right, by creating a tablecloth that is sure to please!
2. Napkins | Use plain napkins you have at home and spice them up with this ombre effect!
3. Napkin Rings | Add a pop of color to your table setting with cute napkin holders!
4. Place Cards | Lead guests to their seats by drawing them in with these fun place cards!
5. Tags | Giving a gift to your hostess? Make sure they know who it's from with these cute tags that pop!
6. Skewers | Make your food eye catching by placing it on ombre skewers!
7. Utensils | Let guests serve themselves with brightly colored utensils!
8. Invitations | Get your guests excited for your party with this dip dye teaser!
9. Garlands | This super simple garland is made with simple coffee filters and looks so fabulous! Who would have thought?!
10. Balloons | Turn ordinary balloons into the coolest decor by dipping them in sequins! So glitzy!
Which one is your favorite? What are you going to dip-dye next? Let us know in the comments below or on Facebook & Twitter! 
---
We all know that planning events can get costly, so why not save some $$$'s and make a few things on your own! Creating your own decor saves cash, gives the event a personal touch and is tons of fun! Here are a few of ABCey's favorite DIY's that you can try for your next event!
1. Glitter Letter Banner | Use these signs to direct guests to food or the event. They would look great for bride and groom chairs or your upcoming holiday party.
2. Outdoor Cabana | Outdoor events are always fun, but give your guests a beautiful place in the shade to hang out when it gets to warm.
3. Tissue Paper Flowers | A cheaper alternative to real flowers, these tissue paper flowers are super easy and look great at any party.
4. Glitter Mason Jars | Not only are these beautiful alone, but put a candle in them at night and the reflection they make is amazing.
5. Gilded Piñata Makeover | This piñata makeover is so simple and let's you have a piñata that fits your party theme.
6. Hand Dotted Tumblers | You can buy glasses at the dollar store and transform them for dirt cheap! These tumblers are a great addition to any party.
7. Tassel Garland | Not only do these look great at an event, but they also look great as a decoration at home. (Our's is above our desk!)
8. Coasters | Every event has some sort of beverage, so save your furniture by offering these natural coasters to guests.
9. Bottle Cap Candles | These candles burn a little over an hour, so they're a great quick fix for any party and look cute scattered about.
10. Squash Bowling | If you're having an outdoor event, keep guests entertained with this fun homemade game of bowling.
Which of these DIY's do you like best? Let us know which one's you'll try in the comments below or on Facebook and Twitter! Happy crafting!
---