The Fourth of July is less than a week away, and that means major party planning! ABCey has made a list of the perfect patriotic DIYs for your party. Get ready to party all day long!
1. Popsicle Cocktails
Keep your guests cool all day long with these delicious and refreshing popsicle cocktails! For the kids, substitute the bubbly for Sprite to make a cute little mocktail.
2. Manicure
Don't forget to treat yourself a little! Replicate this fun little confetti nail art or make your own design!
3. Red, White, and Blue Cheesecake Bars
Add a little color to your desserts! These red, white, and blue cheesecake bars are a sweet treat that everyone would enjoy!
4. Bandana Picnic Quilt
Whether you're throwing a picnic party or planning to gaze at the fireworks, this DIY picnic quilt is perfect. You can use old bandanas or any other cloth you may have laying around.
5. Patriotic Suncatcher
These little DIY suncatchers are a cute addition to any decor you may have! You can make it into an activity for kids or use them to catch your guests' attention as well!
6. Firework Sunglasses
Add a spark to your outfit. Wow everyone with these DIY firework sunglasses! Spend the Fourth of July watching the fireworks through your own!
7. Confetti Party Poppers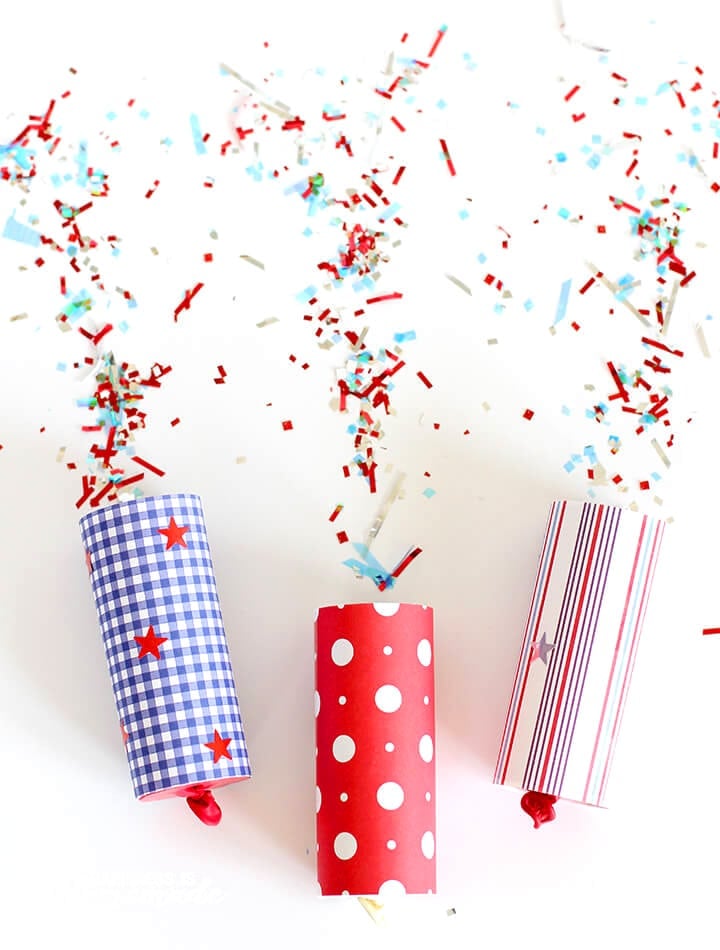 You can't celebrate the Fourth of July without some confetti! Make these easy DIY confetti party poppers to celebrate this patriotic holiday!
8. Star Spangled Shorts
This Fourth of July, you'll find the flag everywhere… even on yourself! Decorate your own shorts to sport our star-spangled banner!
9. DIY Chandelier
You definitely shouldn't be swinging from this chandelier, but it is something that your guests will absolutely adore!
10. Star Garland Backdrop
This star garland is multi-functional! If you're looking to create an amazing photo-op for your guests, hang a bunch side by side to make a starry background. There's also a traditional route you can opt for: hanging them for wall decor! Either way, it'll add a little twinkle to your party!
Will you use any of these simple and fun DIY decorations? Are there any that you made for the holidays? We'd love to hear from you! Let us know in the comments below or on Facebook and Twitter!
---
As we approach 2017's Fourth of July weekend, ABCey has made the ultimate check-list for your perfect patriotic party! Here are 10 of our favorite recipes, decorations, and party must-haves for your greatest Fourth of July yet! 
1. USA Rice Crispy Treats
Everyone loves a tasty treat at a party! These colorful rice crispy treats are perfect for your Fourth of July gathering! Plus they are great for all ages & the straws add a perfect touch! 
2. Festive Donuts
These patriotic donuts look too good to eat! The festive frosting is an easy add-on for the perfect dessert! 
3. Confetti Balloons
Next, instead of ordinary balloons, try these confetti filled balloons for a unique and sparkling touch to your event!
4. Star Spangled Sangria
Sangria is the perfect summer drink, so why not customize it for the Fourth of July! Add some colorful fruit to make your cocktail look & taste delicious!
5. LED Star Sunglasses
Light up the party with these great LED star sunglasses! They glow in red, white and blue colors and are perfect for night time when the fireworks are displayed! 
6. Perfect Utensil Holder
Here's a great way to display your table wear for this American holiday! Grab some patriotic-colored plastic forks and spoons to pair with these festive mason jars! 
7. Trendy Garland
Garland can be used for any holiday or event! Add some color around the house or outside with this red, white and blue tissue garland by Etsy. 
8. Fourth of July Fantastic Photo Booth
Grab some confetti & sparklers to set up an unforgettable photo booth for you & your guests! These DIY firework poppers are the perfect accessory for your event photos!  Find how to make them here. 
9. DIY Ring Toss
If you're having a backyard BBQ or party, this easy-to-make game is perfect! It's great for guests of all ages and super decorative for any backyard gathering! Here is how to make & create this festive game. 
10. Summer Smoothies
Cool down with some refreshing & heathy smoothies for this hot holiday! A great alternative for sangria for the youngsters under 21! Here is the link to some delicious smoothie recipes that are sure to get you in the Fourth of July spirit! 
__________________________________________________________________
How are you celebrating the Fourth of July? What did we miss? Let us know in the comments below or on our Facebook or Twitter! 
Sources: CoolGlow, Etsy, Brit + Co, Guest of a Guest, Country Living, Etsy, Tell Love and Party, Everyday Dishes, Brit + Co
---
Happy 238th birthday to the US of A! The Fourth of July 2014 falls on a Friday, meaning we have more time than ever to celebrate our glorious country with a long weekend. ABCey did a little digging for the best events in the bay area this weekend, and we hope you like what we found. We can't wait for the skies over San Franciscoto light up with amazingly brilliant fireworks!
Featured Event: 2014 Fourth of July at PIER 39 | Friday July 4th |12pm-12am| Pier 39| PIER 39 celebrates the fourth with fun for the whole family, featuring live entertainment by Mobility from the USAF Band of the Golden West and Tainted Love. The night finishes off with Fireworks at 9:30pm! Many companies offer cruises out onto the bay, but they are subject to availability so get your tickets early! There's also so much Fourth of July energy in the Embarcadero neighborhood, so this event is the place to be! We can't wait to see the Bay light up with spectacular color while celebrating with friends and family!
1. SF Giants versus St. Louis Cardinals | Thursday, July 3 | 12:45 pm | AT&T Park| What's a better way to celebrate America than by jumpstarting the long weekend with America's favourite pastime. This game marks the end of the three game series between the Giants and the Cardinals and is sure to impress….cause "its, one, two , three strikes you're out at the old ball game!" Sit back and relax in your black and orange and watch the SF Giants take victory! Tickets start at $15.
2. 4th of July Party at the Parlor | Friday, July 4 |2pm – 2am| The Parlor | The Parlor hosts an all day party, followed by a night of great views of the SF fireworks show and live music from DJs Jason Everett and Tom Thump Spinning Top 40, Hip-Hop, Party Rock and Electronic Dance Music from 8pm-2am. The Parlor is the newest lounge and nightclub in San Francisco's North Beach waterfront, they give this advice, "The Parlor says "If you're interested in seeing the fireworks, this would be a great place to come to early, have a drink, use the bathroom, and have a place to roost before and after the fireworks while the other 200,000 in the area are hours from home and forced to pee in the bushes!" We're sold!
3. IndepenDANCE Day by Heart Phoenix | Friday, July 4 |9:30pm – 4am| Mighty Nightclub | Rock you Independence Day with an all-star lineup through 3 sound areas in at this hidden gem of a nightclub in the SoMA district. Justin Jay from Los Angeles headlines this group of house music aficionados, also with David Hohme, Daniel Dubb. Disco Knights and more, so get your tickets early and dance the night away to celebrate America! Tickets start at $10.
4. Strategik Breakbeat BBQ | Saturday, July 5 |11am – 7pm| 3549 Novato Blvd | The Strategik crew brings you a BBQ of beats and eats at Stafford Lake this Saturday. The event is basically a giant day party of amazing soundtracks, beers and burgers brought to you with many different artists bringing different flavors of music to the picnic! Performers include Mo Corelone, Eric Riggsbee, and Strategik regulars: Influence, Rockit, Dragn'fly, and ECQ. $10 per car.
 5. Filmore Jazz Festival | Saturday and Sunday, July 5 and 6| 10am-6pm| Filmore Street between Jackson and Eddy | Spend this weekend celebrating the "women of jazz and beyond", the rising stars and established female artists of Jazz, on three stages of music, with 12 blocs of arts, and food. There are many featured artists from the bay area to blow you away with their talent. Don't miss this cultural event in SF this weekend!
 Will you be attending any of these events this weekend? Which ones?! Let us know in the comments below or on Facebook and Twitter!
---
Independence Day is only one day away and we have the perfect lineup for you! Whether you walk the Embarcadero for some fireworks and a booze cruise or prefer a pub crawl on Fillmore Street, ABCey knows you'll have a fun, safe holiday!
1. July 4th Pub Crawl + Hot Dog Eating Contest | Thursday, July 4th | 2:00p.m.- 6:00p.m. | Kelley's Tavern, 3231 Fillmore St. San Francisco | Absolutely nothing is more American than tons of hot dogs and beer! Celebrate abundantly with Americana foods and drinks then follow the party to watch fireworks on Marina Green. This event promises a fun after-party, too!
2. America's Cup Opening Day | Thursday, July 4th | 3:00p.m. | Piers 27/29, Embarcadero, San Francisco | Celebrate the kick-off to weeks of races with all things sailing. The history, science, and culture of sailing will be intermixed with 
3. Speak Easy 4th of July Cruise | Thursday, July 4th | 6:00 p.m.-11:00 p.m. | Pier 40, South Beach Harbor, San Francisco | The best view of the city and the fireworks, a 1940s theme, and an open bar. Need we say more?
4. After Dark: Boom! | Thursday, July 4th | 6:00 p.m.-10:00 p.m. | The Exploratorium, Pier 15, San Francisco | Explore what makes fireworks explode with a special exhibit filled with experiments and fun! Get geared up to see the sky filled with pyrotechnics with this boom-themed learning experience! 
5. Fourth of July Celebration at the Pier | Thursday, July 4th | 12:00p.m.-10:00 p.m. | Pier 39, Embarcadero, San Francisco | During the day at this busy pier, live music and family fun make this the perfect place to spend your day off! As soon as 9:30p.m. rolls around, the city of San Francisco will dazzle you with an amazing fireworks display! Pier 39 is our pick for best firework-scouting spot!
What are your plans for Independence Day? Tell us in a comment or on Facebook and Twitter!
---