---
Happy almost Labor Day weekend! If you didn't go to Burning Man this week and are looking for something fun to do, here are some of the top events happening in the Bay Area this long weekend!
1. Featured Event: BURNING MAN
August 26th-September 3nd | 6pm Sunday, August 26th-6pm Monday, September 3rd|$425+|Black Rock City
Burning Man is finally here! This year's theme is I, Robot, which is a tribute to the future, artificial intelligence, and everything in between. There will be so much to enjoy at this event. From art cars, mutant vehicles, sound camps, art installations and more, there's something for everyone! And don't worry, you're not too late. The man doesn't go up in flames for another 3 days, so get your tickets now!
2. Beach Blanket Babylon
August 29th-September 2nd | 8pm on MWF; 6pm or 9pm on Sat. & Sun |$25-$135 |Club Fugazi
The famous Beach Blanket Babylon is back this Labor Day weekend! If you don't have time to go during the week, it's playing Saturday and Sunday so don't miss it. Don't wait too long to get tickets because they will sell out! You can also find discounted tickets on Goldstar.
3. Shakespeare in the Park
September 1st-3rd | 2pm |Free Admission |Presidio's Main Post Parade Ground Lawn
This event is for all you Shakespeare lovers! Come out to see A Midsummer Nights Dream. There will be a short intro at 1:30pm, so come early if you want to hear it and get a good seat on the lawn!
4. Sausalito Art Festival
September 1st-3rd | 10am-7pm Sat. & Sun; 10am-5pm Mon. |$25 (children get in for free) |Marinship Park
One of the best art festivals in the Bay Area will be held this weekend in Sausalito, right across the Golden Gate Bridge! The festival includes fine wine, gourmet food, and premium beers. There will also be hundreds of pieces of art on display and live music all weekend long. There's lots of fun to be had at this event!
5. Go on a Night Cruise
September 2nd| 10pm-1am|$20-27 on Goldstar|Pier 40
If you feel like blowing off some steam on Sunday night because you can (woohoo, no work on Monday), go on the Pier Pressure Party Cruise on the Cabernet Sauvignon Commodore Yacht. This three hour cruise begins with check-in at 8:45pm. Don't forget to purchase tickets ahead of time!
6. Go on a Day Cruise
August 31st-September 3rd|10am|$39 on Goldstar|Pier 39
If night cruises aren't your thing, sign up to go on a morning cruise! The 2-hour Golden Gate Champagne or Mimosa Cruise includes two drinks of Champagne or Mimosas. Check-in is at 9:45am, with a toast under the Golden Gate Bridge at 11!
7. Labor Day BBQ & Bacchus
September 3rd|12pm-3pm|Free Admission|The Winery SF
Come out to Treasure Island to enjoy a fun afternoon of food, music, wine, and beautiful Bay Area views! If you purchase a wine tasting, you'll receive a FREE hot dog (with all the condiments). Instead of having to go through the hassle of hosting a BBQ in your backyard, just sit back and let The Winery SF do it for you, so you can relax on your precious day off!
Which events will you attend this Labor Day weekend?
Did we miss anything? We'd love to hear from you! Let us know in the comments below or on Facebook and Twitter!
---
Every once in a while, everybody needs an escape from the confining quarters of their work – whether they work in an office or from home! A retreat is the perfect opportunity for companies to …. But what is there to do? ABCey has curated a list of our top 10 favorite corporate retreat activities fit for everyone!
It's a giant playground for adults! Located in Lands End, this obstacle course built with ropes, ladders, and cables is immersed in a mini forest located in our urban city. The ropes course will challenge you mentally and also get your blood rushing in ways an office may not. So go through the highs and lows (literally!) with your team, and it'll surely bring out your adventurous side.
"Learning through laughter." Nerd Improv strives to create workshops that are meant to help your team get the most out of your retreat. It was designed to help push the boundaries while making a safe environment for everyone to share. For any questions, you can contact them here.
Hosted by 1AM, this workshop is meant to bring out your creative side with street art! Groups are encouraged to create their own street art individually and in groups with stencils and much more. Alongside the art, their team goes through the history of street art that you surely won't forget! The best part? You won't forget your experience anytime soon with the art hanging on your wall!
Escape your office with an escape room! Reason provides your team with high tech team building activities and immersive experiences. Instead of your typical escape room, you can experience this through VR goggles to transport yourself into another reality and much more. In addition to an awesome escape, this retreat will build a stronger and better team!
Get up from your office chair and get on a boat! Your retreat will feature some of the most beautiful views and create some of the best memories. Your sailing experience will be personalized to whatever mood your team needs whether it be relaxing or thrilling! So pack your favorite sea sickness remedy and sail away!
Love food trucks? You'll love this challenge even more! The Food Truck Challenge prompts teams to experience what it's like to have your own and run your own food truck. Judges will base their decision on every aspect from the food to the marketing, so be prepared!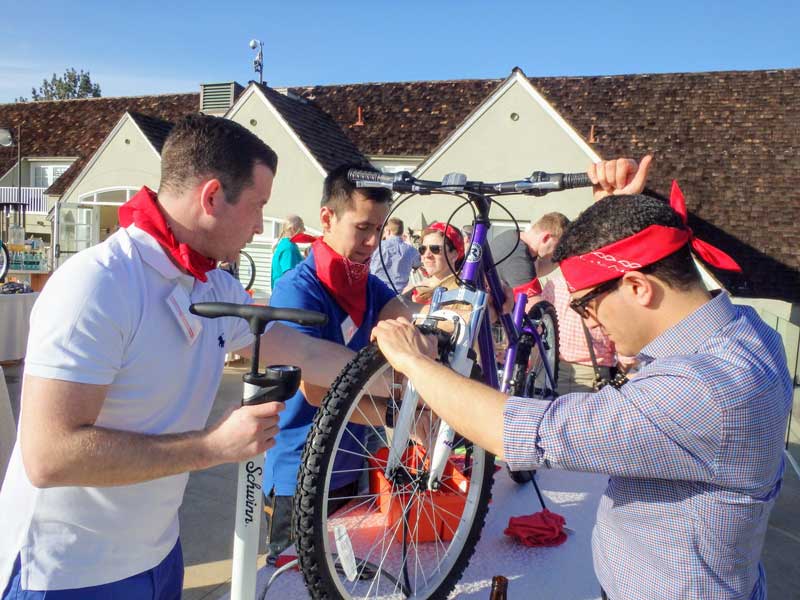 Drop the pens and papers and swap it out with wrenches and gears! This charity event challenges teams to build as many bikes as they can, and all the bikes built are donated to children around the world. It's an amazing cause and your team will build a competitive spirit together for a heartwarming cause as well.
This is great way to unwind after a long week of meetings. After splitting into teams, each group becomes their own winery (a dream come true)! After being briefed on the history of Sangria and competing in a trivia contest, teams have the opportunity to create their own unique blend, too.
Who doesn't love mini golf? Your team can make your own fun with challenging mini golf courses designed to trick the other team. If you're feeling charitable, there's also an option which involves cans of food to be donated as you complete the course. A little competition never hurt anyone, and hopefully you'll leave with a sense of accomplishment!
If you love food and you love San Francisco, we've got one of the most perfect retreat activities for you! This foodie adventure will prompt your teams to explore San Francisco while also trying some of the best foods around the city! You'll be leaving with a full belly and a new love for our hometown!
What are your favorite off-site activities?
These off-site corporate retreat activities can be adjusted to any retreat you have! Are you ready? Which ones did we miss? Let us know in the comments below or on Facebook or Twitter!
---
It's almost Friday! ABCey brings you this week's SF Weekend Lineup with the top events happening in the Bay Area! Get excited for this fun-filled weekend ahead!
August 3rd | 7-10pm |Free Entry |WorkshopSF
Every first Friday, WorkshopSF hosts an open house/party with DIY, art, fun and community. For August's first Friday event, WorkshopSF is hosting a Night Market where they're showcasing several vendors who used to take classes at their location and are now successful artists! There will be locally made wares, art, and designs available for purchase, as well as beer and mac and cheese. Bring your friends!
August 4th | 8AM-2PM |$4.20-$50 |The Spreckles Temple of Music Bandshell in Golden Gate Park
Get some exercise and join in on the 5th annual San Francisco 420 Games! This event kicks off with a 4.20 mile run/walk/jog/ride (whatever you want), and leads into a Yoga cool-down at The Music Concourse Bandshell. Following the exercise portion of the event, there will be 2.5 hours of Beer Tasting from 11AM-1:30PM, industry exhibitors, live music, educational speeches, and more! If you want to show your support for marijuana or learn more about it, then this is the event for you!
August 4th | 7PM |Free Admission |Dolores Park
The Film Night in the Park outdoor film series is back and kicks off this Saturday evening at 7PM! Every Saturday starting this weekend, a new movie will be played on a huge screen in Dolores park for a whole month. Attendees are encouraged to picnic before the film starts, and refreshments will be available at the park as well. The movie playing this weekend is The Adventures of Priscilla, Queen of the Desert. Come out and relax with a good movie classic and the beautiful scenery of one of SF's best parks!
August 5th | 11AM-6PM |Free Admission |Jerry Garcia Amphitheatre (McLaren Park)
The 16th Annual Jerry Day is an annual civic and cultural event that celebrates one of the great rock guitarists of all time and San Francisco-native, Jerry Garcia. And yes, he did inspire the name of Ben & Jerry's delicious Cherry Garcia ice cream flavor. This all day concert and festival brings together an eclectic group of performers, including several who played with the Jerry Garcia Band in the '80s and '90s. Don't miss out on this festive event that is sure to make you feel nostalgic!
August 5th | 10AM-1PM |Free Admission |Preserved
Learn how to brew a 1-gallon batch of a German Hefe Weissbier! You'll quickly hear about the history and chemistry of beer brewing before getting hands on. Make your own beer to take home and taste samples from a few breweries. Now that sounds like a fun way to spend your Sunday afternoon!
What does your SF weekend lineup look like?
Which events are you most excited about? Any that we missed? We'd love to hear from you! Let us know in the comments below or on Facebook and Twitter!
---
It's almost Friday! ABCey brings you this week's San Francisco Weekend Lineup with the top events happening in the Bay Area! We hope you have plenty of room on your schedule. We have things from Street Soccer USA to TreasureFest to Guaclandia!
July 27-29 | 3pm – 11pm | Free admission | Alameda County Fairgrounds, Pleasanton, CA
Bring all your friends! It's the first ever NorCal Night Market with with food, games, art, shopping, and performances at Alameda County Fairgrounds! It's the perfect place to find unique and amazing gifts for all your loved ones from crafts vendors or commission a special piece by a local artist at our Art Walk!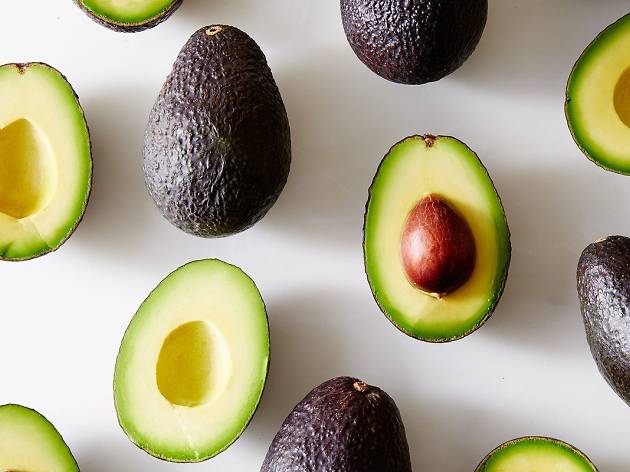 July 27-28 | Times vary by day | Free admission | SF Marathon Health & Fitness Expo, 2 Marina Boulevard
Love avocados? Express your love at Guaclandia! The makers of the WHOLLY GUACAMOLE® brand invite Bay Area residents to visit Guaclandia, its one-of-a-kind mobile exhibit dedicated to all things avocado. It'll be filled with Instagram-able photo ops paired with tons of guacamole on the side!
Saturday, July 28 | 11am – 2:30pm | Free admission | Waverly Place, San Francisco
Craving Chinatown is the first food festival in the Chinatown community! It will feature a selection of restaurants and foods that bring back memories of the San Francisco Chinatown community. Local Chinatown restaurants will feature unique dishes and snacks as well as food demonstrations! It'll be the perfect San Francisco weekend!
July 28-29 | 9am – 5pm | Free | Union Square, San Francisco
We're just as upset as you are that the World Cup ended! But not to fret, Street Soccer USA is coming to San Francisco! Teams from all ages and backgrounds will come together to share and to celebrate their diversity and passion for our city in our Social Impact, Corporate, and Open Cup competitions. Find your friends and cheer for your favorite team!
July 28-29 | 10am – 4pm | Cost: $5.00 | 500 Ave n, San Francisco, CA 94130
TreasureFest hosts 400+ local artists, makers, designers, antique collectors, under ground food start-ups, & more. Hope your bellies are empty and your dancing shoes are on because there are tons of food trucks and food tents with Hawaiian inspired dishes and local bands will be playing all day long! Also, the first 1000 each day get lei'd! (free leis).
Sunset Campout 2018
July 27-30 | Friday 12:00pm – Monday 9am | Cost: $205+ | Belden Town Resort, Belden CA 95915
Be prepared for a weekend full of amazing artists like  Solar, Galen and J-Bird, to get you pumped! There'll also be muralists and live painters, as well as art installations and interactive pieces. If you're ready for a weekend full of fun in the river, friends, art, music, and food, pack your bags!
What does your San Francisco weekend lineup look like?
Which events are you most excited about? Did you go to one and loved it? We'd love to hear from you! Let us know about it in the comments below or on Facebook or Twitter! We hope to see you there!
---
Swag bags can be a great way to thank your guests and give them a lasting memory! However, you want to make sure that the items you include are unique and memorable so that they don't get thrown in the trash. Here are some tips for creating meaningful corporate swag bags that your attendees will love!
Eye Masks are a great way to advertise your event if you put your logo on it. They're useful and can easily be packed into a carry on. This is an especially good option if your guests are traveling to your event!
Corporate events can often last the whole day or even multiple days and many attendees rely on their smartphones for navigation, emails, networking, etc. They're bound to run out of battery at some point. Make their lives easier by giving them an easy way to charge their phones while at your event! They'll be happy to skip the stress of searching for an outlet.
Cord tacos keep all the different cords your guests are most likely traveling with nice and organized. From phone chargers, headphones, computer chargers, and more, your guests are guaranteed to find this cute tool useful!
Corporate events can be long and stressful. Make your guests' lives easier by providing them with a kit filled with all sorts of essentials. From tissues and pens, to stress-relieving toys and lotion, there are many things you can include that will make your guests' experiences at the event and traveling to the event more comfortable.
Hydroflasks always come in handy and will help your guests stay hydrated. Also, adding a logo to it increases the likelihood that your guests will use it! It's eco-friendly and reusable as well, which is a huge plus!
6. Unique Snacks
Snacks are always needed, especially for long events. Even though food is often provided at corporate events, snacks are a good option that your guests will love!
It's always nice to find a fun item in your swag bag, so put in an LED ring! It'll stand out and is an item your guests will find especially useful if there's an after party!
8. Experiences
People love experiences! Give your guests a reason to keep your bag by including a voucher for a special, VIP experience at your event, or tickets to a nearby attraction! This will make them feel more excited about being at your event and they'll feel like they're getting something out of it.
9. Seasonal Items
Seasonal items can be extremely useful, especially if they apply to your event location. For example, if your event is in a sunny, warm area, consider including sunglasses or flip flops with your event's logo on it! Try using attractive colors and patterns to make your swag bag stand out!
By choosing a book as one of your gifts, you're showing your guests that you care about their growth and well-being. Find books that align with your brand and industry that can inspire your attendees. If you don't want your guests to have to carry around an entire book, you can always provide access codes to professional ebooks, so they can easily read them on their electronics!
Which bag ideas will you use for your swag bags?
What's the best gift you got from attending a corporate event? We'd love to hear from you! Let us know in the comments below or on Facebook and Twitter!
---
Tomorrow's the day we're all looking forward to: Friday! ABCey brings you this week's San Francisco Weekend Lineup with the top events happening in the Bay Area! If you don't have plans this weekend, we've got you covered from Star Wars at the Symphony Hall to a Burning Man trunk show!
July 20 | 6am – 9am | Prices range from $30.00 – $45.00 | San Francisco Belle, Hornblower
Usually, you may not be a morning person, but you're going to want to be one for Daybreaker SF! Get ready for an unforgettable time with crazy beats, amazing company, and tons of dancing! Being their 4th anniversary, their theme is "Come Sail Awake With Us" and they plan to entertain you all morning with activities like yoga, dancing, and face painting! It's one our favorites for the weekend, will we see you there?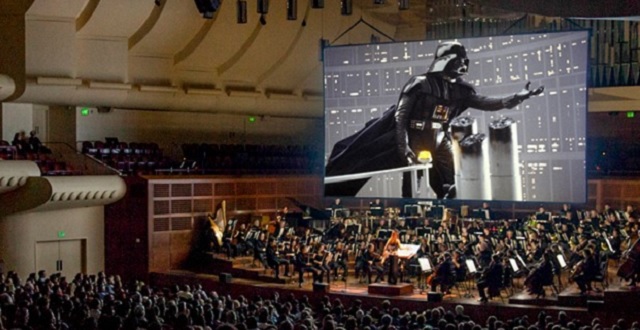 July 18 – August 3 | 7:30pm | Prices range from $75.00-$125.00 | Davies Symphony Hall
The SF Symphony summer concert series returns this weekend! If you love Star Wars, you're going to be ecstatic! The orchestra will play live scores from the original Star Wars trilogy with the films projected on stage! Talk about an unforgettable experience!
July 21 | 12:00pm – 6:00pm | Free admission | The Great Northern
Burning Man is coming up! Hope you're ready to begin shopping of your costume at the 12th Annual "Beyond the Fence" Trunk show! There will be over 30 local and independent designers selling unique costumes perfect for the desert getaway! Local DJs and cocktails will be available for you to enjoy while you take in inspiration on and off the Playa!

July 27-30 | 1:00pm – 10:00pm| Prices range from $20 and up, depending on donations | The Midway
In honor of Larry Harvey for starting Burning Man, we gather together to celebrate the passion he has created in others. This man dreamed of a world where creative minds can come together to cooperate and this vision led to the creation of Burning Man.
July 22 | 11:00am – 4:00pm | Free admission | Main Parade Ground
Rain or shine, the Presidio takes place on the Main Parade Ground. It features many vendors to get a taste of the diverse foods and cultures of the Bay Area and a free cultural dance performance on the fourth Sunday of each month! It will feature more than 25 international mobile food inventors, music for everyone, lawn games, yoga, and nature-based crafts for kids!
July 22 | 2pm | Free admission; First come, First Serve | Stern Grove
Since 1938, the SF Symphony returns every summer for an annual performance, and their return dates for this Sunday! If you're looking for a nice event to take your family or a relaxing day filled with beautiful music, we hope to see you there!
What does your San Francisco weekend lineup look like?
Which events will you be attending this weekend? We'd love to hear from you! Let us know in the comments below or on Facebook and Twitter!
---
Startup Monday is ABCey's weekly post that showcases some of the best and most innovative startups based in the San Francisco Bay Area! These are often companies that we have our eye on or have worked with in the past. Today, we'd like to highlight Brandless!
Brandless
Brandless is an e-commerce company founded in San Francisco in 2015 that recently launched in July 2017. This startup focuses on being completely transparent with customers and bringing high quality products and healthy ingredients. They sell a variety of things, ranging from household items to beauty products to food! The best part? Each product is just $3!
It's simple. With the Brandless label, co-founders Tina Sharkey and Ido Leffler eliminated the "brand tax." This is the hidden cost of buying from a brand that drives up the prices of products.
Moreover, the product packaging consists of the company logo and descriptors, like kosher, organic, or gluten free. This simplifies the shopping process and provides transparency for the consumer. You also have the option to "B.more" and sign up to be a member, which includes benefits, such as free shipping.
Brandless and Feeding America
Also, when you sign up to "B.more," Brandless will donate the monetary equivalent of 10 meals to Feeding America. Brandless is partnered with Feeding America, the nation's leading domestic hunger relief organization, and with every purchase, a meal will be donated on your behalf to those facing hunger.
Why we love it!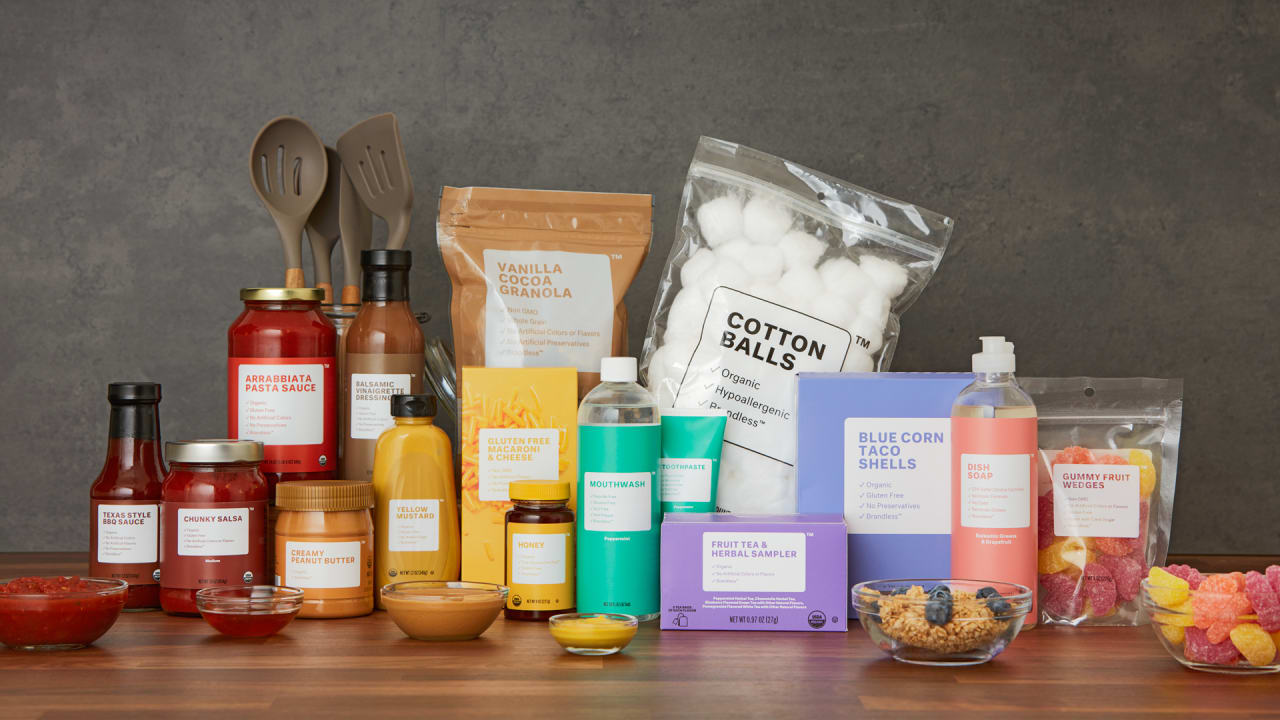 Brandless is very affordable and their products are health-conscious and environmentally friendly! Additionally, the company holds all their products to the highest standards. They also cater to what the community values most in their household items or in their foods. Furthermore, this startup dedicates itself leaving a positive impact on their community and the world.
Have you tried Brandless yet, or thinking about using it? Let us know in the comments below or on Facebook and Twitter.
---
Pride is finally here! ABCey has a list of 10 tips that will help you survive and make the best out of this weekend full of love and festivities!
1. Sun Protection
Afternoons in our foggy city may be cool, but be sure to put on some sun protection (sunscreen, lip balm, sunglasses) before you leave the house to avoid some nasty sun burns!
2. Hydrate, Hydrate, Hydrate
We may not even know it, but it's easy to become dehydrated when we spend the day dancing and keeping up with our favorite floats at Pride! Don't forget to bring your own Hydro Flask water bottle to save a few bucks and to stay well-hydrated.
3. Bring Ca$h
Many local vendors will be at Pride, so be sure to bring some cash to support your LGBTQ-friendly businesses in case they don't accept credit cards!
4. Phone Charger
You're going to be taking pictures and videos all day, so make sure you bring a portable charger so that you don't run out of juice. Snap away!
5. Go Hands Free
You won't worry about losing your phone or any of your free Pride swag when you put it in a cute bag!
6. Comfortable Shoes
We all have those super shoes that we're dying to wear out, but opt for your comfiest shoes because you'll be on your feet all day!
7. Add Some Rainbows!
What Pride outfit is complete without rainbows? Whether it's on an umbrella or on your socks, add a rainbow for a little more fun!
8. Rainbow Glitter
If you don't have the perfect outfit for Pride yet, don't worry! Rainbow glitter is the ultimate makeshift outfit! Cover yourself in glitter and head out to the parade! What else could you possibly need?!
9. Pride Balloons
What's more fun than balloons? Use rainbow balloons to accessorize your outfit or to just carry around the parade!
10. Bring Your Friends!
Friends make any event better! Round up all your closest friends to eat amazing food and to make memories you'll talk about for years!
Which one is your favorite tip to thrive at Pride? Do you have some of your own? Let us know in the comments and on Facebook and Twitter!
For more pride-inspired fun, ABCey Events has a Pre-Pride Checklist for you!
---
It's almost Friday! ABCey brings you this week's San Francisco Weekend Lineup with the top events in the Bay Area! It's going to be packed with lots of LGBT pride!
Weekend Lineup: Giants LGBT Night
June 21st | 7:15pm |special event ticket package |AT&T Park
Celebrate the Bay Area's rich LGBT culture with the San Francisco Giants! If you purchase a special event ticket package, you'll get a ticket to the evening's Giant's game, access to a pre-game party, and a limited edition gift. Part of the proceeds will go towards supporting local LGBT-focused non-profits!
SF Pride Parade Celebration
June 23rd | 12pm-6pm |Tickets|Civic Center Plaza
It's that time of year again! Come out to all the festivities to prepare for the 47th annual celebration of lesbian, gay, bisexual, and transgender pride! There will be inspirational speakers, music, food, and more to get you excited for the parade on Sunday.
Pink Mammoth Block Party
June 23rd | 12pm-9pm |$15-$20 Cover|119 Utah St.
The 6th annual Pink Mammoth Block Party will be happening again this year! Join in on the fun and wear all the pink you own. There will be lots of dancing, musical stylings provided by Thomas Jack and Pink Mammoth residents, and food! This year will feature the upcoming interactive Tree of Life and the Trolley Stage with a historic San Francisco Cable Car operating as a stage. Visit the Pink Mammoth Facebook Page for more info.
SF Pride Parade & Rally
 June 24th | 10:30am-6pm |Tickets|Embarcadero to Civic Center
Want to really show your pride? Make a sign and come march in the parade or cheer on the crowd! There will also be festivities like inspirational speakers, music, and food to enjoy as well. This event is a special tradition that's near and dear to SF's heart, so join in and wear your brightest apparel!
Frameline 42, International LGBTQ Film Festival
Ends June 24th | Times Vary |Tickets|Castro Theatre
The film festival that came to town on June 14th will be closing this Sunday, June 24th! Come see some groundbreaking documentaries, cinematic classics, and heart-warming films. Don't miss out on the longest-running, largest, and most widely LGBT cinema film exhibition in the world!
Whether you want to showcase your pride by joining a crowd in your brightest outfit, viewing an LGBT-related film, or by enjoying some baseball, there are plenty of ways to show some LGBT pride this weekend! 
Are you excited for Pride Weekend? Let us know which event you'll be attending in the comments below or on Facebook or Twitter!
---