Humans love feeling connected to nature, and it can be very therapeutic too!  Well, there's a new emerging trend in the event industry that relies heavily on the bioliphic design concept. It also seeks to incorporate naturally designed spaces into your events. Read more to learn about the many benefits of nature-inspired events, both for the event planner and the attendees.
There are 4 Main Benefits of Nature-Based Design that have been scientifically proven. These include, improved well-being, improved productivity, enhanced creativity, and an increased likelihood of positive emotions. These all come from feeling connected to the outdoors, and all of them are helpful for event managers seeking to make their guests happy!
How to Do It
There are two key strategies to incorporating nature into your events:
Look for venues that naturally showcase the outdoors!
This could include outdoor terraces and balconies, views of the water, such as the ocean, lakes or pond, and abundant natural light through skylights and large windows. Green walls and water features, gardens and outdoor greenspace, or décor that uses natural materials, like wood and stone are also good options!
Bring the outdoors to an indoor venue! There are several ways to do this, such as:
Seeing nature:

You can accomplish this through digital signage and walls, backdrops, artwork, and murals that include elements of nature. Live herbal centerpieces, hedge rows, or an indoor garden, forest, or water feature can also give your guests a sense of being outside!
Hearing nature:

Events can get pretty loud and busy, so what's more desirable than a nice spot to get some peace and quiet? Start by selecting a location within the venue that's as quiet as possible. Offer speakers or headsets with natural sounds of running water, ocean waves, bird song, etc. that your attendees can listen to when they want to relax!
Feeling nature:

Textures like wood, sand, water, stone, and grass stimulate biophilic responses, so try to find a way to incorporate these into your event space! These materials could be used in onsite hubs, lounges, and exhibit booths, for example.
Smelling nature:

Even just the smell of the outdoors can connect people to the outside world. Try infusing your event space with natural scents using essential oils. By picking the right scent, you're sure to generate positive feelings among your guests!
What's one of your favorite nature inspired events?
How else have you seen nature incorporated in the events you've attended or planned? We'd love to hear from you! Let us know in the comments below or on Facebook and Twitter!
Source: Event Manager Blog
---
Whether it's a small event, a huge conference, or a gala, purchasing or renting event decor can be very wasteful and pricey! ABCey has compiled a list of our favorite ideas for upcycled event decor!
1. Actual Trash (and yes, we mean it!)
Actual trash! You can use thrown-out trash and transform it into a banner of trash bags or a beautiful backdrop for your guests. This one was even from one of our events, Creating Equilibrium – an environmental conference and festival that focused on sustainability! Based on the theme, we designed a depiction of our oceans by upcycling thrown-out trash.
2. Wooden Pallets
Wooden pallets are one of the best things to upcycle! It effortlessly adds a natural element to your event and can be transformed into a multitude of things! You can stack them for a makeshift table, hang photos and lights from them, paint them to make signs, and so much more. All it takes is a little imagination..
3. Old Rope and Leftover Boards
With old and sturdy rope and a board, you can create a suspended tabletop for any outdoor event! Dress it up for an elegant party or add some party favors for your guests! If you want add a playful feel for any younger guests or those with young hearts, you can create a swing! It'll also become a great photo-op for people to remember your event.
4. Hula Hoop
Hula hoops don't just have to stay around your waist (and sometimes the floor)! With some flowers and greenery, you can completely change your old hula hoop into a chandelier! You can also use it to highlight a statement word you want your guests to remember even after they leave! Cheers!
5. Jars
Jars and bottles are an easy element to upcycle! If you add a little water, you can use them as a vase for florals. Also, you can make it into an activity for your guests with a little paint or twine to let them customize their own! If you are looking to illuminate your event, placing candles or lights inside a jar is a great way add a soft glow!
What is your favorite upcycled event decor?
All these projects can also become a great interactive activity for you and your guests. They're just as elegant and beautiful as store-bought event decorations. Which ones will you use?  Let us know in the comments below or on Facebook or Twitter!
---
The Fourth of July is less than a week away, and that means major party planning! ABCey has made a list of the perfect patriotic DIYs for your party. Get ready to party all day long!
1. Popsicle Cocktails
Keep your guests cool all day long with these delicious and refreshing popsicle cocktails! For the kids, substitute the bubbly for Sprite to make a cute little mocktail.
2. Manicure
Don't forget to treat yourself a little! Replicate this fun little confetti nail art or make your own design!
3. Red, White, and Blue Cheesecake Bars
Add a little color to your desserts! These red, white, and blue cheesecake bars are a sweet treat that everyone would enjoy!
4. Bandana Picnic Quilt
Whether you're throwing a picnic party or planning to gaze at the fireworks, this DIY picnic quilt is perfect. You can use old bandanas or any other cloth you may have laying around.
5. Patriotic Suncatcher
These little DIY suncatchers are a cute addition to any decor you may have! You can make it into an activity for kids or use them to catch your guests' attention as well!
6. Firework Sunglasses
Add a spark to your outfit. Wow everyone with these DIY firework sunglasses! Spend the Fourth of July watching the fireworks through your own!
7. Confetti Party Poppers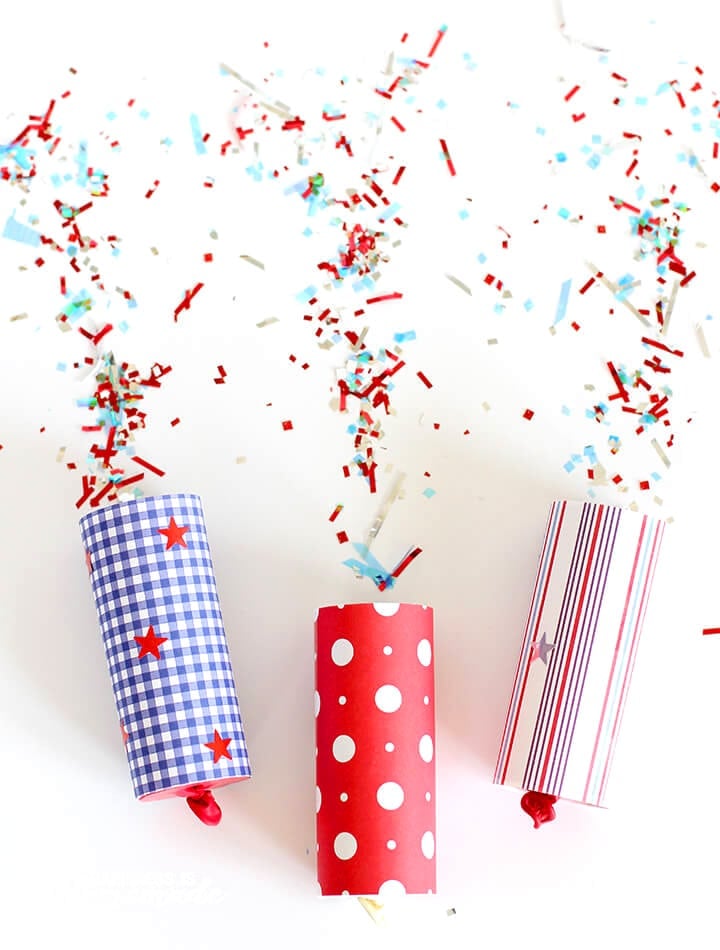 You can't celebrate the Fourth of July without some confetti! Make these easy DIY confetti party poppers to celebrate this patriotic holiday!
8. Star Spangled Shorts
This Fourth of July, you'll find the flag everywhere… even on yourself! Decorate your own shorts to sport our star-spangled banner!
9. DIY Chandelier
You definitely shouldn't be swinging from this chandelier, but it is something that your guests will absolutely adore!
10. Star Garland Backdrop
This star garland is multi-functional! If you're looking to create an amazing photo-op for your guests, hang a bunch side by side to make a starry background. There's also a traditional route you can opt for: hanging them for wall decor! Either way, it'll add a little twinkle to your party!
Will you use any of these simple and fun DIY decorations? Are there any that you made for the holidays? We'd love to hear from you! Let us know in the comments below or on Facebook and Twitter!
---
Pride is finally here! ABCey has a list of 10 tips that will help you survive and make the best out of this weekend full of love and festivities!
1. Sun Protection
Afternoons in our foggy city may be cool, but be sure to put on some sun protection (sunscreen, lip balm, sunglasses) before you leave the house to avoid some nasty sun burns!
2. Hydrate, Hydrate, Hydrate
We may not even know it, but it's easy to become dehydrated when we spend the day dancing and keeping up with our favorite floats at Pride! Don't forget to bring your own Hydro Flask water bottle to save a few bucks and to stay well-hydrated.
3. Bring Ca$h
Many local vendors will be at Pride, so be sure to bring some cash to support your LGBTQ-friendly businesses in case they don't accept credit cards!
4. Phone Charger
You're going to be taking pictures and videos all day, so make sure you bring a portable charger so that you don't run out of juice. Snap away!
5. Go Hands Free
You won't worry about losing your phone or any of your free Pride swag when you put it in a cute bag!
6. Comfortable Shoes
We all have those super shoes that we're dying to wear out, but opt for your comfiest shoes because you'll be on your feet all day!
7. Add Some Rainbows!
What Pride outfit is complete without rainbows? Whether it's on an umbrella or on your socks, add a rainbow for a little more fun!
8. Rainbow Glitter
If you don't have the perfect outfit for Pride yet, don't worry! Rainbow glitter is the ultimate makeshift outfit! Cover yourself in glitter and head out to the parade! What else could you possibly need?!
9. Pride Balloons
What's more fun than balloons? Use rainbow balloons to accessorize your outfit or to just carry around the parade!
10. Bring Your Friends!
Friends make any event better! Round up all your closest friends to eat amazing food and to make memories you'll talk about for years!
Which one is your favorite tip to thrive at Pride? Do you have some of your own? Let us know in the comments and on Facebook and Twitter!
For more pride-inspired fun, ABCey Events has a Pre-Pride Checklist for you!
---
---
#TechTuesday highlights the best and brightest ideas in the tech world.  In today's #TechTuesday, we present Valentine's Day tech to help you make today perfect!
---
Forgot to get a present? Spending tonight with your single girlfriends? These apps and gifts are great for any situation on Valentine's Day!
Forgot to Get Flowers?
Try: Farmgirl Flowers
A V-Day classic, Farmgirl Flowers still have flowers available today! Have flowers delivered to your house or to an office!
---
Get excited because Fall is approaching quickly! Time to sip warm cocoa, plan your get togethers with family and friends, and watch the leaves magically change. Make sure you're ready for all your Autumn events with unique seasonal decorations! To help you, ABCey Events has compiled a list of 7 unique Fall centerpieces!
---
1. Autumn Log Centerpiece
You can light up your table with just a log and tealight candles! With a little drilling and placing, you have the perfect centerpiece! Also, this candlelit log goes great with anything earthy like small acorns and fall colored leaves. If you want a color pop, add in some bright red cranberries and pumpkins around the log! Leave your guests feeling toasty and warm while they enjoy their meal!
2. Glittery Acorn Fall Centerpieces
Already seeing acorns on your neighborhood street? Preserve and reuse them as a budget-friendly fall decor! These DIY Glitter Acorns are great centerpieces and will surely make your event look colorful and shiny! Simply spray paint them in a variety of colors, add a touch of glitter, and put them in a vase on display for all your guests to see. Also, you can spread them out on your table for a more casual yet colorful style!

3. Citrus Centerpieces
Citrus fruit comes in so many fun and festive colors. So use them this Fall as perfect bright centerpieces! Combine decorative flowers, branches, acorns, etc. with real oranges and limes to create a vibrant feel. And this is so simple to put together. Create this sophisticated and classy citrus centerpiece!
3. Floral Pumpkins
Combine your pumpkins with flowers to create a one of a kind design! Intrigue your guests with these floral pumpkins and use this unique trick to decorate your centerpieces. In addition, this quick DIY is perfect if you ever need a fast centerpiece! And, there are different ways of making this flower covered pumpkin!
 4. Autumn Leaf Bowl
Upgrade your bowl and get into the Autumn spirit with this DIY! Great for decorating or holding treats, this Fall leaf bowl is very versatile. So grab some Mod Podge glue, fake Fall leaves, Kryon Glaze, plastic wrap, and a bowl or balloon. In fact it's that easy to make this creative fall centerpiece.
5. Paper Pumpkins
Tired of real pumpkins? Then try paper pumpkins! Make your centerpieces stand out with these creatively colored paper pumpkins. They are absolutely adorable and super easy to make! Because there are so many colors to choose from, you're options are unlimited!
7. Turkey Masterpiece
When it comes to Fall, turkey is a must have for your events! Don't have a real, paper, ceramic, or clay turkey? No problem! Instead, you can create this artistic turkey centerpiece! So grab a pumpkin, Sahara floral foam, glue, carrots, cranberries and amongst other foods to create this! Set this turkey out during your event and watch your guests marvel at your masterpiece!
---
Which of these Fall centerpieces do you like best? Let us know in the comments below or on Facebook and Twitter!
---
---
---
This weekend there are plenty of exciting events that will broaden your art, cultural, and your undercover skills.  ABCey's Weekend Line-Up let's you know about the best events in the Bay Area has to offer. We hope to see you out and about!
PACIFIC ORCHID EXPOSITION
---
February 20th–22nd | 10-6 PM| Fort Mason Center, Festival Pavilion | GA $14 (varies)
"The Thrill of Discovery" is the focus for the 63rd annual show the San Fransisco Orchid Society. During this event you can take a stroll to discover special varieties of orchids that are rare within the United States. Spend your weekend by exploring these breathtaking orchids.
LUNAR NEW YEAR CELEBRATION
---
Saturday, February 21st | 9-2 PM | San Francisco Botanical Gardens | Free
The exciting Lunar New Year is beginning this weekend! 2015 is the Year of the Sheep according to Chinese Zodiac, the San Francisco Botanical Gardens is bringing in the Lunar New Year with tai chi, traditional drumming, and exciting sword dancing. Join in the celebration to help promote peace and generosity into the New Year.
UNDERCOVER ASSASINS: POLAROID MANHUNT & POSSIBLE MIRROR MAZE
---
Sunday, February 22nd | 3-5 PM | Pier 39 Concourse (at the Crab) | $5 donation
Bring out your inner assassin with Undercover Games event Undercover Assassins. After taking a Polaroid picture and receiving your target it's time to search Pier 39 to find your target while avoiding assassination. Remember to stay cool and stealthy throughout your game, no one can know that the game is going on.
Which events will you be attending? Let us know on the comments below or on Facebook or Twitter!
---