Tomorrow's the day we're all looking forward to: Friday! ABCey brings you this week's San Francisco Weekend Lineup with the top events happening in the Bay Area! If you don't have plans this weekend, we've got you covered from Star Wars at the Symphony Hall to a Burning Man trunk show!
July 20 | 6am – 9am | Prices range from $30.00 – $45.00 | San Francisco Belle, Hornblower
Usually, you may not be a morning person, but you're going to want to be one for Daybreaker SF! Get ready for an unforgettable time with crazy beats, amazing company, and tons of dancing! Being their 4th anniversary, their theme is "Come Sail Awake With Us" and they plan to entertain you all morning with activities like yoga, dancing, and face painting! It's one our favorites for the weekend, will we see you there?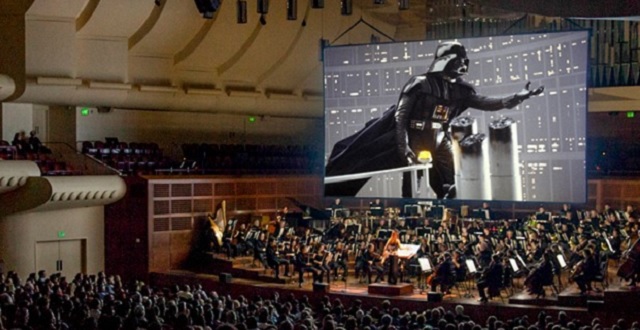 July 18 – August 3 | 7:30pm | Prices range from $75.00-$125.00 | Davies Symphony Hall
The SF Symphony summer concert series returns this weekend! If you love Star Wars, you're going to be ecstatic! The orchestra will play live scores from the original Star Wars trilogy with the films projected on stage! Talk about an unforgettable experience!
July 21 | 12:00pm – 6:00pm | Free admission | The Great Northern
Burning Man is coming up! Hope you're ready to begin shopping of your costume at the 12th Annual "Beyond the Fence" Trunk show! There will be over 30 local and independent designers selling unique costumes perfect for the desert getaway! Local DJs and cocktails will be available for you to enjoy while you take in inspiration on and off the Playa!

July 27-30 | 1:00pm – 10:00pm| Prices range from $20 and up, depending on donations | The Midway
In honor of Larry Harvey for starting Burning Man, we gather together to celebrate the passion he has created in others. This man dreamed of a world where creative minds can come together to cooperate and this vision led to the creation of Burning Man.
July 22 | 11:00am – 4:00pm | Free admission | Main Parade Ground
Rain or shine, the Presidio takes place on the Main Parade Ground. It features many vendors to get a taste of the diverse foods and cultures of the Bay Area and a free cultural dance performance on the fourth Sunday of each month! It will feature more than 25 international mobile food inventors, music for everyone, lawn games, yoga, and nature-based crafts for kids!
July 22 | 2pm | Free admission; First come, First Serve | Stern Grove
Since 1938, the SF Symphony returns every summer for an annual performance, and their return dates for this Sunday! If you're looking for a nice event to take your family or a relaxing day filled with beautiful music, we hope to see you there!
What does your San Francisco weekend lineup look like?
Which events will you be attending this weekend? We'd love to hear from you! Let us know in the comments below or on Facebook and Twitter!
---
It's almost Friday! ABCey brings you this week's Weekend Lineup with the top events in the Bay Area for the upcoming weekend! There is everything from craft fairs and trunk shows to pop ups and block parties! 
---
Weekend Lineup: Renegade Craft Fair
July 15th-16th | 11am-6pm | Free Admission | Fort Mason Center Pavilion, 2 Marina Blvd, San Francisco, CA 94123
If you love arts and crafts, then this is the place to be this weekend! Over 300 craft makers and designers will be in attendance to show their creativity for this one-of- a kind shopping experience! These vendors will include modern handmade merchandise such as jewelry and accessories, art, fashion, ceramics, candles, illustration, stationery, home decor, cookware, apothecary, and much more!
Burning Man "Beyond the Fence Trunk Show & DJ Party"
Saturday, July 15th | 12pm-6pm | Free Admission | The Great Northern, 119 Utah St., San Francisco, CA
Who's getting excited for Burning Man?! Shop while you dance to DJs at this years trunk show as you prepare for the desert. Over 30 designers will be selling merchandise perfect for the desert that will make your Burning Man experience one to remember!
SF Etsy Pop Up
Saturday, July 15th | 11am- 5pm | Free Admission | Ghirardelli Square, 900 North Point Street, San Francisco, CA
Etsy is popping up in San Francisco! Come shop from the SF Etsy team or take a crafting class at the heart of the Ghirardelli Square! If you're planning to stop by for the crafting class, you must RSVP! 
Menlo Summerfest
July 15th & 16th | 10am-6pm | Free Admission | Santa Cruz Avenue, Menlo Park, California
Summer is here and that means it's outdoor festival season! This two day event includes live music, art, delicious food and beverages, home and garden exhibits and a lot of fun activities for kids!
Summer of Love Dance Party
Saturday, July 15th| 7pm-10pm | Free Admission | 50 Moraga Ave, The Presidio, San Francisco, CA
Get your groove on and celebrate the Summer of Love's 50th anniversary! This dance party will play your favorite tunes from the 60s as you get to cruise back in time! There will also be face painting, henna tattoos, classic photo booths and much more!
---
What events will you be attending this weekend? Let us know in the comments below or on our Facebook or Twitter page!
---
Thursday is here and the weekend is near! ABCey Events has our Weekend Lineup with the top 5 Bay Area and SF events that you don't want to miss!
---
Top 5 Bay Area/SF Events
Fri July 22nd- Sun July 24th, 2016 | Schedule | $20-$200 tickets here | Regency Ballroom, Fort Mason Center, NEW PEOPLE Cinema (check locations here)
Jump into the J-Pop world at this summit and discover Japanese tech, culture, music, food, and film! This huge event starts Friday with Kyary Pamyu Pamyu performing as part of their World Tour (tickets and info). Then prepare yourself for a jam packed summit Saturday and Sunday. You won't run out of things do with with: meet and greets with J-Pop stars,  live performances, tech tradeshow/sessions, fashion events, interactive Summit/Showcase, panel discussions, and workshops! If that isn't enough for you, get excited for the amazing food trucks and vendors. Guys-they have a "Sake Summit"! Also throughout the weekend, head to the Japan Film Festival for exclusive live-action and animation films, appearances, and Q&A's. So dress up if you're feeling adventurous, and check out this top SF event!
Fri. July 22nd | 2pm – 5pm | FREE | China Basin Park, San Francisco
With this beautiful weather, why not get out there and enjoy the great outdoors-with bubble soccer! With an inflatable ball around your head and torso, you never have to worry about getting hurt!  The San Francisco Deltas, an American Professional soccer team, invites everyone to come learn about their team, and if you arrive before 2:30pm you get a SF Deltas scarf free! Start your weekend off right this Friday and have lots of fun bouncing and rolling around!
---
Sat July 23rd | 6pm-on | $118 and up tickets here | 21+ event | Lodge at the Regency Center: 1290 Sutter St, San Francisco, CA 94109
Let the Mad Hatter be your host while you dine on an amazing feast and hangout with the cast of Alice and Wonderland! Get sucked into the magical wonderland, drink special elixirs and watch the characters and cirque, belly, and burlesque dancers perform for you. If the Cheshire Cat hasn't hypnotized you enough, stay for dessert (extra purchase of tickets and dessert required). Now don't be late for this very important date, jump down the rabbit hole this Saturday, and enjoy a unique experience you won't forget!
---
Sat. July 22nd | 10am-2pm | FREE *Register here ASAP before Fri. July 22nd | 116 John Shelley Dr., Group Picnic Area
Want to be a pirate? Well now you can! Grab your family or a few pals, and go searching for a buried treasure throughout McLauren Park this Saturday. Not only will you find a treasure, but you can also get prizes, eat great food, get your face painted, do Zumba, and play on the mobile recreation (rock climbing, biking, skateboarding, and slack lining)! So come out, and find the buried treasure!
---
Sun July 24th | 10am-5pm | FREE*up to 2 adults accompanying each visitor 18&younger | 151 Third St., San Francisco
Come and explore the San Francisco Museum of Modern Art with your family! To showcase their sonic installation, a collaboration with Chris Kallymer, the museum is hosting a free day where you'll hear from his Paradise Choir (12, 1, 2, and 3pm) and Site-Specific Performances of his work (11am-3pm). Hear their stunning sound throughout the museum and join in on their mobile choruses, performances, and workshops. With so much to do, what's stopping you from this free museum trip?
---
Will you be attending any of these Bay Area/SF events? Any other SF events this weekend you're excited about? Let us know in the comments below or on Facebook or on Twitter!
---