Every once in a while, everybody needs an escape from the confining quarters of their work – whether they work in an office or from home! A retreat is the perfect opportunity for companies to …. But what is there to do? ABCey has curated a list of our top 10 favorite corporate retreat activities fit for everyone!
It's a giant playground for adults! Located in Lands End, this obstacle course built with ropes, ladders, and cables is immersed in a mini forest located in our urban city. The ropes course will challenge you mentally and also get your blood rushing in ways an office may not. So go through the highs and lows (literally!) with your team, and it'll surely bring out your adventurous side.
"Learning through laughter." Nerd Improv strives to create workshops that are meant to help your team get the most out of your retreat. It was designed to help push the boundaries while making a safe environment for everyone to share. For any questions, you can contact them here.
Hosted by 1AM, this workshop is meant to bring out your creative side with street art! Groups are encouraged to create their own street art individually and in groups with stencils and much more. Alongside the art, their team goes through the history of street art that you surely won't forget! The best part? You won't forget your experience anytime soon with the art hanging on your wall!
Escape your office with an escape room! Reason provides your team with high tech team building activities and immersive experiences. Instead of your typical escape room, you can experience this through VR goggles to transport yourself into another reality and much more. In addition to an awesome escape, this retreat will build a stronger and better team!
Get up from your office chair and get on a boat! Your retreat will feature some of the most beautiful views and create some of the best memories. Your sailing experience will be personalized to whatever mood your team needs whether it be relaxing or thrilling! So pack your favorite sea sickness remedy and sail away!
Love food trucks? You'll love this challenge even more! The Food Truck Challenge prompts teams to experience what it's like to have your own and run your own food truck. Judges will base their decision on every aspect from the food to the marketing, so be prepared!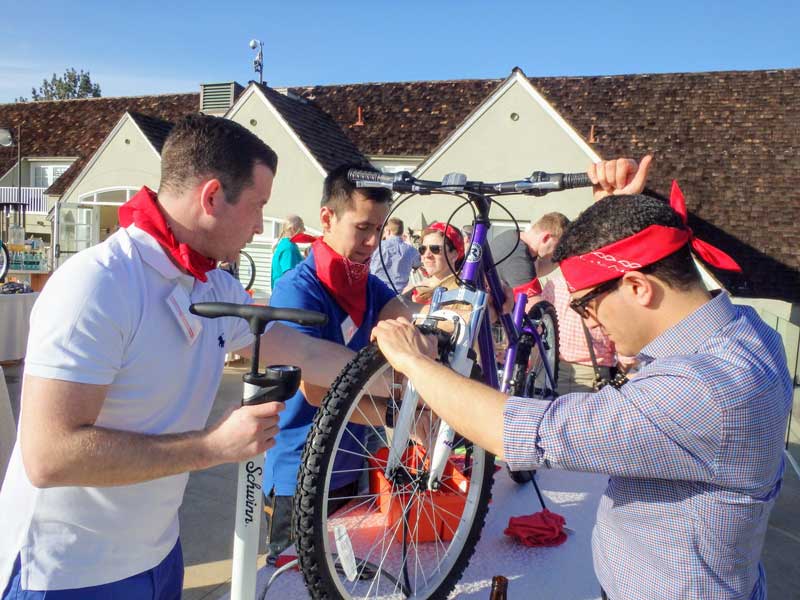 Drop the pens and papers and swap it out with wrenches and gears! This charity event challenges teams to build as many bikes as they can, and all the bikes built are donated to children around the world. It's an amazing cause and your team will build a competitive spirit together for a heartwarming cause as well.
This is great way to unwind after a long week of meetings. After splitting into teams, each group becomes their own winery (a dream come true)! After being briefed on the history of Sangria and competing in a trivia contest, teams have the opportunity to create their own unique blend, too.
Who doesn't love mini golf? Your team can make your own fun with challenging mini golf courses designed to trick the other team. If you're feeling charitable, there's also an option which involves cans of food to be donated as you complete the course. A little competition never hurt anyone, and hopefully you'll leave with a sense of accomplishment!
If you love food and you love San Francisco, we've got one of the most perfect retreat activities for you! This foodie adventure will prompt your teams to explore San Francisco while also trying some of the best foods around the city! You'll be leaving with a full belly and a new love for our hometown!
What are your favorite off-site activities?
These off-site corporate retreat activities can be adjusted to any retreat you have! Are you ready? Which ones did we miss? Let us know in the comments below or on Facebook or Twitter!
---
Whether it's a small event, a huge conference, or a gala, purchasing or renting event decor can be very wasteful and pricey! ABCey has compiled a list of our favorite ideas for upcycled event decor!
1. Actual Trash (and yes, we mean it!)
Actual trash! You can use thrown-out trash and transform it into a banner of trash bags or a beautiful backdrop for your guests. This one was even from one of our events, Creating Equilibrium – an environmental conference and festival that focused on sustainability! Based on the theme, we designed a depiction of our oceans by upcycling thrown-out trash.
2. Wooden Pallets
Wooden pallets are one of the best things to upcycle! It effortlessly adds a natural element to your event and can be transformed into a multitude of things! You can stack them for a makeshift table, hang photos and lights from them, paint them to make signs, and so much more. All it takes is a little imagination..
3. Old Rope and Leftover Boards
With old and sturdy rope and a board, you can create a suspended tabletop for any outdoor event! Dress it up for an elegant party or add some party favors for your guests! If you want add a playful feel for any younger guests or those with young hearts, you can create a swing! It'll also become a great photo-op for people to remember your event.
4. Hula Hoop
Hula hoops don't just have to stay around your waist (and sometimes the floor)! With some flowers and greenery, you can completely change your old hula hoop into a chandelier! You can also use it to highlight a statement word you want your guests to remember even after they leave! Cheers!
5. Jars
Jars and bottles are an easy element to upcycle! If you add a little water, you can use them as a vase for florals. Also, you can make it into an activity for your guests with a little paint or twine to let them customize their own! If you are looking to illuminate your event, placing candles or lights inside a jar is a great way add a soft glow!
What is your favorite upcycled event decor?
All these projects can also become a great interactive activity for you and your guests. They're just as elegant and beautiful as store-bought event decorations. Which ones will you use?  Let us know in the comments below or on Facebook or Twitter!
---
The 4th of July is just around the corner, which means it's time for grilling out, chilling out, and celebrating one of the best days of the year! ABCey Events  has 5 easy DIY ideas to get you party ready for the upcoming holiday weekend.
---
Center Pieces
1) Center pieces are a necessity to make any great theme party shine. Nothing screams summer quite like a mason jar does, so these easy to make, adorable center pieces are sure to make your party sparkle for the 4th! Check out how to make them here.
_________________________________________________
2) Extra bottles laying around? We have your solution! This DIY is super easy and will no doubt give your 4th of July party the extra pop you've been looking for. Using wine bottles for a decoration? No complaints here! Be sure to find out how to make these adorable center pieces here.
_________________________________________________
Door Decor
3) Make sure that your guests feel welcome upon arrival with these festive wreaths to hang on your front door! These are inexpensive to make and only require 3 materials- talk about an ideal DIY! You can find out how to make these here.
_________________________________________________
4) Burlap wreath not your style? No worries- we've got back up options to make sure your guests are greeted in style at your front door. These awesome patriotic wreaths are easy to make and oh so chic! Don't miss out on this great door dec, find out to make these here.
---
4th of July Photo Backdrop
5) ABCey knows no party is complete without that perfect Instagram picture.  This simple DIY scrap flag is the ideal backdrop for guests to take photos at your 4th of July party!  What better way to celebrate the 4th than by taking fun, festive photos with your pals? Read more on how to make these here!
_________________________________________________
Wall Decor
6) Kites are a true symbol of summer time and can take anyone back to their childhood. This easy DIY kite garland is guaranteed to spruce up your wall space at your 4th of July get together! See here to find out how to make these kites the star of your party!
_________________________________________________
7) If you need to primp up those white walls before you host your 4th of July party this weekend, these will definitely do the trick! This American flag painted window is the extra festive touch you need to make sure your July 4th party is one to remember. Check out how to make these here!
_________________________________________________
Festive Table Decorations
8) Need some extra 4th of July table decor for your event?  These simplistic and festive signs add some patriotic pride to your upcoming independence day party! Find out to to make these here.
_________________________________________________
9) Nothing says festive fun quite like these darling red, white and blue inspired pin wheels! These are perfect for adding a little extra flare to your snack tables for the 4th. You can find out how to make these simple decorations here!
_________________________________________________
4th of July Luminaries
10) Light up your 4th of july party with these adorable patriotic luminaries! This DIY is super simple and uses recycled jars as the main material- easy and green! Don't miss out on the chance to illuminate your party, and find out how to do these here!
_________________________________________________
Will you use any of these fun and creative DIY's for your 4th of July party? ABCey wants to know your faves, or ones we missed! Let us know in the comments below or on Facebook and on Twitter.
---
Tired of your same old smart device accessories? Don't have the time or money to buy new ones? Have no fear… ABCey has gathered a few ways to tech it up a notch! Spend less time worrying about your devices and more on your events. Here are 5 life hacks to spunk up your technology and save you some cash!
1 . CRAFTY PHONE CASE:
Phones are essential in the events world and keeping them protected is a must! On the go, or in the office, this DIY phone case is sure to make life a little easier. Buy one clear back phone case and let your imagination fly! Simply cut or tape in a design and WAH-LA!
2. WASHI TAPE LAPTOP DECAL: 
Planning an event? Staring at your laptop all day? Say goodbye to your dull old keyboard! Pick a few of your favorite washi tape designs at your local supply store and create a cute laptop display. Cut up the different patterns and simply stick them on!
3. TOILET PAPER CORD CASE: 
Staying organized for an event is important. Grab a used toilet paper roll, some pretty patterned tape or ribbon, and you have yourself a cord case! No one likes dealing with a bunch of tangles. Decorate a roll and label it as you please. Store away your chargers and cords with style!
4. CHARGING BOX STATION: 
This charging station box is perfect for the audio visual techy! With this DIY your cords will never be an unorganized mess. Grab a box fit for your multi-outlet, cut a few holes, label them according to your charger, and store them easy for your next event.
5. FELT SMART DEVICE CASE: 
Who would've thought that felt would make for a great phone, tablet, or laptop case? Pick your favorite color and create an envelope effect with buttons and string. Make it your own with additional decor. With all the hussle and bussle in a day, you won't have to worry about the safety of your device!
Bring out your inner craftsman with these 5 easy DIY's for your smart devices! Which one of these ideas to do like the best? Let us know in the comments below or message us on Twitter or Facebook!
---
We all know that planning events can get costly, so why not save some $$$'s and make a few things on your own! Creating your own decor saves cash, gives the event a personal touch and is tons of fun! Here are a few of ABCey's favorite DIY's that you can try for your next event!
1. Glitter Letter Banner | Use these signs to direct guests to food or the event. They would look great for bride and groom chairs or your upcoming holiday party.
2. Outdoor Cabana | Outdoor events are always fun, but give your guests a beautiful place in the shade to hang out when it gets to warm.
3. Tissue Paper Flowers | A cheaper alternative to real flowers, these tissue paper flowers are super easy and look great at any party.
4. Glitter Mason Jars | Not only are these beautiful alone, but put a candle in them at night and the reflection they make is amazing.
5. Gilded Piñata Makeover | This piñata makeover is so simple and let's you have a piñata that fits your party theme.
6. Hand Dotted Tumblers | You can buy glasses at the dollar store and transform them for dirt cheap! These tumblers are a great addition to any party.
7. Tassel Garland | Not only do these look great at an event, but they also look great as a decoration at home. (Our's is above our desk!)
8. Coasters | Every event has some sort of beverage, so save your furniture by offering these natural coasters to guests.
9. Bottle Cap Candles | These candles burn a little over an hour, so they're a great quick fix for any party and look cute scattered about.
10. Squash Bowling | If you're having an outdoor event, keep guests entertained with this fun homemade game of bowling.
Which of these DIY's do you like best? Let us know which one's you'll try in the comments below or on Facebook and Twitter! Happy crafting!
---