Tomorrow's the day we're all looking forward to: Friday! ABCey brings you this week's San Francisco Weekend Lineup with the top events happening in the Bay Area! If you don't have plans this weekend, we've got you covered from Star Wars at the Symphony Hall to a Burning Man trunk show!
July 20 | 6am – 9am | Prices range from $30.00 – $45.00 | San Francisco Belle, Hornblower
Usually, you may not be a morning person, but you're going to want to be one for Daybreaker SF! Get ready for an unforgettable time with crazy beats, amazing company, and tons of dancing! Being their 4th anniversary, their theme is "Come Sail Awake With Us" and they plan to entertain you all morning with activities like yoga, dancing, and face painting! It's one our favorites for the weekend, will we see you there?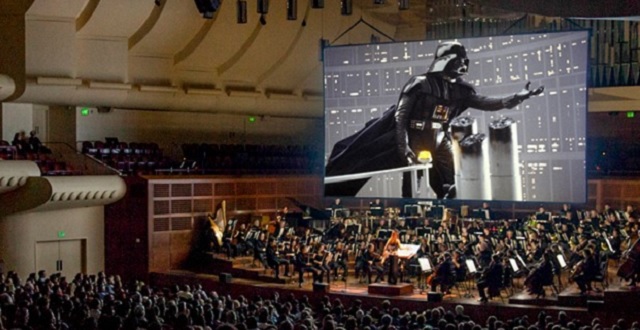 July 18 – August 3 | 7:30pm | Prices range from $75.00-$125.00 | Davies Symphony Hall
The SF Symphony summer concert series returns this weekend! If you love Star Wars, you're going to be ecstatic! The orchestra will play live scores from the original Star Wars trilogy with the films projected on stage! Talk about an unforgettable experience!
July 21 | 12:00pm – 6:00pm | Free admission | The Great Northern
Burning Man is coming up! Hope you're ready to begin shopping of your costume at the 12th Annual "Beyond the Fence" Trunk show! There will be over 30 local and independent designers selling unique costumes perfect for the desert getaway! Local DJs and cocktails will be available for you to enjoy while you take in inspiration on and off the Playa!

July 27-30 | 1:00pm – 10:00pm| Prices range from $20 and up, depending on donations | The Midway
In honor of Larry Harvey for starting Burning Man, we gather together to celebrate the passion he has created in others. This man dreamed of a world where creative minds can come together to cooperate and this vision led to the creation of Burning Man.
July 22 | 11:00am – 4:00pm | Free admission | Main Parade Ground
Rain or shine, the Presidio takes place on the Main Parade Ground. It features many vendors to get a taste of the diverse foods and cultures of the Bay Area and a free cultural dance performance on the fourth Sunday of each month! It will feature more than 25 international mobile food inventors, music for everyone, lawn games, yoga, and nature-based crafts for kids!
July 22 | 2pm | Free admission; First come, First Serve | Stern Grove
Since 1938, the SF Symphony returns every summer for an annual performance, and their return dates for this Sunday! If you're looking for a nice event to take your family or a relaxing day filled with beautiful music, we hope to see you there!
What does your San Francisco weekend lineup look like?
Which events will you be attending this weekend? We'd love to hear from you! Let us know in the comments below or on Facebook and Twitter!
---
Happy Thursday! ABCey Events has the Weekend Lineup with a list of the top Bay Area Weekend events! Whether you are looking to find a new favorite beer or want to break it down on the dance floor, this list has what you're looking for!
---
February 10 | 6 – 10:30pm | Tickets | Pier 48 | San Francisco
Love craft beers? 125 Breweries from NorCal are heading to Pier 48 this weekend! Enjoy your beers with some of the best Bay Area food there as well!
February 11 & 12 | 10 – 4:30 & 9 – 5 | Chinatown | San Francisco 
Chinatown is the place to be this weekend! Make Chinese lanterns and kite and see folk dancing and puppet shows. Additionally, the Chinese New Year Parade will be happening on Saturday and is known has one of the top ten parades in the world! Extra bonus this year as Cirque du Soleil will be performing!
February 2-16 | List of Events | San Francisco
Indiefest not only shows awesome movies but features a ton of fun events as well. This weekend does not disappoint as the 14th annual Big Lebowski Party is happening this Friday at the Brava Theater! Dress up for the costume contest, drink a White Russian and show off your Lebowski knowledge during trivia. The fun doesn't stop on Sunday as there is Princess Bride Bingo. Watch the film and play along on your board for a chance to win awesome prizes.. and don't forget the open bar!
February 11 & 12 | Pier 39 | San Francisco
39,000 tulips will be blooming at Pier 39! Learn some gardening tips and Instagram a beautiful photo of the tulips this weekend!
February 10 | 6 – 9AM | Tickets | City Nights | San Francisco
Wake up early tomorrow and party before work! Daybreaker SF is hosting a dance party  to benefit ACLU this Friday. Millennials will love the 90s theme while also enjoying yoga, fresh juice, and of course dancing!
---
Will you be attending any of these Bay Area/SF events? What other SF events are you excited about this weekend? Let us know in the comments below or on Facebook and  Twitter!
---