Want to build a buzz around your event and wow your registrants? The convenience and customization event websites offer to both event planners and attendees are amazing! Thus, today's #techTuesday features 5 best event websites to help you create your next event website template.
Pricing Details: Free for personal events and trials, custom pricing for business licenses
From simplifying event asset creation to capturing attendee insights and measuring event impact, Splash is a great event marketing tool.Splash's content management system makes it super easy to create your event website while maintaining brand consistency. You can also customize your invite, check-in guests, print your event badges, and more with this tool!
Pricing Details: Squarespace has 4 price plans, ranging from $12 to $40 per month.
Squarespace is a drag-and-drop website builder with the best quality templates in terms of design and flexibility. With this tool, you can have full customization control without the need for coding. Squarespace also has good SEO, and its pages all follow SEO best practices. It provides you the best tools to promote your brand.
Pricing Details: EventCreate has 2 price plans, ranging from $9 to $29 per month.
In addition to website creation, EventCreate is also a ticketing & registration platform. EventCreate uniquely offers fully white-labeled, custom-branded event pages and is the only platform that offers A/B ticket price testing, to help you maximize your event revenue.
Pricing Details: Planning Pod has 4 price plans, ranging from $19 -$69+ per month.
Planning Pod is an online event management software that aims to help people and organizations that manage multiple or complex events and registrations. This tool offers a centralized platform to manage events, clients, staff, venues, vendors, payments and business details. More importantly, the floor plan feature allows event planners to customize designs for the venue, so they can help clients visualize the event.
Pricing Details: Free version available; Professional plan: $11.99/month; Business plan: $24.99/month.
Bookmark is one of the most advanced website builders when it comes to web technologies. Its AI software AiDA (Artificial Intelligence Design Assistant) can help you create an exceptional website in less than 90 seconds! The AI can help fill your website with blocks that suits the most, puts on sample content and customizes design colors. And all you need to do after is to change the text and images. This tool is super efficient and is perfect for non-technical professionals and small business owners.
Have you used any of these event website builders before? Did we miss any? Let us know in the comments below or on Facebook and Twitter!

---
Startup Monday is ABCey's weekly post that showcases some of the most innovative San Francisco startups! These are often selected from a list of companies that we LOVE or have worked with in the past. This week, we are putting the spotlight on Crew. As event planners, it's extremely important to stay connected and be able to communicate effectively with your team at all times!
What Is Crew?
Founded by entrepreneur Danny Leffel in 2015, Crew is a communication tool that aims to keep everyone on the same page. Many businesses across different industries use this app to streamline communication, drive business results and boost employee engagement.
How it Works
Crew makes team communication and scheduling so much easier! As a manager, you can assign tasks and distribute schedules with a few simple taps on the phone. You can also track performance and manage when employees are available to work. Whereas as an employee, you can request time-off, find shift coverage, share documents and track your wages, all in one app.
Why We Love It
We love it because good communication is an integral element to business success, and Crew is the perfect tool to help achieve that goal. Unlike other messaging apps, Crew respects every user's privacy – you can network within a team or organization without having to give out your personal information. Overall, it's a great, easy to use communication platform.
Have you heard of Crew? Let us know what you think in the comments below or on Facebook and Twitter!
If you're interested in learning more about events we've done for otherSan Francisco startups or other fortune 500 companies, click here.
---
Startup Monday is ABCey's weekly post that showcases some of the best and most innovative startups based in the San Francisco Bay Area! These are often companies that we have our eye on or have worked with in the past. Today, we'd like to highlight Spoke!
Spoke
What is it?
Spoke is a workplace manager system that gives support teams within organizations a single place to manage employee requests. It includes ticketing, knowledge management, and self-service powered by artificial intelligence (A.I.). By allowing employees from different departments to communicate on a single platform, this system makes workplace management simpler and more efficient!
Why We Love It?
Spoke uses advanced technology to make work management faster and easier, and at ABCey, we love tech! This system allows companies to focus more on the work that's important to them. It helps employees get answers quickly, so they can continue doing their jobs well. Not to mention, it's extremely affordable with prices ranging from as little as $1/month-$3/month, depending on the type of plan you get. Now that's a steal!
How Does it Work?
Spoke uses chatbots, which automatically respond to employees' questions on Slack, email, SMS, and the web, so you don't have to respond to every single request! Its ticketing system is also organized and easy to use, unlike traditional ticketing systems, giving you everything you need to manage employee requests all in one place. Not only this, but Spoke's knowledge management base keeps tabs on all sorts of important information, no matter where it came from within the company. This way, you don't have to worry about keeping track of it all yourself!
Do you use Spoke? How do you like it? We'd love to hear from you! Let us know in the comments below or on Facebook or Twitter!
---
Startup Monday is ABCey's weekly post that showcases some of the best and most innovative startups based in the San Francisco Bay Area! These are often companies that we have our eye on or have worked with in the past. Today, we'd like to highlight Nurx!
Nurx
Nurx, sometimes referred to as the "Uber for birth control," is a free app for your smartphone device. Essentially, this company is dedicated to eliminating the headache of going to the doctor's office for birth control. It also means not having to sit uncomfortably in a waiting room, dodging eye contact and hoping you don't have to make awkward small talk. Hooray!
You simply download the app and provide as much information as you can. You can also chat with a doctor if you have any questions about the contraception! Afterwards, a doctor will review it, and the prescription will be delivered to the customers house, free of charge! If you are uninsured, it's not a problem! With the information you provide, the doctors can help you find a brand that will fit your personal preference and your budget.
Why we love it!
Nurx is a company founded by women for women! The app gives women the opportunity to access contraception, like the pill, the ring, or the morning-after pill, especially those who cannot readily access it. Also, it was created to be convenient for women who are always on the go; they help you without breaking the bank too!
Do you use Nurx? How do you like it? We'd love to hear from you! Let us know in the comments below or on Facebook or Twitter!
---
Startup Monday is ABCey's weekly post that showcases some of the best and most innovative startups based in the San Francisco Bay Area! These are often companies that we have our eye on or have worked with in the past. Today, we'd like to highlight Brandless!
Brandless
Brandless is an e-commerce company founded in San Francisco in 2015 that recently launched in July 2017. This startup focuses on being completely transparent with customers and bringing high quality products and healthy ingredients. They sell a variety of things, ranging from household items to beauty products to food! The best part? Each product is just $3!
It's simple. With the Brandless label, co-founders Tina Sharkey and Ido Leffler eliminated the "brand tax." This is the hidden cost of buying from a brand that drives up the prices of products.
Moreover, the product packaging consists of the company logo and descriptors, like kosher, organic, or gluten free. This simplifies the shopping process and provides transparency for the consumer. You also have the option to "B.more" and sign up to be a member, which includes benefits, such as free shipping.
Brandless and Feeding America
Also, when you sign up to "B.more," Brandless will donate the monetary equivalent of 10 meals to Feeding America. Brandless is partnered with Feeding America, the nation's leading domestic hunger relief organization, and with every purchase, a meal will be donated on your behalf to those facing hunger.
Why we love it!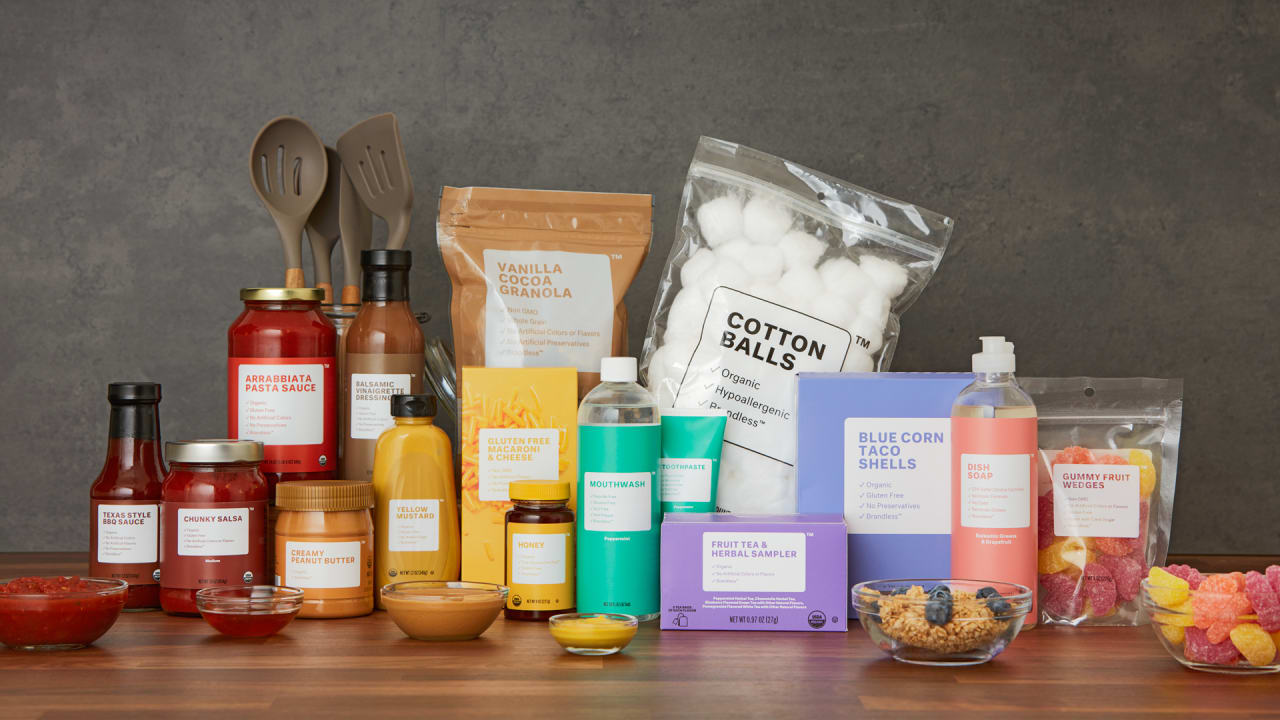 Brandless is very affordable and their products are health-conscious and environmentally friendly! Additionally, the company holds all their products to the highest standards. They also cater to what the community values most in their household items or in their foods. Furthermore, this startup dedicates itself leaving a positive impact on their community and the world.
Have you tried Brandless yet, or thinking about using it? Let us know in the comments below or on Facebook and Twitter.
---
---
#TechTuesday highlights the best and brightest ideas in the tech world. ABCey would like to recognize these up and coming technologies for their innovative ideas and impact on the event world!
---
The 9th Annual Crunchies are here and just in time for #TechTuesday! For those of you that aren't familiar, The Tech Crunchie Awards are the tech world's equivalent to The Oscars. This award ceremony will take place this upcoming Monday, February 8th, 2016, and it will recognize the greatest technological innovations this past year has seen! ABCey has highlighted the top 5 best new tech startups for this weeks #TechTuesday! Congratulations to all of the nominees!
---
---
1. EAZE
---
The Eaze app is a quick and professional medical marijuana delivery service that has partnered with legally permitted dispensaries to provide patients with lab tested medication that is delivered fast and efficiently. Medication ranges from flowers, edibles, concentrates, and more!
WHY WE LOVE IT: Eaze utilizes it's advanced technology to automatically assign drivers once the order is complete, so that your delivery is as sufficient as 10-20 minutes after purchase! Not to mention, their dispensaries are open earlier and later than most to provide their users with the most efficient convenience!
---
---
2. HONOR
---
For your loved ones that need extra care, Honor is the app for you! This app  is centered around family and comfort, and it supplies the best & most skilled caregivers to your family's home, while giving you the convenience of  scheduling and monitoring their care from virtually anywhere! Caregivers can assist with meal prep/groceries, transportation, check in visits, personal care/hygiene, and the list goes on!
WHY WE LOVE IT:  Not looking for a commitment? With Honor Care there are no long term contracts, and care can be scheduled by the hour, and paid by the hour! As well, this app does all of the work for you! The stress of screening and interviewing will be left in the hands of Honor for your convenience.
---
---
3. JET 
---
Jet's free membership does not come with a price, but more so with a savings! Literally, this app has created a marketplace that enables users to watch every dollar being spent, and provides smart choices and options to get the most for your money. Home goods, automative supplies, and even groceries- this app has made shopping simple and convenient!
WHY WE LOVE IT: Who doesn't love saving money while spending money? One of the many perks of shopping with this app is JetCash! Jet customers that want to switch it up and shop from a different store just need to skim through the Jet Anywhere Retailers list and find the brand of their choice. The money spent at these websites will go towards your next JetCash purchase, all you need to do is forward your confirmation email of purchase to anywhere@jet.com!
---
---
4. OPERATOR
---
We're past the days of dialing zero to get some assistance! This free messaging app is the equivalent of a personal shopper. Operator is available 24/7 and provides quick and helpful responses to meet users needs! For all of the men that are struggling to find their loved one something special for Valentine's Day, look no further! Their staff will be glad to assist you and match you with the perfect gift!
WHY WE LOVE IT: From your local store to an exotic country, regardless of the location delivery is made to be easy! With the in-app tracking, Operator's systems monitor your order around the clock and provide estimated delivery times and shipping updates for your convenience!
---
---
5. ROBINHOOD
---
Commission fees can be aggravating especially when you're already dabbling with the buying and selling of stocks! The Robinhood app recognized this and created a stock brokerage that offers commission free trading for all of its users! Sounds too good to be true? Robinhood has raised $66 million from several different outlets so that they can make their predominant focus on building lasting experiences for you versus the short-term profits!
WHY WE LOVE IT: Robinhood's Card feature provides guests with updates that cover basic account information, such as pending and completed transfers, but it also highlights movements within the stock industry! Top News Cards will deliver breaking news in regards to the financial market, while Top Mover Cards will showcase the biggest gains and/or losses on your watch list and in the S&P 500.
---
This is definitely a tough race! Who do you think will be The Best New Startup of 2016 at this year's Tech Crunchies? Let us know in the comments below or on Facebook and Twitter!
---