Tomorrow's the day we're all looking forward to: Friday! ABCey brings you this week's San Francisco Weekend Lineup with the top events happening in the Bay Area! If you don't have plans this weekend, we've got you covered from Star Wars at the Symphony Hall to a Burning Man trunk show!
July 20 | 6am – 9am | Prices range from $30.00 – $45.00 | San Francisco Belle, Hornblower
Usually, you may not be a morning person, but you're going to want to be one for Daybreaker SF! Get ready for an unforgettable time with crazy beats, amazing company, and tons of dancing! Being their 4th anniversary, their theme is "Come Sail Awake With Us" and they plan to entertain you all morning with activities like yoga, dancing, and face painting! It's one our favorites for the weekend, will we see you there?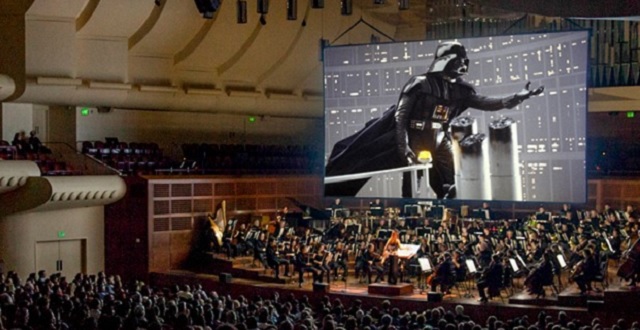 July 18 – August 3 | 7:30pm | Prices range from $75.00-$125.00 | Davies Symphony Hall
The SF Symphony summer concert series returns this weekend! If you love Star Wars, you're going to be ecstatic! The orchestra will play live scores from the original Star Wars trilogy with the films projected on stage! Talk about an unforgettable experience!
July 21 | 12:00pm – 6:00pm | Free admission | The Great Northern
Burning Man is coming up! Hope you're ready to begin shopping of your costume at the 12th Annual "Beyond the Fence" Trunk show! There will be over 30 local and independent designers selling unique costumes perfect for the desert getaway! Local DJs and cocktails will be available for you to enjoy while you take in inspiration on and off the Playa!

July 27-30 | 1:00pm – 10:00pm| Prices range from $20 and up, depending on donations | The Midway
In honor of Larry Harvey for starting Burning Man, we gather together to celebrate the passion he has created in others. This man dreamed of a world where creative minds can come together to cooperate and this vision led to the creation of Burning Man.
July 22 | 11:00am – 4:00pm | Free admission | Main Parade Ground
Rain or shine, the Presidio takes place on the Main Parade Ground. It features many vendors to get a taste of the diverse foods and cultures of the Bay Area and a free cultural dance performance on the fourth Sunday of each month! It will feature more than 25 international mobile food inventors, music for everyone, lawn games, yoga, and nature-based crafts for kids!
July 22 | 2pm | Free admission; First come, First Serve | Stern Grove
Since 1938, the SF Symphony returns every summer for an annual performance, and their return dates for this Sunday! If you're looking for a nice event to take your family or a relaxing day filled with beautiful music, we hope to see you there!
What does your San Francisco weekend lineup look like?
Which events will you be attending this weekend? We'd love to hear from you! Let us know in the comments below or on Facebook and Twitter!
---
#TechTuesday highlights the best and brightest ideas in the tech world. ABCey would like to recognize these up and coming technologies for their innovative ideas and impact on the event world. ABCey has compiled 5 innovative ways event planners are utilizing drones! 
---
Although they were first used for military purposes, drones are becoming extremely useful tools for the event planning industry. Drones are not only used to capture stunning aerial images, but also in previously unimaginable ways that go beyond just pictures and videos.  Here are 5 great ways to use drones for your next event!

1. Aerial Event Photos and Videos
Drones are now a popular tool for event planners, because they can capture amazing aerial footage from an infinite number of angles.  They are also extremely versatile and can be used at conferences, trade shows, galas, festivals, and sporting events!  This tech allows for extraordinary 360 degree views of all attendees, as well as close ups of speakers and performances. 
2. Choosing the Perfect Venue/Site Selection
Drones can also be used for pre-event prep to collect venue images. Photos and videos make it so easy for clients and planners to choose the perfect site for an event!  From images of massive event properties to inside meeting rooms, there is almost no place a drone can't fly!
3. Entertainment Drones to Wow Your Guests
Companies have outdone themselves by using drones as a new form of entertainment for their guests!  Intel is one company that impressed their guests and set the world record by having 100 drones create a unique light show! Others, like Amsterdam Drone Entertainment, have programmed their drones to dance for crowds which has truly set a new standard for event entertainment!
4. The Best Delivery Service
Some other ways to use a drone? How about deliver food, drinks and invitations!  This interactive way of distributing items to people is mostly used by restaurants to give food to their customers.  But, this kind of delivery service can just as easily be adapted to fit the event industry's needs.  Using a drone to deliver items to guests is extremely innovative, interactive, and a great way to make your event stand out!
5. Extra $ From Advertising and Sponsors
Drones can also be lucrative for your business!  If you are hosting an event, sponsors may offer to pay you if you use drones to promote their business.  Attendees are often drawn to drone tech which is seen as a great opportunity for companies to advertise.  Because drones can drop off samples/products, hold up company posters, and display a brand logo, they are becoming the newest advertising trend!
Apps are also being made and adapted to incorporate drone technology.  Facebook recently announced they have updated their live video stream application, Facebook Live.  This update allows users to stream videos live from a drone.  Twitter's similar live video streaming application, Periscope, also announced this feature.
By capturing stunning footage, helping venue selection, entertaining and serving their guests, delivering items, and increasing revenue and an event's wow factor, drones are the new must-have gadget for anyone in the event industry!
Know any other ways drones are used?  Let us know in the comments below or on Facebook and on Twitter!
---
Startup Monday is ABCey's weekly post that features some of the best and brightest companies in the Bay Area. They are often companies that we have our eye on or have worked with in the past & would like to share with friends and followers of ABCey Events!
---
In light of a lot of recent difficult press, ABCey still has high hopes that Zenefits can overcome these growing pains!  Zenefits is working to bring attention to what has made their products so appealing in the first place: Shopping for health insurance is really frustrating!!  As a business owner, what do you use to organize your employees health insurance, payroll, FSA, 401k, and other HR tasks? Are you spending lots of money in your HR department or doing these tedious tasks yourself?  Look no further, Zenefits can help solve your problem.
How it works:
Although Zenefits mostly focuses on health insurance, this software is used by more than 20,000 businesses to streamline HR systems.  Instead of using multiple different programs for tracking employees health insurance, payroll, 401k, FSA, contractors, etc., this startup helps small businesses by bundling all of these systems into one easy to use software.     
With this platform, you are able to track:
Benefits/Insurance
HR Management
ACA Compliance
Payroll
Time & Attendance
PTO
and more!
Why we love it:
Zenefits has great benefits! It is an all in one platform that makes managing administrative tasks a breeze.  The program is easy to set up, eliminates tedious paperwork and the costs of hiring HR employees!  We also love the changes that Zenefits is making including a new CEO, who is determined to change the company in a drastic way.  Like Zappos, they have recently scaled down their employees to ensure that everyone is 100% invested in the company.  With the new direction their company is taking, Zenefits has a bright future!
Planning on using this amazing platform for your team? Let us know in the comments below or on Facebook & Twitter!
---