Whether it's a small event, a huge conference, or a gala, purchasing or renting event decor can be very wasteful and pricey! ABCey has compiled a list of our favorite ideas for upcycled event decor!
1. Actual Trash (and yes, we mean it!)
Actual trash! You can use thrown-out trash and transform it into a banner of trash bags or a beautiful backdrop for your guests. This one was even from one of our events, Creating Equilibrium – an environmental conference and festival that focused on sustainability! Based on the theme, we designed a depiction of our oceans by upcycling thrown-out trash.
2. Wooden Pallets
Wooden pallets are one of the best things to upcycle! It effortlessly adds a natural element to your event and can be transformed into a multitude of things! You can stack them for a makeshift table, hang photos and lights from them, paint them to make signs, and so much more. All it takes is a little imagination..
3. Old Rope and Leftover Boards
With old and sturdy rope and a board, you can create a suspended tabletop for any outdoor event! Dress it up for an elegant party or add some party favors for your guests! If you want add a playful feel for any younger guests or those with young hearts, you can create a swing! It'll also become a great photo-op for people to remember your event.
4. Hula Hoop
Hula hoops don't just have to stay around your waist (and sometimes the floor)! With some flowers and greenery, you can completely change your old hula hoop into a chandelier! You can also use it to highlight a statement word you want your guests to remember even after they leave! Cheers!
5. Jars
Jars and bottles are an easy element to upcycle! If you add a little water, you can use them as a vase for florals. Also, you can make it into an activity for your guests with a little paint or twine to let them customize their own! If you are looking to illuminate your event, placing candles or lights inside a jar is a great way add a soft glow!
What is your favorite upcycled event decor?
All these projects can also become a great interactive activity for you and your guests. They're just as elegant and beautiful as store-bought event decorations. Which ones will you use?  Let us know in the comments below or on Facebook or Twitter!
---
Startup Monday is ABCey's weekly post that showcases some of the best and most innovative startups based in the San Francisco Bay Area! These are often companies that we have our eye on or have worked with in the past. Today, we'd like to highlight Brandless!
Brandless
Brandless is an e-commerce company founded in San Francisco in 2015 that recently launched in July 2017. This startup focuses on being completely transparent with customers and bringing high quality products and healthy ingredients. They sell a variety of things, ranging from household items to beauty products to food! The best part? Each product is just $3!
It's simple. With the Brandless label, co-founders Tina Sharkey and Ido Leffler eliminated the "brand tax." This is the hidden cost of buying from a brand that drives up the prices of products.
Moreover, the product packaging consists of the company logo and descriptors, like kosher, organic, or gluten free. This simplifies the shopping process and provides transparency for the consumer. You also have the option to "B.more" and sign up to be a member, which includes benefits, such as free shipping.
Brandless and Feeding America
Also, when you sign up to "B.more," Brandless will donate the monetary equivalent of 10 meals to Feeding America. Brandless is partnered with Feeding America, the nation's leading domestic hunger relief organization, and with every purchase, a meal will be donated on your behalf to those facing hunger.
Why we love it!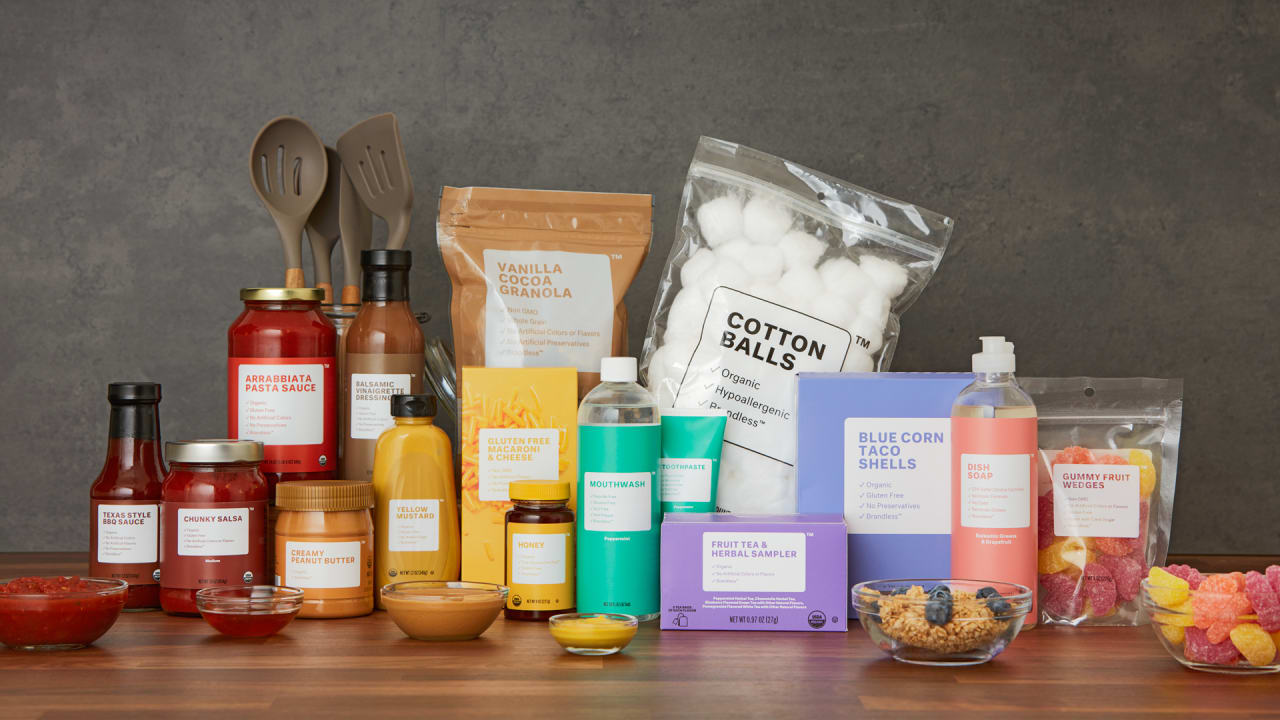 Brandless is very affordable and their products are health-conscious and environmentally friendly! Additionally, the company holds all their products to the highest standards. They also cater to what the community values most in their household items or in their foods. Furthermore, this startup dedicates itself leaving a positive impact on their community and the world.
Have you tried Brandless yet, or thinking about using it? Let us know in the comments below or on Facebook and Twitter.
---
---
It's summertime and there's ALWAYS a reason to celebrate! Getting the gang together for a night out "just because" can get pricy, but don't let that stop you! ABCey wants you to have a fun mini-event while staying within budget. Here are our favorite ways to party on the cheap!
1. Find your Happy Hour | Absolutely no one with normal job hours can make a 4 p.m. happy hour. Look for bars with both food and drink specials, like El Rio in the Mission. Their happy hour goes from 1 p.m.-8 p.m. and on Fridays after 5:30, they give away free oysters. Sounds like the happiest hours of the week!
2. Take it Outside | When the weather's this perfect, who can bother staying indoors? Tell your friends to grab a blanket and a potluck dish and meet you at the nearest park, beach, or garden! Pro tip: keep an eye out for free outdoor events in your city, like concerts and craft fairs. There's nothing better than taking in music, friends, and good food on a summer day!
3. Stalk it Out | All around your city on any given day, there are dozens of events going on that you don't even know about! Be up to date on your city's happenings with websites like Fun Cheap SF that help you stay on top of all things free and inexpensive. Bet you didn't know that there's a free core & endurance outdoor workout today at Kezar Stadium in SF!
4. Night at the Museum | When the sun goes down, skip the bars and head straight for the museum! Spots like the California Academy of Sciences, the De Young, and the Exploratorium offer free exhibits and special events or tickets cheaper (and more inclusive) than regular admission. Let's be honest: haven't you always wanted to have a glass of wine while looking at art?
5. BYOB | Nothing makes wine taste sweeter than paying $15 a bottle in a restaurant! OpenTable has a list of restaurants that allow BYOB and don't have a corkage fees. Bring the party with you by buying your own booze (and maybe slipping in a flask for yourself!)
What do you and your friends do to have a fun night out on the cheap? Let us know in a comment or on Facebook & Twitter!
---