Every once in a while, everybody needs an escape from the confining quarters of their work – whether they work in an office or from home! A retreat is the perfect opportunity for companies to …. But what is there to do? ABCey has curated a list of our top 10 favorite corporate retreat activities fit for everyone!
It's a giant playground for adults! Located in Lands End, this obstacle course built with ropes, ladders, and cables is immersed in a mini forest located in our urban city. The ropes course will challenge you mentally and also get your blood rushing in ways an office may not. So go through the highs and lows (literally!) with your team, and it'll surely bring out your adventurous side.
"Learning through laughter." Nerd Improv strives to create workshops that are meant to help your team get the most out of your retreat. It was designed to help push the boundaries while making a safe environment for everyone to share. For any questions, you can contact them here.
Hosted by 1AM, this workshop is meant to bring out your creative side with street art! Groups are encouraged to create their own street art individually and in groups with stencils and much more. Alongside the art, their team goes through the history of street art that you surely won't forget! The best part? You won't forget your experience anytime soon with the art hanging on your wall!
Escape your office with an escape room! Reason provides your team with high tech team building activities and immersive experiences. Instead of your typical escape room, you can experience this through VR goggles to transport yourself into another reality and much more. In addition to an awesome escape, this retreat will build a stronger and better team!
Get up from your office chair and get on a boat! Your retreat will feature some of the most beautiful views and create some of the best memories. Your sailing experience will be personalized to whatever mood your team needs whether it be relaxing or thrilling! So pack your favorite sea sickness remedy and sail away!
Love food trucks? You'll love this challenge even more! The Food Truck Challenge prompts teams to experience what it's like to have your own and run your own food truck. Judges will base their decision on every aspect from the food to the marketing, so be prepared!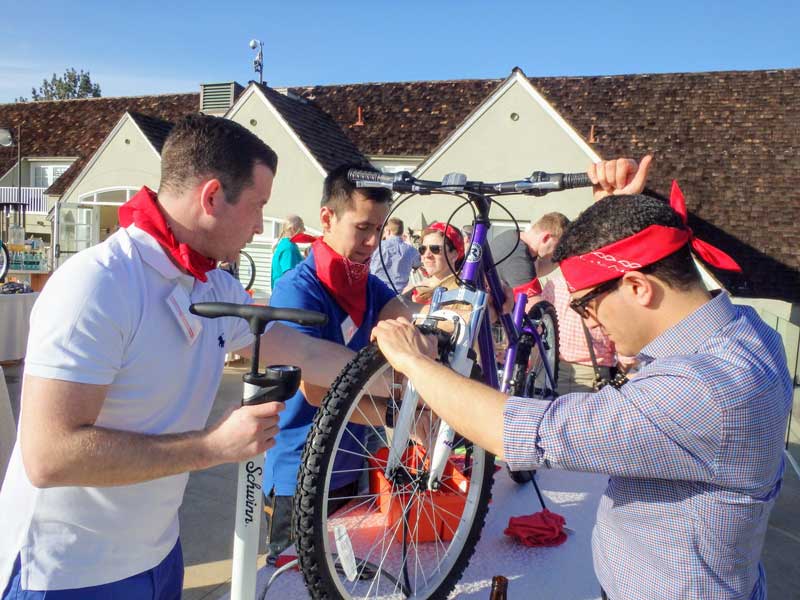 Drop the pens and papers and swap it out with wrenches and gears! This charity event challenges teams to build as many bikes as they can, and all the bikes built are donated to children around the world. It's an amazing cause and your team will build a competitive spirit together for a heartwarming cause as well.
This is great way to unwind after a long week of meetings. After splitting into teams, each group becomes their own winery (a dream come true)! After being briefed on the history of Sangria and competing in a trivia contest, teams have the opportunity to create their own unique blend, too.
Who doesn't love mini golf? Your team can make your own fun with challenging mini golf courses designed to trick the other team. If you're feeling charitable, there's also an option which involves cans of food to be donated as you complete the course. A little competition never hurt anyone, and hopefully you'll leave with a sense of accomplishment!
If you love food and you love San Francisco, we've got one of the most perfect retreat activities for you! This foodie adventure will prompt your teams to explore San Francisco while also trying some of the best foods around the city! You'll be leaving with a full belly and a new love for our hometown!
What are your favorite off-site activities?
These off-site corporate retreat activities can be adjusted to any retreat you have! Are you ready? Which ones did we miss? Let us know in the comments below or on Facebook or Twitter!
---
With the weekend just around the corner, I hope you decide to trade in your business suit for some jeans and shades! The Bay area has been warming up, and it's the perfect weather to open up the windows and take a walk around the park. For this week's weekend lineup ABCey wanted to take advantage of the forecast and give you some great outdoor events to choose from!
---
---
Friday February 26th, 2016 | 5:00pm – 9:30pm |2460 Sutter St. | $12 Adults $8 Students (Seniors & Kids under 12 free)
If you're looking to travel the globe without the baggage fees, step out to Pacific Heights Friday night and experience a taste of Russia! The festival will host an array of events that are triggered to entice all senses. So if you're looking to indulge your tastebuds with some authentic Russian food or admire the art of traditional dance, this event is the place to be!
---
THE COMEDY ROAST OF DONALD TRUMP
---
Friday, February 26th, 2016 | 8pm | Pappy's, Berkeley | $10
One of the most debated candidates for this year's election has been nominated as the guest of honor for this month's comedy roast hosted by RoastSF! Mr. Trump will not be in attendance for this event, however, his impersonator is KNOWN for his class act impression, and will be severely roasted by 8 improv comics. Regardless if you love him or you hate him, it's no question that you won't have a hurt stomach from laughing at this event!
---
HOMELESS HOMES POP UP WORKSHOP
---
Saturday, February 27th, 2016 | 11am – 6pm | Nimby, Oakland | FREE
Want to make a difference in your community? Homelessness in The Bay area has been the topic of discussion, especially with the growing tents that are vacating the streets. This Saturday and Sunday, this pop up workshop is uniting people within the community to take a hands-on-approach by creating micro-homes for the homeless. Start off your Saturday the right way by giving back to those in need!
---
---
Saturday, February 27th, 2016 | 1pm-4 pm | Levi's Stadium, Santa Clara | $79-$125
For all of the bacon lovers (we know how many of you there are), this is an event you don't want to miss! Enjoy the VIP treatment of walking the field while enjoying a brew and a slice of bacon. Guests will be able to indulge in 50+ bacon infused dishes and proceed to wash them down with a choice of 100+ craft beers and cider samples, all of which are from some of the best local vendors and breweries! Enjoy games, some fun in the sun, and if you're feeling brave, sign up for the bacon eating contest, which is sure to leave you full for days!
---
MARDI GRAS CELEBRATION TREASURE ISLAND FLEA
---
Sunday, February 28th, 2016 | All Day | Great Lawn, Ave of the Palms, Treasure Island | $3
If you can't make it out to New Orleans this year to celebrate Mardi Gras, the Treasure Island Flea has the solution! This Sunday, local street musicians and New Orleans menus will be fused together to make this event come to life. Choose to shop from the 400+ curated vendors while trying a 2-fo-1 TI Flea Hurricane Cocktail as you watch the city transform, this is a great way to kick back and relax before Monday! 
---
A GATHERING OF ROYALS- ACADEMY OF FRIENDS 2016 GALA
---
Saturday, February 28th, 2016 | 5pm-10 pm | San Francisco Design Center, San Francisco | $225.39-&757.95
Are you planning to watch The Oscar's Sunday night? If so, and you're looking for a change of scenery, head down to the San Francisco Design Center for a great cause! Not only does this gala give you the opportunity to dress up as if you were at The Oscar's, but 100% of the proceeds are directed towards HIV/AIDS services in the Bay area. Enjoy complimentary food, wine, and champagne, and if you're feeling up to it keep partying at the after party at SF Oasis!
What event(s) are you placing on your calendar for this upcoming weekend? Let us know in the comments below or on Facebook and Twitter!
---
---