Tomorrow's the day we're all looking forward to: Friday! ABCey brings you this week's San Francisco Weekend Lineup with the top events happening in the Bay Area! If you don't have plans this weekend, we've got you covered from Star Wars at the Symphony Hall to a Burning Man trunk show!
July 20 | 6am – 9am | Prices range from $30.00 – $45.00 | San Francisco Belle, Hornblower
Usually, you may not be a morning person, but you're going to want to be one for Daybreaker SF! Get ready for an unforgettable time with crazy beats, amazing company, and tons of dancing! Being their 4th anniversary, their theme is "Come Sail Awake With Us" and they plan to entertain you all morning with activities like yoga, dancing, and face painting! It's one our favorites for the weekend, will we see you there?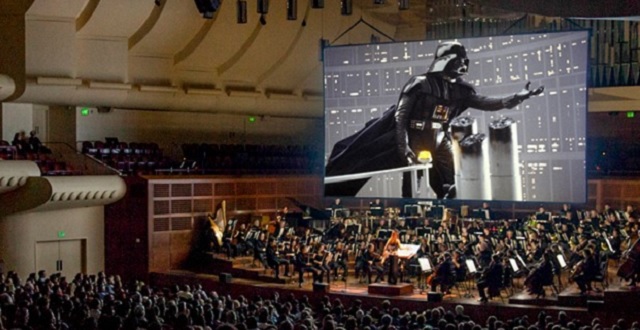 July 18 – August 3 | 7:30pm | Prices range from $75.00-$125.00 | Davies Symphony Hall
The SF Symphony summer concert series returns this weekend! If you love Star Wars, you're going to be ecstatic! The orchestra will play live scores from the original Star Wars trilogy with the films projected on stage! Talk about an unforgettable experience!
July 21 | 12:00pm – 6:00pm | Free admission | The Great Northern
Burning Man is coming up! Hope you're ready to begin shopping of your costume at the 12th Annual "Beyond the Fence" Trunk show! There will be over 30 local and independent designers selling unique costumes perfect for the desert getaway! Local DJs and cocktails will be available for you to enjoy while you take in inspiration on and off the Playa!

July 27-30 | 1:00pm – 10:00pm| Prices range from $20 and up, depending on donations | The Midway
In honor of Larry Harvey for starting Burning Man, we gather together to celebrate the passion he has created in others. This man dreamed of a world where creative minds can come together to cooperate and this vision led to the creation of Burning Man.
July 22 | 11:00am – 4:00pm | Free admission | Main Parade Ground
Rain or shine, the Presidio takes place on the Main Parade Ground. It features many vendors to get a taste of the diverse foods and cultures of the Bay Area and a free cultural dance performance on the fourth Sunday of each month! It will feature more than 25 international mobile food inventors, music for everyone, lawn games, yoga, and nature-based crafts for kids!
July 22 | 2pm | Free admission; First come, First Serve | Stern Grove
Since 1938, the SF Symphony returns every summer for an annual performance, and their return dates for this Sunday! If you're looking for a nice event to take your family or a relaxing day filled with beautiful music, we hope to see you there!
What does your San Francisco weekend lineup look like?
Which events will you be attending this weekend? We'd love to hear from you! Let us know in the comments below or on Facebook and Twitter!
---
It's almost Friday! ABCey brings you the Weekend Lineup for the best upcoming events in the Bay Area! There is everything from music and cruises to county fairs and 4th of July festivities! 
---
Weekend Lineup: Marin County Fair!
June 30th-July 4th| 11am-11pm | General Admission $15-$20 | 10 Avenue of the Flags, San Rafael, CA 94903
Don't miss the chance to celebrate the Summer of Love's 50th Anniversary at the Marin County Fair this upcoming weekend! The fair wants to commemorate the 1967 Summer of Love by sticking to it's core values of family, art, agriculture and the environment. Not only will this weekend consist of music, food, and entertainment, it will also include a touch of the groovy culture from the 60's!
Fillmore Jazz Festival
Saturday July 1st-2nd | 10am-6pm | Free Admission | Fillmore Street between Jackson & Eddy Street, San Francisco, CA
The 33rd annual Fillmore Jazz Festival is here! This day is filled with music as it blends art and soul together in the most unique neighborhood! Come listen to live music over this Independence Day weekend!
Independence Day Camp
Saturday, July 1st | 12pm- 4pm| General Admission $18 | 601 Mission Bay Blvd North, San Francisco, CA 94158
This old-school day camp is a chance for families and friends to have a little fun! Come celebrate this 4th of July weekend with food trucks, games, beer and more! Not to mention, beers and flights are up for grabs at the bar for the kids over the age of 21!
Tycho at The Greek Theatre
Friday, June 30th | 7:30 pm | General Admission $45 | 2001 Gayley Road, Berkeley, CA 94720
This Friday, don't miss the chance to see Tycho perform at The Greek Theatre in Berkeley! If you love soothing music and tranquil melodies with a touch of electric, than this is the place to be to get your groove on!
4th of July Fireworks Cruise
Tuesday, July 4th | 7:30pm- 10:30pm | Tickets $50-$80 | 40 Pier, Suite 4, San Francisco, CA 94107
Watch fireworks from a boat this year to get the full 4th of July experience! Come set sail on the pacific ocean to enjoy the show with food and beverages provided by Rendezvous Charters!
---
Will you be attending any of these Weekend Lineup events? What other Bay Area events are you excited about this weekend? Let us know in the comments below or on Facebook and  Twitter!
---
Happy Thursday everyone! Are you as excited for the weekend as we are? From the Pokemon World Championship Viewing Party to the Pacific Sound System Summer Boat Party & After Party, there are so many events happening. To help you plan the perfect weekend, ABCey Events has compiled a list of the top 5 Bay Area events for our Weekend Lineup!
---
Top 5 Bay Area Events
Fri, 8/19/16 | 12pm – 8:30pm | Free | Razer Store San Francisco
Even with all of the Pokemon Go coverage, we still miss the good ol' days. What are they? Pokemon cards of course! This Friday, you can watch the Pokemon World Championships and relive your childhood. Although the championship isn't open to the public, you can check out the action at the Razer Store's viewing party! In addition, this party will have tons of raffles and giveaways. If you're a Pokemon fan, dress up in your best costume and play Pokemon Go with the masses!
Fri, 8/19/16 | 6pm – 8:30pm | $10, buy here | Startup Basecamp
As you grow older, it's harder to find and connect with like-minded people! Thus, Startup Basecamp was created to give entrepreneurs, startup professionals, investors, and digital nomads a place to both live and work! Not only is this a cheap alternative to hotels but it also gives professionals a way to connect. To celebrate the opening of their newest motel, Startup Basecamp is hosting a launch party with an open bar, refreshments, and a DJ. Come join in, network, and connect!
Sat, 8/20/16 | 12pm – 6pm | $5-10 suggested entry donation, $95-Headliner Experience tickets | 20th Street Corridor
Do you like music? Love great food? Want to support a great local cause? If so, head over to the Mission district and hangout with 15,000 people at this SF block party hosted by Noise Pop! On 19th & 20th Street, between Bryant and Harrison, this block party will fill the streets with alternative indie music from a variety of artists.  There are 17 neighborhood food vendors, 29 craft business/artisan vendors, a cooking demo and more! You can get the VIP treatment with $95 Headliner Experience tickets or pay the $5-$10 suggested entry donation. But these funds are going to an amazing cause: the Mission Language & Vocational School! Also, if your 21+, go to the pre and after party for even more fun! 
Sat-Sun, 8/20/16-8/21/16 | Sat, 11am – Sun, 7pm | $50 – $130, buy here | Lake Sonoma Resort
If you love electronic music festivals and camping, then this is the event for you! The Bloom Festival will have artists performing all day long, so break out your camping clothes and gear to stay warm. In addition, Jeno & Garth, DJ M3, DJ Sharon Buck, and Harry Who are just a few of the amazing performers at this festival! This event is all ages, but don't forget to bring your ID! In addition, CalGang Thai Eatery will be there to give you amazing food and beverages. You can also take advantage of Lake Sonoma and bring a boat, or rent water equipment. Best of all, parking is free! Come enjoy the music and camp out under the stars this weekend at one of the top Bay Area events!
Sun, 8/21/16 | 5pm-11pm, after party: 10:30-2am  | 21+ years old | $70, buy here; after party $5 with boat ticket, $10 without | Pier 3
Climb aboard the San Francisco Spirit this Sunday for an evening of great music and lots of partying! On this boat party, you'll get to hear tons of great beats from DJ's Galen, J-Bird, and Solar, and special guest, Chez Damier! Then, head over to Monarch for the official after-party. Don't miss this opportunity to mingle, lounge, and dance the night away!
Which one of these Bay Area events will you be attending? Let us know in the comments below or on Facebook and  Twitter!
---
Startup Monday is ABCey's weekly post that features some of the best and brightest companies in the Bay Area. They are often companies that we have our eye on or have worked with in the past & would like to share with friends and followers of ABCey Events!
Antlos is a yachting service that lets you enjoy all the fun of being at sea minus the hassle of buying a yacht or learning to sail! Antlos provides private trips around the coastline of several beautiful cities including Greece, Italy and Spain all at around $100/night per guest. This fee is all inclusive covering costs for food, fuel, and your fully trained skipper!
"Antlos is the best solution for all fans of boat holidays, a web platform that connects expert Skippers with tourists and travellers eager to experience life at the sea," Giana, an employee with Antlos commented. She continued to say "the business model is inspired by the philosophy of sharing-economy, offering a real opportunity for users to start earning from the rental of their boat. Antlos makes boat holidays accessible to those who love the sea, but due to lack of experience and high costs have never managed to set the sails yet."
Antlos is the perfect choice for your next vacation! We wish we could take some time off to go sailing on the European coast! Let us know what you think about this amazing startup company in the comments below or on Facebook and Twitter!
---